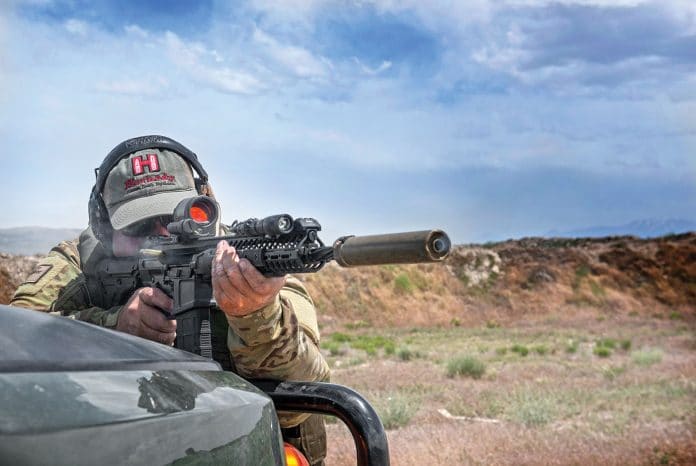 By Dave Bahde
Photos by: David Bahde and Ben Battles
---
The MKII variation brings key upgrades and changes to an iconic 7.62 weapon platform
Years ago (about 2010) I tested the first REPR rifles that came out of LWRCI in both their 16- and 20-inch configurations. Both rifles worked well, exhibiting some impressive accuracy for the day. Seven years ago truly accurate AR10s that worked were rare; piston versions even more so. I'm not a fan of any AR with left-side charging used outside prone. It was also heavy. Gas adjustment facilitated suppressor use, but it was pretty much an on/off affair. Set to suppressed it would not run without a suppressor. The opposite resulted in a harsh-shooting, over-gassed rifle. My thoughts at the end were pretty concise: great rifle, just need to lighten it up, get rid of that left side charging setup and come up with a truly adjustable gas block. Well, it's taken seven years, but LWRCI did just that and more with their new REPR MKII.

LWRCI REPR (Rapid Engagement Precision Rifle) MKII
Built for the CSASS (Compact Semi-Automatic Sniper System) the REPR MKII started with the original REPR rifle and was evolved adapted as needed to meet the specification. Consumers can choose between 16.1- or 20-inch barrels LWRCI is working on a 12.7-inch variant for LE. Each uses their short-stroke gas piston system with proven longevity and reliability.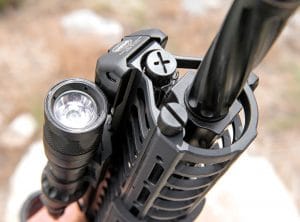 A new 20-position adjustable gas block keeps things running smooth. The Monoforge upper receiver uses an integrated rail that is stronger than standard designs. Using a 1:10" twist barrel with a heavy profile and Black Nitride finish provides accuracy across the standard bullet spectrum for 7.62 x 51mm, and spiral fluting keeps it light and stiff. The bolt carrier group is enhanced and built to superior strength, and coated for ease of cleaning and operation in adverse conditions. Controls are completely ambidextrous, with a forged lower that includes an LWRCI Advanced Trigger Guard, oversized for gloved use. Geiselle's SSA-E (Enhanced) two stage trigger provides reliable precision in the most adverse conditions. The charging handle is ambidextrous, and LWRCI Skirmish back-up iron sights are provided. The handguard uses their proprietary mounting system for rails and other accessories and allows easy access to the piston system for cleaning. My test rifle was equipped with a MAGPUL UBR stock and Surefire SOCOM muzzle brake, permitting the use of Surefire SOCOM Suppressors. Black is standard, along with Cerakote. My test rifle was Cerakoted in Tungsten, but you can also get FDE, OD Green and Patriot Brown. Each rifle comes with a single MAGPUL Gen 3 20-round magazine.
Testing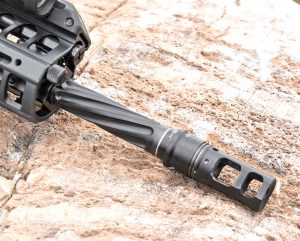 When this rifle arrived my first thought was that they sent the wrong one. Even in the box it just felt too light. It's not only light for a piston rifle, its light for an AR10. Listed at 9 pounds even, it feels lighter. It's almost a pound lighter than the civilian version of the rifle that won CSASS, and closer to two pounds lighter than the contract rifle. Next to my lightest AR10, its only half a pound heavier—very impressive for a piston rifle. The balance is excellent. Not wanting to defeat that advantage I kept it light, adding as little as possible for most testing. Group testing was accomplished using a Nightforce ATACR 4-16 with a T3 reticle but was removed for the rest of the evaluation. More like a precision patrol rifle in .308 than a "precision rifle". Sighting was accomplished using a Trijicon SRS RDS, my favorite for a working rifle given its wide field of view and crystal clear glass. Rails were added for a bi-pod when necessary along with a sling attachment and light. LWRCI's Rail Panels were added for a solid grip. Surefire's M313 V scout light was attached on the top rail. Other than a Blue Force Vickers sling, that was it—clean, simple, light, and usable as a dedicated patrol rifle.