Shooting the P320 X5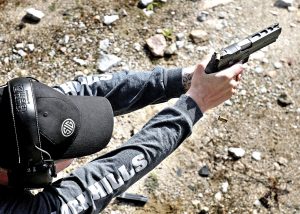 It would have been logical to shoot a match with the test gun, but local match schedules didn't intersect with mine, so I took it to my Bianchi Plate range and duplicated the challenging Bianchi Cup Stage IV course of fire with it. 48 shots, only one shot allowed at each plate: Six seconds at 10 yards, seven seconds at 15, eight at 20 and nine at 25 yards, each set done twice. I rushed a shot and missed one plate at 15 yards and blew the very last shot at 25, but that was my fault, not the SIG's. I left with the impression that this gun, out of the box, was sufficiently accurate and shootable to win the Bianchi Cup in steadier hands than mine.
Reliability was 100%. The several hundred rounds we put through it included ball, hollow point, and even a few magazines of reduced power match 9mm "wuss loads."
A relatively high bore axis notwithstanding, the P320 9mm has very little muzzle jump; the green fiber optic front sight is back on target by the time you've reset the trigger if your stance and grip are solid. The long, tapered magazines glide effortlessly into the seemingly flower pot-size mag well, which is removable via a single set screw. Even when filled with all 21 rounds and the slide forward, the magazines seated easily and solidly. The X5 definitely made friends among the test team.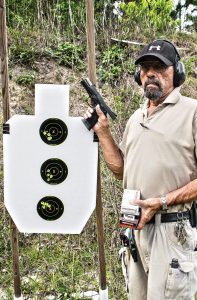 IDPA Five-Gun Master John Strayer, now shooting mostly USPSA competition, had recently gone to a P320 Compact for a carry pistol and was particularly interested in the X5. His first five rapid-fire shots at seven yards punched a dime-size group. He then ran it over a Single Stack Classic course of fire he had set up at his ProArms Range. John's verdict? "It's dead nuts accurate, and handles nice. It has a really cool look to it, too. I'm going to buy one!" He was as good as his word, and ordered one the next day.
Allen Davis is a division champion shooter currently running a Glock in competition. He said, "I'm not a SIG guy, but I like this one. I'd be more interested in it in .40 S&W so it would score Major in Limited division." Alan's wish is already granted: the P320 X5 in .40 S&W, with 18-round mags, is scheduled at this time to hit dealers' shelves toward the end of 2017.
And me? Suffice to say I bought the test sample, strictly for sporting use, and I see an aftermarket target trigger in its future. At an MSRP of $1,005, the SIG P320 X5 will outshoot many higher-priced pistols. See it at your nearest dealer, or for more information, contact SIG SAUER, Dept. OT; (603) 610-3000; Web: www.sigsauer.com