For my testing I chose the Target model ($569), as it seemed to be the middle-ground on weight and barrel length. The target model is perfect if you are looking to participate in steel challenge, but still want a pistol that will work well for hunting and have a manageable barrel length for new shooters. In other words, it's the general purpose version of the bunch.
I happen to be in luck with my choice as commandant Cuomo has previously approved this version. Back up north our friends in the New Hampshire office requested the 22/45 LITE for some T&E.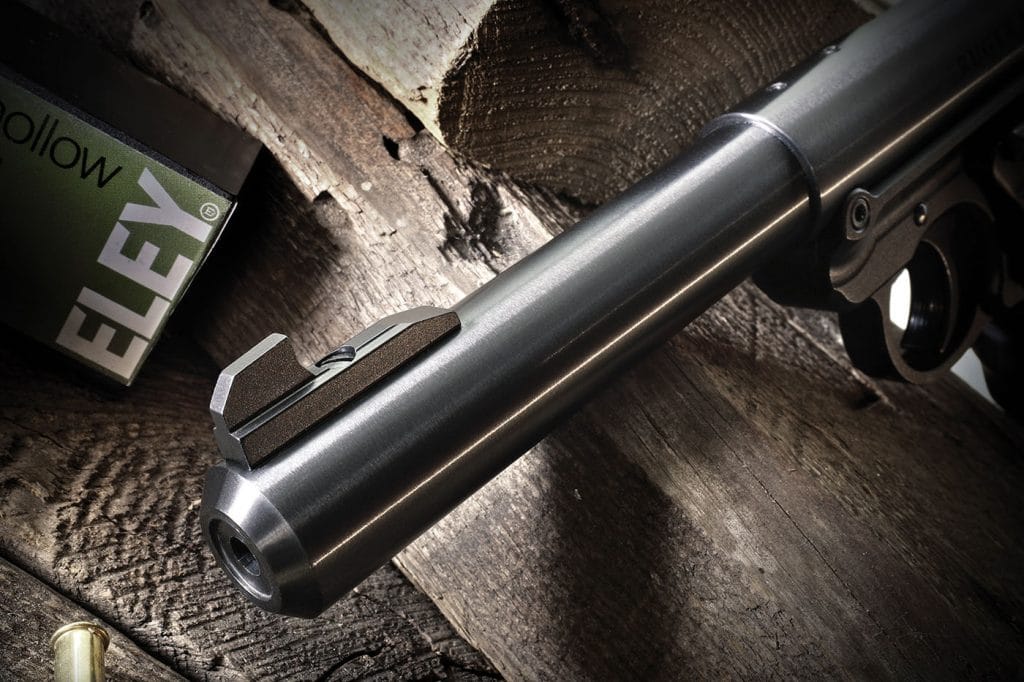 Unpacking the Mark IV was like Christmas morning. I have seen other versions of the pistol already but I haven't had a chance to get my hands on a model with the laminate wood grips. Picking it up out of the box I immediately noticed the heft. At just shy of 36 ounces it doesn't exactly feel like a toy. The contoured grips have smooth finger groves with stippling on about 40% of the overall surface. The Ruger insignia is engraved on both sides as well for a touch of class. This southpaw appreciated the ambidextrous safety, but wished they went all the way and added ambi slide and mag releases as well. The elimination of these controls on both sides does help slim the pistol down a bit and eliminates two snag points, so I guess it's a fair trade. In the hand it fit well and pointed instinctually, and the 5.5" barrel balanced nicely without dipping. All that was left was to get it on the range.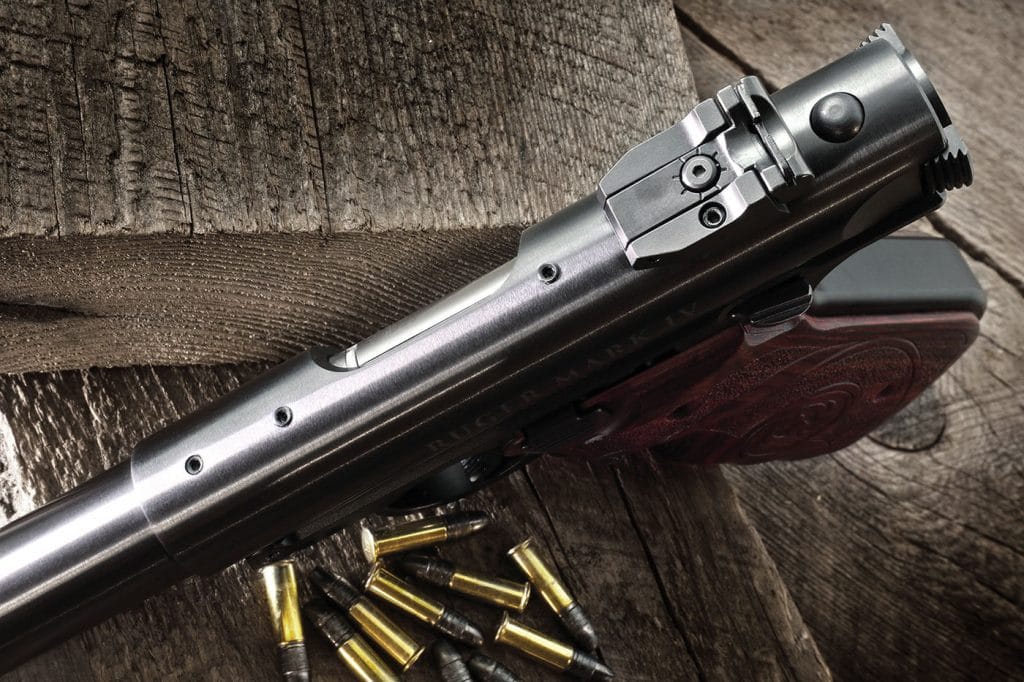 Few things are as much fun in life as shooting a .22 on steel. We are fortunate enough to have a large steel setup courtesy of TargetsUSA.com, so we decided to wheel it all out for a busy day on the range. Since this pistol is at home in many different applications we decided to test several different types of ammo. Our test samples included hunting and plinking offerings from Federal as well as match ammo from Eley. Banging away at the steel we utilized Federal's new Bulk Range pack (federalpremium.com, $20.95 per 275), as it is the perfect round for this type of shooting. The trigger on the Mark IV breaks very crisply at 4 pounds 9 oz. This measurement was taken with a Lyman Digital trigger pull scale (lymanproducts.com, $74.99). Having to allow the trigger to travel a good ways back gives a sluggish reset, however it still didn't stop us from getting double taps on our 12" TargetsUSA gong (TargetsUSA.com, $55) in as fast as .24 seconds. Once zeroed on steel we placed some paper out at 25 yards and shot some groups with our test rounds. Eley's Contact ammo (Eley.co.uk, $10.99 per 50) is a subsonic round that is intended to still cycle the action. The solid 42-grainer was a true performer with our best group measuring just .422", certainly a great choice for beating your buddies at the range. However, those looking to put meat on the table or dispatch that annoying critter that keeps getting into your trash, give Federal's new Hunter Match ammo a whirl ($7.95 per 50). This new offering packs a 40-grain hollow point bullet into a nickel-plated case for smooth feeding and terrific expansion. It grouped as small as 1.238" on test day. The Mark IV cycled every round we fed through it without a hiccup, just as one would expect from a pistol of this lineage.