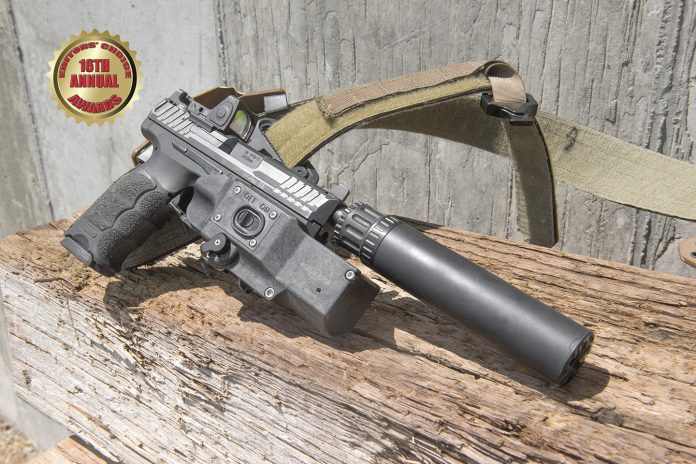 By Dave Bahde
---
Pistol suppressors have become quite popular over the last few years. The problem has always been holstering them, and SureFire has provided an excellent solution.
Made from strong, durable, and light weight polymer the MasterFire secures the handgun using only the light. You can use threaded barrels, compensators, red-dot sights, even suppressors without interference. Using one of four MasterFire capable weapons lights, including red or green lasers insures a solid interface. An adjustable belt loop accommodates on and off-duty belts. The thumb lever release is intuitive and conforms to most accepted methods. A side-mounted switch activates the light when removed from the holster. There is even a lock that secures the weapon if needed. Accessing the thumb release was pretty natural with room for gloves.
Activate the switch and it turns on the light (in any combination) when drawn. Insert and it turns off. Switched off it works like any holster. Turning the lock secures it, but cannot be drawn until unlocked, so be cognizant when crawling or rolling on the ground.
Overall the MasterFire worked perfectly, and made moving between pistols a breeze. Retail on the holster is $169.00, and capable lights range from $159.00 (Polymer LED) to $799.99 (Green LED laser). If you want to deploy a suppressor, this is one of the best holsters I've seen so far. See it at your firearms retailer, or contact Surefire, LLC, Dept. OT; Tel.: (800) 828-8809; Web: www.surefire.com