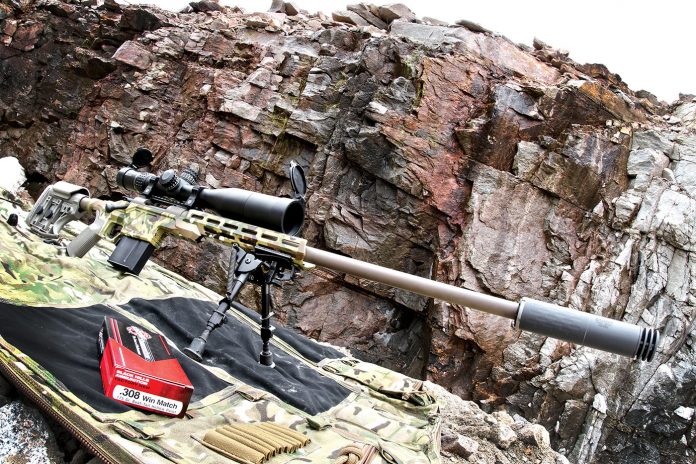 By Dave Bahde
Photos by Dave Bahde and Ben Battles
---
After nearly 40-years in production, the new crop of chassis-rifles represent the highest evolution of the proven Howa M1500 action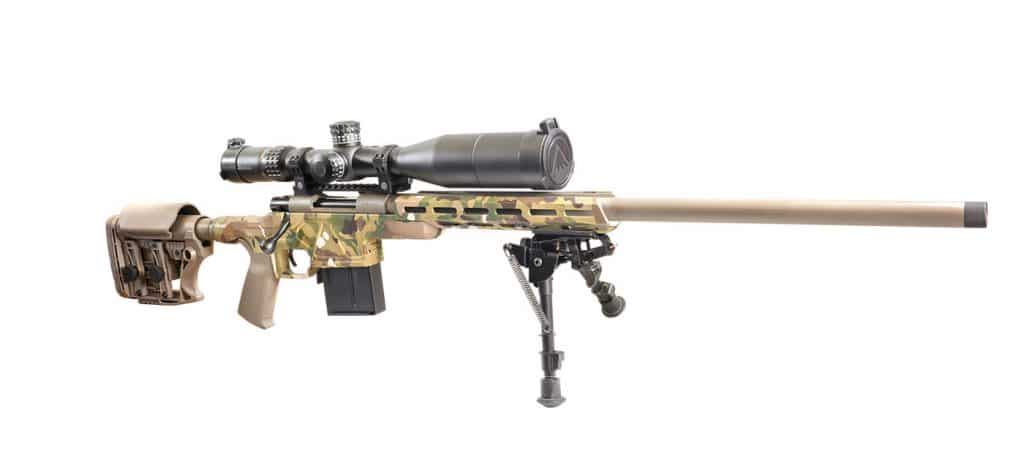 Given the attention directed over the last few years toward affordable precision rifles, you would think it was something new. While certainly more prevalent these days, imports have been on the market for years offering excellent accuracy at a solid price. One of the longest standing is Howa. Howa Machinery, a Japanese machining company has been in business since 1907, starting out as Toyoda's Loom Works. It became Showa Heavy Industries in 1936 and began making munitions and machine tools. Howa Industries came into existence in 1945 and they began making rifles in 1956. The Howa Type 64 was accepted as the official Japanese Defense Forces rifle in 1964, remaining in production until its replacement in 1989 with the Type 89 chambered in 5.56 NATO. They also manufactured the AR-18 for Aramlite, an iconic rifle to many as a contemporary to the M16. We are not talking about a copycat manufacturing company building replicas of current designs. How has been building rifles for decades. While they started with semi-auto military rifles, it was their bolt actions that have been most popular, and they have been at that awhile too.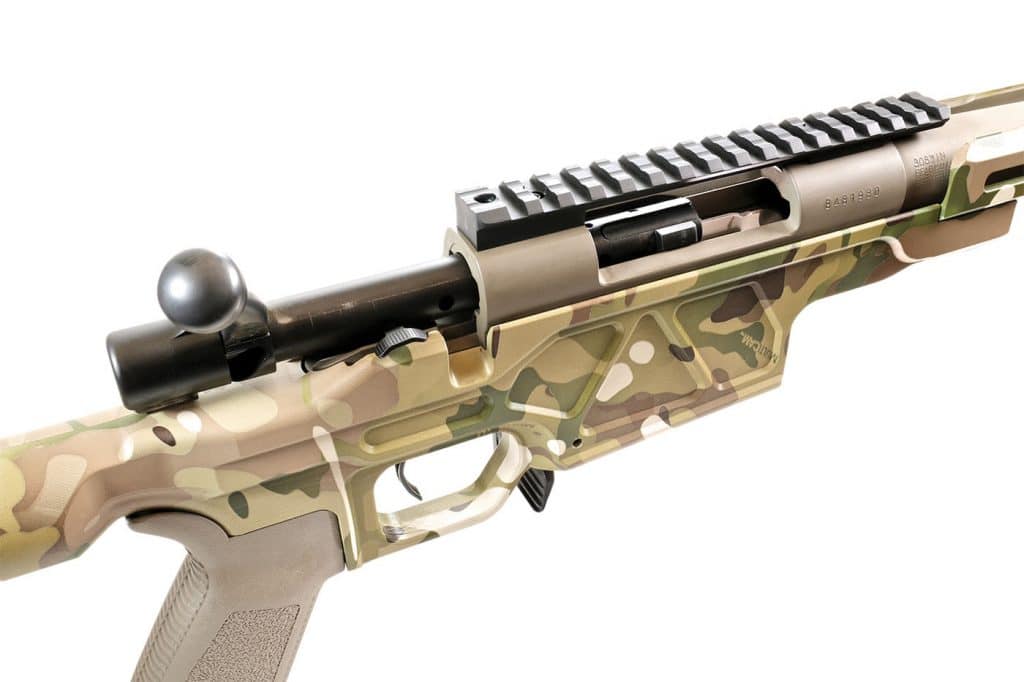 Howa 1500 Bolt Action Rifle
Howa introduced their Golden Bear bolt-action in limited numbers (3,000) to great fanfare at the Chicago SHOT show in 1967. Most could not figure out how they built such a fine rifle for so little cost. Using the original Golden Bear bolt-action as a base, they introduced the Howa 1500 in 1979. It was later upgraded in 2011 using the first HACT (Howa Actuator Control Trigger).  Since 2016, Howa 1500 rifles have been available with the latest version of this trigger. It is a 2-stage design, with a first stage at about a pound, the second at 2.5 to 3.5 pounds.  Bolts use an integral bolt handle, two-lug design and M16 style extractor. The 3-position safety allows it to be locked completely, or unloaded safely if needed, locking the trigger while allowing the bolt to operate. Barrels are cold hammer forged with chambers cut to the tightest tolerances.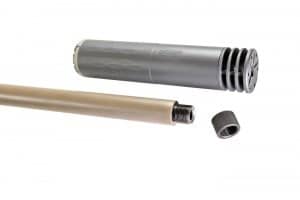 My test rifle was an M1500 HCR chassis rifle with a 24-inch barrel chambered in .308 Winchester. It employs a 1:10" twist rate, a large contour barrel with the muzzle threaded at 5/8" x 24 TPI and capped with a knurled thread protector. The action is set in an Accurate Mag chassis, this one was dipped in Multicam. Free floated, the handguard is M-Lok equipped and coated to match. The pistol grip is an Ergo, the stock is a Luth AR MBA-3 mounted to a 6-position AR buffer tube. Action, barrel and buffer tube are coated in FDE Cerakote. One Accurate Mag AICS compatible magazine was provided. The magazine release is a large paddle-style located just behind the magazine.
For optics, I mounted a Burris's XTR II 4-20 x 50mm scope with illuminated (11 brightness settings) Horus H591 reticle mounted in the first focal plane.  Nightforce X-treme Duty rings mated it to a Burris 25 MOA 1-piece scope rail.  The XTR II is proving to be an excellent scope, with precision turrets and zero click stop technology. A 34mm tube and .10 mil turret adjustments provide 26.2 mills of total windage and elevation adjustment.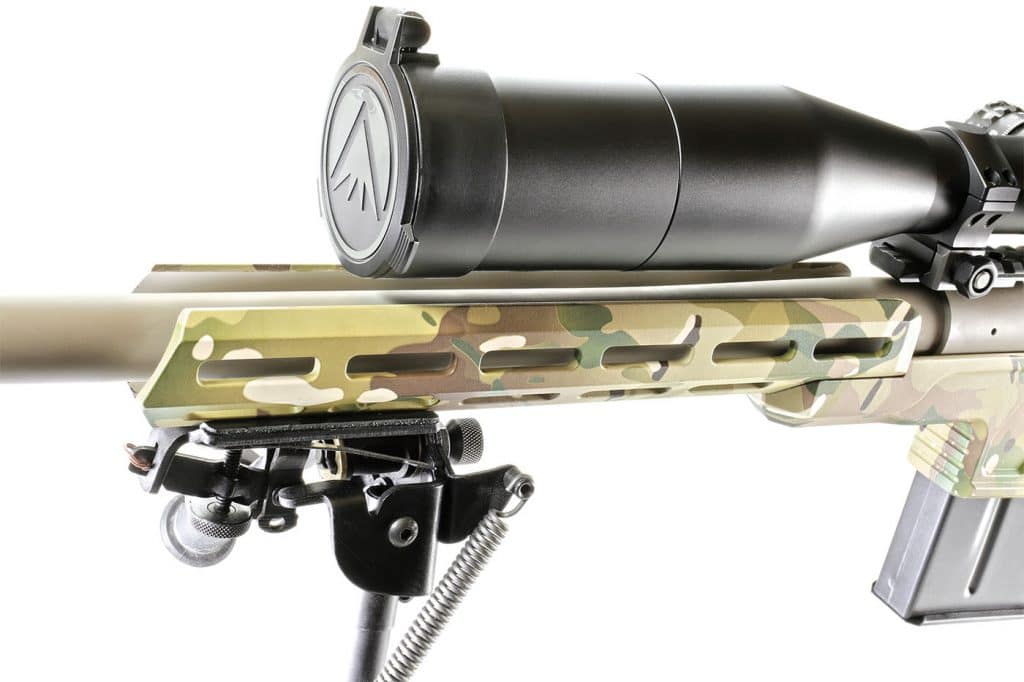 High-grade optical glass and Hi-Lume lens coatings insure the best possible light gathering. Waterproof and fog proof, it is backed by the Burris Forever Warranty. The rifle is equipped with a sling stud for bi-pod attachment, but it was replaced with an M-Lok compatible rail. A ZRODelta DLOC-SS Aimtech Warhammer bi-pod was used for support.