Accuracy
Given the long barrel, testing reached out a bit. If you're going to run a 24-inch barrel, you might as well load it up with some bigger bullets for longer reach.  My best group at 100 yards was shot with Black Hills Gold, loaded with the Hornady 178-grain ELDX. This is fast becoming one of the favorite long-range bullets for the .308. Great BC, very consistent, and hitting hard and penetrating on game at longer ranges. My best group was a tad under an inch with the Black hills at 100 yards. Interestingly, it was just over an inch at 300 yards. With the targets side by side, it was hard to tell the difference. My largest group at 300 yards was only 1.25 inches. It was windy that day, with gusts to 25 MPH, which may have played a role . . . or it could just be that kind of day. My guess is that this load will hold closer to 0.50 inches on my best day. Groups at both ranges were fired from standing behind a bench using the bi-pod for support and a bag for rear stability.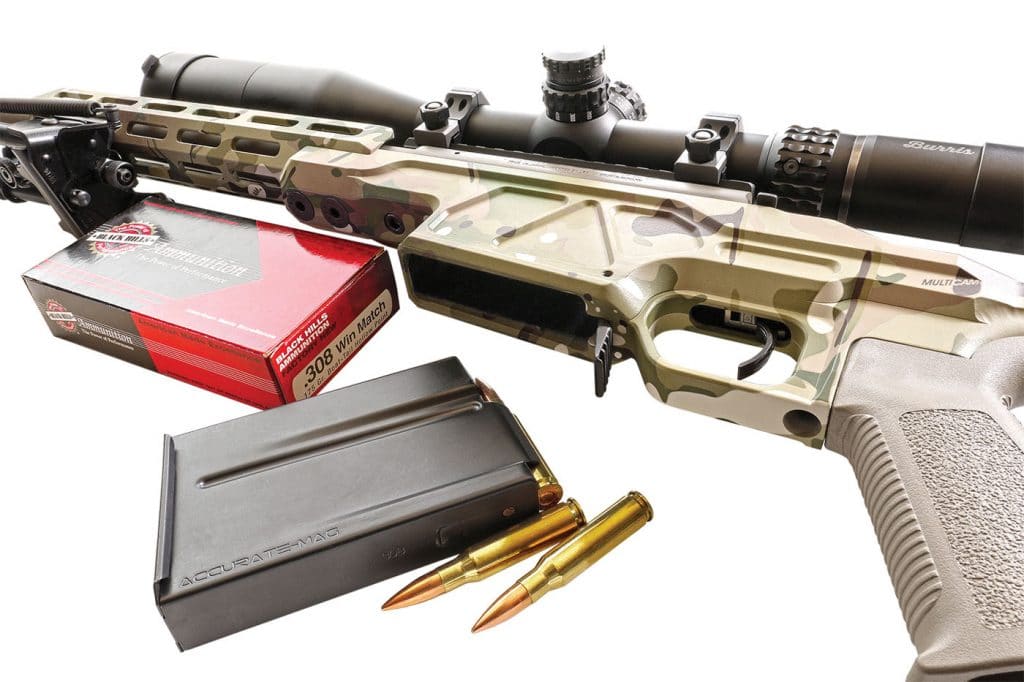 Long range is where this rifle shined, especially compared to the 16-inch barreled .308s I have been using recently. With a 16-inch barrel, the Black Hills load is making under 2,500 f.p.s., but out of the HOWA it matched the published number of 2,650 f.p.s. That made a huge difference from 600 meters and out. Once the wind hold-over was confirmed, hitting the 600-meter, 12-inch steel plate using the Horus Reticle was almost too easy. In one string I managed 8 out of 10 hits in shifting winds from 15 to 25 mph.  Moving past that at 800 meters, it was still hitting better than 50% of the time on the 12" steel, and another 8 to 10 on the 22" x 16" target. Wind holds at 1,000 yards were as much as 3 mils, so it took some work, but this bullet seems to hold very steady in the wind. Using 155-grain bullets at this distance proved much more challenging, and the 125-grain Ballistic Tip was mostly an exercise in making empty brass and watching "splash" in that wind. I find the lighter bullets hold their own in this caliber out to 600 meters, even 800 in no wind, but after that, weight and BC just seem to take over. The overall cone at 1,000 yards is much tighter using the 178-grain ELDX over smaller bullets, even other designs, Its going to be a very popular load.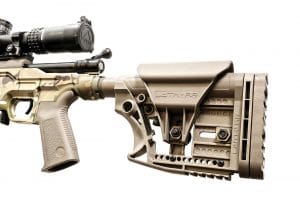 Reliability was excellent. What you expect from a top-quality bolt rifle? Run the bolt hard and it tossed the brass three feet or more; ease it out and you could catch it. You had to run the bolt with authority to pick up rounds. It was smooth, but not that kind of glassy butter smooth. But let's be honest, I have actions that cost more than this entire rifle. Retailing at $1549 with a street price lower than that, the Howa HCR Chassis Rifle is one of the best buys on the market in this type of rifle. It smoothed up quite a bit by the end of testing and it never had issue one. Feeding is about the same with the Accurate Mag it shipped with, an MDTAC mag, and AI, and several Magpul AICS magazines.  Everything locked in place and dropped free with a firm push of the magazine release. Both metal magazines fit well, but the Magpuls varied in how tight they fit. All inserted, locked in place and ran loaded to capacity.
Other Considerations
Recoil was as expected with a rifle that weighs in at 12.5 pounds, including the scope, rings, and empty magazine. Adding a suppressor or muzzle device will mitigate that quite a bit. Used as a duty gun, it was fine, as most police snipers still shoot with a bare muzzle. Given the length of the barrel flash, was pretty minimal, especially with the Black Hills and Hornady AMAX ammunition. When it came to overall comfort, it was nice to shoot with the Doubletap 155-gr. TMK and 155-gr. Hornady AMAX. Load up some of the Corbon 125-gr. TMK or Doubletap 125-gr. Ballistic Tip and it was pure joy with fast follow-up shots, especially out to 500 meters.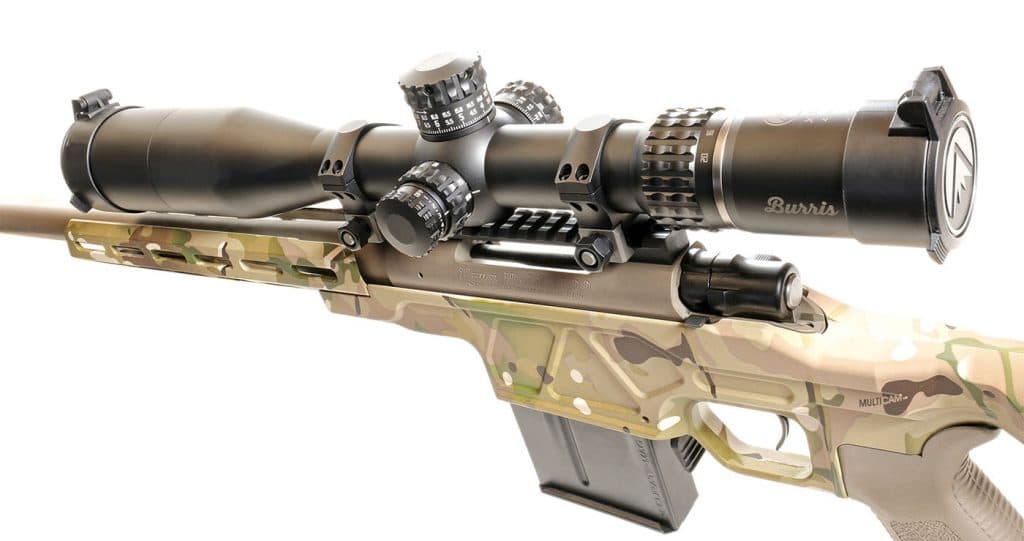 Luth stocks are great, but I'm just not sure they would remain my first choice for a precision rifle, especially since the FDE version does not come with a rubber butt plate. It's available for purchase separately, but is not provided with the stock. Not that the .308 Win. is particularly recoil intensive, but that rubber plate insures things stay locked in and do not slide up or down on kit or clothing. If you are running and gunning with a 24-inch .308 then it saves quite a bit of weight. My choice would lean toward a more PRS-style stock, like the LMT sniper stock or similar. Given the nature of the rifle and chassis, I would like to see Howa include the rubber pad.
The rifle's handguard is pretty minimalist, for some that will be fantastic, others would need or want more length. Many hunters these days are using clip-on night vision, and if you're one of them you'll need to see if you can find an M-Lok rail that fits on the hand guard and will accommodate it.