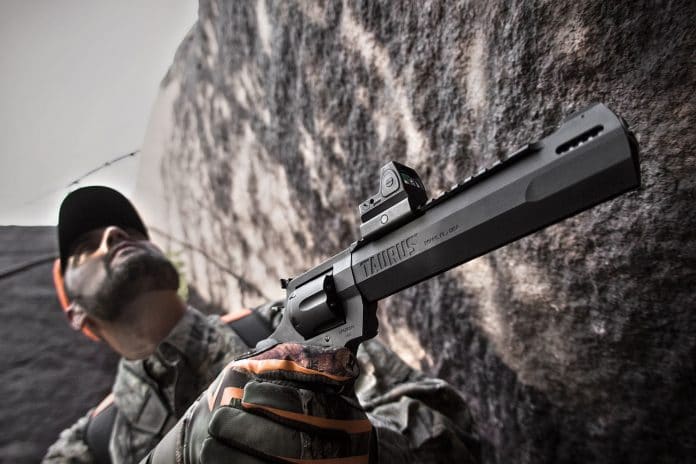 Angry at the muzzle, tame at the grip, this could be Taurus' most competent hunting revolver yet
Taurus USA has been producing large frame hunting revolvers under the trade name "Raging something" for around 20-years or so. The first guns in the Raging series we're named Raging Bulls, and the most recent adaptations bear the Raging Hunter moniker. The Raging Hunters are a significant upgrade of the Raging Bulls in a wide variety of respects.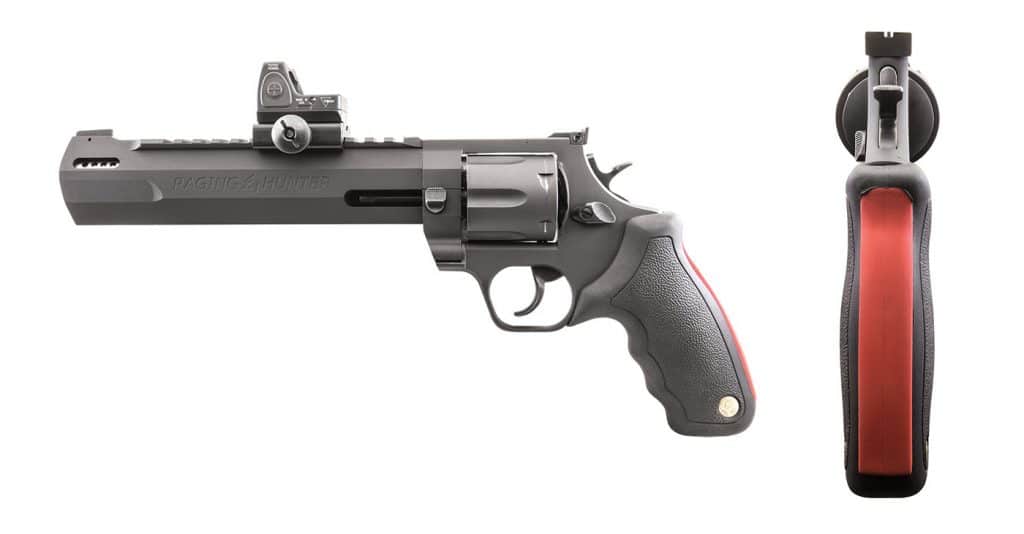 I owned an early Raging Bull chambered in .454 Casull, and used it for bear defense on countless fishing trips to Alaska. I never had to fire at an Alaska coastal brown bear, but I did have to draw on several of them as I retreated and surrendered the fish I had on the line. The only times I actually fired the .454 Casull Raging Bull "in anger" was to drive off packs of seals marauding through schools of silver salmon we were fishing on incoming tides. A few strategically placed shots just ahead of the seals discouraged them from continuing to pursue our salmon every time. Those shots, fired single action, were at a range of 100 yards or more, and the Raging Bull consistently proved to be amazingly accurate. No seals were ever hit—which was the intention—but all of them did do an immediate about face.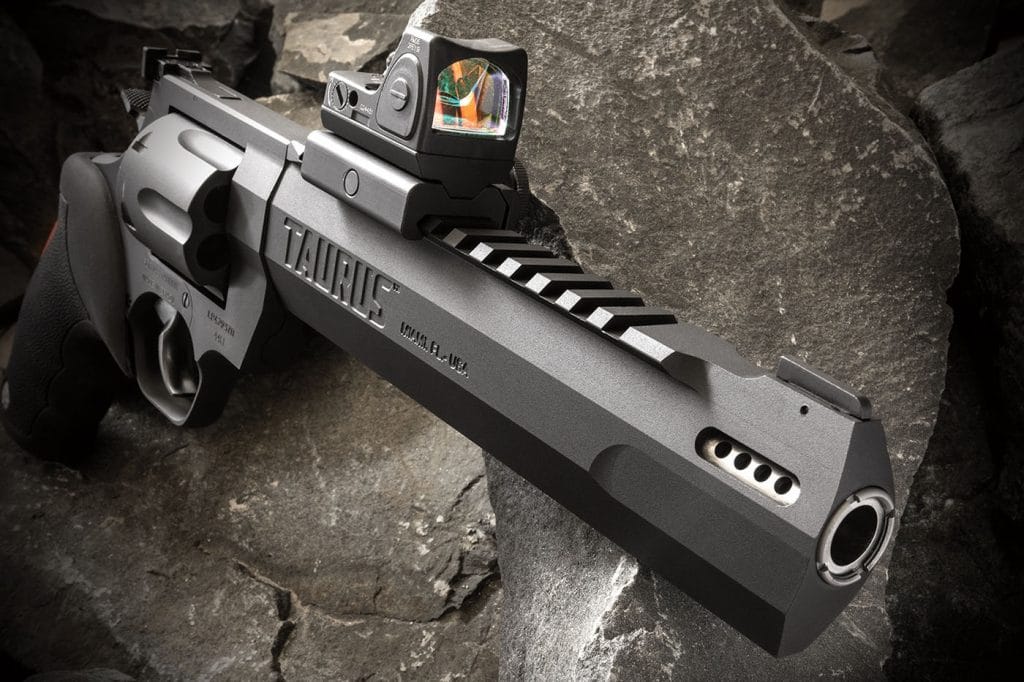 Our evaluation Raging Hunter was chambered in .44 Rem. Mag. with a 6-round cylinder. Front and rear cylinder locking latches insure a positive cylinder lock-up and perfect alignment of every chamber with the forcing cone. Cheapo revolvers sometimes have one or more cylinders that don't align perfectly with the forcing cone, which causes copper jacket material to shave off, pass through the cylinder gap and blow back into the shooter's face. I have a working left eye today because of our company policy requiring that polycarbonate shooting glasses be worn during all testing sessions. No such problem was encountered in hundreds of rounds fired while testing the Raging Hunter.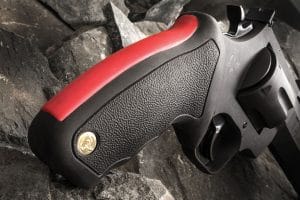 The Raging Hunter is a big gun. With a 8.375-inch barrel, 14.1-inch overall length, 1.8-inch width, 6.4-inch height and an empty weight of 55 oz., it tames .44 Mag. recoil to a large degree. Its rubber grips with a soft-rubber cushioned insert in the heel no doubt contributed to that phenomenon. Available in stainless steel and matte blue, or all matte blue, it is priced at a reasonable $919 in either configuration.
One of the most unique features of the Raging Hunter is its barrel system. A steel barrel tube is inserted into what appears to be a slab-sided barrel, but is really a barrel shroud machined from aircraft-grade aluminum alloy. The external aluminum barrel shroud significantly reduces weight in the forward part of the gun, making it balance surprisingly well for a 14.1-inch long revolver. The barrel and shroud feature a factory-tuned porting system with gas expansion chamber. Four gas ports on each side behind the muzzle eject combustion gases at an upward angle of 45 degrees or a bit more to reduce muzzle rise and facilitate fast follow-up shots.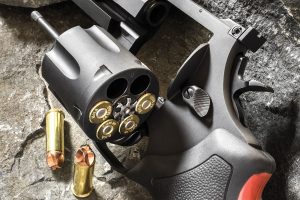 The barrel tube is removable and replaceable in the unlikely event that ever becomes necessary, but Taurus recommends that it be done at the factory or by a competent gunsmith.
Machined into the flat top of the barrel shroud is a 13-slot Picatinny rail ready for mounting a red-dot sight or a long-eye-relief magnifying optic. Open sights consist of a rearward sloped, windage and elevation adjustable rear sight with U-notch, and a pinned front blade sight, both of which are finished in plain matte blue.
Since this is a double-action revolver, you have your choice of a long but smooth double-action pull at an average pull weight of 8-pounds, 7-ounces, or cocking the deeply serrated hammer and firing single-action. With the latter you get a "zero length" trigger pull at an average pull weight of 3-pounds, 6-ounces.  With a little practice, it's easy to stage the cylinder to lock-up in double-action mode, leaving you with a short—about 1/8-inch—remaining pull length to hammer drop. In single-action mode, the trigger pull is as good as it gets—not a hint of take-up, creep or stacking, and no perceptible trigger travel before the break. The trigger shoe is wide, slightly rounded and unless you have midget- or giant-length fingers, properly placed for distal phalanx contact in both single- and double-action modes. The Raging Hunter is also equipped with a safety bar that rises into place in the relieved trigger face when the hammer is cocked to fill the gap between the hammer and firing pin.