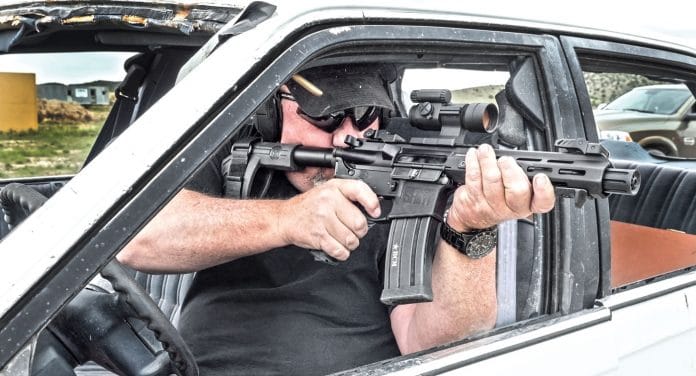 By Dave Bahde
Photos by 2EXTREME and Dave Bahde
---
The close-quarters option in the ever-growing Saint lineup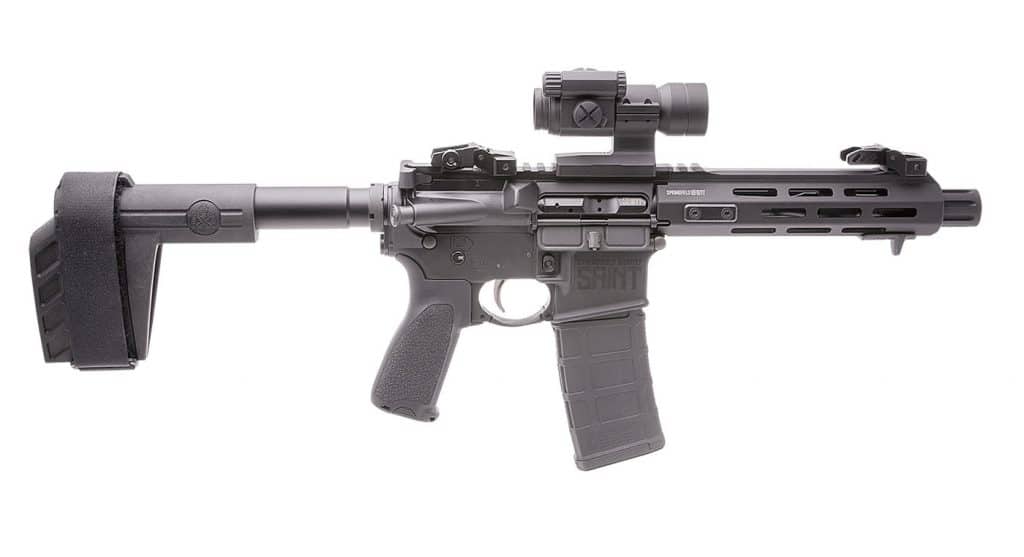 Short barreled ARs aren't new. They have existed since the late 1960s shortly after the CAR-15 was introduced. Most familiar with the history will recall the XM177, a 10.5-inch version with a 3.5-inch moderator that mitigated sound, flash and blast. In 1967 the barrel was lengthened to 11 inches, mostly to facilitate the XM148 grenade launcher and also reduced blast a bit. The moderator was replaced with a flash hider. Mostly abandoned after Vietnam, the need remained, and today's MK18 is a perfect example. Early models had their issues, not the least of which was that civilians had to register them with the ATF as SBRs (short-barreled rifles), but there has always been a desire for a short AR, today more than ever.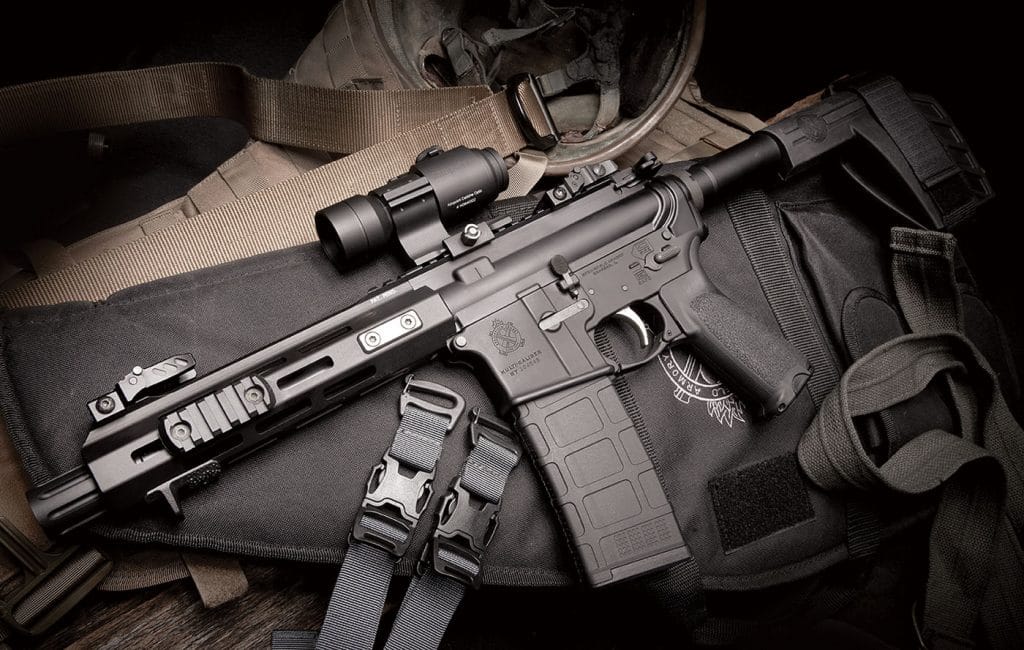 While the SBR has a consistent following, the AR pistol has taken that market by storm. Initially a bit of a novelty, adding a stabilizing brace made them moderately useful. Improved brace designs have helped, each year they get better and more user friendly, almost practical. Given the ATF's latest "open letter" removing the threat of becoming a felon for shouldering them has proven to be a game changer. Increased demand has produced better made, more reliable and shorter versions, 7 to 8 inches being the norm. Pretty much everyone is getting into this market, including Springfield Armory. Their Saint AR-15 is available chambered in 5.56mm or 300 BLK, and it is a great pistol.
Springfield Armory Saint AR-15 Pistol 5.56mm
Springfield Armory starts with forged 7075-T6 aluminum receivers using their Accutite tensioning system. A patented M-LOK hand guard using locking tabs and a hand stop covers a 7.5 inch, 419R stainless steel barrel coated in Melonite. Using a 1:7 twist it is capped with a blast diverter that sends blast and flash forward. Its direct impingement gas system uses a pistol-length gas tube and pinned low profile gas block. The bolt carrier group is an enhanced M16 design with an magnetic particle tested bolt and coated in Melonite. The lower receiver houses a Springfield Armory Nickel Boron coated Mil-Spec trigger with a single sided safety. Bravo Company's Mod 3 pistol grip is used along with their extended trigger guard. AN SB Tactical SBX-K stabilizing brace is installed along with a QD equipped buffer tube ring. All is shipped in a Springfield Armory embroidered Soft AR-15 pistol case with one magazine.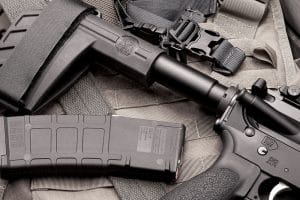 Aimpoint's RDS Carbine Optic was used. It remains one of the best top-tier red dot sights for the money. Designed specifically for use on modern sporting rifles, it includes a simple mount and a 2 MOA dot. Ten brightness settings allow for use in most any lighting conditions, and it includes a bright setting for daylight. Battery life extends to over a year using one DL1/3N or 2L76 battery. Water, shock and vibration resistant, it is designed for use in most any conditions. Springfield Armory's flip-up BUIS (back-up iron sights) co-witness in the bottom third of the Aimpoint.
Range Time
Improvements in ammunition construction and bullet design make the 7.5-inch barreled Saint 5.56mm more effective, but it remains a close-quarters tool. Its sweet spot is vehicle defense, or defense in other confined spaces. Its compact size makes it easier to store at the ready and access when needed. Working your way in and out of vehicles is much easier while providing solid ballistics at close range. It is quite effective for home defense, especially in urban environments, or any area where 100 yards is the longest probable shooting distance. You can certainly reach out farther with a 5.56mm using an 8-inch barrel, but it's less than optimal. Most testing consisted of operation in and out of some cars at the range along with barricades and other obstacles.