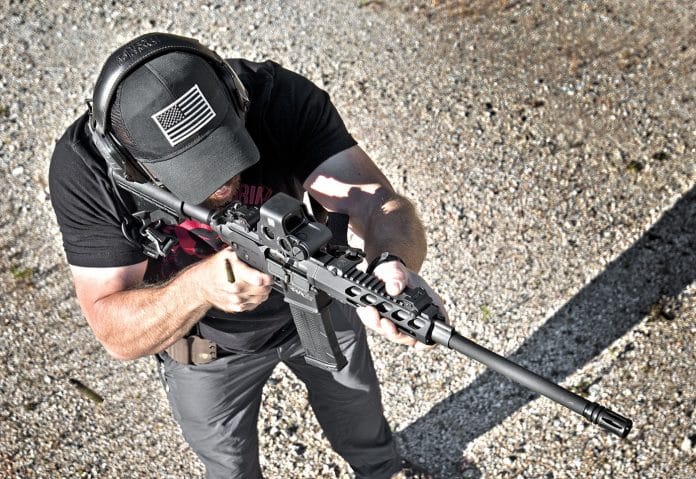 How much AR-15 can you get for around $700? Rock River Arms says, "a lot"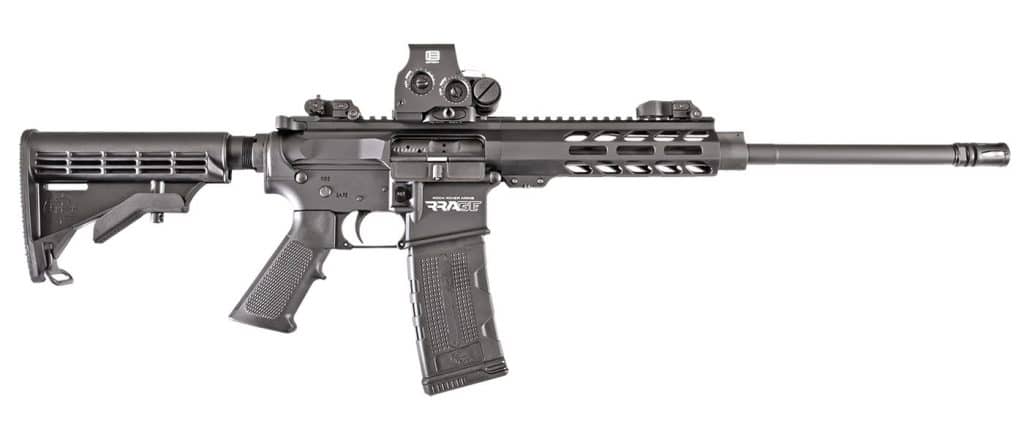 I don't know whether you've noticed or not, but we have—budget-priced rifles and carbines are proliferating in the AR-15 segment. Not to be left out of the stampede for cost-effective ARs, Rock River Arms has just introduced what we believe to be their lowest-priced-ever 5.56 NATO/.223 Rem. AR-15—the new LAR-15 RRAGE Carbine.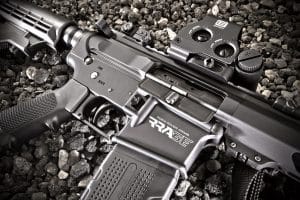 The RRAGE is designed to appeal to the AR-15 buyer who is looking for a no-frills carbine for self and home defense that is short, light and easy to maneuver in confined spaces, and that carries the pedigree of quality and reliability that Rock River Arms has so justifiably earned.
With a suggested retail price of only $759.95 (street prices are bound to be even lower) the RRAGE breaks new ground with its clean and trim monolithic-style upper receiver/slim-profile handguard (they are not, in fact, monolithic, but appear so at first glance). The RRAGE is based on Rock River Arms' new extruded flat-top upper receiver, with a forged and machined lower receiver.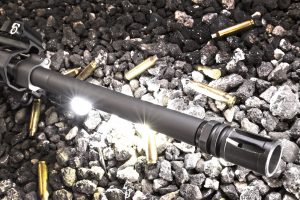 This 6061T aluminum upper receiver exhibits the crisp lines and defined angles commonly associated with more expensive machined billet uppers, while delivering comparable strength and precision dimensions. Matched to the receiver is a 7-inch, similarly constructed, 6061T aluminum free-floated handguard that blends almost seamlessly with the upper to provide a unitized profile and balanced strength and rigidity across the optics platform. The CAR-length handguard features a full-length 1913 Picatinny top rail and three sets of M-LOK rail slots, one set of three each in the 3:00, 6:00 and 9:00 o'clock positions for easy accessory mounting. The M-LOK system gives the shooter the choice of running a clean handguard, or the option of adding whatever rail accessories needed.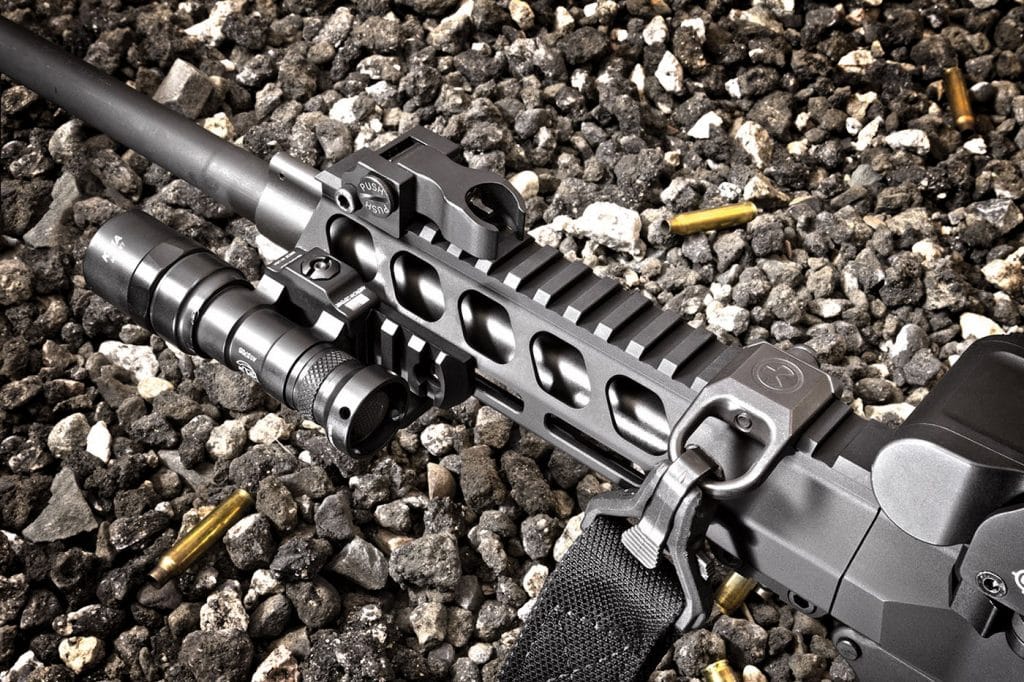 Other features of the direct-gas-impingement carbine are a 5.56 NATO chamber that will safely fire both 5.56 NATO and .223 Rem. ammunition interchangeably, a deleted forward assist mechanism, a 16-inch medium-profile chrome moly barrel rifled at a twist rate of 1:9 inches, A2 flash hider threaded at 1/2" x 28 TPI, carbine length gas system with low-profile gas block sitting directly ahead of the short handguard, an abbreviated shell deflector, Rock River Arms 6-position CAR buttstock, an A2 hand grip and 100% Mil-Spec controls, including a single-stage trigger. Empty weight with 30-round polymer magazine is 5.7 pounds, and overall length with the stock fully extended is 36 inches (32 inches collapsed). No iron sights are included, but that's a fair tradeoff for this rifle's MSRP.