You've heard me say before that no gun writer worth his salt can rest until he finds some aspect of the gun—however insignificant—to be wanting. And I guess I'm no exception. Having fired Rock River Arms ARs for the last 16 years, all of which were equipped with their excellent factory 2-stage triggers, my first dry-fire trigger pull with the RRAGE was a real surprise—and not a pleasant one. In its quest to produce a quality, budget-priced AR-15, Rock River slipped in a Mil-Spec single-stage trigger in place of its standard 2-stage model. Like any Mil-Spec single-stage trigger, this one makes the gun go bang every time, but to get there the shooter needs to deal with a long, creepy, stacky trigger pull at an average pull weight of 7 lbs. 12 oz., which is not conducive to precision bullet placement.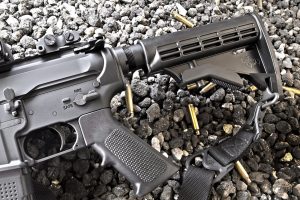 Again, however, it's a fair tradeoff, and something the owner can easily add down the road if desired. At only $120, and with a proven track record, a great replacement would Rock River's own RRA 2-stage match trigger ($120).
For testing we mounted an EOTech ESPX2 holographic sight with the brand new green illuminated dot-in-circle reticle onto the rifle's top rail. The green reticle is about six times easier to see in daylight than a red illuminated reticle, and at only 3-5/8" in overall length, it maximizes rail space and leaves plenty of room for a tip-off magnifier. The EXPS2 comes with an integrated, locking, quick-detach lever mount that will fit any Picatinny or Weaver-style rail or base, and this optic is so new that the MSRP was not available at press time. Its non-mount-equipped cousin—the XPS2 retails for $665. Its adjustable for windage and elevation in 1/2 MOA click adjustments, and features up/down brightness buttons to adjust reticle intensity (press both at the same time to turn it on or off).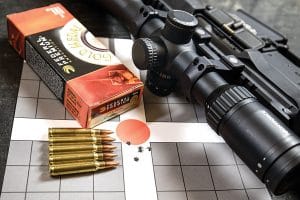 For reliability testing at 25 and 100 yards we fired a variety of 5.56 NATO and .223 Rem. ammunition at steel-plate targets, all without any fanfare or failures of any type. The trigger, however, did present a challenge at 100 yards.
Once we learned the peculiarities of this specific Mil-Spec trigger, however (everyone seems to have a different pull-weight and stacking sequence to master when precision shot placement is the task at hand), the RRAGE gave us great performance at 100-yards from the bench. With our trusted Nightforce (nightforce.com) 4-15×56 SHV riflescope mounted, our best group of the day measured 0.74-inches using Federal Premium 69-grain Matchking BTHP ammo. That's great performance from any AR-carbine, let alone a "budget priced" one. Similar one-MOA or better performance was seen with top-shelf loads from other manufacturers. Like most every-other Rock River Arms rifle we've tested over the years, this one's a shooter.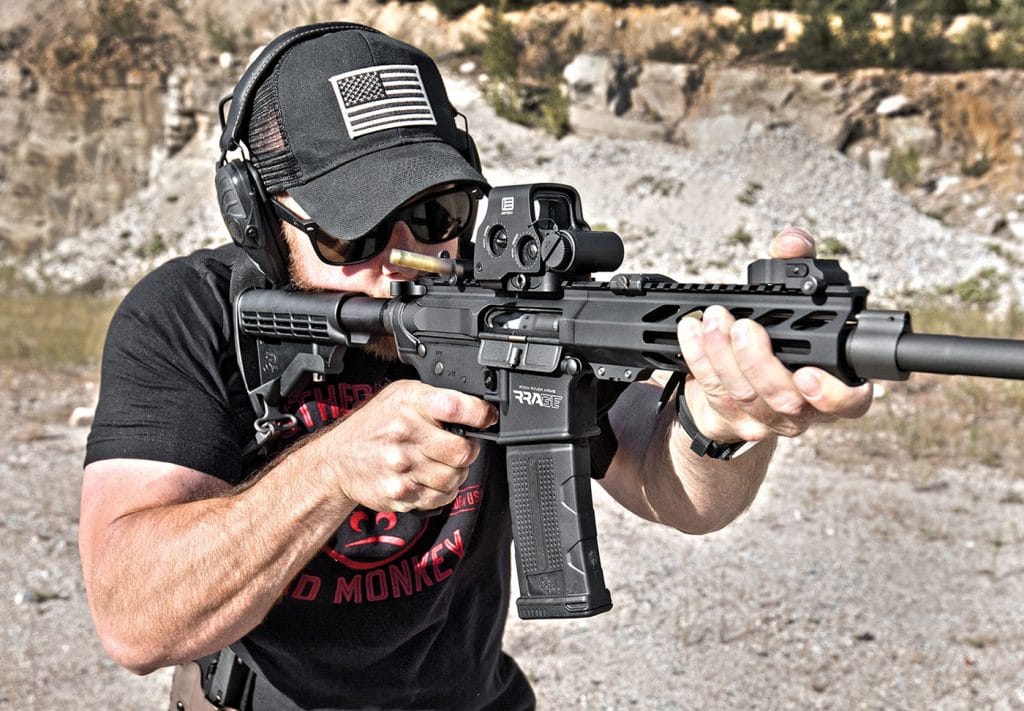 If you're in the market for a top-pick AR in the $700 price range, you don't need to look a whole lot further than the RRAGE. See this new carbine at your firearms retailer, or for more information contact Rock River Arms; Tel.: (866) 980-Rock; Web: www.rockriverarms.com
Specifications:
MSRP: Starting at $759.95
Caliber/Gauge: 5.56x45mm NATO
Barrel: 16-inch chrome moly, 1:9 Twist
OA Length: 36 inches extended
Weight: 5.7-pounds
Sights: Flat top rail
Stocks/Grips: RRA 6-position, A2 grip
Action: Rotating bolt, direct gas impingement
Finish: Hard anodized
Capacity: AR-15 .223/5.56 compatible