Other features of the RRAGE include a 16-inch medium-profile chrome moly barrel rifled at a twist rate of 1:9 inches, A2 flash hider threaded at 1/2" x 28 TPI, carbine length gas system with low-profile gas block sitting directly ahead of the short handguard, an abbreviated shell deflector, Rock River Arms 6-position CAR buttstock, an A2 hand grip and 100% Mil-Spec controls, including a single-stage trigger. Empty weight with 30-round polymer magazine is an exceedingly-light 5.7 pounds.
On notable absence it the typical RRA two-stage trigger, replaced with a Mil-Spec single-stage unit on the RRAGE. Again, however, it's a fair tradeoff, and something the owner can easily add down the road if desired. At only $120, and with a proven track record, Rock River's own two-stage trigger would make a great replacement.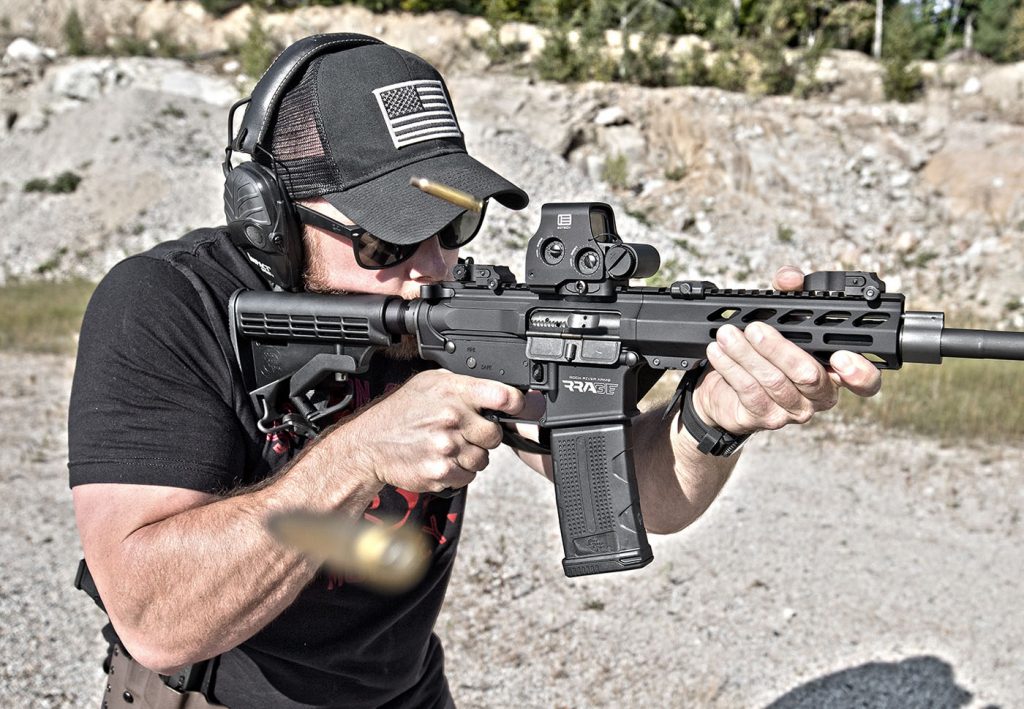 For testing we mounted an EOTech ESPX2 holographic sight with the brand new green illuminated dot-in-circle reticle onto the rifle's top rail. For reliability testing at 25 and 100 yards we fired a variety of 5.56 NATO and .223 Rem. ammunition at steel-plate targets, all without any fanfare or failures of any type. The trigger, however, did present a challenge at 100 yards.
Once we learned the peculiarities of this specific Mil-Spec trigger, however (every one seems to have a different pull-weight and stacking sequence to master when precision shot placement is the task at hand), the RRAGE gave us great performance at 100-yards from the bench. With our trusted Nightforce (nightforce.com) 4-15×56 SHV riflescope mounted, our best group of the day measured 0.74-inches using Federal Premium 69-grain Matchking BTHP ammo. That's great performance from any AR-carbine, let alone a "budget priced" one. Similar one-MOA or better performance was seen with top-shelf loads from other manufacturers. Like most every-other Rock River Arms rifle we've tested over the years, this one's a shooter.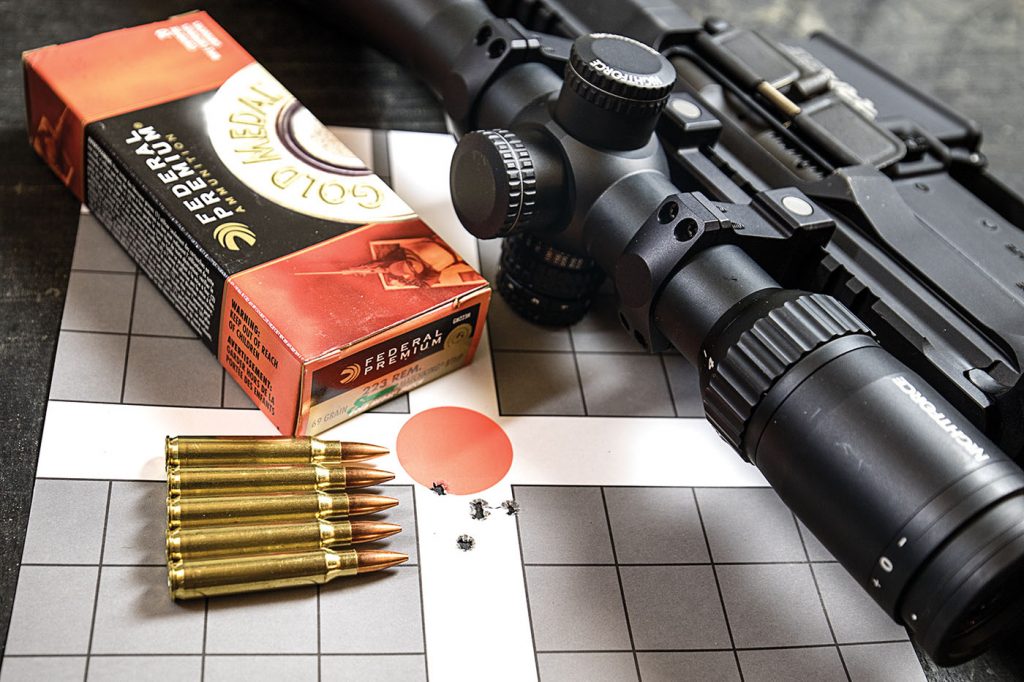 If you're in the market for a top-pick AR in the $700 price range, you don't need to look a whole lot further than the 2018 On Target Editors' Choice Award winning RRAGE. See this new carbine at your firearms retailer, or for more information contact Rock River Arms; Tel.: (866) 980-Rock; Web: www.rockriverarms.com
Specifications:
MSRP: Starting at $759.95
Caliber/Gauge: 5.56x45mm NATO
Barrel: 16-inch chrome moly, 1:9 Twist
OA Length: 36 inches extended
Weight: 5.7-pounds
Sights: Flat top rail
Stocks/Grips: RRA 6-position, A2 grip
Action: Rotating bolt, direct gas impingement
Finish: Hard anodized
Capacity: AR-15 .223/5.56 compatible