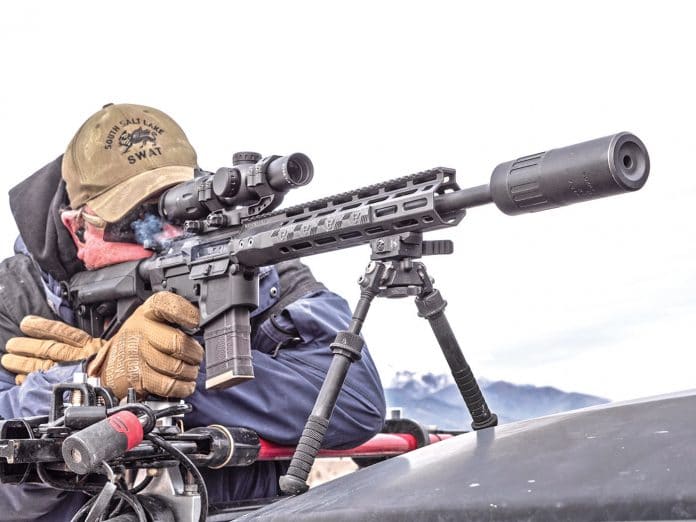 No longer just a custom-scope manufacturer, the SVS 1-6x plants roots as an extremely-solid option commercial-production arena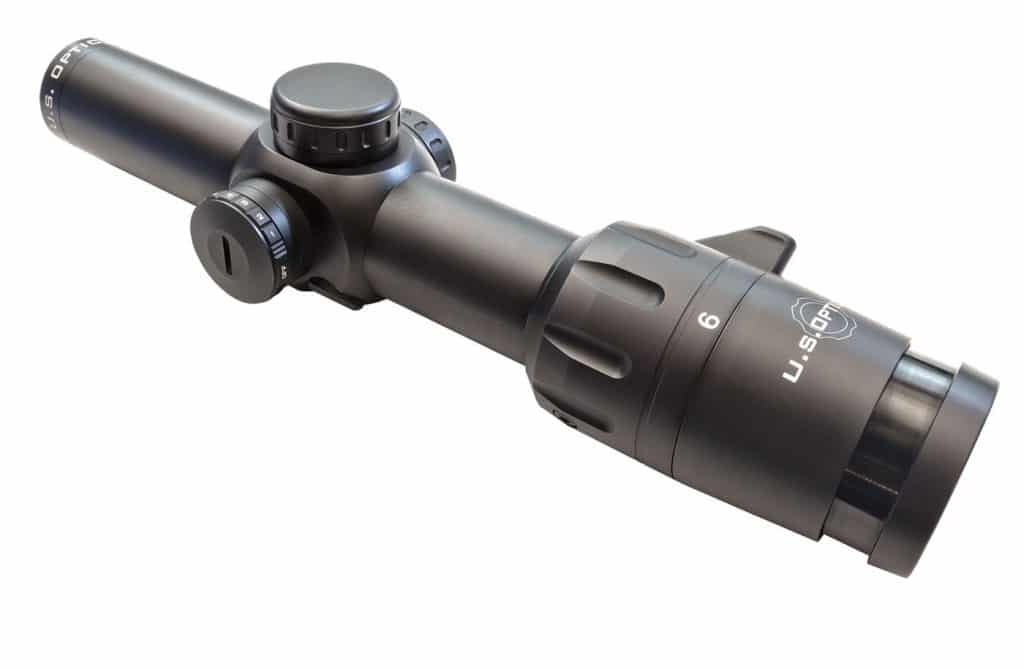 Variable power scopes rule the rifle optics world these days, no matter the magnification, with 1-6 power scopes the norm. Optics manufacturers are making the 6X smaller, lighter and more compact, supplanting the 1-4 optics. They provide a sweet spot for hunting, competition, defense and duty applications. For most, 300 yards is the practical, if not functional, limitation for most carbines. Whether protecting the home and family, hunting or fighting bad guys you will seldom go farther and generally be much closer. Six-power scopes provide plenty of magnification for proper target identification and also fit most carbines. U.S. Optics SVS 1-6 power is a fantastic example of this versatile and popular optic.
US Optics SVS 1-6 (SVS Mil Scale Reticle)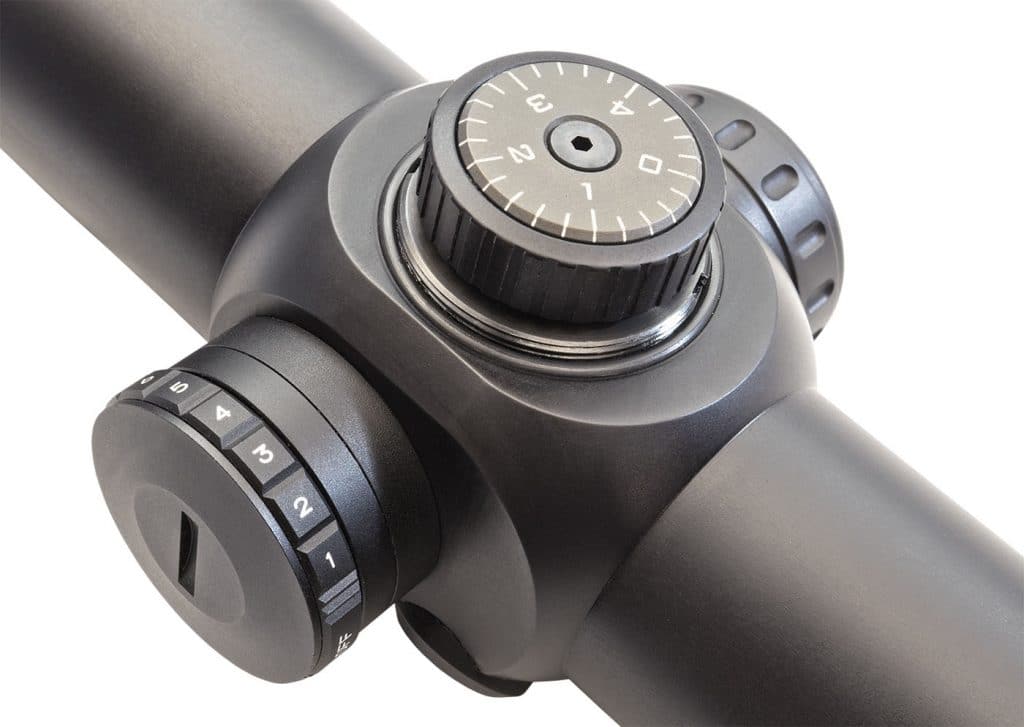 The main tube is 34mm in diameter, with elevation and windage turrets graduated in .20 mil. They are capped and low profile designed mostly for zeroing. A simple, lighted reticle using mil adjustments and a 2 MOA center dot is located in the second focal plane, with a rheostat type brightness control opposite the wind turret. Activated by pushing the side of the turret, adjustment is smooth and continuous, with no clicks. Turn it on, adjust the brightness, turn it off, or back on as needed. Low power is a true "one power", high end is six-power, where the mil reticle is most accurate. The objective lens is 24mm with a 34mm outside diameter. The eye piece uses a quick-focus adjuster with 3.5 inches of eye relief. Magnification is adjusted using a built-in lever. Scope weighs 1-pound 6-ounces, but add 7 ounces for the ZRODelta mount. Length is 10.25 inches, with the focus ring all the way out. Its SVS mil scale reticle consists of wind holds at 1 and 2 mils on either side. Elevation holds are 1, 2, and 4 mil lines, 6 mils at the start of the stadia line.
Wilson Combat's 18-inch barreled .300 HAMR was the primary test rifle. Accuracy has been stellar and perfect for this test. The SVS seems best suited to finding the target, holding on and going to work. Zeroed at 100 yards, the reticle was used out to 300 yards.
Observations
The sight picture was clear edge to edge with no color degradation or vignette. The reticle was clear with sharp edges. Used at dawn and dusk, it gathers light comparably to similar scopes in the same price range. Fixed parallax kept it mostly in focus out to 500 yards—that will differ with the condition and age of the eye behind it.
Most common cartridges zeroed at 100 yards will hold 1 to 1.5 mils at 300 yards. The .300 HAMR using 100-grain BTHP at 2,600 f.p.s. was right on using the 2-mil line, the 1-mil line at 200 yards. Using a 16-inch 5.56mm with 55-grain Barnes TTSX it held 1-mil at 300 yards, just above at 200 yards, 4 mils got me on at 500 yards. It worked with 5.56mm, 6.8mm SPC, .224 Valkyrie,.300 HAMR and .308 from a 16-inch barrel. Using simple, common mil measurements lets you work this scope with just about anything without needing a cluttered and complicated sight picture.
Technically, measurements are precise at 6-power; practically it made no difference to 300 yards. Six-shot group at 300 yards using 1 through 6-power holding the 2-MIL line measured 4 inches; at 100-yards they clustered into an inch. At longer ranges it may be an issue, but that's not what it's designed for. Within its practical applications, what power you are on will shift impact little or not at all.