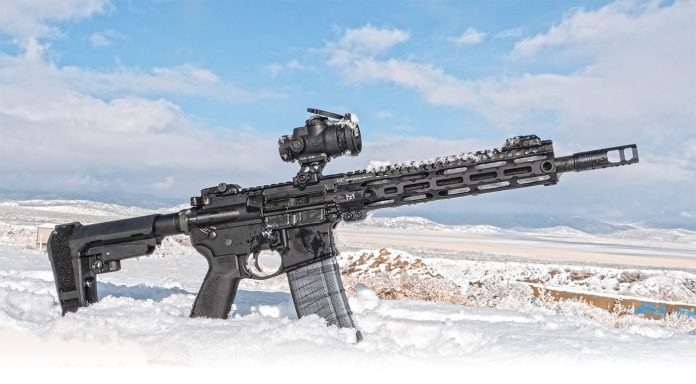 A .300 BLK AR pistol from the company who just might know a thing or two about building ARs
FN USA has been quietly building the M16 for decades, since the M16A2 in the 1980s. Licensed for manufacture under the Colt name they have been building them longer than anyone other than Colt. Built in their facility in Columbia South Carolina they are 100% American made rifles. They introduced their first civilian model, the FN15 in 2015. Built to a true military specification, they became quite popular among law enforcement agencies as rugged, reliable and true representations of the platform. Since then FN America has produced a complete line of AR-15 rifles for the commercial market meeting a number of needs. They range from military collector rifles representing the AR-15/M16 Heritage, to the Competition model designed for the ever popular 3-gun market. Some of their latest models include AR pistols, becoming more common with each passing year. Introduced in 2016, they were chambered in both 5.56mm and 300 BLK. Early versions utilized the pistol buffer tube, current models used the SB tactical brace. For this review we added the latest brace from SB Tactical, the SBA3 brace, adjustable to fit arm length.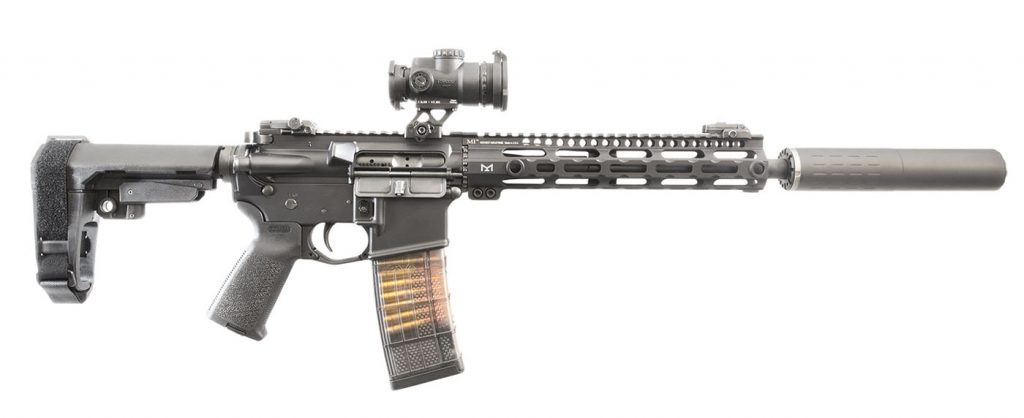 FN15 300 BLK Pistol
FN America's FN 15 starts with mil-spec 7075-T6 forged receivers. Its Midwest Industries G3M10 lightweight handguard is thin yet strong, with M-LOK capability on seven different sides and five QD sling swivel points (three at front, two rear). It covers a 12-inch cold-hammer-forged, chrome-lined barrel capped with a SureFire Pro Comp 7.62mm muzzle brake. The trigger is FN's combat model single stage: crisp with no creep measuring a consistent 6 to 6.5 pounds pull weight. The safety and bolt release are all standard A2. SB Tactical's latest SBA3 stabilizing brace used during testing is adjustable for length via 5 positions, with QD cups on either side the tube supports a standard carbine buffer and spring.
Testing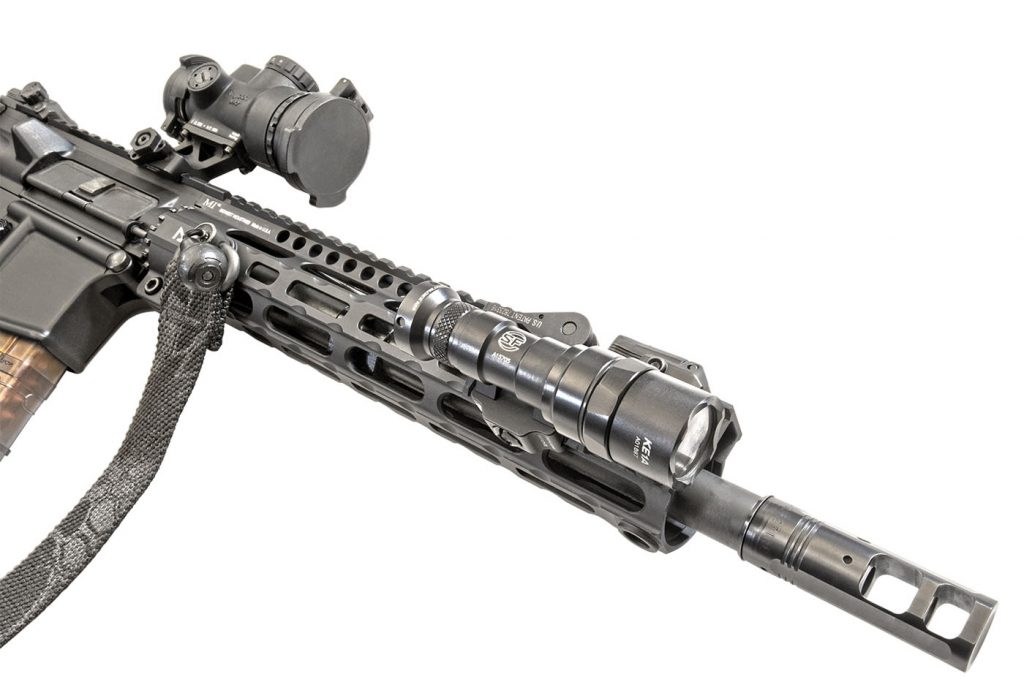 Trijicon's MRO Patrol RDS was designed to go from box to rifle to work with a 2-MOA red dot and some serious features. Adjustable for brightness (eight intensities) there are two separate off settings and night vision positions. Half MOA (70 MOA total) adjustments for windage and elevation can be adjusted using a coin or other field expedient tool. Lenses are capped and include an ARD reflective device to prevent detection and tame glare. Battery life is 5 years with one C2032 using daylight setting three. Built from 7075-T6 aluminum it is designed to withstand adverse conditions and hard use. Its mount uses a 1/3 co-witness to the Magpul Pro sights we installed. Light, strong, and clear, it is perfectly suited to duty or self-defense use.
Range Time
FN's cold-hammer-forged barrels are known for their solid and repeatable accuracy. Having tested several over the years, I can say they are always excellent, and this one was no exception. Groups were fired using a bench as a rest and bag for support. Sig Sauer ruled the test for accuracy using their 220-grain subsonic Elite Match, with my best group 5-shot group measuring 0.70 inches, center to center. Fired from 25 yards the first four were touching, while the last was just outside the group. Moving back to 50 yards Sig Sauer's 125-grain Elite Match produced a slightly larger group. Every subsonic group fired from 25 yards was about the same size, most at 0.75 inches or so, while everything at 50 yards was under an inch—about as good as it gets for me using an RDS.