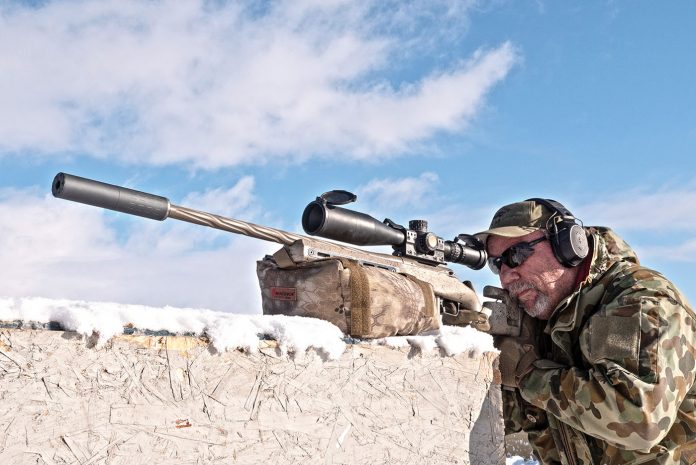 From pistol to big-bore rifle and effective on all, the Hybrid might be the reigning king of versatility
SilencerCo has long been at the fore of suppressor versatility. The Omega is a perfect example with attachments for flash hiders, brakes, or direct thread. Their Omega K brought the same idea to pistols: light, strong, with a piston system for pistols and direct thread for subguns. Silencerco's latest, the Hybrid, ups the game. Capable of use on everything from a 9mm to .45 caliber pistol, it will also work with .458 Socom and .45-70, and rifles from 5.56mm to .338 Lapua Magnum and most anything in between. An ASR mount (flashiders or brake) can be used along with direct thread, three-lug, and pistol capable pistons.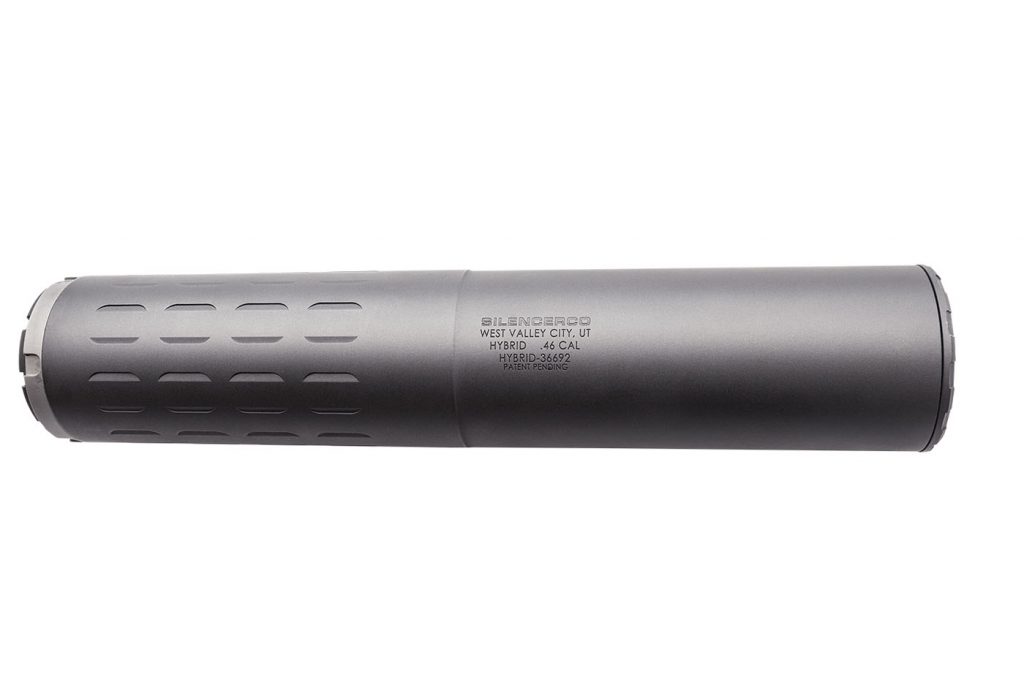 At 7.80-inches, it weighs in at a mere 17.3 ounces. Made from Titanium and stainless steel, it is strong, capable of withstanding 16-inch barrels in .458 SOCOM and .45-70, 18-inch barrels in .338 Lapua Magnum. Use your favorite lever action in .45-70 or precision rifles in .308 Win, .300 Win. Mag. and anything in between. It's truly a Hybrid, capable of use with both pistols and rifles of varying calibers and configurations.
Testing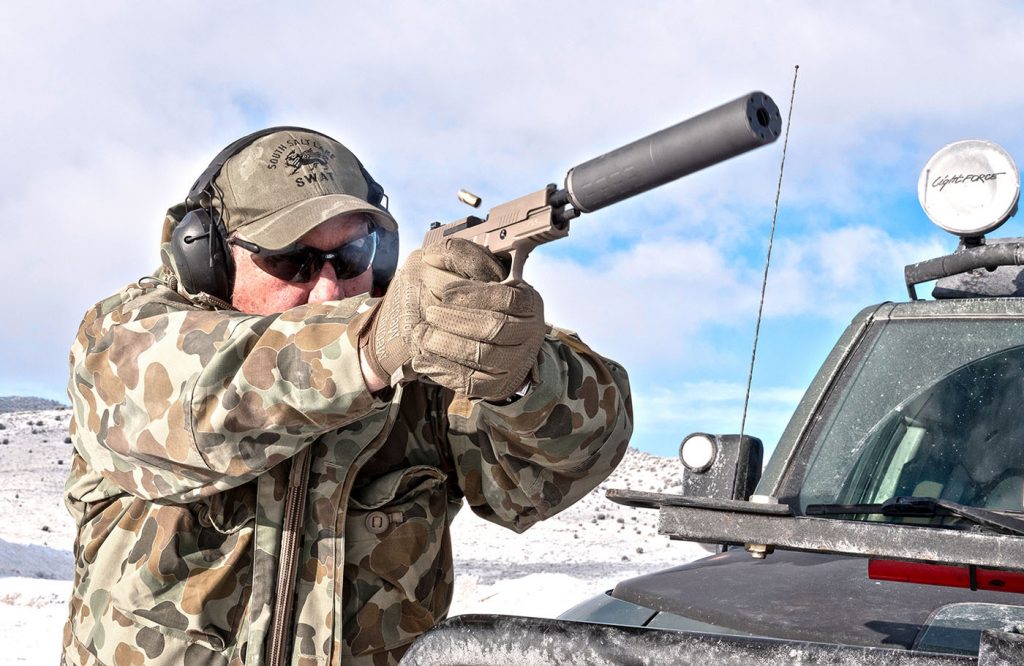 Pistol testing was completed using Sig Sauer's P226 SAO (Single Action Only) equipped with a SilencerCo threaded barrel. Wilson Combat's new .300 HAMR was used for carbine testing. It adds almost 200 f.p.s. to a typical 300 BLK in the same size AR, making it a good test. The shorter barrel (11.3 inches) keeps it handy. Chamber pressure is lower than a .308 Win., making the shorter barrel workable even with a suppressor attached. Alamo Precision Rifles 6.5 Creedmoor handled the precision duty. Using a Grayboe Ridgeback stock keeps it light, Timney's two-stage makes for excellent accuracy, and the Nightforce ATACR allows for a clarity in every condition.
Thoughts
Rifle attachment was easy using the 5/8"x 24 T.P.I. direct thread adapter, and the tools to tighten each are included with the suppressor. Pistons for pistol use are the same as the Omega K, Osprey and Octane. Swap out the piston to fit your barrel, place it into the mount and thread it on. It fit my 9/16" x 24 T.P.I. Silencerco barrel perfectly.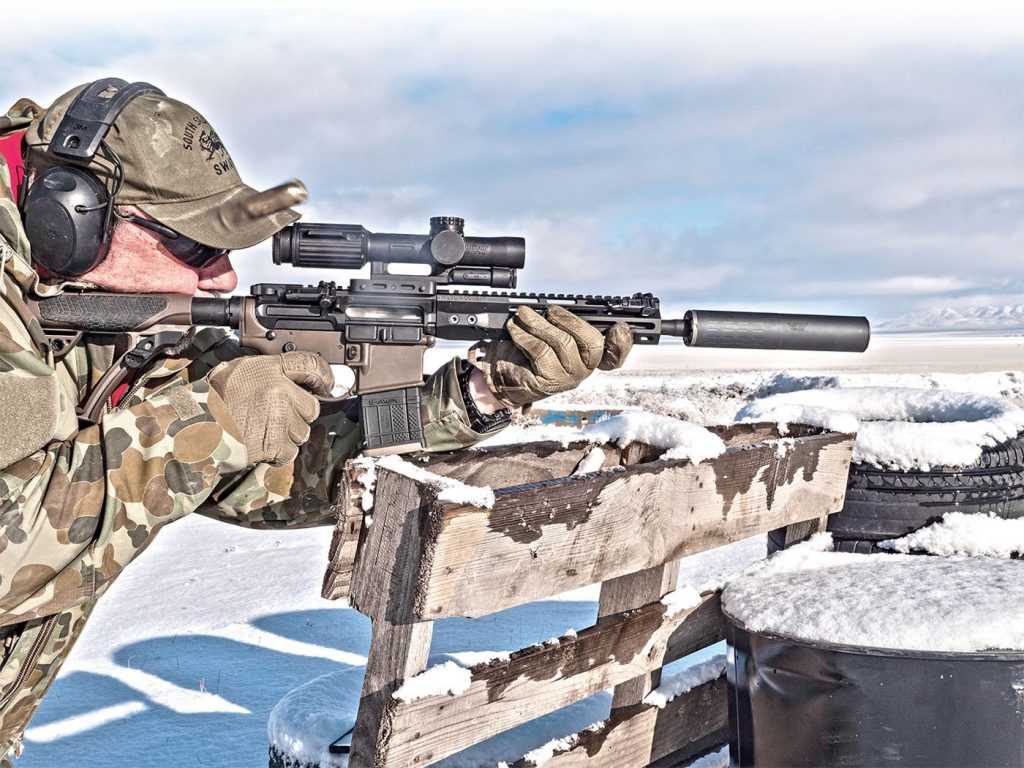 All three of these firearms have been extensively tested for accuracy, and adding the Hybrid had no adverse effect. Both the Wilson Combat and APR maintained their 0.5-inch accuracy at 100 yards, and sub 3-inch accuracy at 300 yards. Impact shift removing the Hybrid from the APR 6.5 Creedmmor was minimal, less than 0.5 inches. Mounted to the P226, it clustered Doubletap's 124-grain Match ammunition out to 15 yards from off hand.
Function on the Wilson Combat 300 HAMR was excellent, with very little excess gas in my face, no real change to brass ejection and no stoppages. Testing with 110-grain HP it remained accurate and it worked just fine with the 130- and 150-grain hardcast. There was no excess bolt lift on the APR, allowing for rapid bolt manipulation, and felt recoil was lessened quite a bit. Mounted to the P226, everything ran, including some rather anemic 115-grain, but it required a firm grip. Ejection with the hotter loads was excellent, while it dribbled out using the lighter stuff. It is long and a tad heavy for a pistol and you will need suppressors sights given its 1.57" diameter.