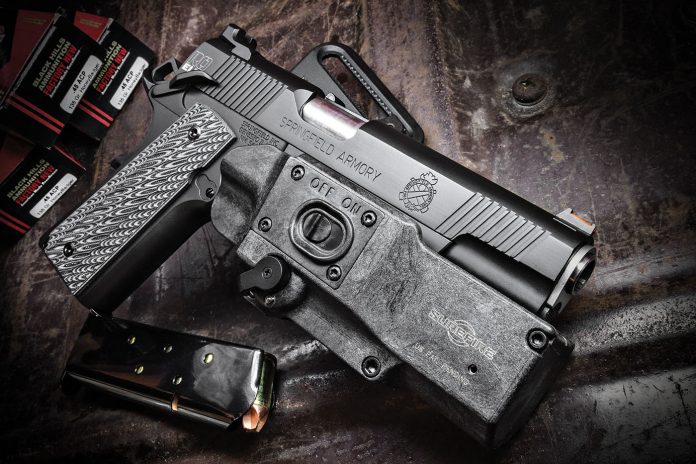 A do-it-all 1911 .45 at a reasonable price.
A few years ago, Springfield Armory came out with their Range Officer series, which I liked so much I bought the test sample. It became my duty gun for my last three years on the police department, and the .45 I most often used to teach private classes with. A bunch of friends and students bought them on my recommendation, in the initial .45 ACP chambering and the subsequent 9mm alike, and without exception were happy with them. Thus, I was eager to get my hands on the latest iteration of the series, the Elite Operator.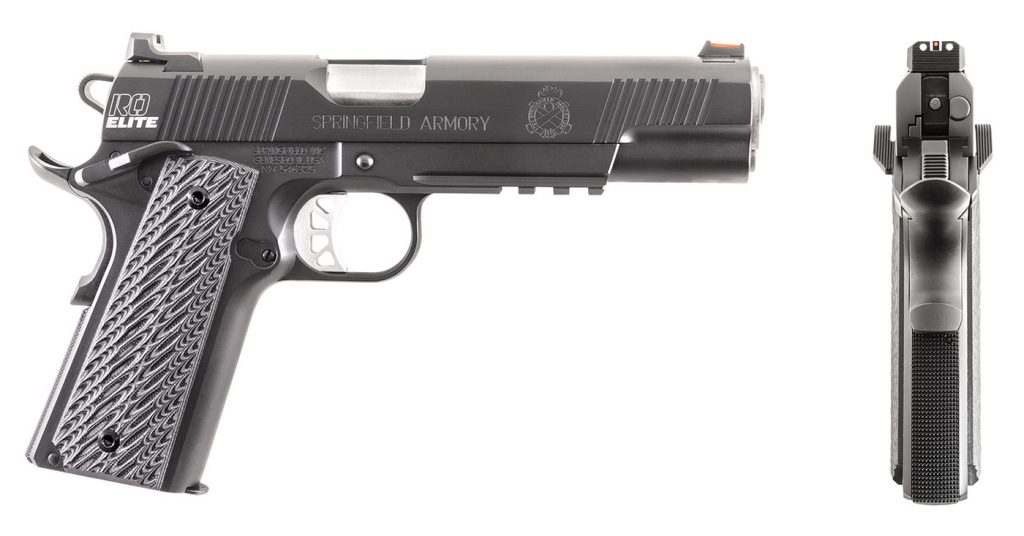 Marked "OPERATOR" on the left side of the slide and "RO ELITE" on the right, it came in a handy zipper bag with two flush-bottom, 7-round magazines, their floorplates drilled for bumper pads. It's a rail gun, the light rail's a bit slimmer and less protuberant than on most railed 1911s, which seems to be A Good Thing, but still keeps the pistol from fitting most standard 1911 holsters. Configuration is otherwise 5-inch barrel, square butt "Government-style." Historically, a five-inch Government 1911 has averaged 39.5 ounces unloaded weight in all-steel construction; the rail integral to the dust cover brings this one up to 41 ounces. The finish is corrosion-resistant Black-T. Slide operation felt a bit rough compared to other Springfield 1911s owned by the test team, but it turned out not to be problematic.
Features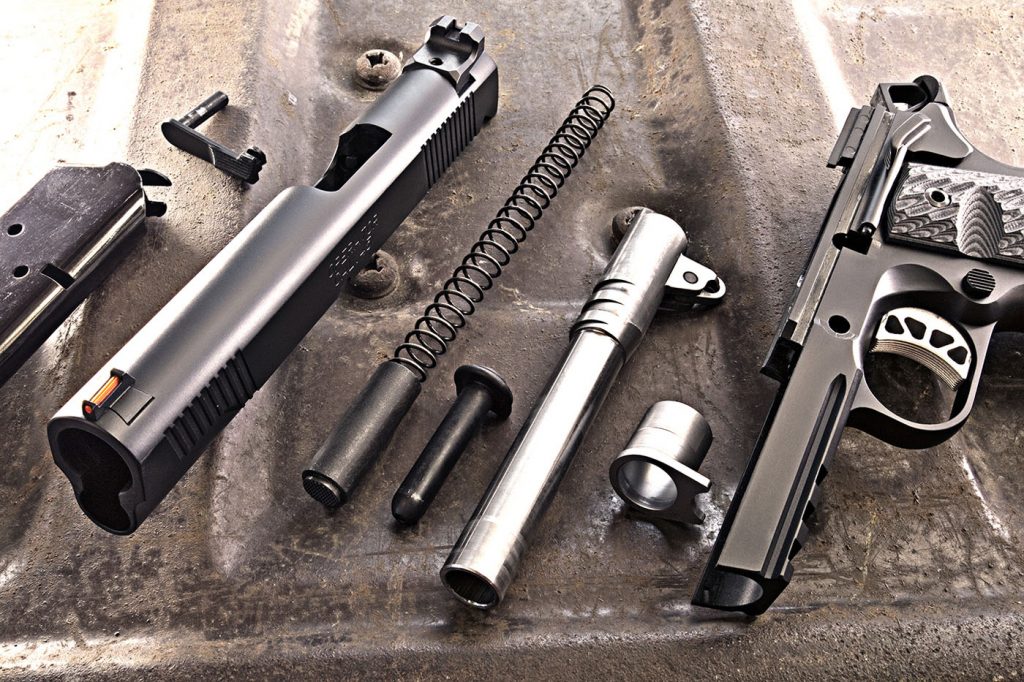 Like the original Range Officer, this one has a checkered mainspring housing and smooth front of frame, the easy to strip original John M. Browning barrel bushing with short guide rod and beavertail grip safety. What else does the Elite bring to the table? The features mentioned above, plus a well-adjusted and -shaped beavertail grip safety (standard on the RO series) and very slim G10 grip panels. That pleased this writer, because the original comes with handsome Cocobolo grips. What's not to like? Only this: the first time I found needed to carry my Range Officer against bare skin (IWB, under an un-tucked shirt) I had a 1911 grip-shaped skin rash by the end of the day. Seems I'm one of those folks who is allergic to Cocobolo. I swapped on the nearest pair of walnut panels, which had Colt medallions, leaving my Springfield Range Officer looking like a blue steel and walnut personification of multiple personality disorder.
The Elite's slim grips permit a bit more trigger reach that allowed me to get my finger in deeper on the medium-length adjustable trigger, affording more leverage: another Good Thing. On my Lyman digital scale, this trigger averaged 5 lbs., 1.3 oz., well within "safe street trigger" spec for a 1911.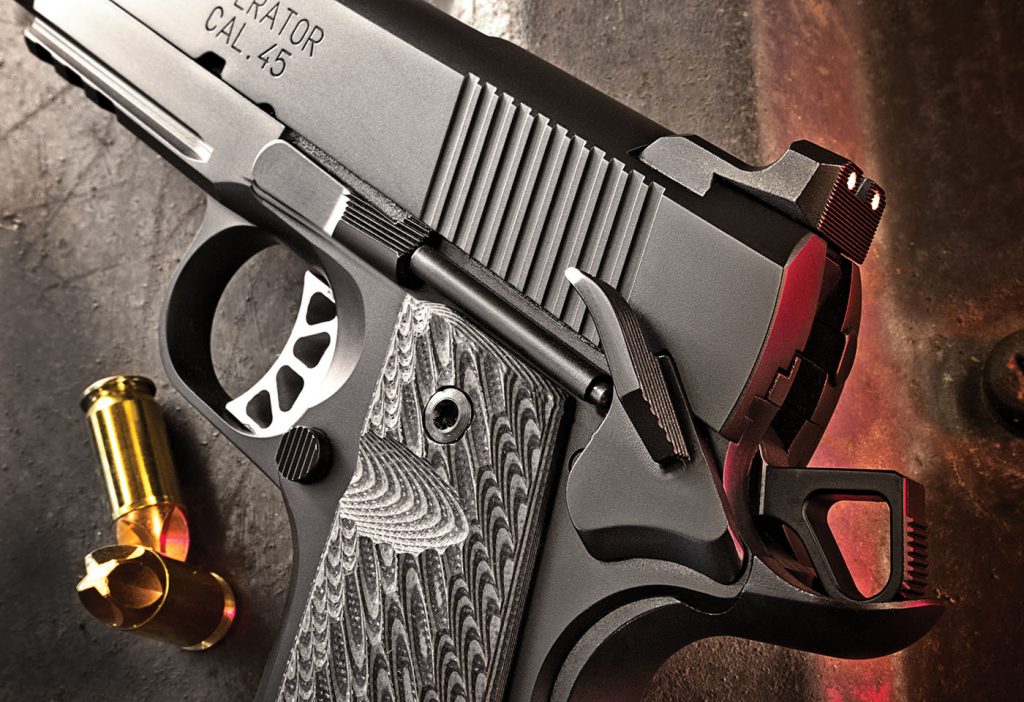 Sights are fixed, high profile rear with a front ledge to allow the user to rack the slide against belt or holster if circumstances should require one-handed emergency operation, and a red fiber optic front sight. A couple of non-luminous white dots on the rear sight combine with the bright red orb of the fiber optic, allowing the three-dot sight picture many shooters prefer for fast work, and which any of us can appreciate under certain lighting conditions and with certain target colors.
Fellow tester Steve Denney noted, "It seems to have a heavy mainspring, but I didn't notice it in shooting. The sights were easy to see. It's certainly accurate, and very controllable with full power hardball. No sharp edges chewing on my hands." I concur.
On the Bench
Accuracy testing was done two-handed from a Caldwell Matrix rest on a concrete bench at a measured 25 yards. Federal HST 230-grain +P is rated for 950 feet per second from a five-inch barrel such as the Elite's, and may just be the most dynamic conventional .45 ACP load available. The test Springfield put five of these rounds in 1.65". The bottom two were in a very tight vertical double. The best three were in a cluster just above the double that measured 1.00" center to center.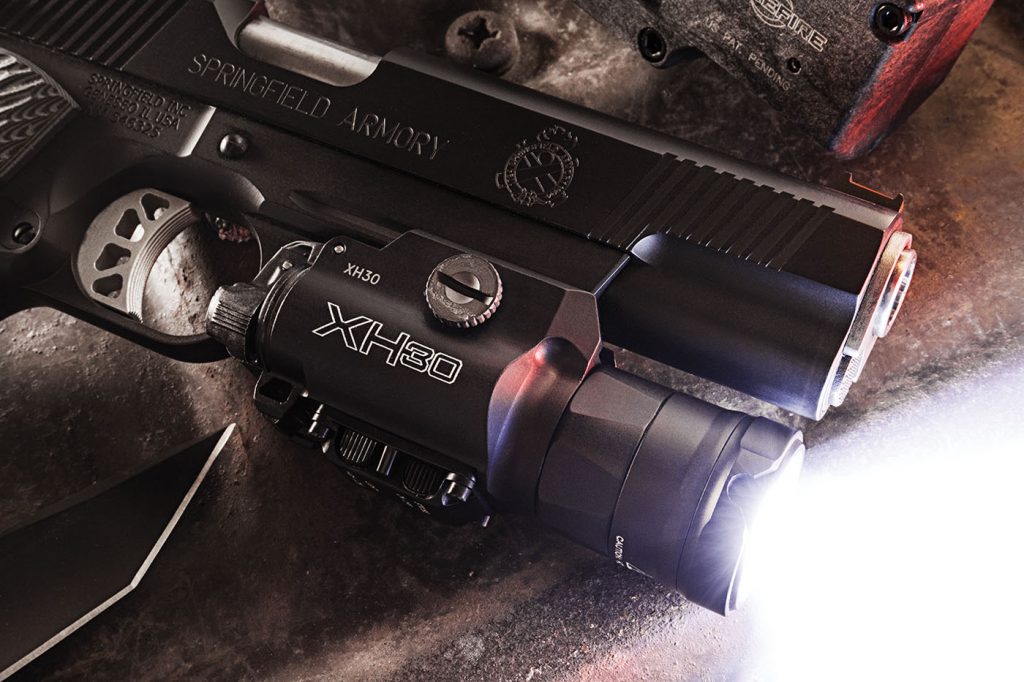 Speer Blazer Brass was chosen to represent the most popular .45 ACP training round, 230-grain full metal jacket. This load delivered a 1.55" group with all five shots, the best three once again in exactly one inch. (What are the odds of that?)