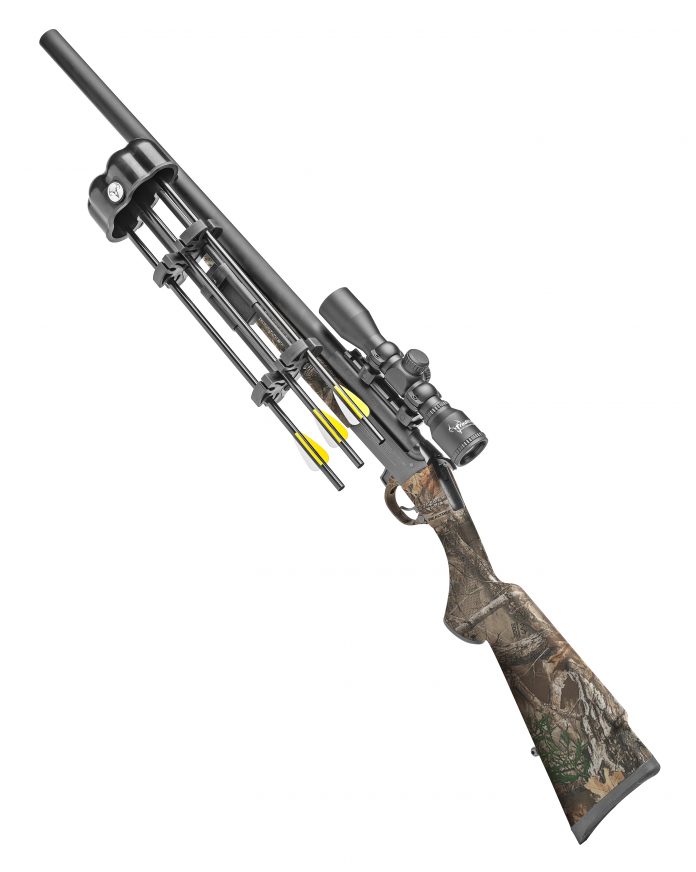 PRESS RELEASE
TRADITIONS™ FIREARMS OFFICIALLY RELEASES TO THE PUBLIC CRACKSHOT™ XBR™ – AN ARROW LAUNCHING RIFLE
Old Saybrook, CT (April, 2019) – Traditions™ Performance Firearms will be officially releasing to consumers the Crackshot™ XBR™ Rifle at the 2019 National Rifle Association Annual Meetings & Exhibits in Indianapolis, Indiana. The convention will take place April 26-28 at the Indiana Convention Center. The Crackshot™ XBR™ rifle is patented by Traditions™ and is an exciting new product for 2019!
This package comes with 2 rifles for the price of one! The package comes with a Crackshot™ .22 caliber rifle with a 16.5" barrel which is perfect for small game hunting and plinking. It also comes with the XBR™ upper which easily swaps onto the Crackshot™ turning the rifle into the Crackshot™ XBR™. This upper has an inner barrel that is protected by an outer shroud. Simply slide the hollow end of the arrow onto the inner barrel and push downward until it meets the end of the barrel. The Crackshot™ XBR™ uses a Traditions™ Firebolt™ 2216 arrow that is 16" aluminum. Next, break open the rifle and place a Traditions™ XBR™ Powerload .27 Cal Long in the chamber, close up the gun, remove the safety, and then fire at your target. It's that simple!
The Crackshot™ XBR™ is extremely accurate and can reach up to 385 FPS. The arrow is pulled from the front instead of pushed from the rear so the arrow maintains a steady trajectory. This gun has low recoil, is lightweight, and emits a low decibel when fired.
The Crackshot™ XBR™ is perfect for adults, youth, and works especially well for anyone who is disabled or has limited arm strength thanks to the ease of use. It is excellent for recreational shooting and is just fun to shoot!
Stop by Traditions™ NRA Booth # 2852 to see the Crackshot™ XBR™!
Known for their accurate, innovative, and dependable firearms, Traditions™ has a reputation of providing quality firearms for over 30 years. A leader in the industry, Traditions™ offers black powder rifles and pistols, cartridge rifles and revolvers, blank pistols, Build-It-Yourself rifle and pistol kits, and cannons as well as a full line of accessories and optics. For more information on Traditions™ Performance Firearms, their website at www.traditionsfirearms.com, find them on Facebook, Instagram, YouTube, and Twitter, or call 860.388.4656. U.S. Patent No. 9,546,844
###