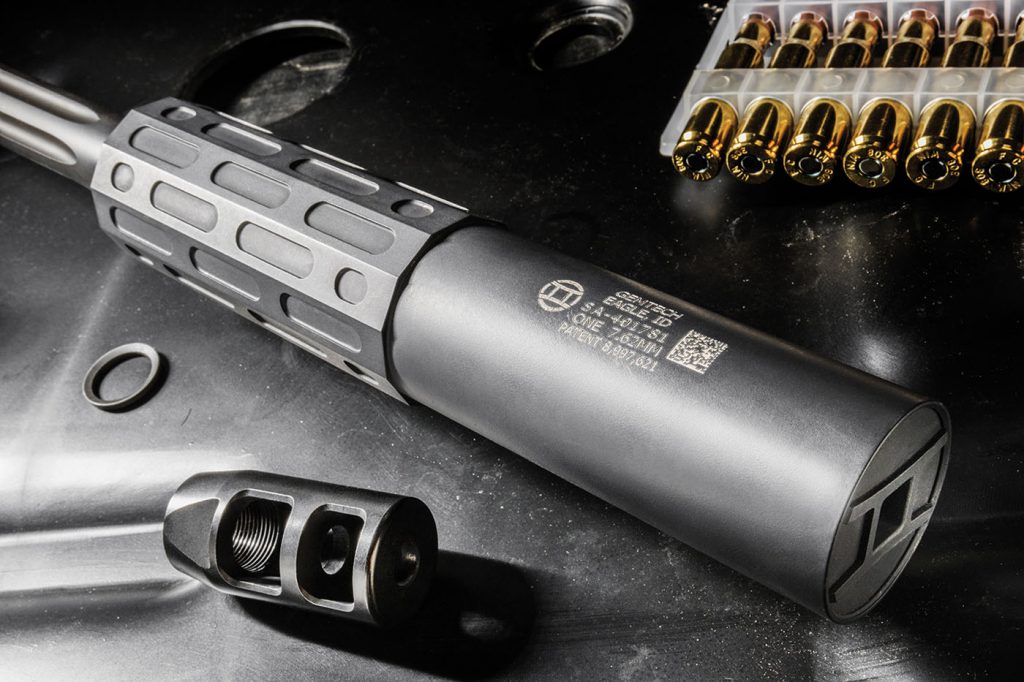 No precision rifle is complete without a quality optic, and I was fortunate to have received my LRR topped with Trijicon's new 5-50x56mm Extreme Long Range Riflescope in Nightforce 34mm rings. Space prevents me from going into the many details relevant to this particular optic, but I will say that it is second focal plane, has an illuminated MOA reticule, turrets adjustable to .125 MOA, and hyper-clear multi-coated glass. This is the most powerful scope I have ever had on a rifle, and there was a learning curve to use it properly. One feature worth noting is the windage stop, which involves a very tiny, well-hidden set screw that prevented me from initially getting on target when I first began testing. A query to Trijicon soon helped get the problem resolved. Another similar issue I discovered with the LRR itself was the set screw which binds the action to the chassis.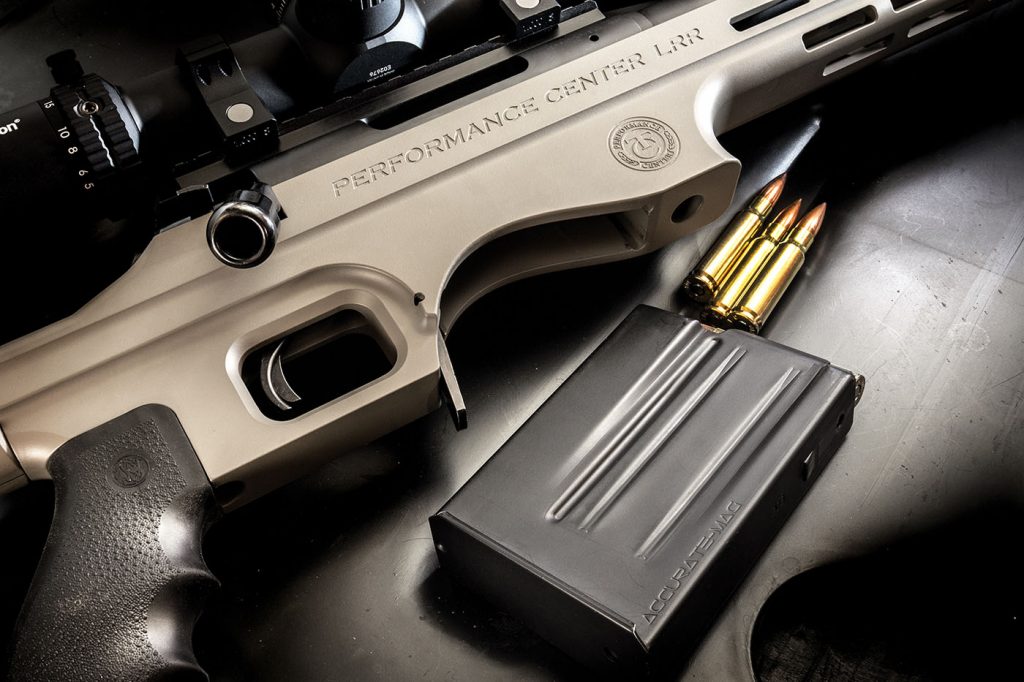 If this comes loose, as mine did, you are in for a day of frustration which you will likely blame on yourself, until finally doing the forensics to diagnose why it seems impossible to otherwise get a good group with such a quality set up. Check said screw routinely and torque to spec. A final note is that despite every effort to save weight, when topped with the 38.6 ounce Trijicon ELR and carrying the Magpul bipod, the LRR weighs in at well over 14 pounds empty. This is fine for bench or static shooting, which is typical for rifles like these, but unless you are one of those endomorphs who like hauling the mortar base plate or M240G around, plan on moving the LRR over distance via vehicle.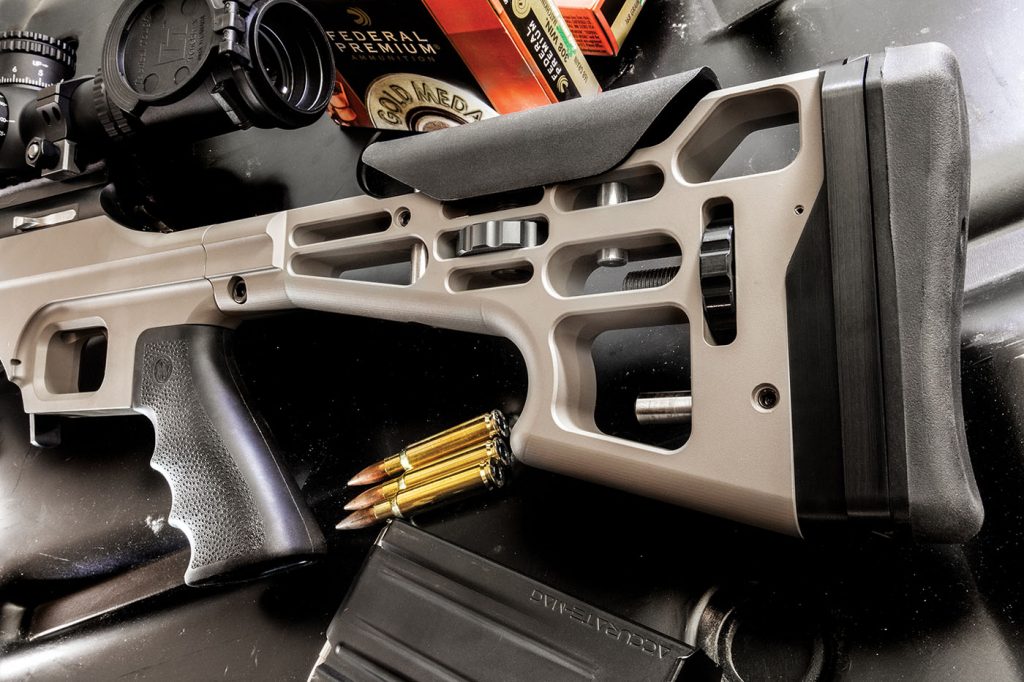 Putting bullet-to-paper at 100 yards confirmed our suspicion that the LRR might very well be the best bang for the buck in the world of factory precision rifles. Testing with premium 168- and 175-grain loads from Federal, Black Hills and Hornady, the LRR had no issue sending three shots into a sub-MOA group; in fact, you almost had to deliberately throw a shot to exceed one inch. While all loads at least approached the half-inch group size, the only one to break it was Federal's 168-grain Gold Medal Match, loaded with a Sierra Matchking BTHP bullet. This load turned in a best-of-day 0.46-inch 3-shot group. Very impressive work T/C!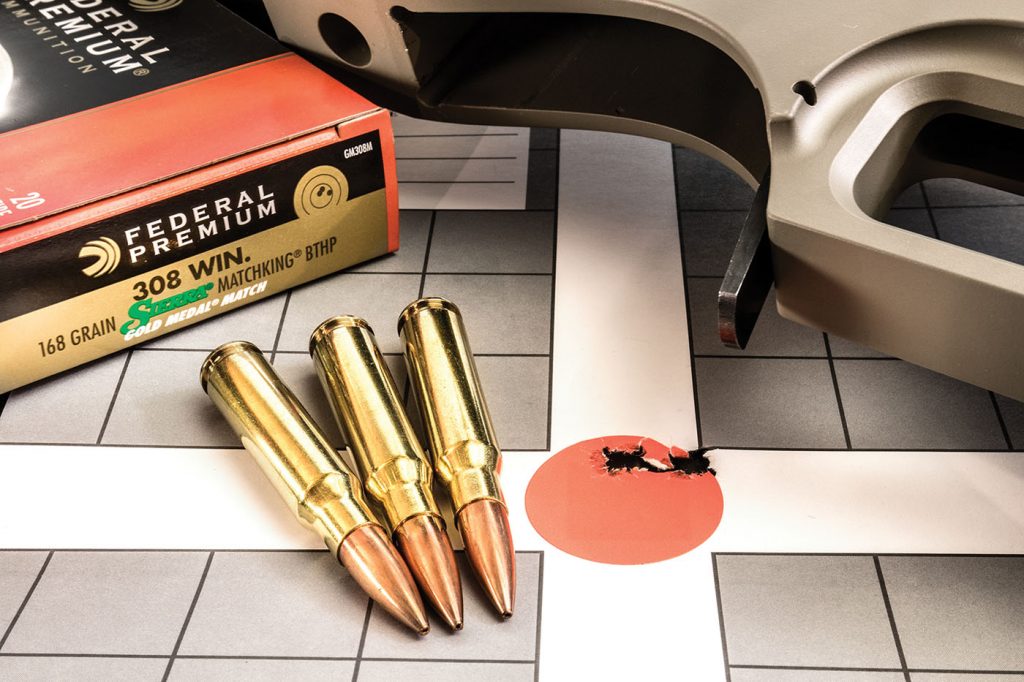 If you've read this far and looked at the photos, you could be forgiven for thinking that the S&W Performance Center T/C LRR goes for a prohibitively high cost, but you would also be wrong. My jaw literally dropped after discovering it has an MSRP of only $1,211. That is flatly amazing considering the features that are standard with this rifle, especially when you can easily spend four or five times that amount for a similar platform. The Trijicon ELR and similar scopes will set you back at least double that themselves, but having an extra grand or two to spend on ammo or other items is a major plus. If you want something besides .308 Win., the LRR also comes in 6.5 Creedmoor and .243 Win. Whether you are new to the precision rifle game, or an old salt, the Performance Center T/C LRR is worth a hard look. Check it out at your nearest dealer, or for more information, contact Thompson/Center Arms; Tel.: (866) 730-1614; E-mail: [email protected]; Web: www.tcarms.com
Specifications:
MSRP: $1,211
Caliber/Gauge: .308 Win.
Barrel: 20-inch fluted, 5R rifling
OA Length: 43.5-inches
Weight: 11 pounds
Sights: 20-MOA Picatinny rail
Stocks/Grips: Aluminum chassis/Hogue grip
Action: 3-lug, 60-degree bolt
Finish: Flat dark earth
Capacity: 10, AICS style