Delighted and surprised, all three types of ammunition ran through the TX-22 without a hitch. None was more surprising than the subsonic ammunition, as I generally don't run that in anything other than a bolt action rifle. I deviate from this practice only with low expectations. The subsonic ammo even put the TX-22 into slide lock on the last round EVERY time! Federal's high-velocity Clean .22 ammunition gave us the best overall results, however groups were under two inches for most other ammunition.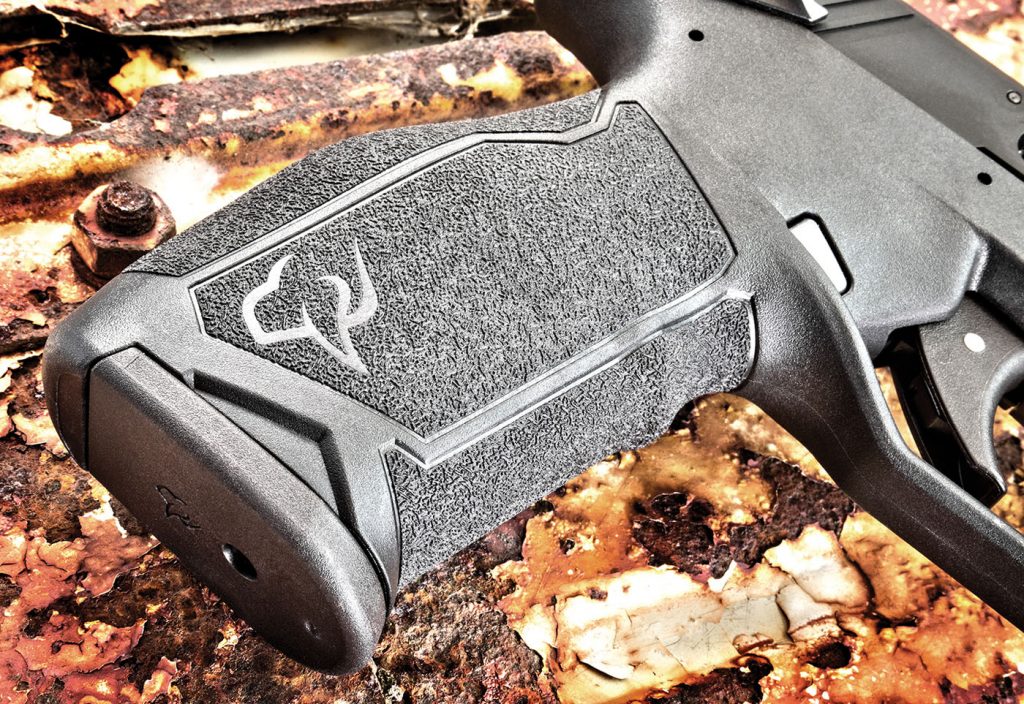 Aiding in the loading of magazines was the cutest little speedloader I've ever seen (included). It actually mirrors the common, one-piece style speedloaders that come stock with most pistols. In addition to the speedloaders, magazine filling was expedited by the assist button built into each one. These magazines hold 16 rounds and are of an open design allowing them to be dropped into the sand and easily cleaned, a common issue in competition shooting.
Overall handling was very nice with the TX-22. The slide was easy to rack, but took a little more effort than most .22s. Certainly not difficult, but it left me wondering if that was done to prepare somebody for a centerfire action. The heavier slide also slammed into battery with authority, helping to ensure rounds got seated completely into the chamber, especially if it was a little dirty, which .22s nearly always are. The trigger broke very crisply, with just a hint of creep and a very short reset rivaling some of my best centerfire pistols. Getting on target was simple. The TX-22 comes stndard with a rear sight adjustable for both windage and elevation. Taurus's new rimfire also includes an ambi-safety, but magazine release and slide stop are left-side only.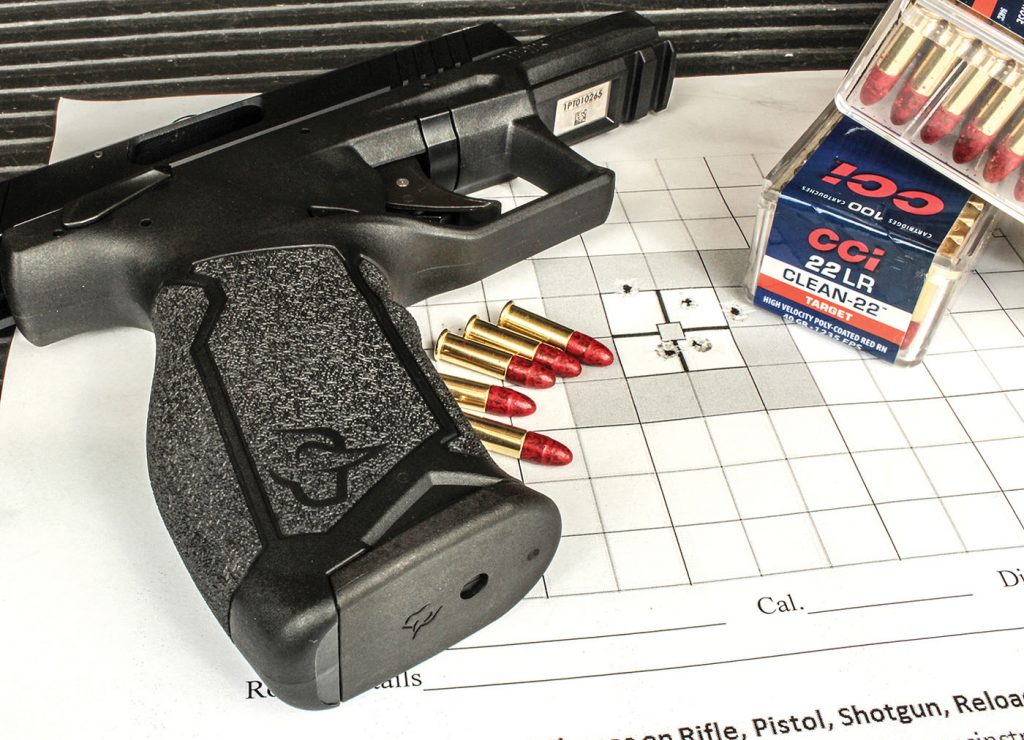 Getting the gun back to the bench, we gave it a quick clean. Although the TX-22 comes with a threaded muzzle, you do not need to remove the muzzle cap to take it apart. Many .22 pistols require this and sometimes the thread protector can be stuck on there pretty good.
Disassembly was pretty typical, especially for a rimfire. With the chamber empty and the magazine removed, simply pull down on the takedown lever, squeeze the trigger, slip the slide forward off of the rails, remove the guide rod/spring assembly and lift the barrel out. The process is literally like almost every centerfire pistol on the market. I thought this was very interesting because I've always wondered why more rimfires aren't built like this. Cleaning was relatively easy, thanks in large part to the polymer-coated Clean 22 CCI ammunition that we ran. A quick wipe with some Break-Free and a little bit of light brushing with Hoppe's Number 9 and we were able to lubricate and reassemble. The process was extremely simple and intuitive. After figuring out that the trigger needed to be squeezed for disassembly, I was able to do the rest without having to look at the manual. This is also a terrific training aide in itself as it teaches shooters how to disassemble and reassemble most handguns without bringing a heavy recoil spring into the process.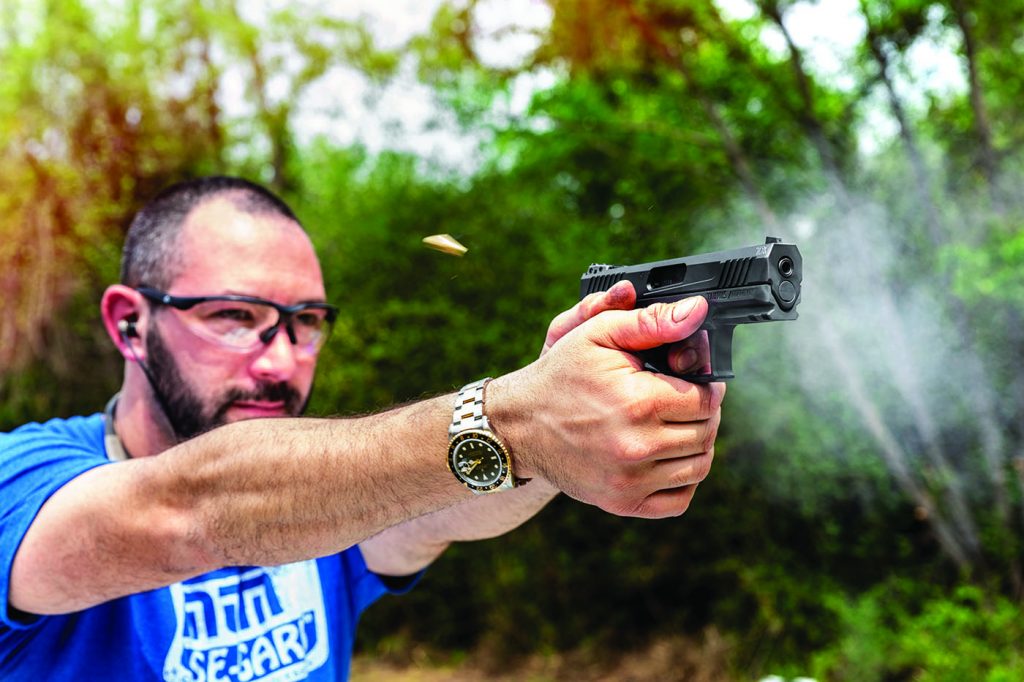 The takeaway on this evaluation was that this is a simply amazing pistol. As the law currently exists, I cannot own one of these in New York, but I sure hope something changes because I would love to have one of these in our classes to use for training students in self defense as well as IDPA and USPSA (Editor"s note: Frank, it's time to move to New Hampshire!). With the ever-growing popularity of Steel Challenge, this pistol can be much more than a trainer; it can be the go-to pistol right off the bat. If you live in a free state, be sure to check it out. You won't be disappointed, especially at the price point Taurus puts on it off the shelf ($349). See the new TX-22 at your nearest dealer, or for more information contact Taurus USA; Tel. (800) 327-3776; Web: www.taurususa.com
Specs:
| | |
| --- | --- |
| Caliber | 22LR |
| Firing System | Striker |
| Action Type | Single Action Only |
| Grips | Polymer |
| Sights | Fixed Front / Adjustable Rear |
| Safety | Ambidextrous |
| Slide Material | Anodized Aluminum |
| Slide Finish | Matte Black |
| Barrel Length | 4.1" |
| Weight | 17.3 Oz |
Accuracy Report
*Avg of five 5-shot groups fired from 15 yards – Results in inches
Round Best Worst Avg.
CCI CLEAN-22 High Velocity 40gn RN .94 1.62 1.18
CCI CLEAN-22 Sub-Sonic 40gn RN 1.68 1.88 1.80
Federal BYOB 36gn HP 1.82 2.25 1.94