Station 1 paid homage to the G2c and the TH9. The G2c is Taurus's striker-fired compact pistol, designed for concealed carry. The TH9 is their hammer-fired DA/SA that is built on a lightweight frame . . . the other guns on the table must remain unnamed for now. We all took turns trying to spin a Revolution Targets hostage target. Having 17 rounds certainly worked to our advantage and the fastest shooters were able to get it completely around before their opponent could best them. With the level of talent on the range that day it often came down to the fastest reload.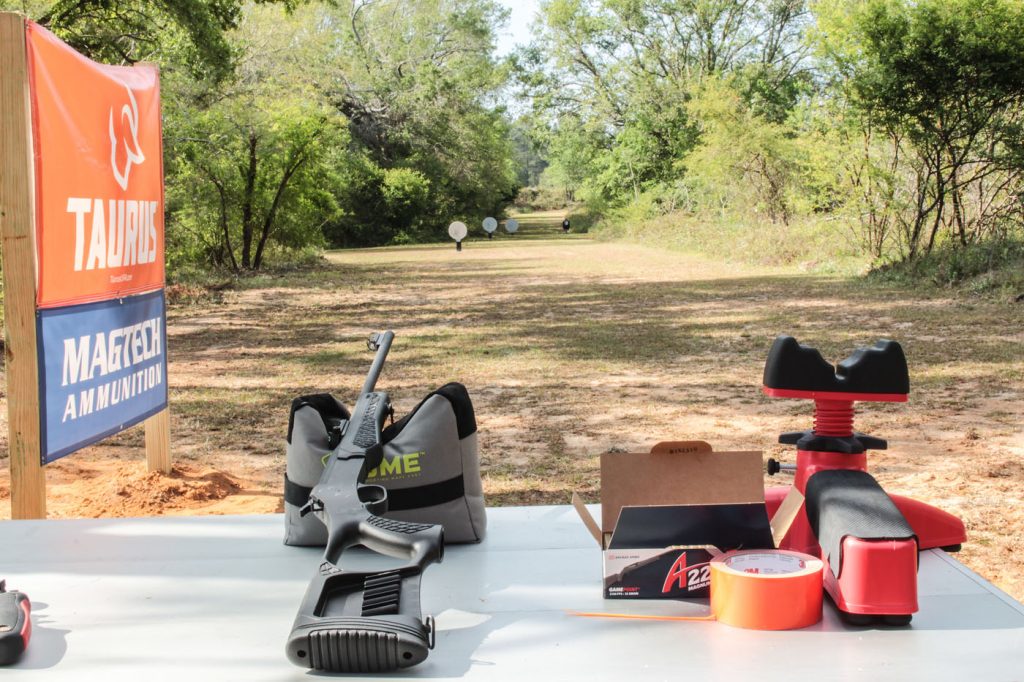 Our group's second station brought us up the hill to the new rifle range and a slew of Rossi rifles and Raging Hunter revolvers. At distances out to 100 yards we plinked steel with a variety of current production rifles and a new rimfire that should be out this summer. Every so often the ping of a .17HMR or .22LR was over powered by the THUD of a .44 magnum or even a .454 Casull, nearly knocking over the gongs!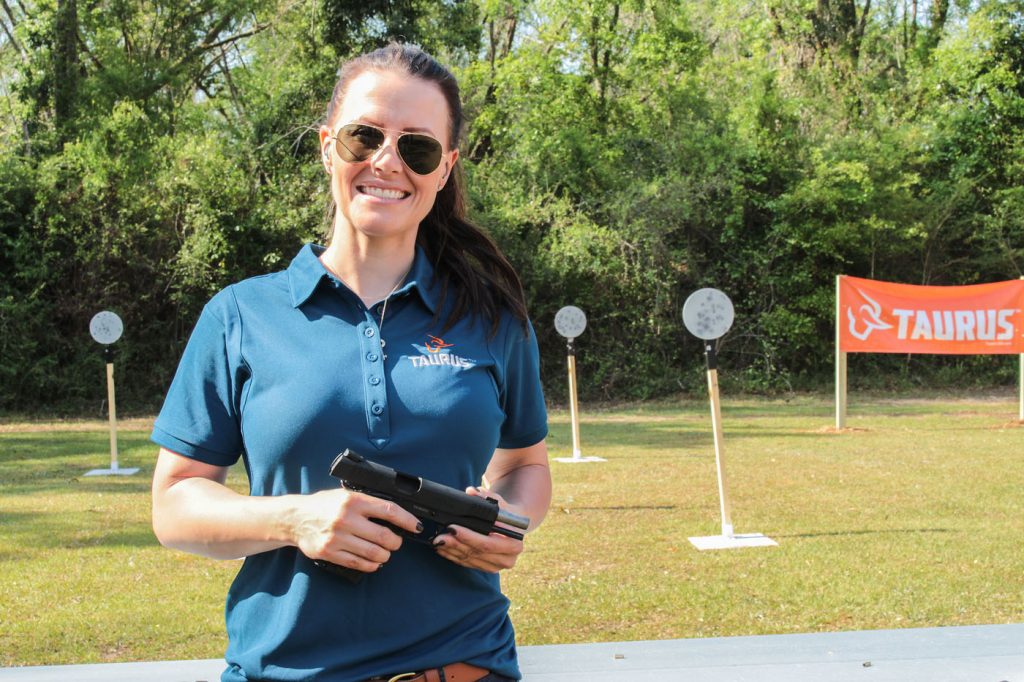 Heading back down the hill took us to the furthest station to the left, headed up by Taurus's own team captain, Jessie Harrison. Jessie is the first ladies Grand Master and shooting against her in USPSA steel challenge is nothing short of humbling. Her stage consisted mainly of the new rimfire TX22 pistol as well as some new ideas inspired by their newest US made product.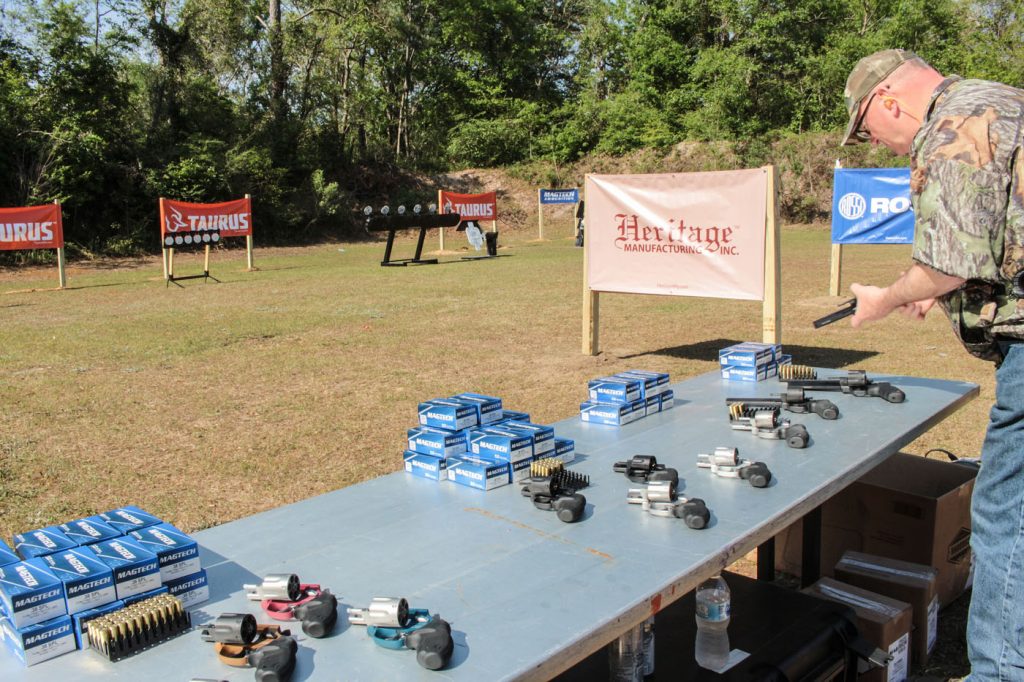 After leaving what is always my favorite station we found ourselves overlooking the revolver table on the 4th station. Engineer Ryan Clawson chatted with us about their famous wheel guns as we fired their line of 856 .38 Special revolvers (now available in a variety of colors), the .357 Magnum Raging Hunter and the classic Tracker hand cannon. Unloading cylinder after cylinder of ammo onto the Revolution Targets plate rack left us with just one station left, Heritage Firearms. Heritage is known for their rimfire single action 6-shooters that are not only incredibly accurate, but also affordable.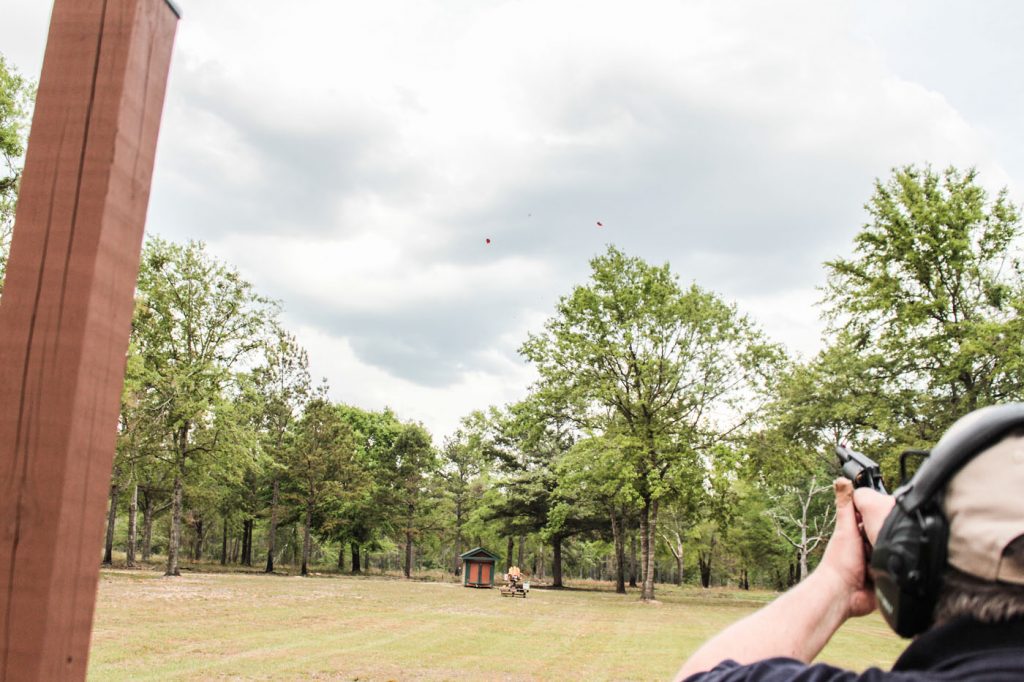 I can't say what I shot there, but think "bigger."Bigger is certainly the overall theme of the move and the tour that I was fortunate enough to be part of. Taurus manufacturing along with its sister companies, Rossi and Heritage, have been bringing affordable firearms to the shooting public in such great stride that they have literally outgrown their home. The folks in Bainbridge have welcomed them with open arms and we cannot wait to go back to see the plant when it is completely operational this August. Keep to On Target magazine and Ontargetmagazine.com for the latest coverage, as well as reviews on some of the big things to come!