Competitive Lineage
The rest of the frame is all X-Series, and that's a good thing. The squared off panels ensure zero side-to-side play in hand, facilitating rock-solid grip consistency when drawing the pistol from concealment and during rapid fire strings. The magwell is slightly beveled and has an internal speed chute that swallows sloppier reloads at speed.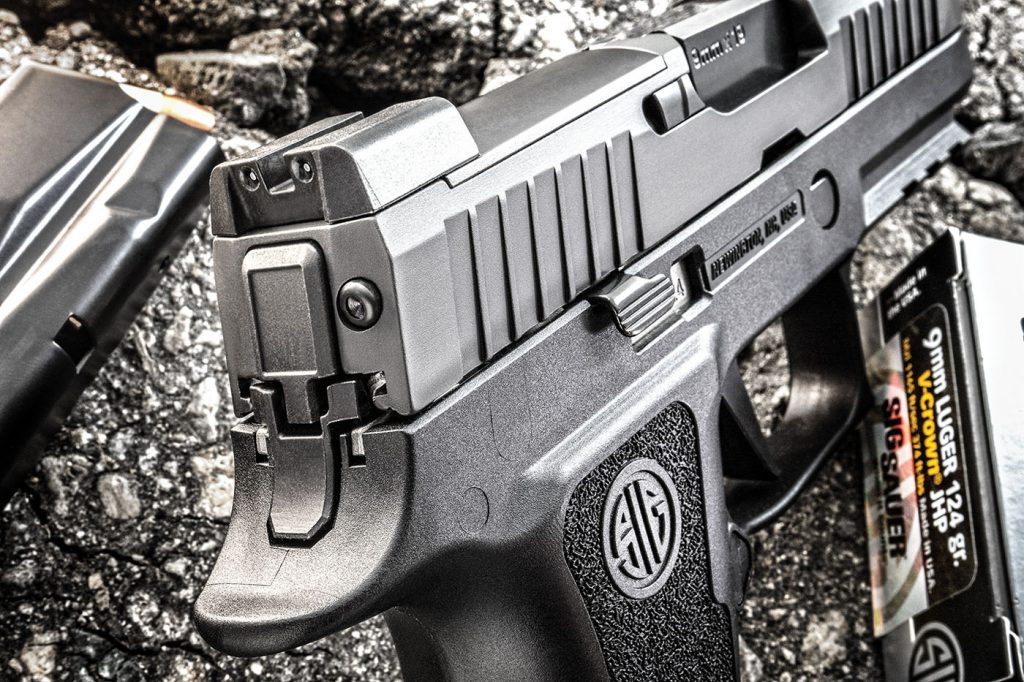 The triggerguard is deeply undercut and beveled, allowing you to choke up on the grip with your firing hand, bringing the tang of your hand tight beneath its redesigned beavertail. This undercutting also allows the top of your hand to be more in line with the slide as it reciprocates, reducing felt recoil and allowing the shooter to more accurately track their sights. This is even more apparent when a red dot sight enters the equation, as this feature significantly reduces the amount of time the dot is lost between shots.
Speaking of red dots, the new X-Compact features a removable slide plate that sits beneath the rear sight. Two screws secure the plate to the slide and are accessed from its underside. Once the plate is removed, a pocket is revealed that's cut to the same dimensions as the U.S. Army's M17, whose footprint is sized to accept SIG's own Romeo2, Romeo1PRO and Leupold's DeltaPoint Pro miniature red dot sights. These sights are effortlessly anchored to the slide by the same screw pattern that secures the plate.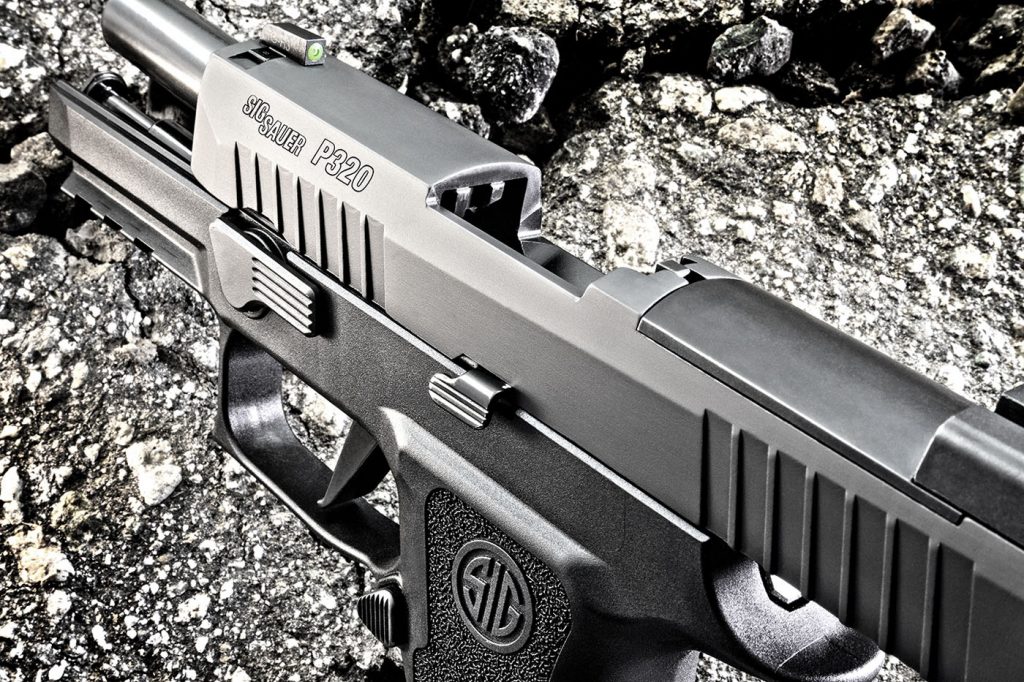 More Than Just Looks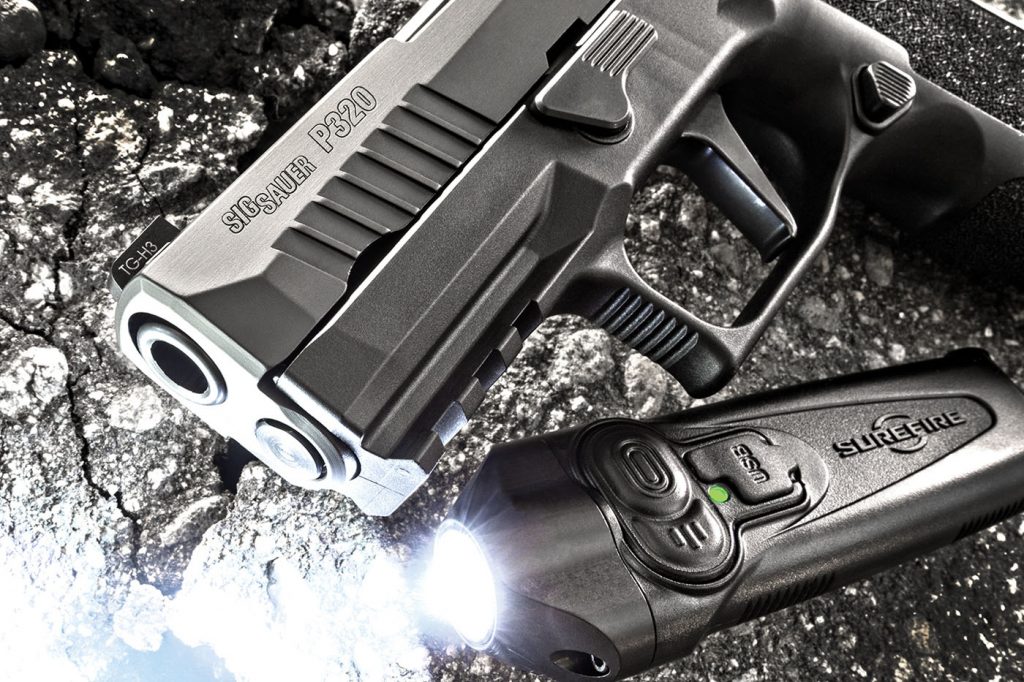 Like all X-series pistols, the X-Compact receives a flat trigger shoe with minimal pre-travel, breaking right at 90 degrees. Virtually no over travel exists, effectively reducing the likelihood of your trigger press disturbing your point of aim as you pull through the trigger stroke. While the pull weight doesn't necessarily feel any lighter than a standard P320, it does feel faster due to the reduced trigger travel, 90-degree break, negligible over-travel and short reset. My Lyman digital trigger pull gauge measured an average (of five) pull weight of 5.2 pounds, which is in line with the other P320s I've handled. Based on previous experience, I'm confident that as the trigger breaks in, the pull weight will shed about a half-pound.
SIG's P320 series have accuracy dialed in and the X-Compact with its 3.6-inch barrel is no exception. Producing a best five-shot group spanning 1.3 inches at 25 yards with SIG Sauer's 124-grain V-Crown ammunition, you'd be hard-pressed to ask for more in a compact carry package. 115-grain range ammunition produced respectable 2-inch groups as well and is demonstrative of what you can expect from economy Walmart-grade ammunition.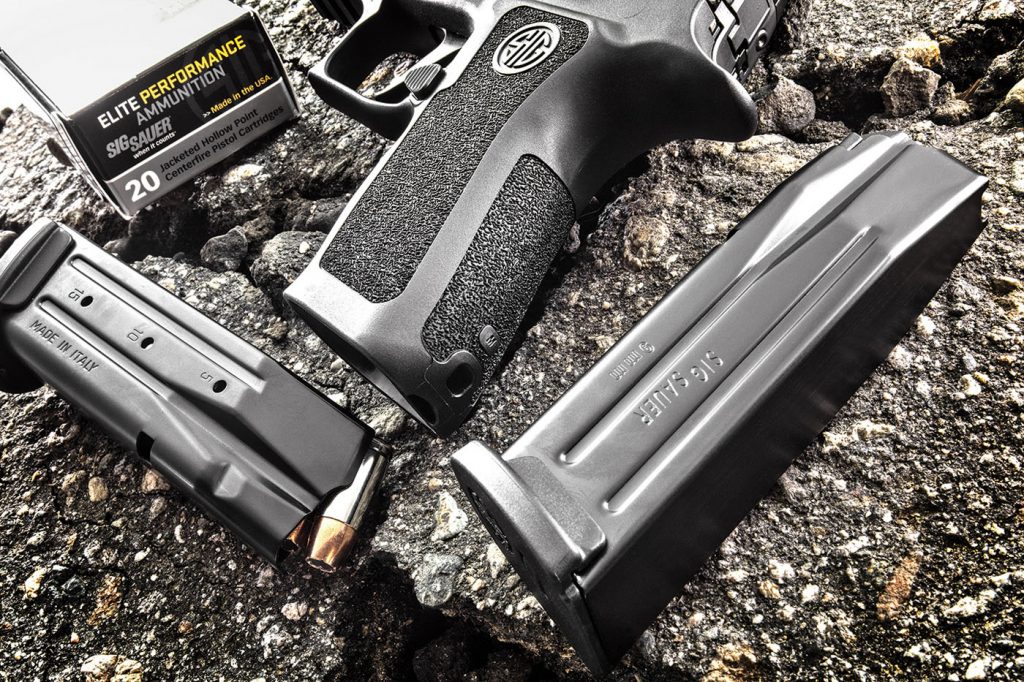 One of the features I love about the X-Compact is the ability to carry the pistol with a flush-fitting 15-round magazine with the option of bumping up to a 17- or 21-round factory magazine as a reload. It's a force multiplier and comforting to know I have that much extra ammunition available on tap in a single reload.
The X-Compact is no doubt proving to be one of my favorite handguns, as it effectively defines that ideally sized carry package and boasts feature sets that will keep it relevant for years to come. It's extremely shootable for its size, has bomber ergonomics and all the features of a Glock 19 with $1,000 worth of aftermarket frame, slide and trigger modifications, but in a factory configuration from a company that gets it. See the new X-Compact at your nearest dealer, or for more information contact SIG Sauer; Tel.: (603) 610-3000; Web: www.sigsauer.com