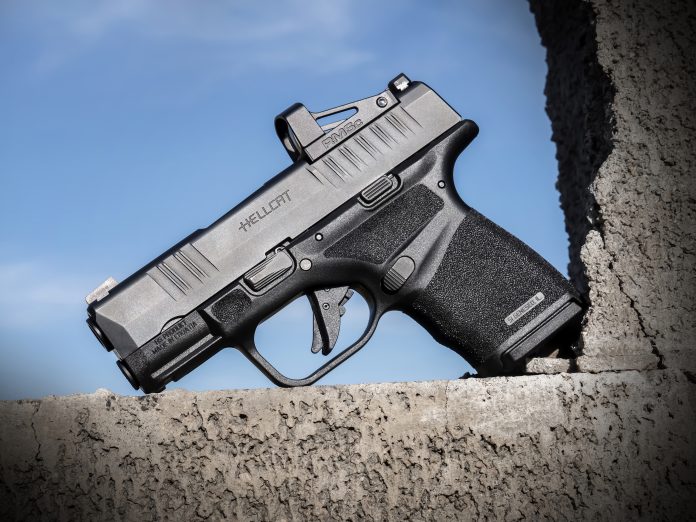 The new top-dog in the high-capacity/minimal footprint war?

Springfield Armory has released their Hellcat, "the world's highest capacity micro-compact". Weighing in at a mere 18.3 ounces with the patented flush fitting 11-round magazine, the extended (and included!) 13-round magazine is only slightly heavier with more grip space.  A pinky extension is also included for the 11-round magazine. A hammer-forged 3-inch barrel keeps it short, and at only 4 inches tall, it's easily concealed.
A Tritium and luminescent front sight is easy to pick up, and a tactical U-notch rear sight can be used to rack the slide in a pinch. The Hellcat's frame features include a high-hand beavertail, reversible magazine release, undercut trigger guard, flat trigger, accessory rail    and a stand off device for close quarters work. Unique and highly-effective texturing provides a solid grip.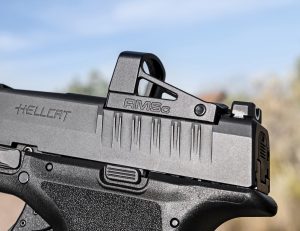 The optional Hellcat OSP model (shown) adds red dot capability. The billet-machined slide comes pre-cut for a Shield RMSc MRDS that can be covered with a plate when not in use. Front and rear slide serrations provide good grip in harsh conditions.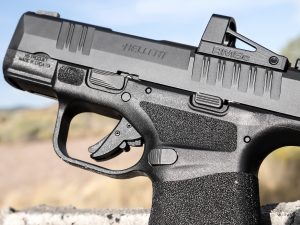 Recoil with standard ammunition is comfortable even under rapid fire, thanks in part to a dual-captured recoil spring. Plus-P loads also remain controllable, especially with the extended magazine in place. The standard model Hellcat is priced at $569 and the OSP model only adds $30 to gain MRDS capability. CrossBreed even makes a very sturdy IWB holster that will work with or without the Shield RMSc MRDS sight. Springfield Armory has packed a ton of features in such a small pistol . . . look forward to the in-depth review when we give the Hellcat a 2019 On TargetEditors' Choice Award right around the corner. Check out the new Hellcat at your nearest dealer, or for more information, contact Springfield Armory; Tel.: (800) 680-6866; Web: www.springfield-armory.com