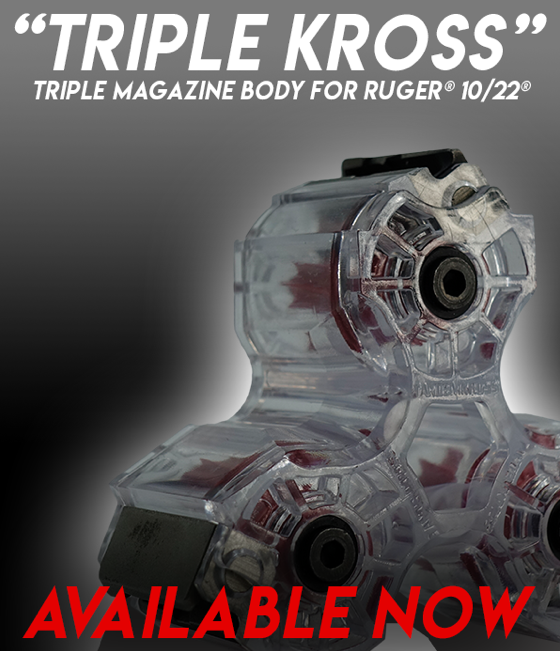 NEW "TripleKross" Clear Magazine Body
by TANDEMKROSS

For Ruger® 10/22® models and
Thompson/Center T/CR22®

 

TANDEMKROSS is releasing a new product that will improve the shooting experience of any Ruger

®

 10/22

®

. The TANDEMKROSS "TripleKross" clear Magazine Body is perfect for competition shooters and recreational plinkers alike.

The lightweight construction of the "TripleKross" makes it ideal for travel and use. The clear, durable plastic allows the shooter to always have a clear idea of exactly how many rounds are readily available and which compartment is empty. This feature is especially useful for competitive shooters. As every fraction of a second is crucial, visually confirming the exact number of rounds available takes all the dreadful guesswork and hesitancy out of a sport based around speed and precision.

 

About  [ T A N D E M K R O S S ]



TANDEMKROSS is an aftermarket firearm parts company that manufactures solutions and improvements for popular firearms, making an already good gun GREAT!  We strive to redefine firearm industry standards and we realize that innovation, exclusivity, and price point aren't enough. At TANDEMKROSS we took our commitment to quality a step further by offering a Hassle-Free Lifetime Guarantee on all of our products backed with excellent customer service.

Visit us at

www.tandemkross.com

.