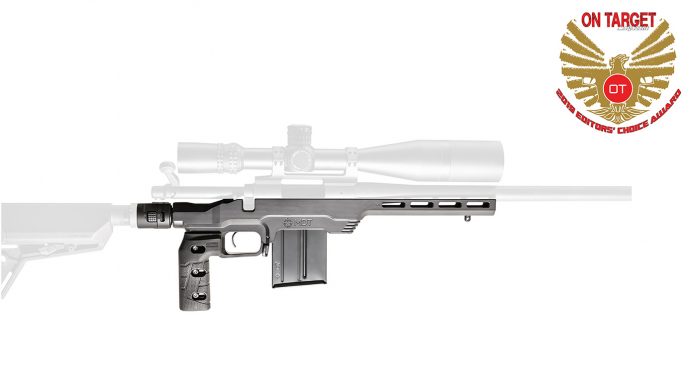 A lightweight, compact and modular precision chassis specifically for compact bolt guns
Thanks in part to growing competition segments like PRS (Precision Rifle Series), bolt-action precision rifles are experiencing a resurgence of interest, and as a direct result, precision chassis systems are popping up everywhere. One company that has successfully separated themselves from the pack with smart design features is MDT (Modular Driven Technologies). Case in point: the new lightweight and compact, 6061 aluminum LSS Gen2 Chassis System that's receiving an Editors' Choice Award here.
Where MDT has designed the new ACC chassis system around a modular weight system to add, subtract and position as much weight as the shooter requires for competition use. The design premise with new LSS Gen2 Chassis System was to shed weight and bulk in order to complement shorter-barreled precision bolt-guns. Modular being the company's first name, the LSS Gen2 is naturally customizable, with the ability to accept any AR-15 carbine-style buttstock and applicable folding mechanism, and AR-15 style handgrips—all of which MDT offers their own versions. The forend is 100-percent free-floating and the barrel channel is carved out to accept up to a one-inch diameter barrel. The chassis also converts your rifle into a detachable-magazine design, able to accept AICS style magazines—including MDT's own extremely well engineered 5-, 10- and 12-round metal magazines. Cerakote finishes on the chassis itself are available in black and flat-dark earth.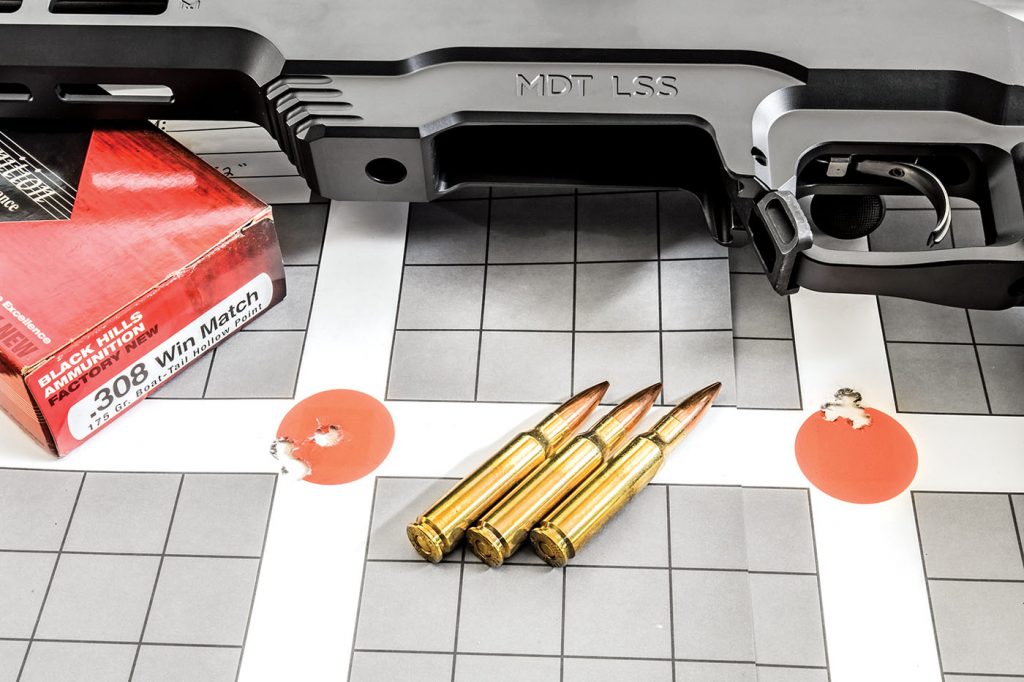 Along with the Remington 700 short-action we tested, our LSS Gen2 Chassis System will accommodate other short- and long-action applications, including the Howa 1500 and Mini, Mossberg MVP and Patriot, Remington Model 7 and 783, Ruger American and M77, Savage Axis and Model 10/110 and Tikka T3.
During testing with our 20-inch barreled, .308 Win. chambered Remington 700 AAC—which is factory equipped with a Hogue rubber-overmolded stock—100-yard precision tightened up from its previous 1/2- to 3/4-MOA performance to 1/2-MOA or less using the load it likes best—175-gr. Black Hills BTHP Match. This performance hike gives credence to MDT's claim of an up to 21% increase in precision. After all, what's the point of a precision chassis if it does nothing for precision? For more information on the LSS Gen2 Chassis System ($399.99 + furniture) contact MDT; Tel.: (604) 393-0800; Web: www.mdttac.com