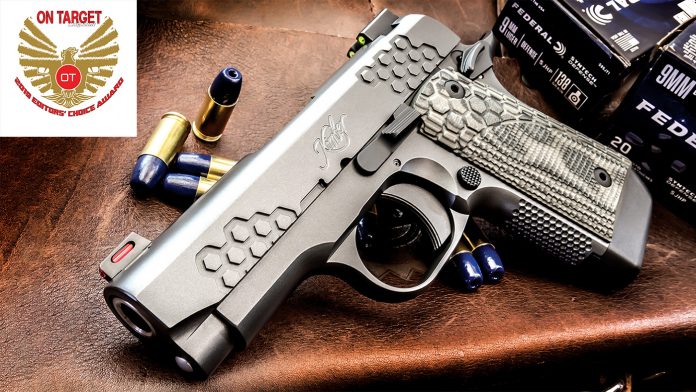 The classiest of the classy micro compacts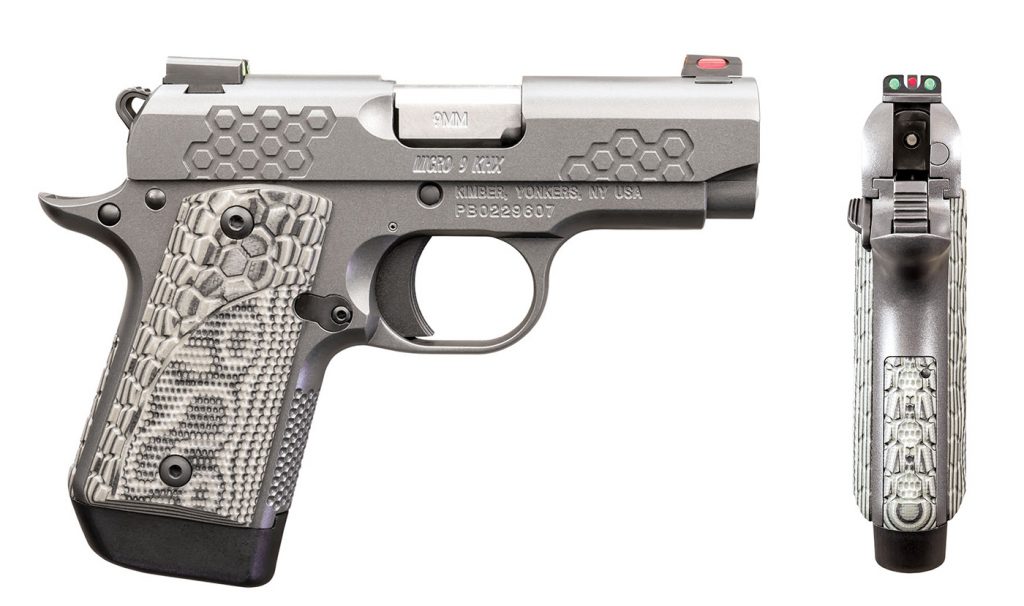 If you're looking for one of the smallest, lightest and best-looking 9mm micro-compact's for concealed carry, do not fail to check out one of Kimber's newest additions to the Micro 9 lineup (the big brother to the Micro line in .380 ACP), the KHX. The KHX model is now one of 16 variants of the Micro 9 line, and to date, is our favorite.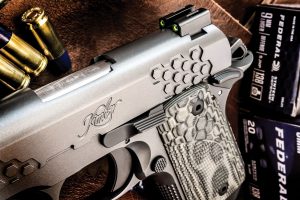 Big-bore pistols, combined with high-capacity, double-stack magazines, are still my preferred carry platforms, but I could (and probably will) make an exception for this 7+1 round, single-stack 9mm 1911-esqe pocket rocket because, A) it's just such a friggin' cool pistol, and B) sometimes the situation dictates maximum concealability, which is the Micro 9's specialty. The Micro 9 is an extremely light (15.6 oz empty), compact and concealable (4.0" H x 6.1" L x 1.08" W) platform, has a reasonable round capacity, is fitted with excellent day sights (windage drift-adjustable rear two-dot green fiber optic and dovetailed front red fiber optic), fits my hand like a glove, has an extended 7-round magazine that gives me a full 3-finger grip wrap—and it's just so pretty to behold.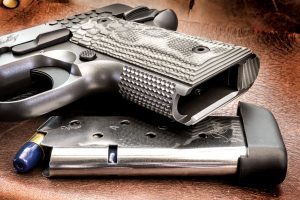 That being said, this is a day/twilight pistol, lacking both nights sights and an equipment rail to mount a white light illuminator, two features we would like to see Kimber add. Night sights alone are worthless in the dark, as you can see your sights but not your target, hence the need for a white light illuminator as well.
Key features include an aluminum frame, stainless-steel slide—both in a very attractive  KimPro II gray-colored finish—bushingless 3.18-inch match-grade stainless-steel barrel, extended beavertail, standard left-side-mounted 1911-type controls, front and rear hexagonal-pattern slide serrations, sculpted and checkered Hogue G-10 grip panels and rear strap, ball-milled front strap treatment, Commander-style hammer with deep spur serrations, classic 1911-style internal extractor/ejector and firing pin and the absence of the 1911-style grip safety.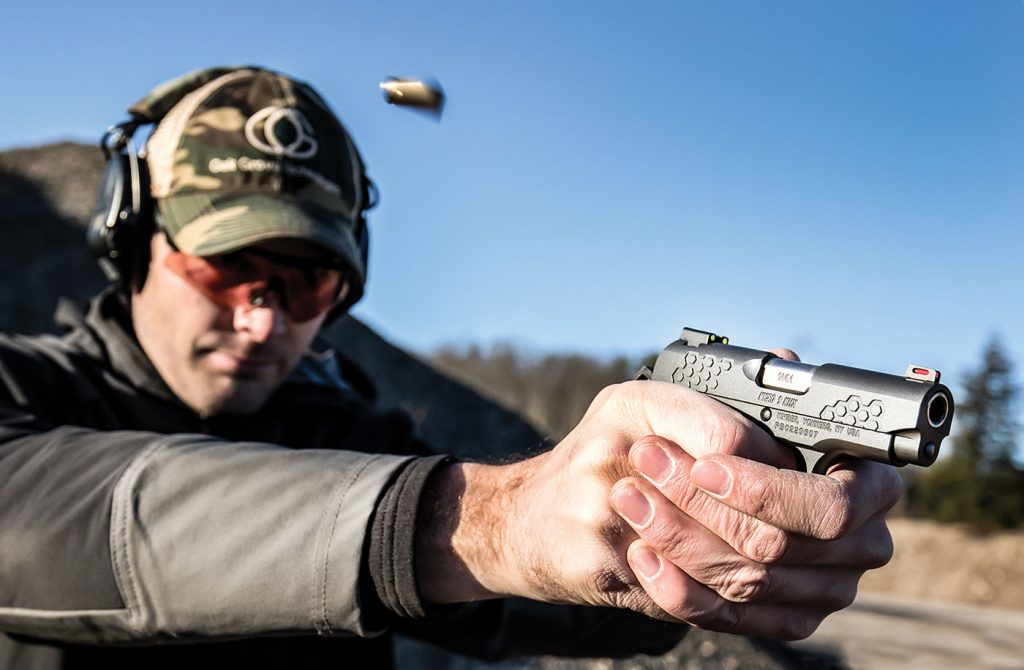 With the positioning and shape of the controls being essentially exactly where you'd find them on a full-size 1911, the manual of arms for the Micro 9 will be familiar to most shooters. The slide-stop easily sent the slide home on a loaded mag, and while the manual safety required a hard push to put into the on-safe position, it was perfectly easy to disengage with the left thumb without being too easy. The solid trigger bar has deep, vertical serrations on the front face, but the trigger pull was a bit different from a standard 1911—not objectionable, just different. The trigger pull requires about 1/8" of take-up at a pull weight of about one pound to a hard wall. After that, there is a minuscule amount of additional take-up, with a crisp break at an overall pull weight of 6.5 pounds—more than we'd prefer, but not heavy enough to have a detrimental effect on precision. Most 1911 triggers shed a quarter to a half pound of pull weight after break-in, so we'd expect the Micro 9 KHX trigger to settle in at around six pounds.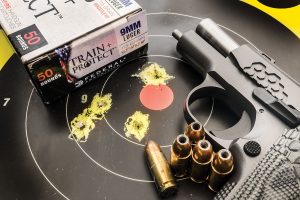 As we often do, due to its size and sight radius, we elected to test the Micro 9 KHX at 15-yards instead of the typical 25-yards for larger pistols. The Micro 9 faired very well at this distance with Federal's Train + Protect 115-gr. HP load, printing a best-of-test group measuring 2.04-inches. All ammo hovered around the 2.5-inch on average. No malfunctions whatsoever were record throughout the duration of testing.
Bottom line, we found the Micro 9 KHX ($815) to be one of the classiest 9mm micro compact's we've ever tested, but yet with the real-world performance to back it up. Contact Kimber Mfg., Inc.; Tel.: (888) 243-4522; Web: www.kimberamerica.com