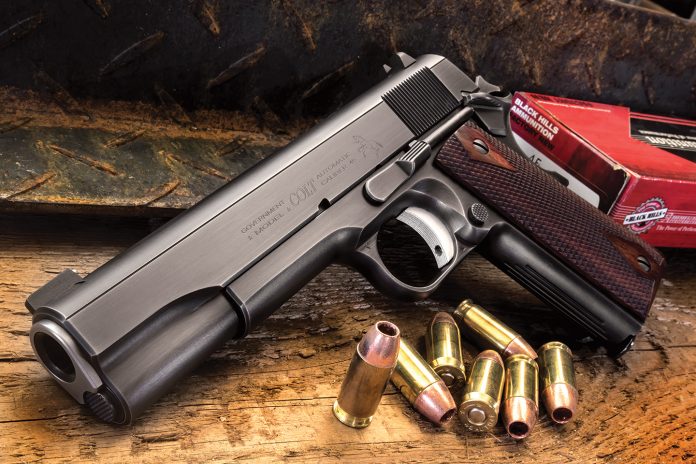 Nighthawk Custom Colt Series 70
by Massad Ayoob
Nighthawk Custom CEO, Mark Stone, told me, "We do a lot of custom work, Springfields and Colts and such. Bob Reeves, who heads our custom department, and is an American Pistolsmiths Guild member, noted we were seeing a lot of Colts coming in. We started doing the smoked nitride finish, and everyone loves historical Colts, so we decided to do our own. We buy the basic Colts through a distributor. Our prep and finish includes the French border atop the flats of the slide, with rear slide serrations. All trigger components are replaced with fully machined, match-grade parts. The retro hammer is subcontracted, as is our retro grip safety. We found that a match-grade barrel bushing could be used with the Colt barrel and gave us excellent accuracy. We do an extra high cut trigger guard and change all the springs. Priced at $2,599, this retro Series 70 model is for anyone who loves a classic 1911—full-size with 5-inch barrel—and for the many purchasers who want a Nighthawk but aren't ready for the $3,100 to $4,500 cost."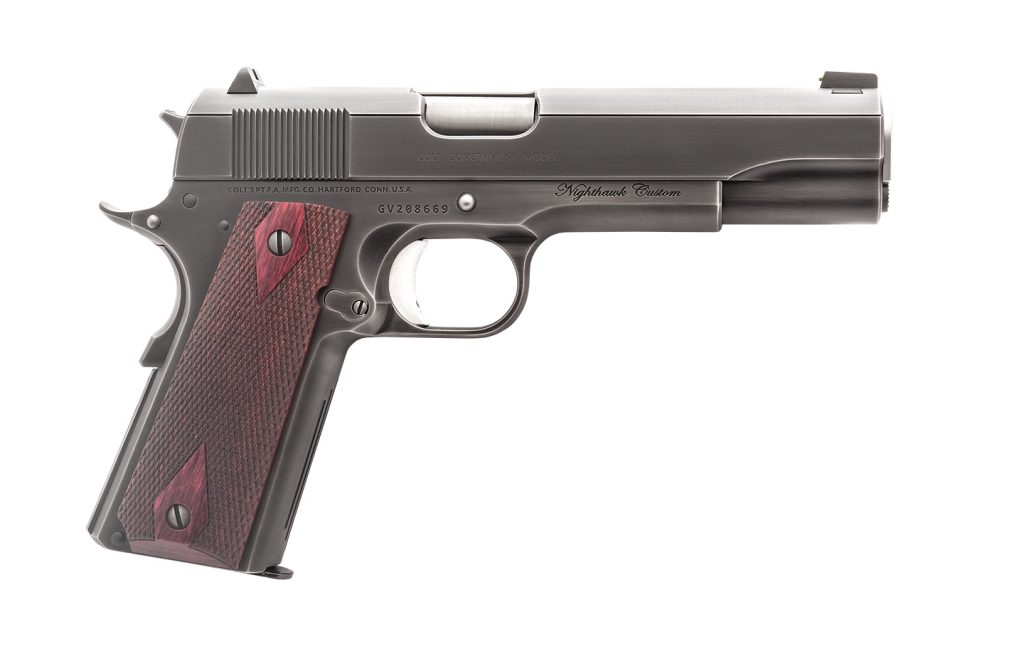 Trigger Time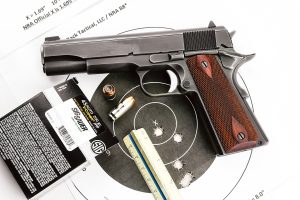 The trigger is short, not quite as short as a GI 1911-A1 or old-school commercial Colt, but short enough for those of us who like to press the trigger with the distal joint of the index finger instead of the pad. Short take-up, clean break. Pull weight on our test sample averaged 3.4 pounds on our Lyman digital trigger pull gauge, and was extremely consistent shot to shot.
The grip-frame is grooved on the front, and on the flat mainspring housing. The subdued checkering on the stocks and the vertical grooves didn't bite into the hand, but also didn't shift in a firm grasp upon recoil, even with +P .45 ACP.
This pistol's magazine well is only slightly beveled. Reloads were still smooth and positive, though.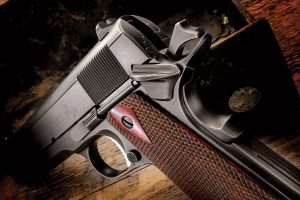 The unusual beavertail grip safety was well adjusted out of the box, always activating when grasped even with light pressure and a flagged (high) thumb. When I say unusual, I mean it's shorter than most, but still guides the hand into proper position on a quick draw, and did not induce hammer bite. It is not "hogged out" for a hammer spur; instead, a good bit of the standard Government Model hammer spur has been lopped off. This leaves only three traction grooves on the top of the spur. Since most serious users carry cocked and locked, it's not a problem and gives this particular model sort of a "silhouette identity" all its own.
The left-side-mounted thumb safety is right-handed only, but well-adjusted: easy to on- and off-safe, and positive in each direction. It is the style I prefer for carry, the one Colt developed as standard in mid twentieth Century. Big enough to easily hit; not big enough to get in the way.
Sights are high and easy to see, with a drift adjustable, square notch rear serrated to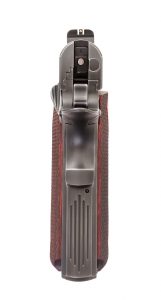 prevent glare and a Partridge front sight with gold bead, a feature American marksmen have appreciated since the late 19thCentury. (Hey, they call it "Classic," right?). Though very slightly angled, that rear sight presents enough of a ledge that you can use it to rack the slide off a belt or holster with the muzzle off 45 degrees away from you, if you have to work the gun one-hand-only in an emergency or an advanced shooting class.
Our five-person test team included women and men, small to tall, and one southpaw. All liked the gun, though the two females found the 19-pound recoil spring made the slide a bit stiff to operate. We ran hundreds of ball and JHP .45 rounds through the Nighthawk Colt with zero malfunctions, even when deliberately limp-wristing and firing the pistol upside down.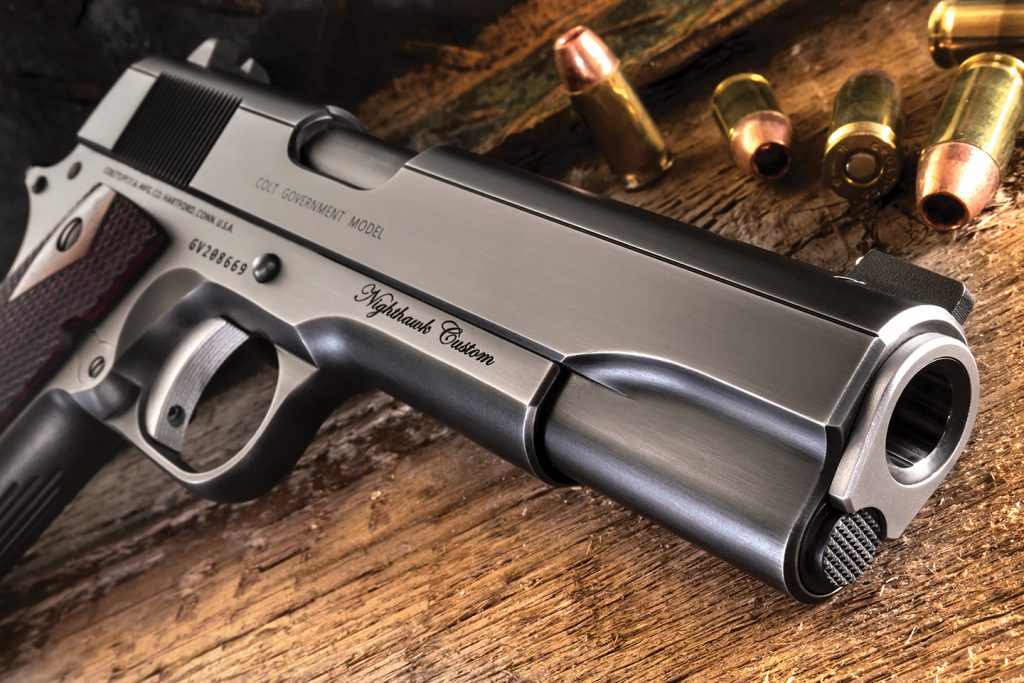 The Colt Series 70 owners manual that comes with the gun warns that it can discharge if dropped with a live round in the chamber, "regardless of the position of the hammer or any of the various safety devices." To compensate, Allen White at Nighthawk told us that they install a heavy-duty firing pin spring. Nice move.
Our lefty would have preferred an ambi safety, and so would I. The stubby hammer spur made it difficult to cock the hammer to relieve mainspring pressure and make the slide easier to rack. For self-defense use, I would prefer a trigger pull a pound or so heavier. Other than that, I can find nothing to complain about.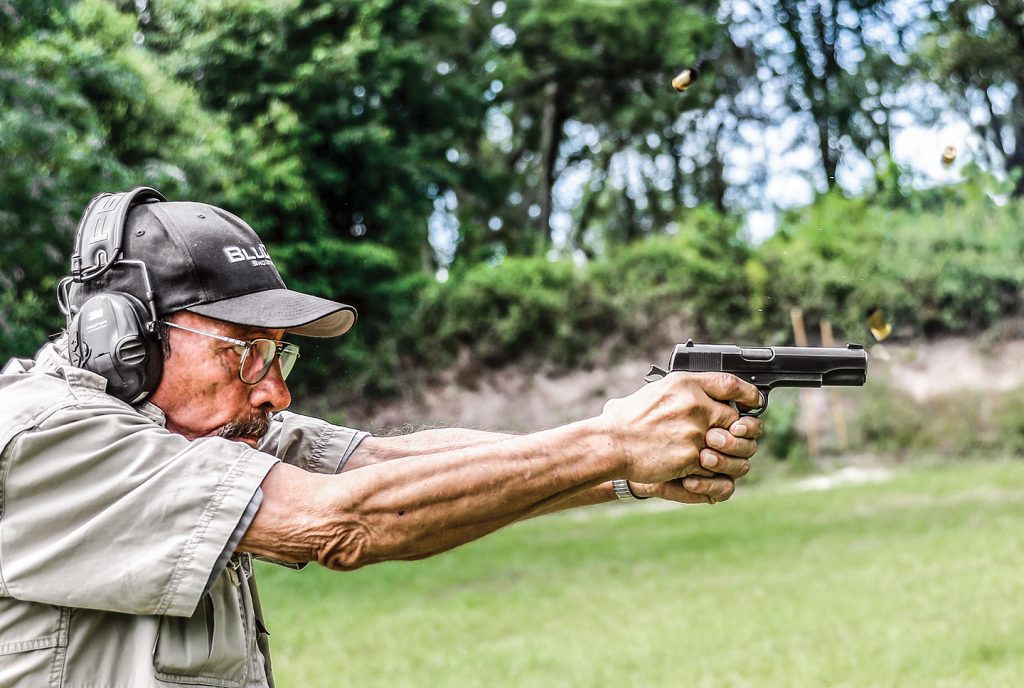 MSRP is $2,599, and Nighthawk is back-ordered. A McLaren Ford costs more than a regular Ford, and a Nighthawk Colt costs more than a regular Colt. On one 1911-centric gun forum, an observer calculated the retail cost of a new Series 70 Colt plus custom work by Nighthawk and cross-referenced it with prices from other custom pistol shops. He determined that this Nighthawk saved the customer $200 overall compared to buying a new Colt and having the same work done.
See it at your firearms retailer, or contact Nighthawk Custom; Tel.: (877) 268-4867; Web: www.nighthawkcustom.com