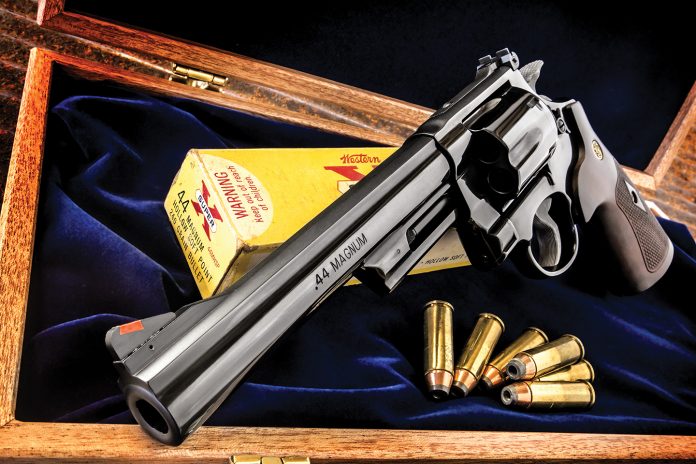 Smith & Wesson Classics Model 29
Harry Callahan's right hand
"I know what you're thinking: 'Did he fire six shots or only five?' Well, to tell you the truth, in all this excitement, I've kinda lost track myself. But being this is a .44 Magnum, the most powerful handgun in the world, and would blow your head clean off, you've got to ask yourself one question: 'Do I feel lucky?' Well, do you, punk?" So spoke Clint Eastwood, as San Francisco Police Inspector "Dirty Harry" Callahan, in the 1971 classic film Dirty Harry.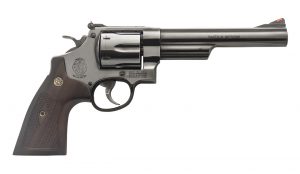 The .44 magnum revolver Harry was pointing at a wounded bank robber as he spoke these immortal words was a Smith & Wesson Model 29. Introduced in 1957, the Model 29 was, in fact, the most powerful production handgun in the world in 1971. While numbers manufactured remain a closely guarded factory secret, it is common knowledge among collectors and FFL dealers that new Model 29s with a 6.5-inch barrels were literally impossible to obtain for nearly a dozen years after the debut of Dirty Harry, as retailers had waiting lists of salivating customers ready to buy. Replaced by the stainless-steel Model 629, Harry's Model 29 has not been available to shooters for a number of years. That's changed with the introduction of the Model 29 in Smith & Wesson's Classics line ($1,180).
The Model 29 Smith & Wesson Classic is a breathtakingly beautiful revolver. Made entirely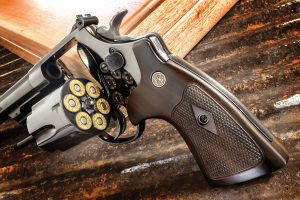 from carbon steel, and fitted with a 6.5-inch, half-lug barrel, it has the high-polished, bright-blue finish of the original gun. The Model 29 went through a variety of enhancements throughout its production life, all of which are incorporated into the Model 29 Classic, including Smith & Wesson's proprietary key locking system and transfer bar safety, which permits safe carry of a fully loaded cylinder (six rounds).
Sights consist of a pinned orange ramp front and fully adjustable rear with white-outlined, U-notch sight blade, both of which are serrated to reduce glare. The hammer spur is huge, with deeply cut diagonal serrations, and the trigger shoe is wide with vertical serrations. Both are color case hardened, although the "colors" are limited to shades of black and gray.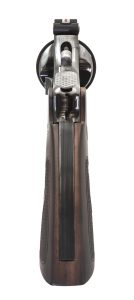 Trigger reach was perfect for my average-size adult male hands, with the joint of the distal phalanx of my trigger finger falling directly over the center of the trigger—right where it should be. The double-action trigger mechanism is typical Smith and Wesson. The double-action pull is long and heavy, and pull weight was in excess of the 12-pound limit of our Lyman trigger-pull gauge. Even though it's heavy and long, it's smooth and consistent throughout the stroke, with no creep or stacking. It's easy—with a little practice— to stage the trigger to cylinder lock, leaving a relatively short additional pull to hammer fall. The single-action pull is nearly flawless, with just a subtle suggestion of take-up, at an average pull weight of 4.8 pounds.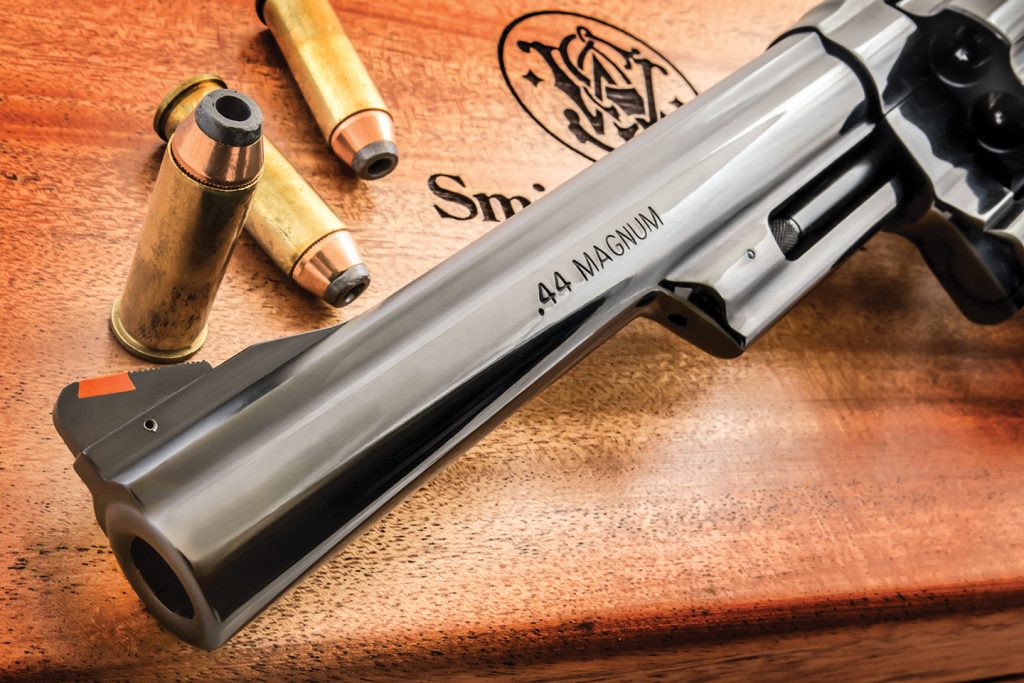 The 2-piece, dark walnut grips are machine checkered, with the grip screw centered in an unchecked diamond, and inlaid brass Smith & Wesson medallions at the top on both sides. The exposed backstop is vertically serrated to enhance grip traction. Even though the .44 Magnum cartridge has been eclipsed by a number of more powerful handgun cartridges, it's still not for the weak at heart. Perceived recoil is substantial, and a firm 2-handed grip is necessary for accurate shooting and effective recoil control. Thankfully for shooters of lesser stature or fewer years, the Model 29 Classic is very happy to also fire the much milder .44 Special cartridge. Vital statistics on the Model 29 Classic are an overall length of 12.0 inches, overall height of 6.25 inches and an empty weight of 47.7 oz.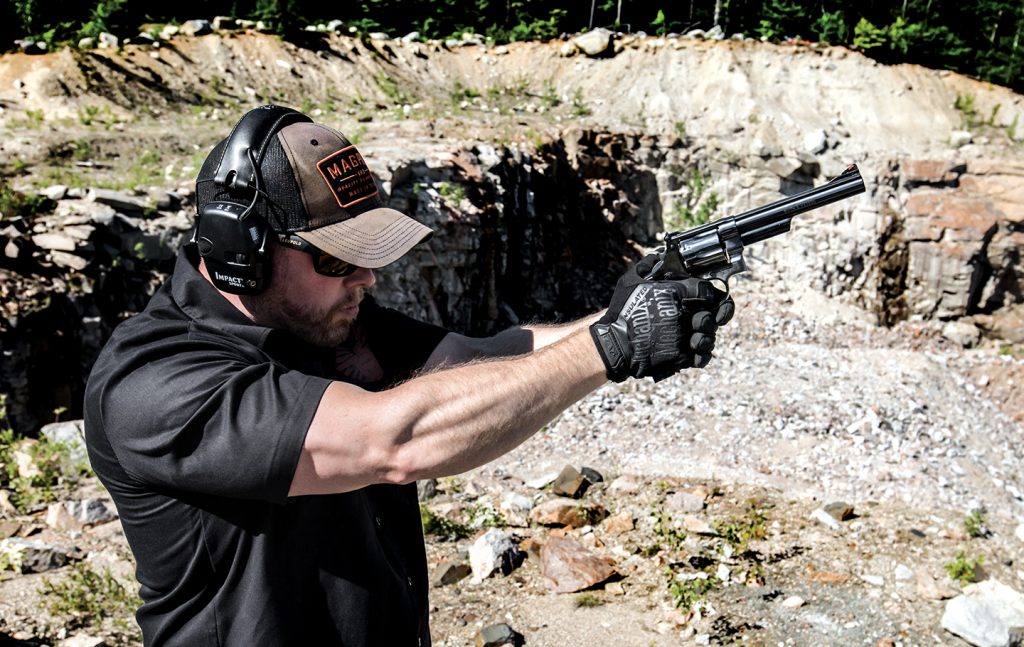 If you're a nostalgic big-bore fan, shooting the Model 29 is a ton of fun. Like any 44 Magnum, however, felt recoil can be quite stout, and the old-school-shaped wooden grips offer zero cushion, and with sweaty hands, next to zero traction. If you'll be shooting the Mo. 29 on the regular, we highly suggest a set of quality rubber grips — like a set of Pachayr Decelerator's — to tame this beast.
From the 25-yard line, our test sample Model 29 faired well in the accuracy department.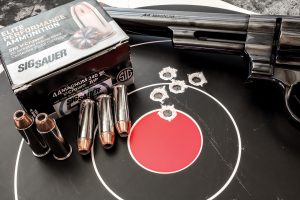 It's best 5-shot group was produced using SIG's outstanding (we've always had exemplary results with this load) Elite Performance 240-gr. V-Crown, measuring 1.47-inches. Other loads, ranging from Black Hill's 160-gr. HoneyBadger to some pretty hot 240-gr. pills — all produced best group's under the 2-inch mark.
The Model 29 Classic comes with an aluminum cleaning rod, hollow-ground screwdriver, two locking keys, brass bore brush, wool bore mop and two cases: a lockable plastic hard case, and a maple presentation case with polished brass hardware, blue-velvet lined cut-out interior and the Smith & Wesson name and logo laser engraved in black on the cover. See it at your firearms retailer, or contact Smith & Wesson; Tel.: (800) 331-0852; Web: www.smith-wesson.com