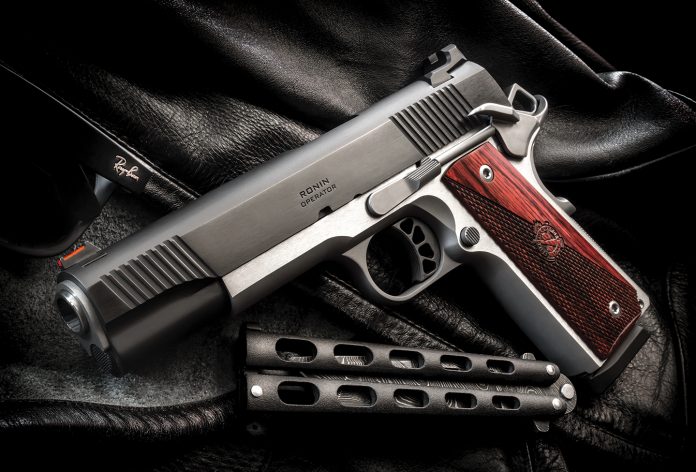 Springfield Armory Ronin Operator 1911 .45 ACP
by BillBattles
Classic-looking iron meets state-of-the-art performance
The Ronin Operator is available in two chamberings: 9mm Luger and .45 ACP, both priced at $849—one of life's true bargains considering what you get for the money. Built on a forged-steel foundation — with a carbon-steel slide and stainless-steel frame — and a 5-inch hammer-forged barrel with a traditional recoil spring assembly and barrel bushing, there were no corners cut with this pistol. Our evaluation model was the .45 ACP, but except for caliber and slide weight, both pistols offer identical features. Forged frames and slides are the hallmark of all Springfield Armory 1911s, and it's nice to see that they didn't compromise that standard just to produce a "price point" pistol. In fact, there is nothing about the Ronin Operator that falls into the category of "price point."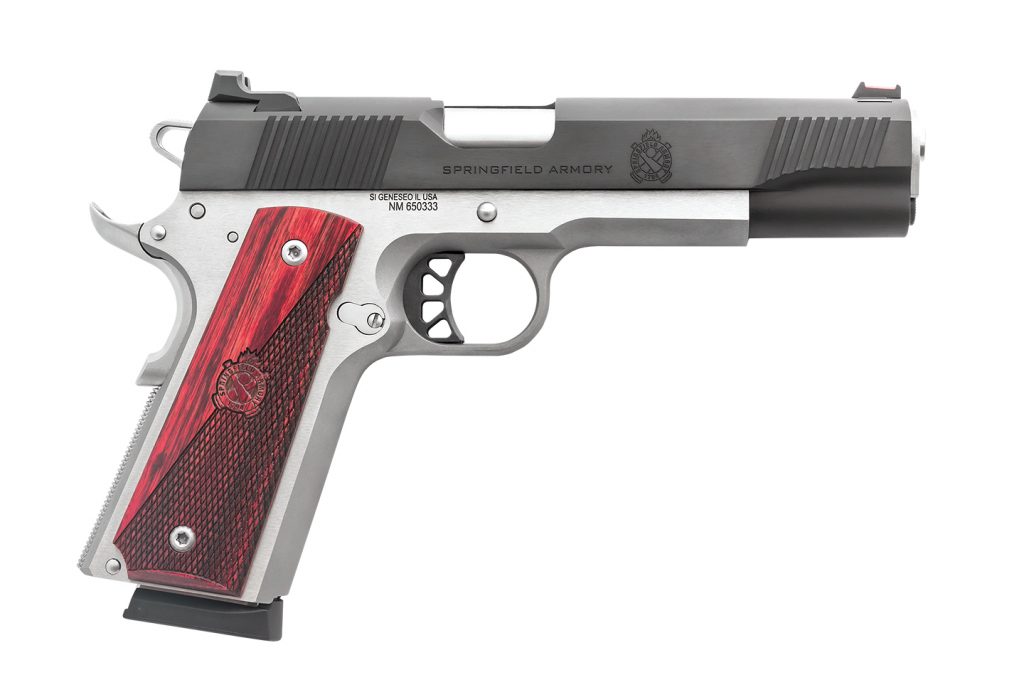 At first appearance, nothing would seem to have been left out to achieve an affordable price, but on closer examination a few popular features have been eliminated—some I care about in a 1911, and others I could care less about. In the "I care" category is the absence of a fully adjustable rear night sight (it is, however drift adjustable in its dovetail for windage, and has a set screw to maintain adjustment, two white dots and a serrated rear face to reduce glare). Night sights are damned handy in low light encounters where you can still see your target, and if they fall into your "must have" category, you can add them later. Most will appreciate the cost savings. Next up is an uncheckered front strap (the main spring housing out back is, however, nicely machine checkered). In sweaty or bloody hands, a checkered front strap can markedly improve grip traction, especially with +P loads. Again, the feature-to-price ratio is so good that this can be easily overlooked.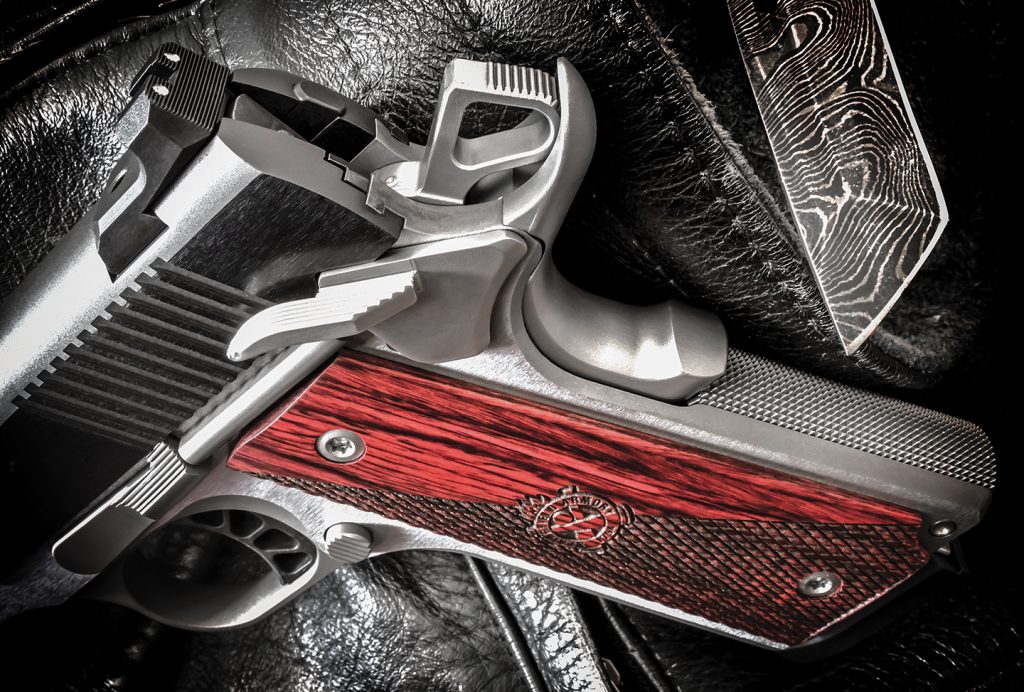 In the "I could care less" category is the absence of an equipment rail machined into the dust cover. Being a 1911 traditionalist—I own an original Colt 1911 made in 1916—I've never liked the looks of the rails. And when you add a weapon light or light/laser combination it trashes the 1911's perfect balance, making it decidedly muzzle heavy. Also absent are ambidextrous controls, which are nothing but a waste of weight and money for a righty like me.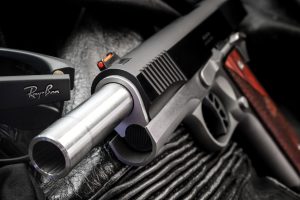 In the "more good stuff" category, the Ronin Operator has everything I want in a 1911, plus some unexpectedly nice features I wouldn't have expected at its $849 price tag. They include a Match Grade barrel rifled at a 1:16" twist rate, a machined stainless steel barrel bushing just like John Moses Browning intended, a really sweet Gen 2 Speed Trigger with skeletonized metal trigger shoe with front serrations and about 1/16th inch of effortless, built-in take-up to let you know you're "on the sear" (trigger pull weight was just under five pounds on our sample gun, which will probably lighten somewhat with use, with absolutely no additional take-up, creep, stacking or over-travel).
Other nice features of the Ronin Operator include dovetailed sights, serrated Commander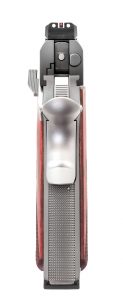 style hammer, enhanced Beavertail grip safety with raised "memory bump" for fail-safe disengagement, half checkered/half plain laminated wood grips with the Springfield Armory "crossed cannon" logo and stainless steel grip screws, front and rear slide grasping grooves, standard 1911 controls mounted on the left side of the frame, including a serrated stainless-steel mag release button, slide stop and extended manual safety. The manual safety bears further comment. It's perfect: it moves easily to the on or off positions, but not so easily as to be inadvertently swept off safe or present a safety hazard of any kind.
In the looks department, the Ronin Operator's brushed stainless-steel frame and controls, and its hot salt blued carbon steel slide with polished sides and matte top and dust cover, combined with its nicely figured and finished wood grip panels, make it look like it should cost at least twice its sticker price.
Now, we've always had great luck with Springfield 1911s in the performance department, but to say you're getting greater performance than you bargained for (or paid for, for that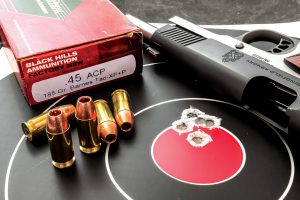 matter) with the Ronin would be a gross understatement; this thing is damned-near laser-beam accurate, and ran absolutely everything we fed it without stumble. From the 25-yard line, our tightest 5-shot group was produced using Black Hills' 185-gr. Barnes Tac-XP +P load, with a nice tight cluster measuring 1.14-inches. The three other loads tested — with grain weights ranging from 185 to 230 — all produced best-group sizes under the 1.75-inch mark. That's outstanding performance for a $3k-plus hand-built 1911 from one of the boutique manufacturers, let alone one that comes in at well under $1K.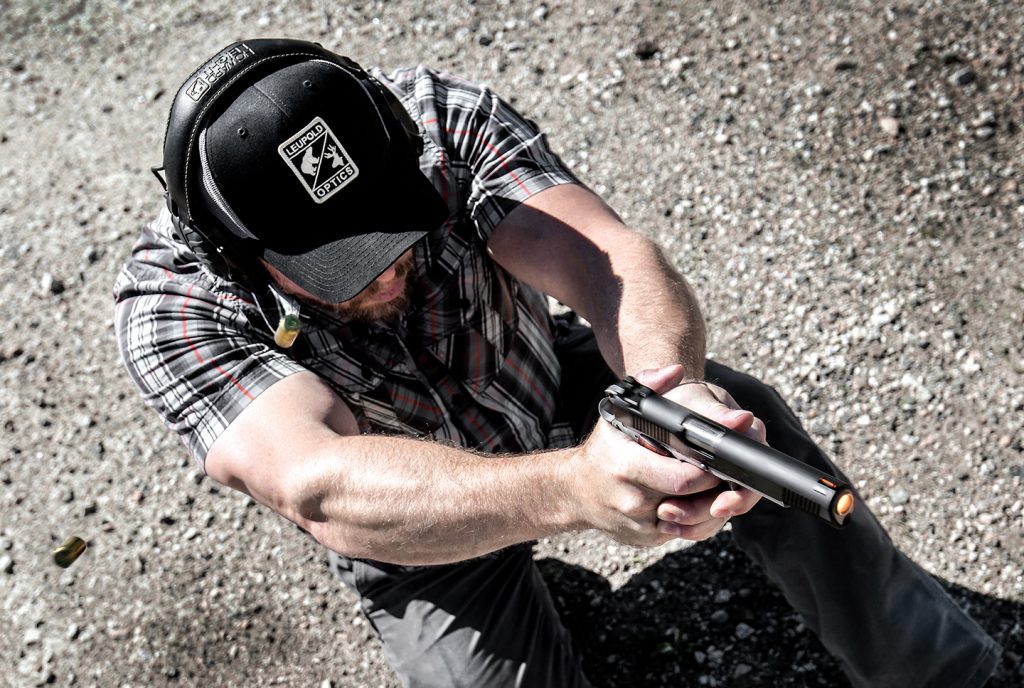 Empty weight is 40 oz. with magazine (41 oz. for the 9mm), capacity is 8+1 rounds (9 +1 for the 9mm), and overall length 8.6 inches and height is 5.5 inches for both. Every Ronin Operator comes with one Mec-Gar stainless steel magazine with polymer drop pad. Kudos to Springfield Armory for producing such an outstanding 1911 that maintains so much of the heritage of the original article at such an affordable price. Contact Springfield Armory; Tel.: (800) 680-6866; Web: www.springfield-armory.com