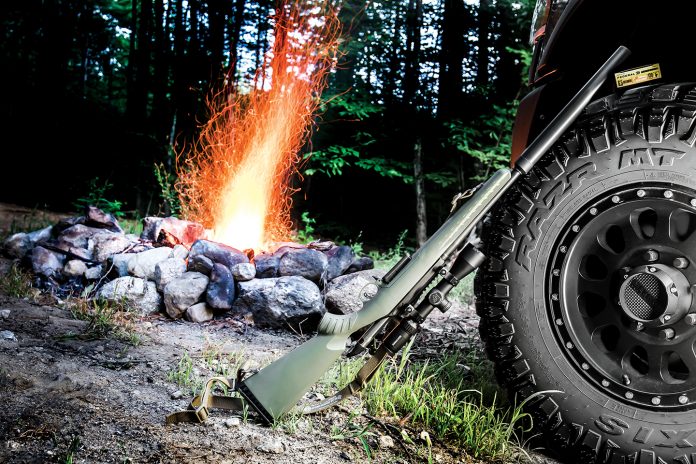 Liberty Suppressors Whitetail Rifle
by Dave Bahde
A great reason to jump through flaming ATF hoops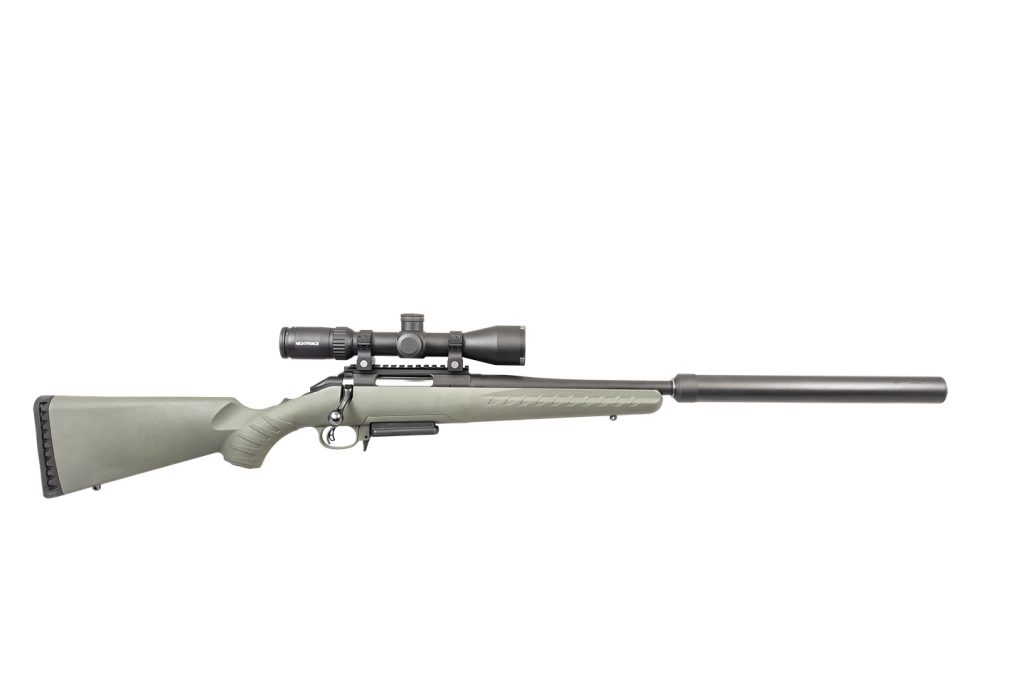 It's only been the last few years that suppressors have become popular for hunting. Used on AR's and precision- or competition-rifles for years, the hunting world continues to be slow to adopt. Hunting is a life style with its own culture, often generational, and rifles have much deeper attachment than simply a tool. Unlike competitors, hunters carry their rifles far more than they shoot them, both in practice and application. You may tote your rifle around on your back, on a horse or ATV for days and only shoot one round, or not at all. Adding a pound and 7 to 10 inches to your rifle's length is not worth it for most avid hunters. This thinking is changing to an extent, however, as suppressors become lighter, shorter and less costly, but integrating the suppressor and rifle is another approach. Overall length is not changed significantly and weight can remain very similar. The cost and wait time for the ATF form-4 to be processed is still an issue for some, but for many it is worth it, and the Liberty Suppressors Whitetail Rifle is a great reason to jump through the ATF hoops.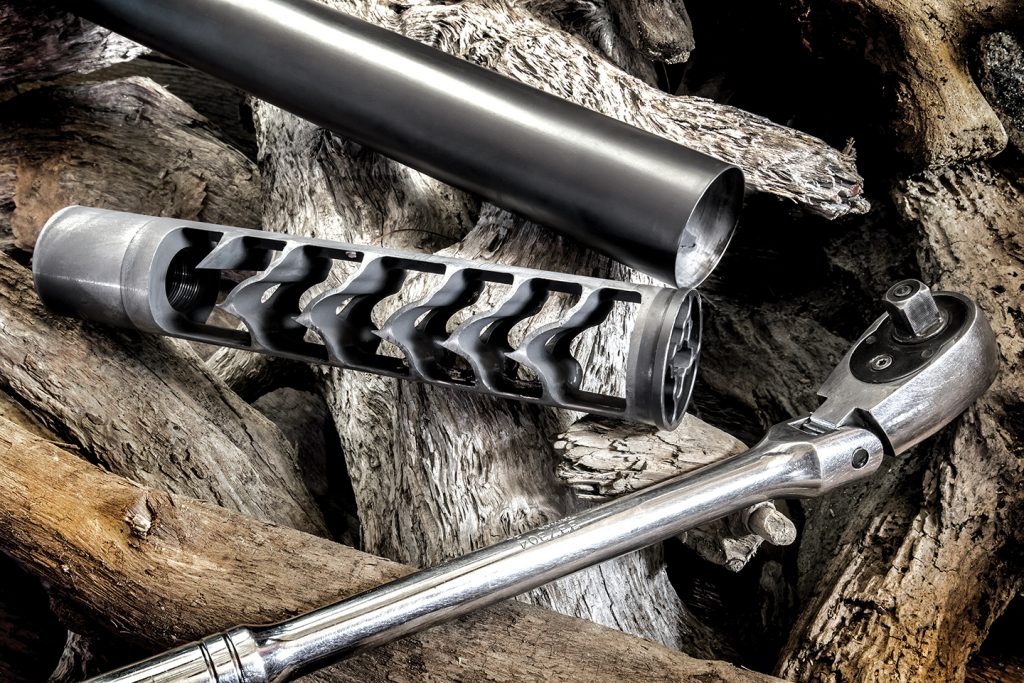 Integrated Suppressors
Integrated suppressors have been around for quite a while, going back to at least the 1950s and '60's on some subguns. Popular on rimfires for years, Accuracy International's Covert may be the most commonly known in the centerfire world. Not necessarily permanent attachments—since cleaning may be required—integrated suppressors cannot be used without the barrel they are attached to or moved to a different rifle.
There was a bit of a resurgence with the advent of the 300 Blackout cartridge, mostly to avoid more than one tax stamp, and a few companies still specialize in these. Still, fixed suppressors remain somewhat rare compared to the broader, detachable suppressor market. The biggest advantages to integral suppression systems tend to be overall length, weight, balance and—above all—better sound suppression. Most go over the barrel allowing for more suppressor without adding overall length and the net result is less noise and the tendency to be more accurate. For the hunter willing to deal with all the legal baggage that comes with a suppressor, the integrated version can be the perfect solution.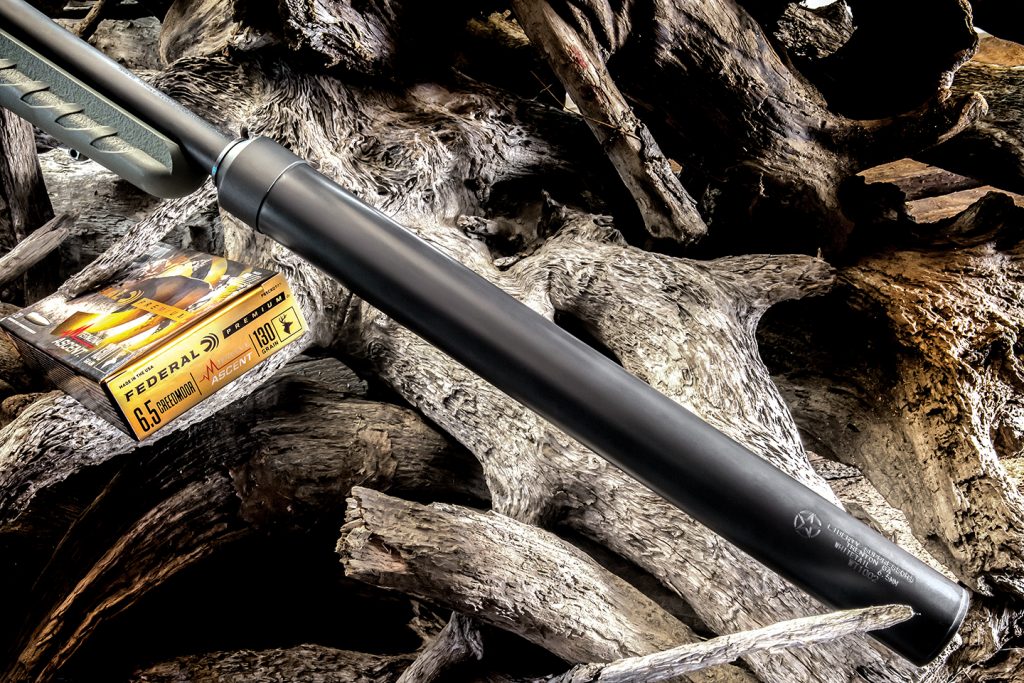 Liberty Suppressors Whitetail / Ruger American in 6.5 Creedmoor
Liberty Suppressors can adapt rifles to this suppressor system so long as they meet a few criteria: the rifle needs to have at least 6.75 inches of barrel past the forearm, a barrel diameter of at least .675″ forward of the forearm, and be chambered in any short-action caliber depending on the chassis or stock. Our test rifle is built on the Ruger American and is chambered in 6.5 Creedmoor. Currently, Liberty is using Bergara's B14 as their off-the-shelf host platform, and cost for a complete rifle/suppression system is a very reasonable $1299. This nets you a suppressed rifle, complete and ready to go, for less than the cost of many suppressors. Cost for the conversion on your rifle is $800 plus the labor to install and fit it to your rifle. Labor will vary depending on the rifle. Overall, this route is a pretty good deal.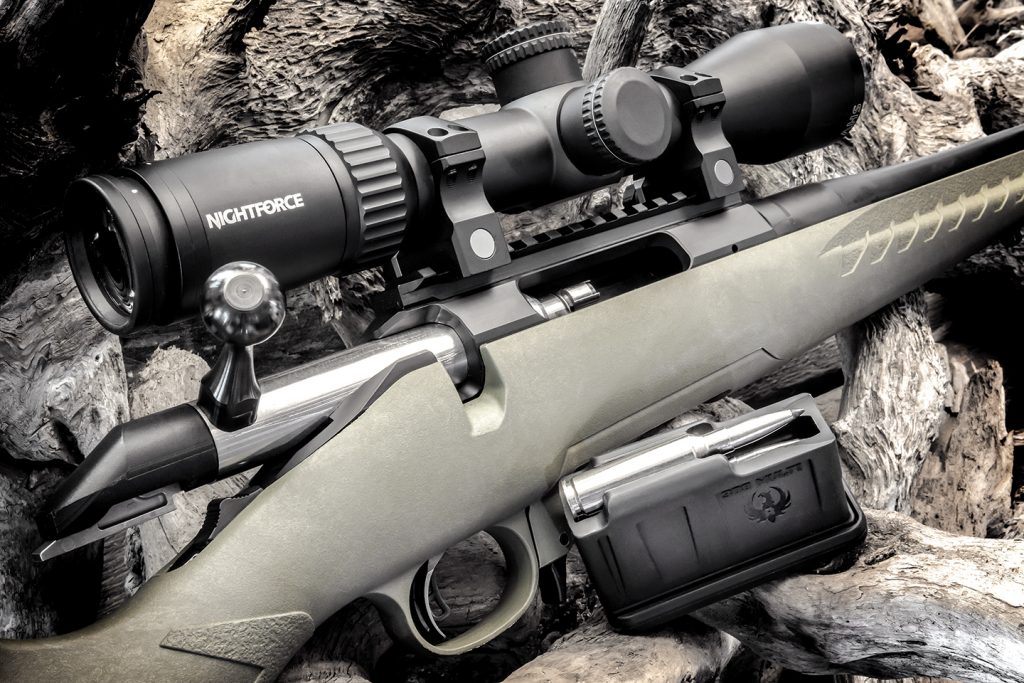 Overall length of my test rifle is 44 inches, barrel length to the end of the 13.5-inch suppressor is 24 inches. With an actual barrel length of 17 inches you lose some velocity, but this was designed as a deer hunting setup (Whitetail) and leaves plenty of energy for any practical application. If you are looking for a long range-rifle this is not it, but it will meet the needs of 99 percent seeking medium game or predators. Total weight —including suppressor, scope and rings — was 8 lbs., 2 oz. It's a lightweight hunting rifle roughly the same size as an unsuppressed, 22-barreled version, and it's scary quiet. The Whitetail's suppressor itself is stainless-steel with a titanium tube to keep it light. Unlike some of the aluminum "hunting models", this one will last.
Being accurate, lightweight and cost-effective, the Ruger American rifle is a favorite among many. The trigger is nice and the action is smooth, with its 70 degree three-lug bolt throw. A one-piece optic rail is factory installed and the barrel is cold hammer forged. The magazine is an AICS pattern that holds four rounds, but any AICS-pattern magazine will work. The stock is synthetic, light and did not appear to negatively affect accuracy.
The scope used for testing was the Nightforce SHV 3-10x with the MOAR reticle, mounted and in their Ultralight rings. The glass is brilliant as expected, the reticle is clear and sharp allowing for holds for wind and elevation. Mounted in the second focal plane it is fast, and about perfect for bush hunting. The machined aluminum tube is 30mm in diameter with .25 MOA click adjustments for windage and elevation, and parallax is adjustable down to 25 yards using the left-side turret.
Range Time
Ruger guarantees 1 MOA accuracy with the American, and this rifle accomplished that with most everything brand of ammo tested. It seemed to take a liking to the Hornady 95-gr. VMAX, or it just shoots so softly it was easier for me to be accurate. My best group using this was a nice cluster that measured a tad over 0.7 inches at 100 yards. It stayed true to its 1 MOA guarantee, putting the same load into 2.75 inches at 300 yards. Hornady's 140-gr. ELDM was about the same, so was the Barnes 127-gr. LRX load from Doubletap Ammunition. The Doubletap load was even tighter at 300 yards and proved the best performer at 600 meters, the longest distance at which this rifle was tested. Shooting from a bag I was able to get consistent hits on the 22" x 16" steel plate target at 600 meters, in one case registering four out of four running as fast as I could cycle the action and get back on target. This load is pretty stout, making 2,730 f.p.s. from this 17-inch barrel, and I've have clocked it at 2,950 f.p.s. from my 24-inch barrels. The difference in recoil was noticeable, but the suppressor tames it quite well. This is also a proven hunting bullet in this caliber.
The trigger on the Ruger American is nice, like most current triggers using the "trigger blade safety" design. It feels like a two-stage to me, which is my preference, but it was predictable and light—but not too light—making it perfect for a hunting rifle. The action is smooth and fast. Its 3-lug, 70-degree lift bolt design makes for quick bolt manipulation. Magpul's AICS ten-round magazine, plus a similar design from MDT, and a steel Accuracy International 5 rounder all worked perfectly. As always, anything using a universal design should be tested in your rifle with your chosen ammunition before taking it into the field. I commonly find two magazines from the same manufacturer will work differently; the joys of plastic. At least with metal you can bend things a bit as needed, but with plastic it either works or it doesn't. Filing things down is generally not a good practice.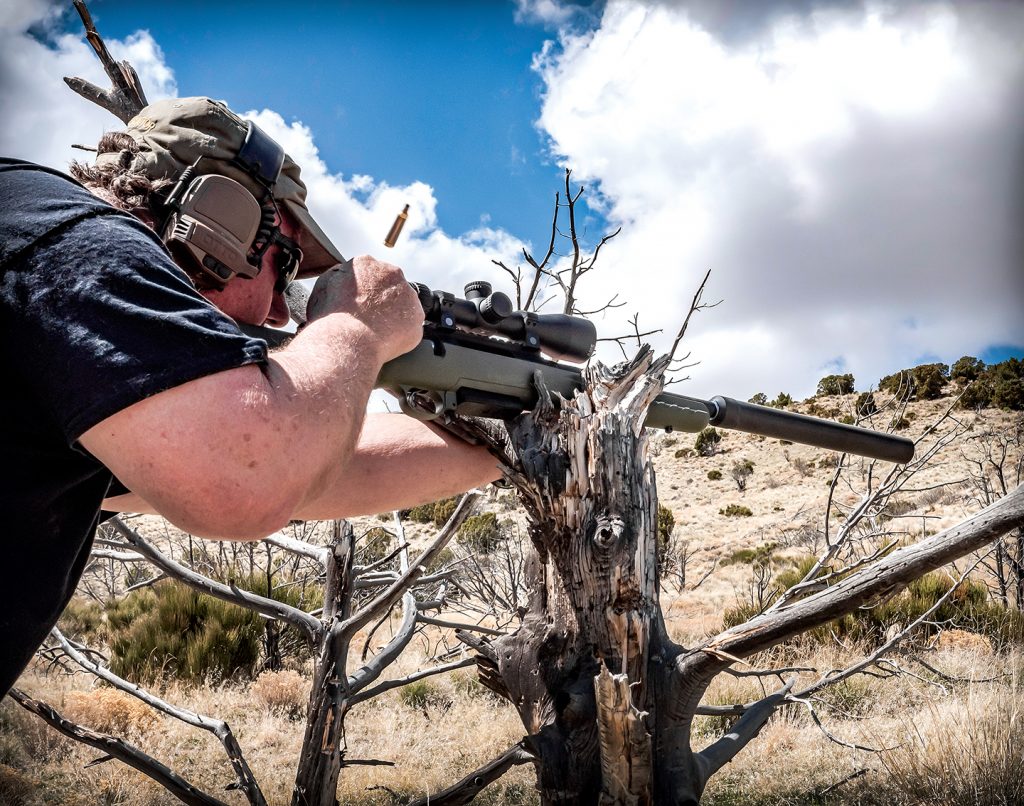 Other Considerations
This rifle is what I call incredibly handy, and very easy to carry and manipulate in the field. Over a fallen tree, on top of a rock or in and around my vehicle this rifle maneuvers well. Hiking in the mountains above the range it was great moving through the brush. At just over 8 pounds you barley notice when its slung, and carried in a pack you all but forget it's there. Well balanced, it swings to the shoulder quickly and is easy to get on target fast. This may be a single-use suppressor, but the combination on the whole is pretty versatile.
After a few decades shooting suppressors, the words "hearing safe" will never be uttered and I have the hearing loss to back it up. That being said, this thing is quiet. Using the 97-gr. VMAX it was well below the pain threshold of 140DB, and using hearing protection, you barley notice when it goes off. While I never advocate practice without hearing protection, hunting without it using this rifle should present no issues.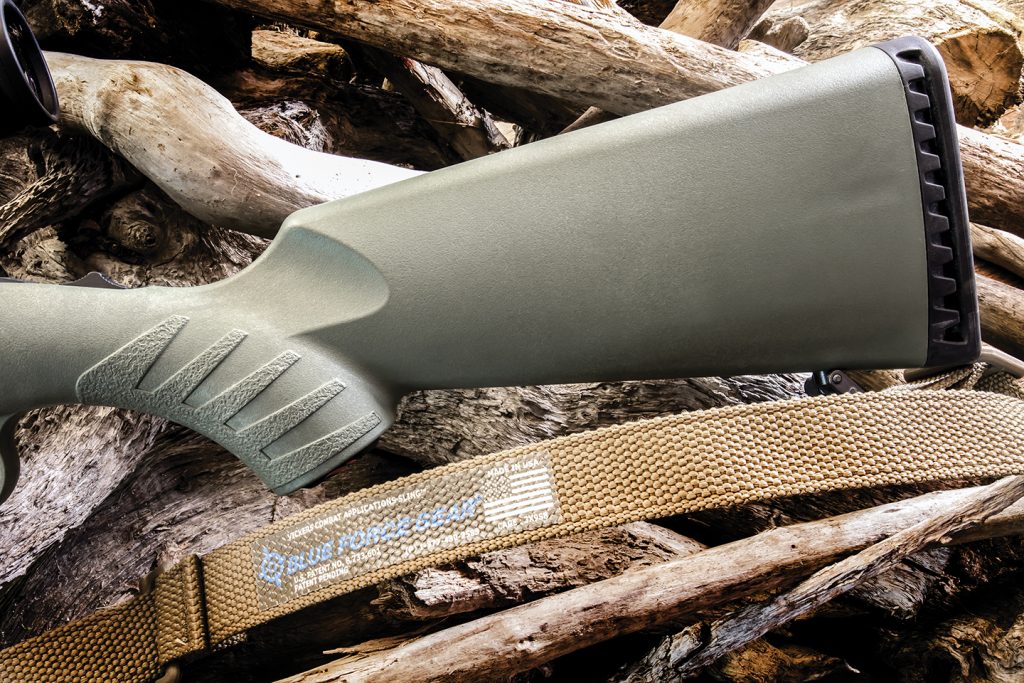 Bottom Line
This suppressor can be disassembled for cleaning, easily in fact. All you need is a 3/8-inch ratchet. Just make sure it's tight, and check it on occasion, standard procedure with any suppressor, but even more critical with these designs.
I have had great success with the Ruger American, but I'm just not fond of plastic (composite) stocks. That's just me, I guess. Ruger's stocks are better than most, more composite than plastic and they do not seem to adversely affect accuracy. On the other hand, it's what keeps the retail under $500, making it available to a very broad range of shooters and an inexpensive host for this suppressor.
If you like to use one rifle for hunting, this suppressed Whitetail rifle may be just the ticket. Attached to a 6.5 Creedmoor, you can get a ton done with it, but it's available in several calibers. Hunting, target shooting or predator control on a ranch, it is well suited to all of them. Have a new shooter in the family, or someone that does not like recoil or blast? This is the ticket, and at a price that will not break the bank . . . which is hard to beat these days and getting harder!
Specifications:
Caliber/Gauge:                     6.5 Creedmoor
Barrel:                                 17-inch cold hammer forged
OA Length:                           44 inches extended
Empty Weight:                      8 lbs. 2 oz. including scope
Sights:                                 None provided, uses factory-installed rail
Stocks/Grips:                        Ruger American
Capacity:                              AICS compatible, four rounds
Price:                                   $1,299 with rifle, $800 plus installation on your rifle.
Load                           Velocity           Accuracy
Hornady 140-gr. ELDM                   2,500 f.p.s.                1.10 inches
Federal 130-gr. Berger HB             2,625 f.p.s.                 0.95 inches
Doubletap 127-gr. Barnes LRX       2,730 f.p.s.                 0.80 inches
Hornady 95-gr. VMAX                    3,120 f.p.s.                0.73 inches