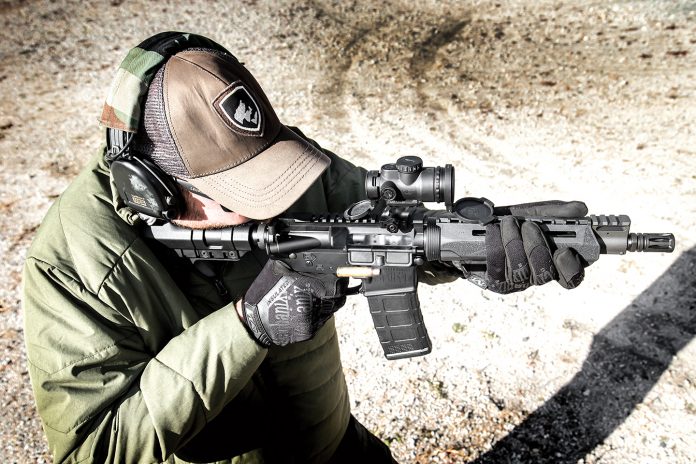 Top Six AR-15s For Under A Grand
Springfield Armory Saint AR-15 Pistol ($849)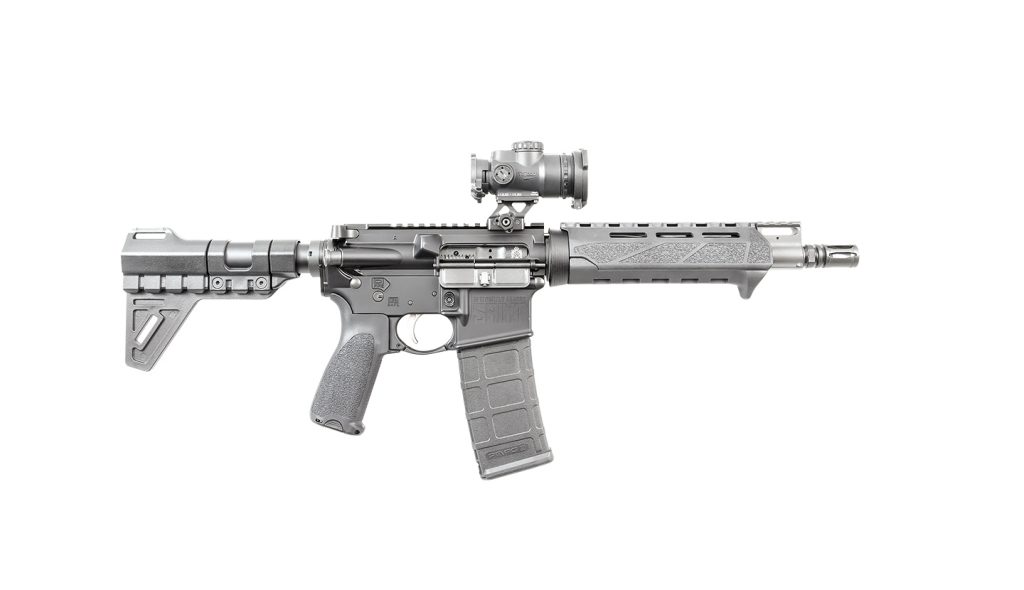 Like all Springfield Armory Saint ARs, the Saint pistol is built on forged and machined 7075 T6 aero-space grade aluminum upper and lower receivers. Two under-$1,000 models are offered—the standard Saint AR-15 Pistol, and the Saint AR-15 Pistol B5. Both are priced at $849, and are identical except for the substitution of three B5 Systems components on the B5 model: a more vertical pistol grip, slightly larger trigger guard and a polymer hand guard with more M-Lok slots and built-in metal heat shields.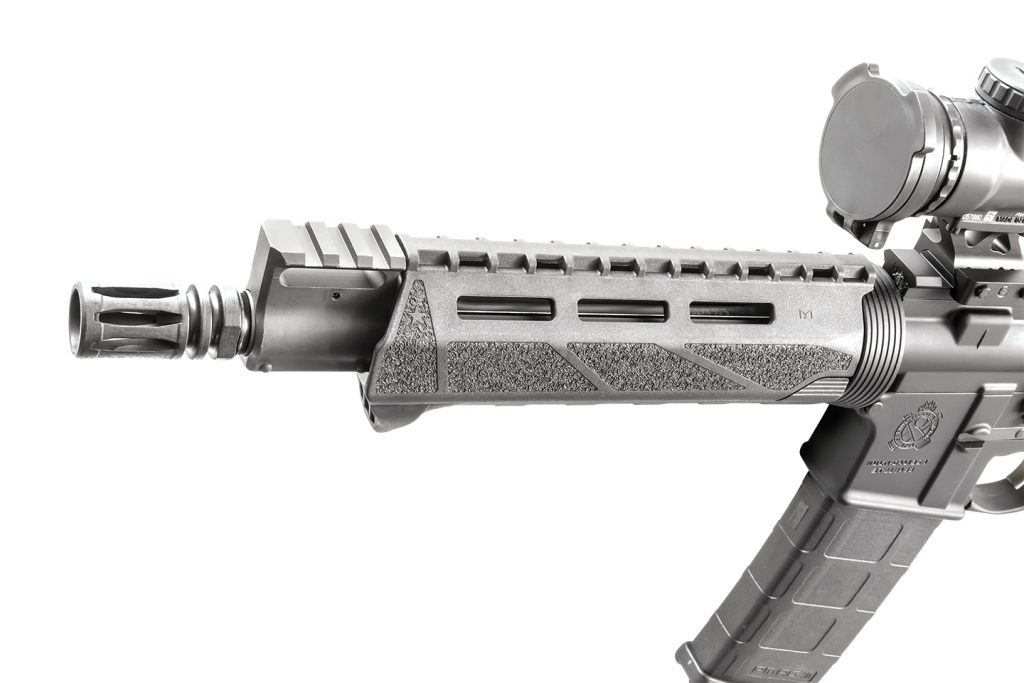 Our evaluation Saint pistol was the standard model. Furniture consists of a BCM GUNFIGHTER PMCR polymer hand guard with three rows of three M-Lok slots, forward handstop and lightly textured sides. The pistol grip is a BCM GUNFIGHTER Mod 3 with textured side panels/front strap, high-rise backstrap and storage compartment with floor plate. The pistol brace is a Trinity Force Breach Blade 1.0, which is adjustable for length of pull from 10-1/4" to 12-7/8". Sling slots are provided top and bottom.
Chambered for 5.56 NATO, the Saint pistol features a 9.6-inch, chrome moly vanadium steel barrel with M4 feed ramps rifled at a twist rate of 1:8". The muzzle is tipped with a Mil-Spec A2 flash hider, and the pinned gas block is topped by a 3-slot Picatinny top rail with sling slot. The A4 upper's 13-slot Piactinny top rail is numbered, and includes a forward assist, BCM GUNFIGHTER winter trigger guard and standard Mil-Spec controls placed in their usual locations. One 30-round Magpul PMAG Gen M3 magazine is included.
The bolt carrier group is machined from Carpenter 158 steel, heat treated and magnetic particle inspected. The barrel and bolt carrier group are finished in black Melonite, while all aluminum components are hard-coat anodized in matte black. The entire trigger group is Nickel Boron coated to reduce friction and increase corrosion resistance. The single-stage trigger exhibits about 1/8" of take-up with no creep or stacking, followed by a crisp break at an average pull weight of 5.2 pounds. Not bad at all.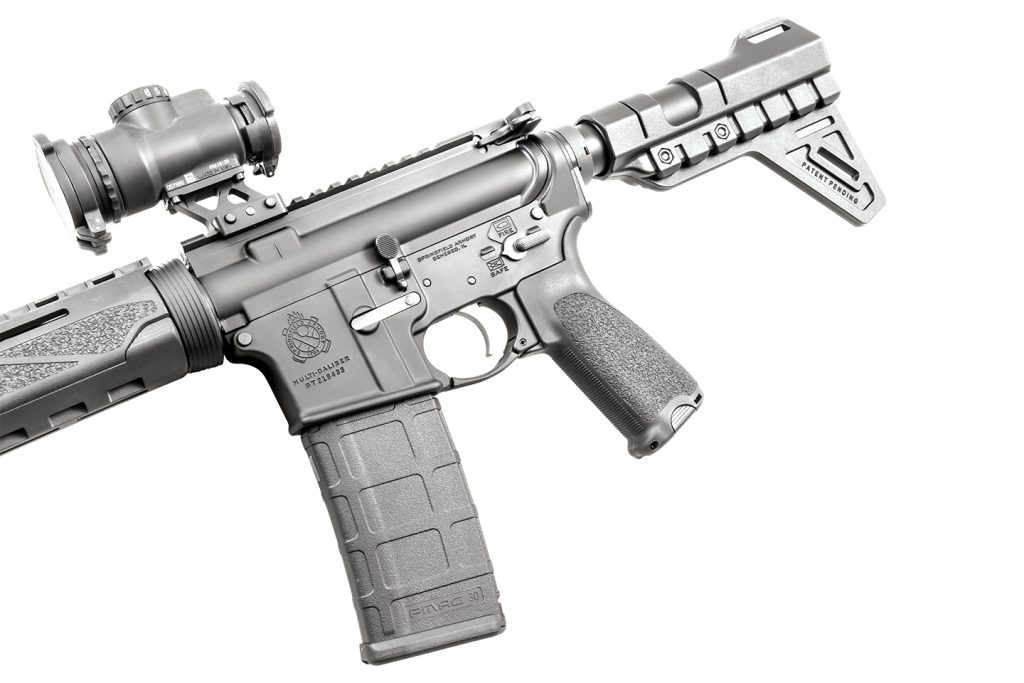 This was our first experience with the Trinity Force Breach 1.0 Pistol Brace, and unlike some other arm brace's that adjust for length of pull like a traditional six-position buttstock, this one employs a "set it and forget it" principal. It's low-profile, snag-free and lightweight, and other than not-so-quick LOP adjustments, we have no complaints. It's compact and lightweight attributes compliment the compact and lightweight, 5-pound/8-ounce Saint pistol very well.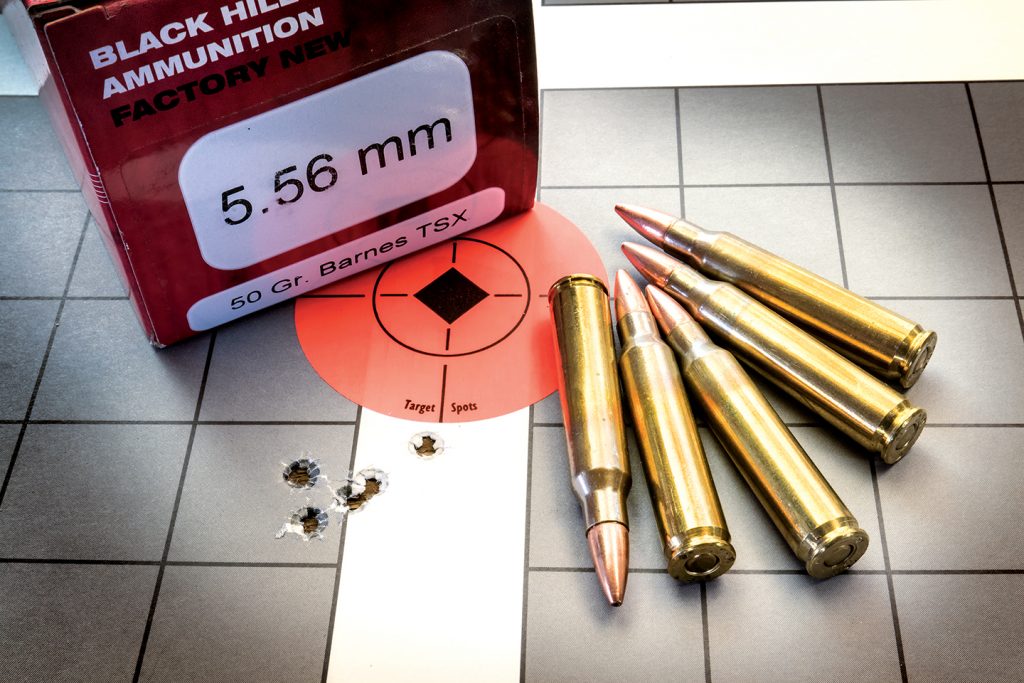 Like the rest of the guns in this section, we tested the Saint Pistol at 50 yards with a non-magnifying red-dot optic (Trijicon MRO). Our best five-shot group came with Black Hills' outstanding 50-gr. Barnes TSX 5.56mm load, printing a tight 0.82-inch cluster. Black Hills' 60-gr. V-Max .223 Rem. load was close on its heels at 0.93-inches. The three other loads test printed best group's of between 1.25 and 1.5-inches. We're confident that with a magnifying optic strapped to the top rail, our short-barreled Saint would be a solid 1-MOA performer. Zero malfunctions were recorded during testing.
See it at your firearms retailer, or contact Springfield Armory, Tel.: (800) 680-6866; Web: www.springfield-armory.com—Bill Battles
Specifications Springfield Armory Saint Pistol:
MSRP:                                   $879.99
Caliber/Gauge:                       5.56x45mm NATO
Barrel:                                  9.6-inch CMV, 1:8 Twist
OA Length:                            25.8 inches
Weight:                                 5-pounds, 8 ounces
Sights:                                   Flat top rail
Stocks/Grips:                         Trinity Force Brace, BCM grip
Action:                                   Rotating bolt, direct gas impingement
Finish:                                    Hard anodized
Capacity:                               AR-15 .223/5.56 compatible