FN509 Midsize MRD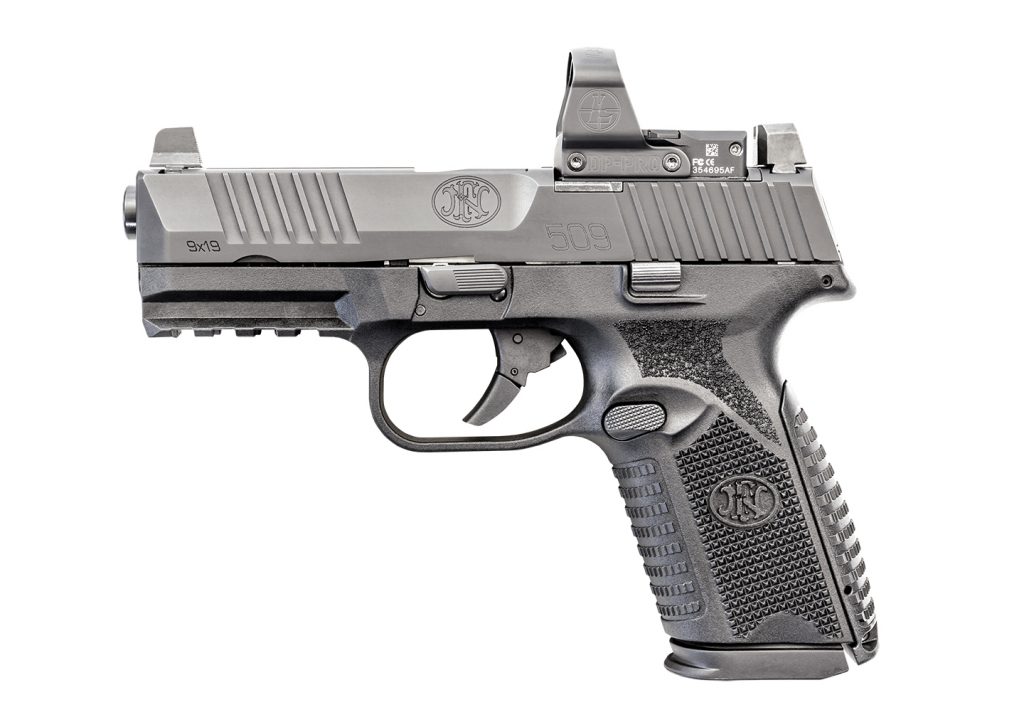 The Ultimate Optics Ready Carry Pistol?
Looking back nearly a decade, the first factory mini red-dot-ready pistol I had the opportunity to shoot, and the only one available at the time, was FN Herstal's FNX-45 Tactical FDE. When it came to properly mounting and outfitting a pistol for red dot duty, the FNX-45 Tactical was way ahead of its time. It came factory-equipped with suppressor-height, co-witnessed tritium iron sights, front and rear slide serrations, and a modular sight pocket milled deep within the slide. The latter of which ensured a mounted red dot sight would sit as low and close to the bore as possible for easier tracking under recoil and offered a more secure, streamlined package. Either FN engineers are: 1) that good, 2) they saw into the future, or 3) they listened to the right people; because they got it right, long before everyone else was getting it wrong.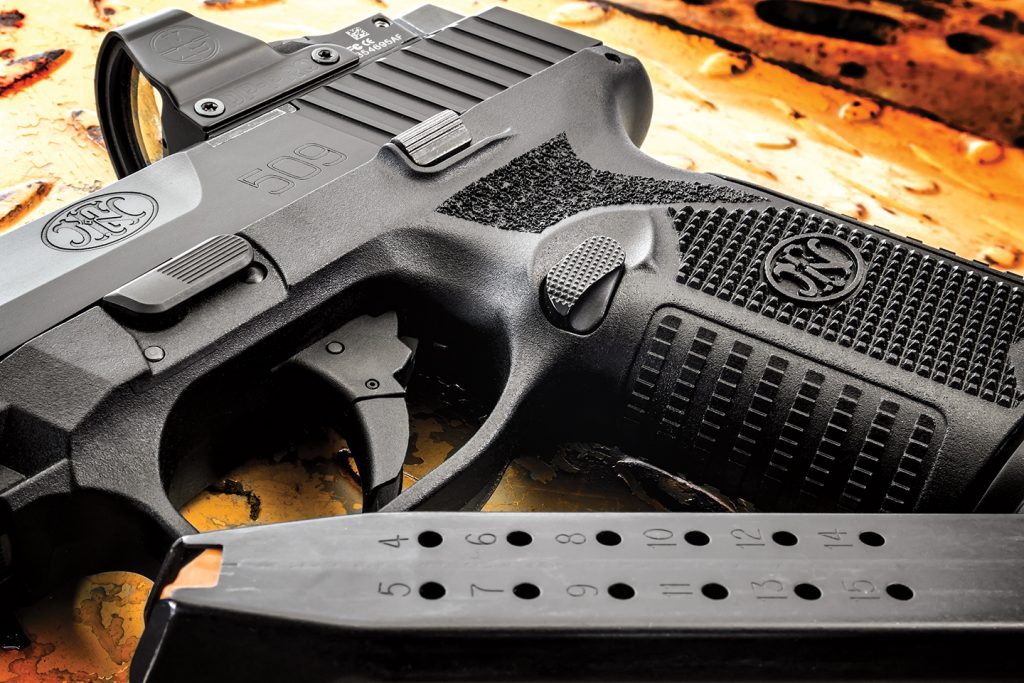 As its name implies, FN's newest red dot compatible pistol, the 509 Midsize MRD (Miniature Red Dot) contains the DNA necessary to compete on todays crowded field. After spending some quality time with this optic ready, midsized striker, I'm tempted to say it just might be the top contender for King of the Compacts. Allow me to explain.
I've had a love/hate relationship with FN's pistol triggers over the years. The pendulum has swung, and I must admit the trigger in the 509 Midsize is quite good. It breaks crisply at 90 degrees and over travel is near non-existent. This design feature greatly reduces the chances of your trigger press disturbing your point of aim as you pull through the stroke. My Lyman digital trigger pull gauge measured an average (of five) pull weight of 5.2 pounds, which is slightly heavier than I anticipated, as the trigger feels lighter than measured.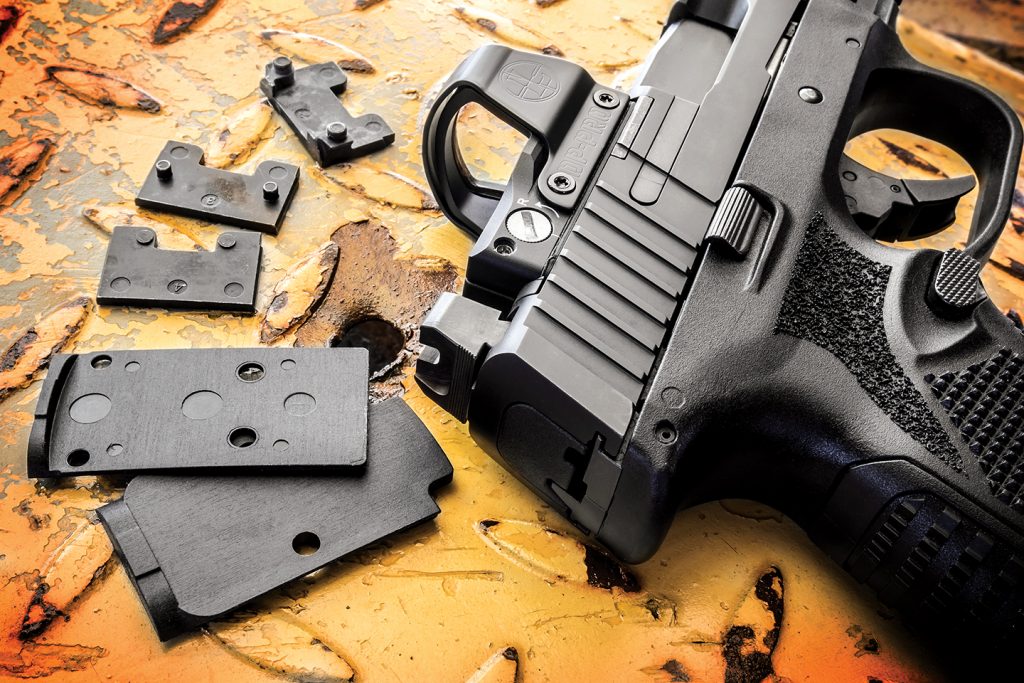 One of the features about this pistol I really appreciate is its frame is wider than its slide. This creates a shelf around the takedown lever area and serves as a great spot to place your support-hand thumb to gain additional leverage and control over the pistol during rapid-fire strings. Pressing your support thumb downward on this shelf is like a gas pedal, the more pressure you put on it, the faster you can go, or shoot in this case. The slide rides relatively low on the bore axis, which reduces felt recoil, allowing you to get back on target faster, and the triggerguard is undercut allowing for a high grip.
All controls are ergonomically placed and are completely ambidextrous. The slide-release is angled inward toward the frame to allow for consistent upward activation by your firing hand thumb to lock the slide to the rear. The top of the button has a bit of a ledge built in, allowing for a quick sweep of the thumb to get you back in the action post slide-lock reload. The magazine release is pear shaped and has a relief cut into the frame that makes the button act like it is extended, even though it's not. This is becoming a popular aftermarket addition to many polymer framed pistols and is welcomed on a factory gun.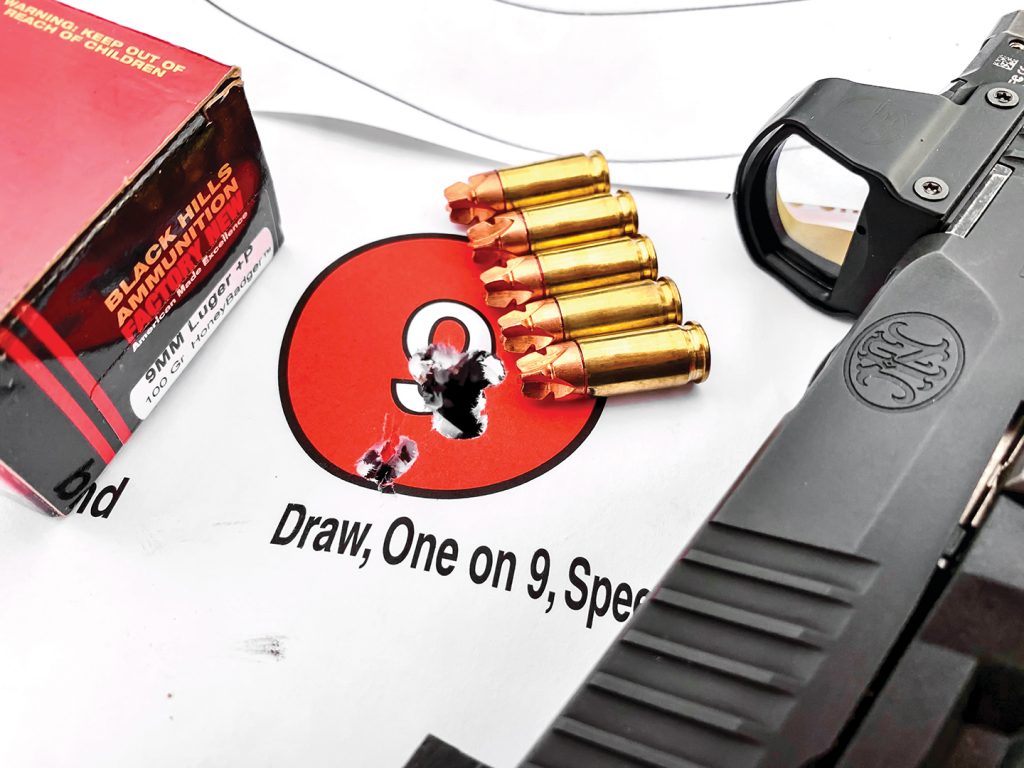 FN's line of pistols tend to be reliable as a hammer and extremely accurate. The new 509 continues that tradition and doesn't disappoint in the accuracy department. Producing a best five-shot group spanning 0.9 inches at 25 yards with both Black Hills 100-grain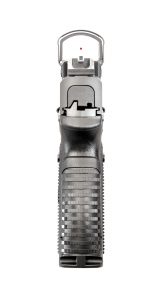 HoneyBadger load and Federals 124-grain Syntech TMJ ammunition —this compact pistol takes match-grade performance to a whole new level. Even when shooting 115-grain range ammunition, such a Winchester White Box, the pistol produced a 1.5-inch group, with all others measuring sub-2-inches.
Much credit should be given to the pistols barrel pedigree. FN has nearly perfected the art of producing cold-hammer forged, stainless steel barrels and this pistol highlights that fact. The chamber and feed ramp are both polished, contributing to reliable feeding, even when fouled from high count range sessions.
At the end of the day, this pistol has the right stuff. Ergonomics and physical dimensions are spot-on, the controls are perfectly sized and placed, while the mixture of frame textures is just right too. The trigger and barrel equate to near industry leading performance and the modular optic mounting system is, without question, the best and most robust we've tested to date. See the complete FN509 line at your dealer, or for more information contact FN America; Tel.: (800) 635-1321; E-mail: [email protected]; Web: www.fnamerica.com — Chris Mudgett