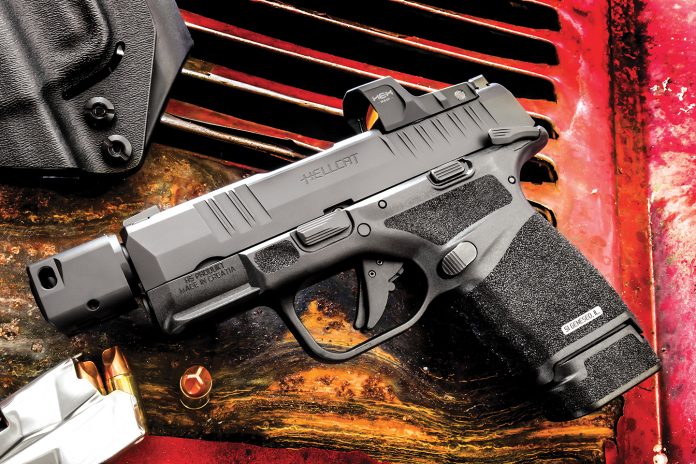 Springfield Armory Hellcat RDP
by Dave Bahde
The flattest-shooting micro-compact on the streets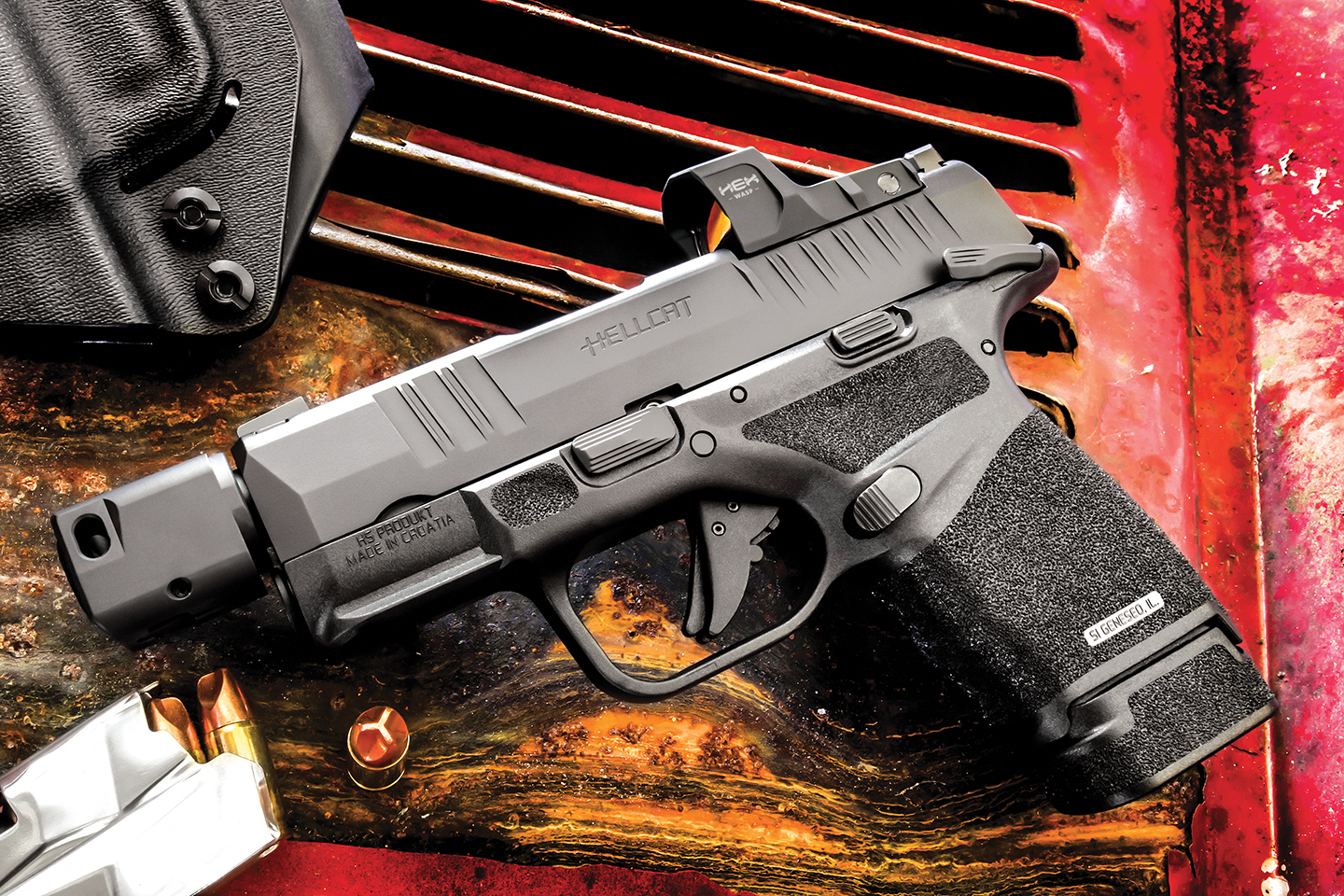 Micro-compact 9mm pistols with high capacity magazines and RDS (red-dot sight) capability continue to gain traction. Once limited to single-stack 6- or 7-round magazines, those days are in the rearview mirror. Ten rounds is now widely the minimum capacity, with fifteen rounds the current ceiling. These guns provide a generous payload while still being easy to conceal and comfortable for all-day carry. But there is always a tradeoff, and for most shooters that is muzzle rise. Stuff a +P 9mm into a 3- to 3.5-inch barreled polymer pistol and you can have yourself a handful; hard to control and not particularly pleasant to shoot for many. Also, red-dot sights are becoming widely available, but can be costly and many don't seem to hold up well to the recoil abuse. Springfield Armory has come up with a very solid solution to combat micro-pistol drawbacks with the new Hellcat RDP. Adding a simple muzzle compensator, and creating their own line of durable red-dot sights, insures a high level of shootability, reliability and cost savings, making this a no-compromise, concealed-carry pistol.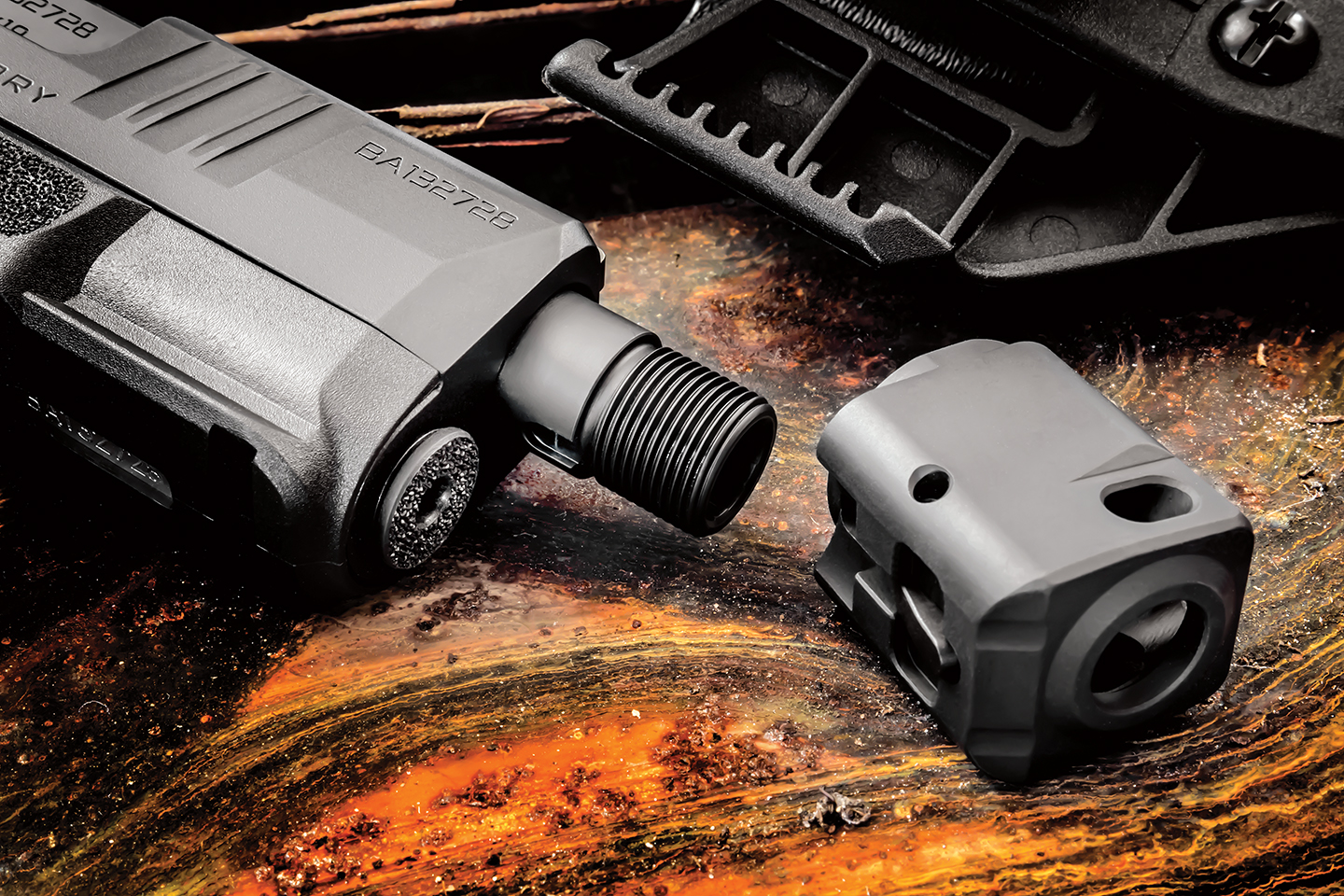 Hellcat RDP (Rapid Defense Package)

Being one of the first writers to test the original Hellcat allowed me to put an early Shield RMSc optic through its paces. Accurate, reliable, soft-shooting for such a small pistol, it really caught on and remains one of the most popular in its growing class. Very compact using the 11-round capacity standard magazine, and slightly larger with the 13-round magazine, it's perfect for concealed carry. Early this year I was able to put a few hundred rounds through a standard Hellcat using a new Surefire weapon-mounted light during a media event at Gunsite Academy. Certainly not unpleasant to shoot, but using the 147-grain Federal it was a bit uncomfortable after high round count days. Springfield Armory has provided a solid fix for that in the RDP. Using the RMSc footprint it has a new Springfield Armory HEX WASP mini RDS pre-mounted from the factory, a threaded barrel, and a compact self-indexing compensator.
The new HEX WASP mini RDS is made from 6061 aluminum, has a hardened glass lens and an impressive 65,000-hour (7.4-year) battery life—especially considering the sight remains constantly on. Iron sights are a Tritium equipped U-Dot pattern and co-witness in the lower part of the RDS. The barrel remains hammer forged and Melonite coated, but is stretched to 3.8 inches and threaded to accept the proprietary, self-indexing compensator. Threaded 1/2 x 28 TPI, it will accept any matching 9mm suppressor. Removing the compensator requires no tools, spacers or shims and is accomplished in less than a minute. It goes back on just as fast, with proper timing and placement, using a simple and effective self-indexing lever mounted on the bottom.  The Gen 2 trigger fitted to the RDP model has been recontoured to provide more comfortable contact. Available with or without a manual safety, it ships in a nice little padded soft.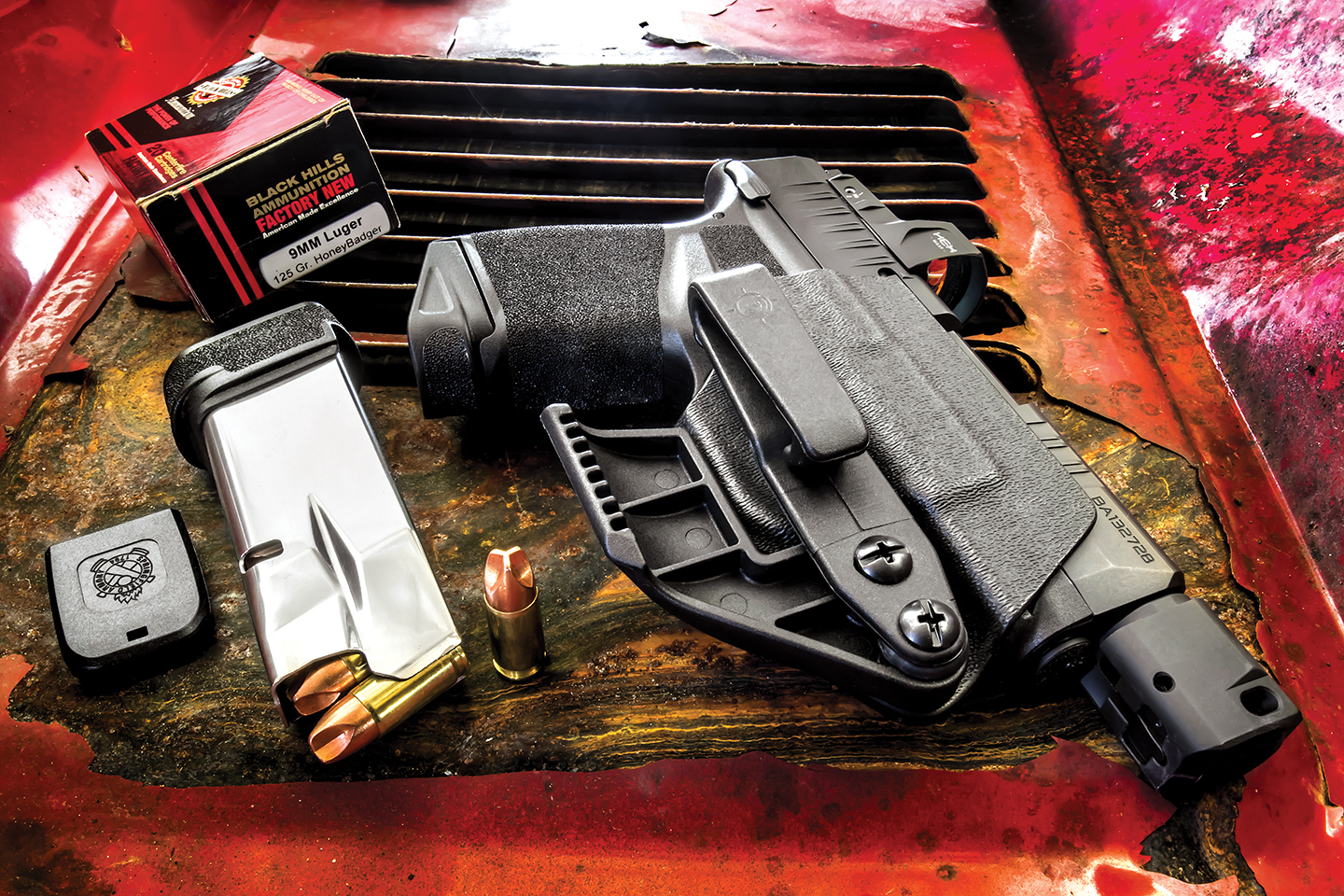 Testing Gear
Surefire's Micro-Compact XSC is designed to work with the Hellcat and similar micro-compacts and was used during a large portion of testing, as well as every writer's run in a recent Gunsite Academy shoot house event without failure. Rugged and lightweight, it has a 350-lumen output with a unique rechargeable battery design that snaps in and out without removing the light from the pistol.  Run time is listed as 30-minutes and the light has a "fuel" gauge to let you know when things are running low. A USB charging station is included and will hold two batteries.  The activation switch is slim but accessible, and is either momentary or constant.
Surefire's Ryder Ti suppressor was also used. Longer than many, it remains light weight and slim, and does not obstruct either the iron sights or the RDS. Made from stainless steel with a Titanium outer tube, it will handle any 9mm pistol round and can be used on fixed barrels using their adapter. Threaded 1/2 x 28 and user serviceable it can also be used on rimfire rifles and pistols.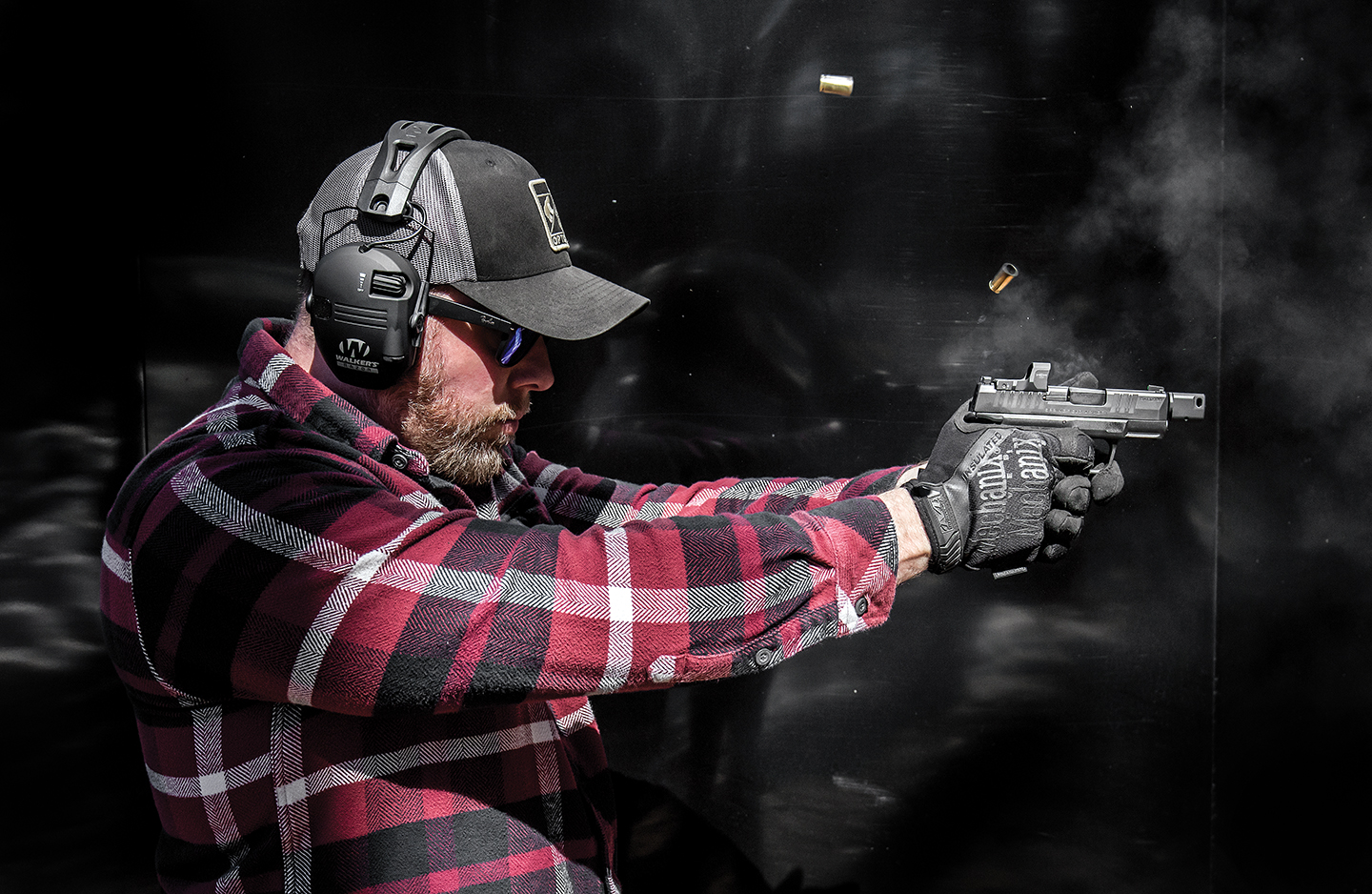 Range Time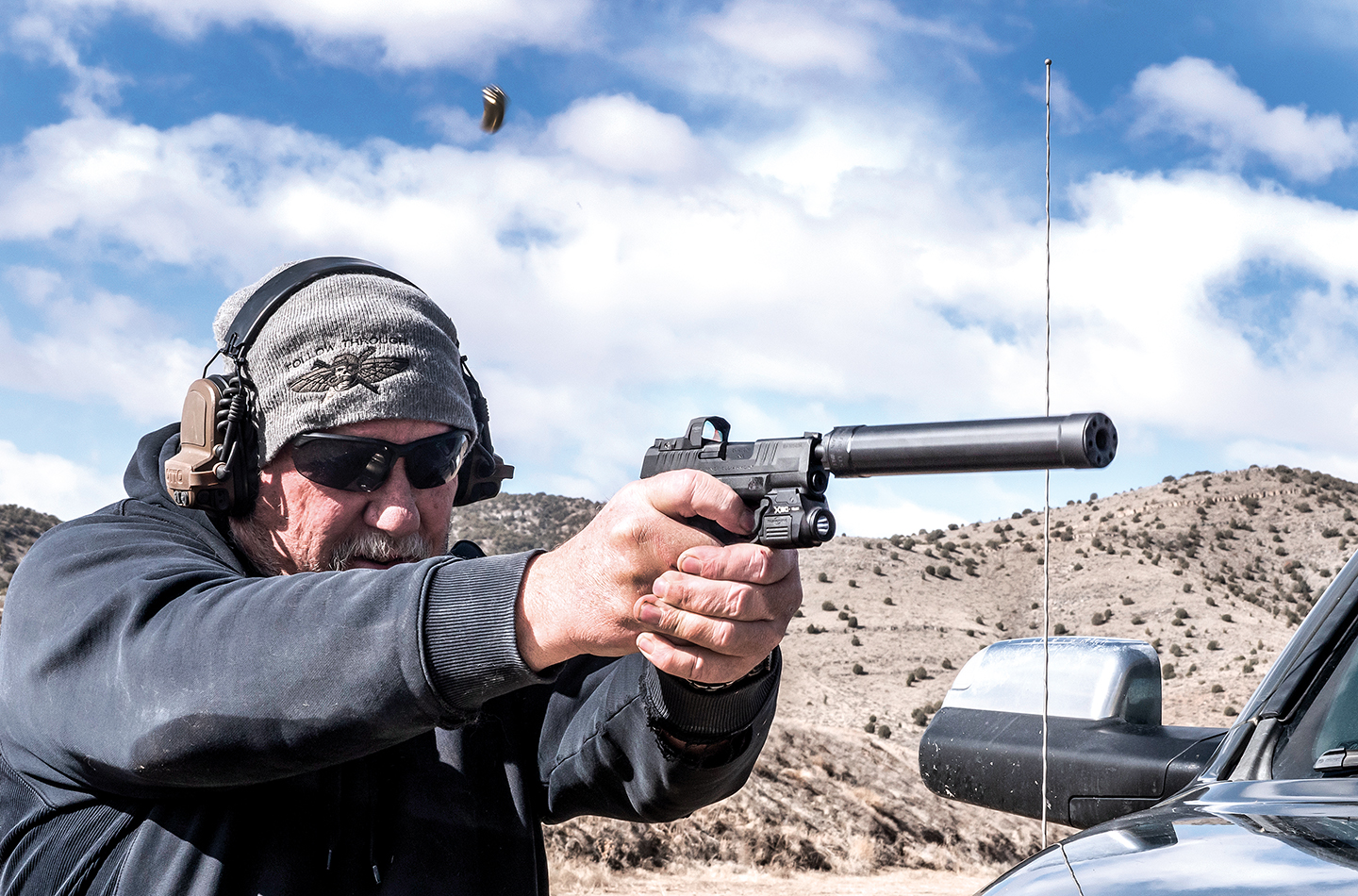 All of the Hellcat's tested to date have been accurate and this one was no exception. Groups were fired at 25-yards using the HEX WASP RDS and a bag for a rest. The best group was just a bit under 2-inches using Wilson Combat 115-grain Barnes TAC-XP, but everything was in the 2 to 2.5-inch range. Moving to off hand at 15 yards the compensator seemed to make a noticeable difference, especially with the hot Federal 124-gr. +P and 147-gr. HST loads. A side by side comparison with a standard Hellcat revealed that the RDP had noticeably less muzzle rise. Spending the day with the same Federal 147-gr. AE used at the previous writer's event, there was less wrist fatigue and rapid shots were easier to cluster at that range. This is a small pistol so a solid grip is best for accuracy but it is neither uncomfortable to shoot nor hard to be accurate with.
Round counts in testing these days are smaller given how hard it is to get ammunition, but it spit out 200 rounds of Federal American Eagle, and a 100 rounds of various carry ammunition without issue. This is the third Hellcat I've tested and they all have been 100% reliable with everything used, even frangible. Adding the suppressor did not change anything.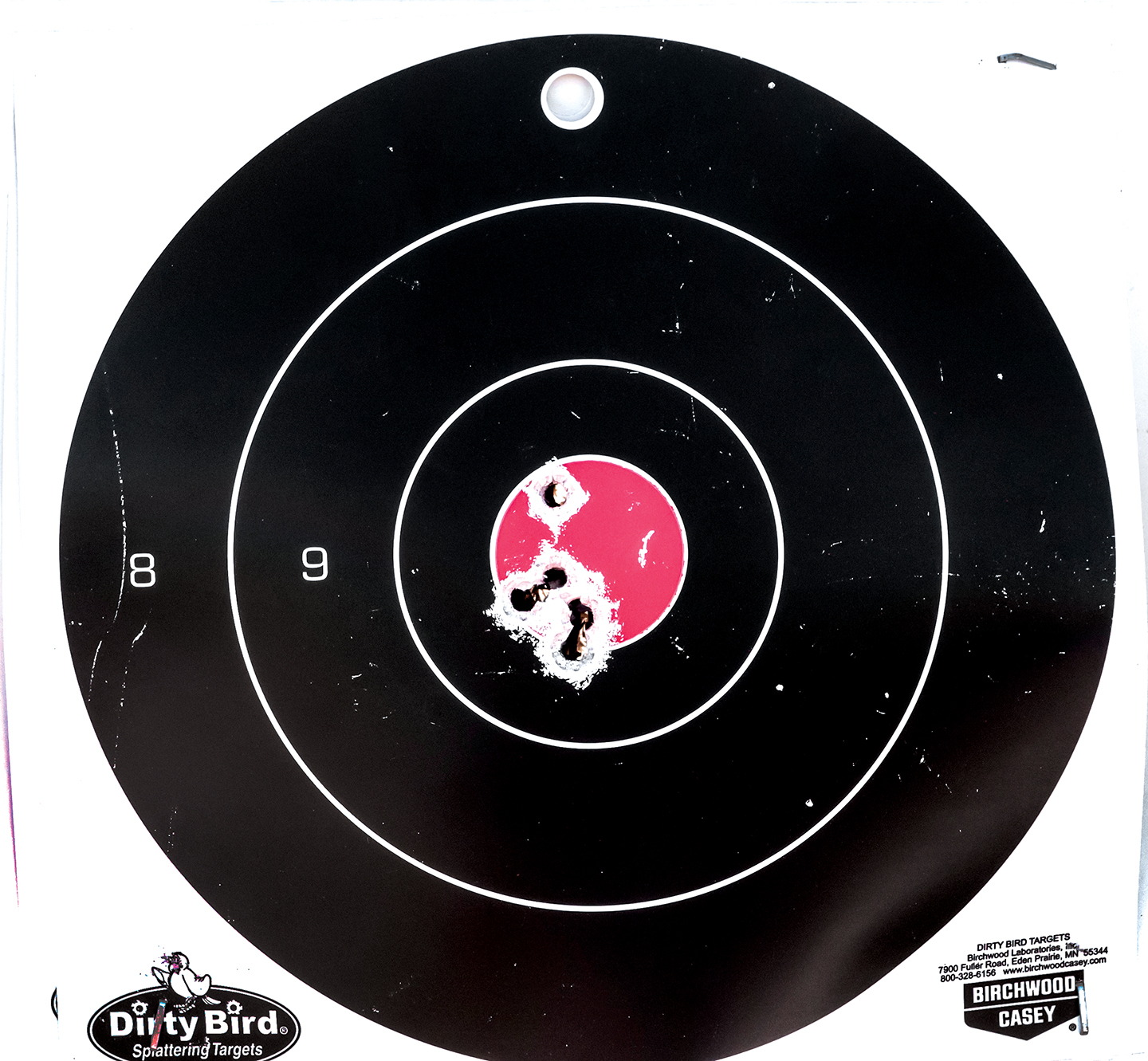 Final Thoughts
The nicely contoured Gen 2 trigger was noticeably more comfortable to use, especially as the day progressed. Long days with previous Hellcats tended to wear on the trigger finger a bit, especially with my larger hands.
The muzzle compensator works without noticeably increasing blast at the shooter. There is some side venting but nothing you really noticed, not like you would see on some of the other comps out there. All in all, it does its job very well.
The new $299 HEX WASP sight worked very well, held up well, and never shifted or lost its zero. The lens glass is clear and has an anti-glare coating to remain clear in direct sunlight. Adjustment was easy, and a new seamless fill-plate is a nice touch if you decide to remove the RDS.
Springfield Armory has done a knockout job with the RDP, and it provides all of the attributes that many have been asking for: a small footprint, high capacity, RDS/co-witness night sights/compensator equipped micro pistol. And, with a retail of $899.00, you get all of this at a reasonable price. If you are in the market for a versatile and reliable micro-compact 9mm, be certain to add Springfield Armory's RDP to the list. See it at your nearest dealer, or for more information contact Springfield Armory; Tel.: (800) 680-6866; Web: www.springfield-armory.com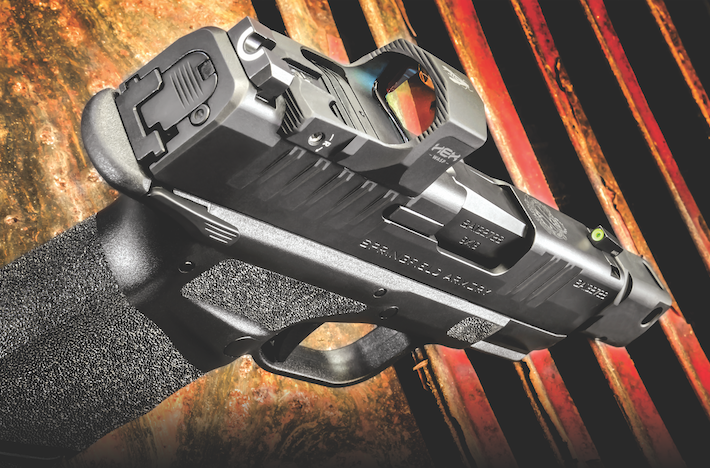 Specifications
Caliber:                                  9mm (Plus-P Rated)
Barrel Length:                        3.8-inches
OAL:                                      7-inches
Width:                                   1.0-inches
Weight:                                  19.3-ounces
Capacity:                               11+1 (13+1 available)
MSRP:                                    $899.00
Ammunition                                  Velocity                         Group Size
Wilson Combat 115-gr. TAC-XPD                1,115 fps                               1.80 inches
Speer Gold Dot 124-grain                          1,030 fps                               2.20 inches
Sig Sauer V-Crown 115-gr.                        1,110 fps                               2.10 inches
Federal HST 124-gr. +P                             1,070 fps                               2.15 inches
Federal HST 147-gr.                                  1,028 fps                               2.00 inches
Groups fired from sand-bag rest from a truck hood. Distance of 25 yards, three 5-shot groups for comparison. Velocity in feet per second (fps) measured with a LabRadar chronograph.