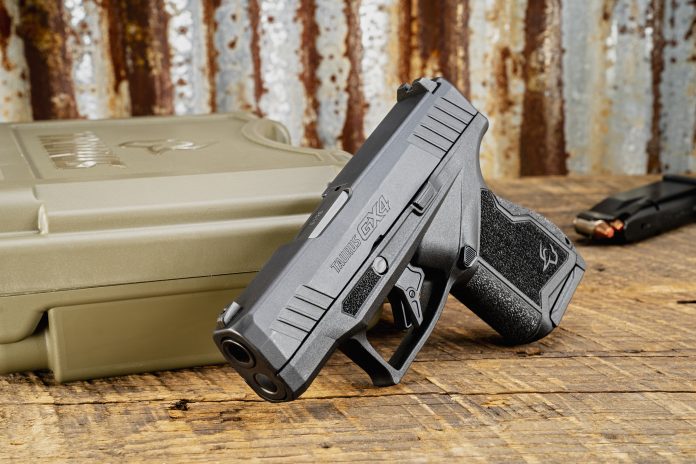 The All-New Taurus GX4™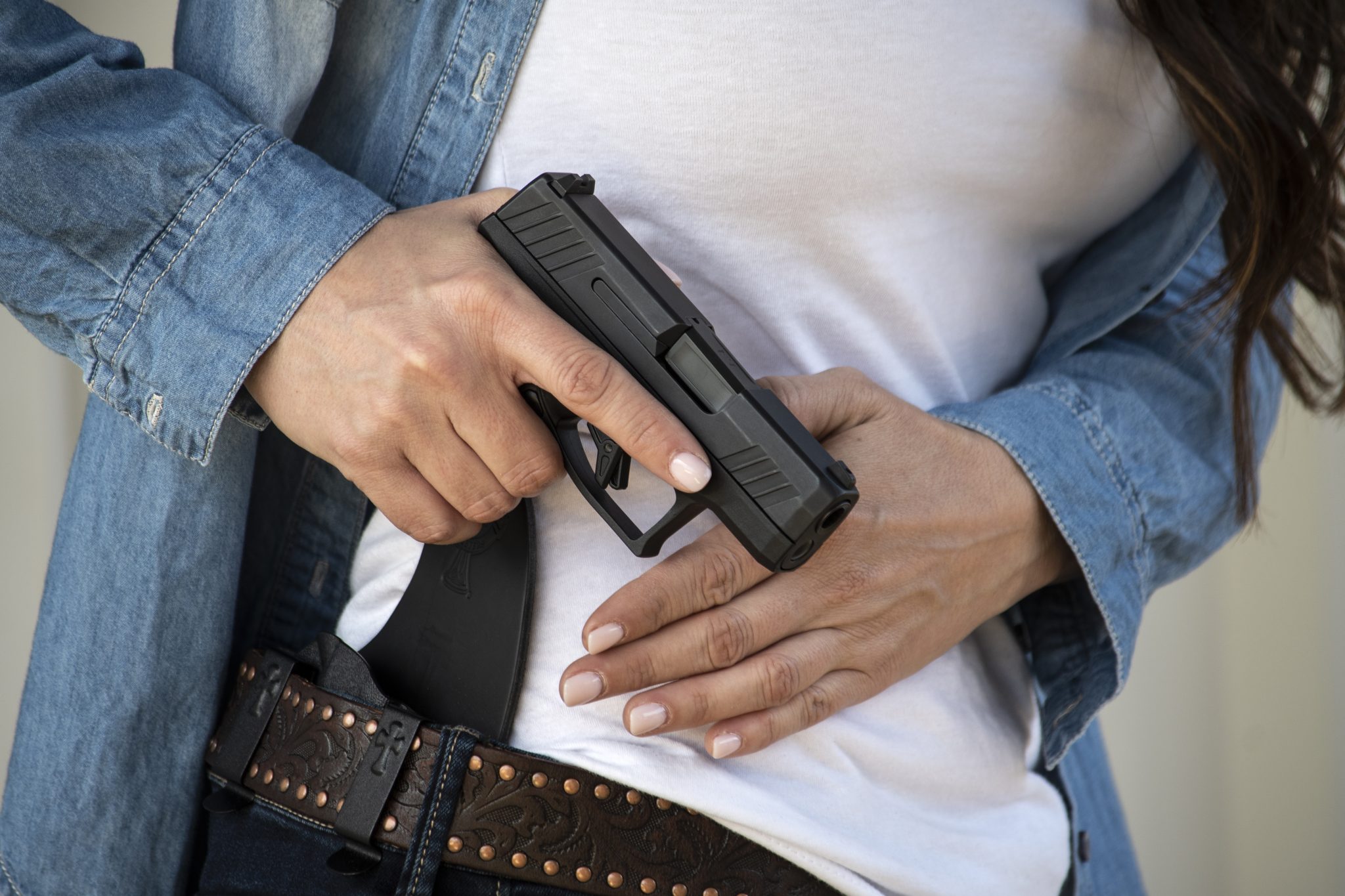 May 2021 (Bainbridge, GA) – Taurus, manufacturer of premium handguns for defense, hunting, and sport shooting, is excited to announce the all-new Taurus GX4, designed to deliver maximum concealment without sacrificing ergonomics, performance, or capacity. In short, the Taurus GX4 offers everything you would expect from a full-frame defensive handgun (and more!) but at a fraction of the size and weight.  The new Taurus GX4 redefines the micro pistol segment to deliver the concealability of a .380 but with the power, capacity, and function of a full-size 9mm handgun.
The Taurus GX4 is built on a stainless frame with a polymer grip that earns high marks in shooter comfort and strength. This thin, one-inch-wide frame provides negligible printing when worn inside the waistband and features a grip dimension sized to fit any hand. To ensure structural rigidity and reliable cycling in such a scaled-down foundation, the polymer receiver bolsters an integral stainless-steel framework that eliminates flex or deformation when firing.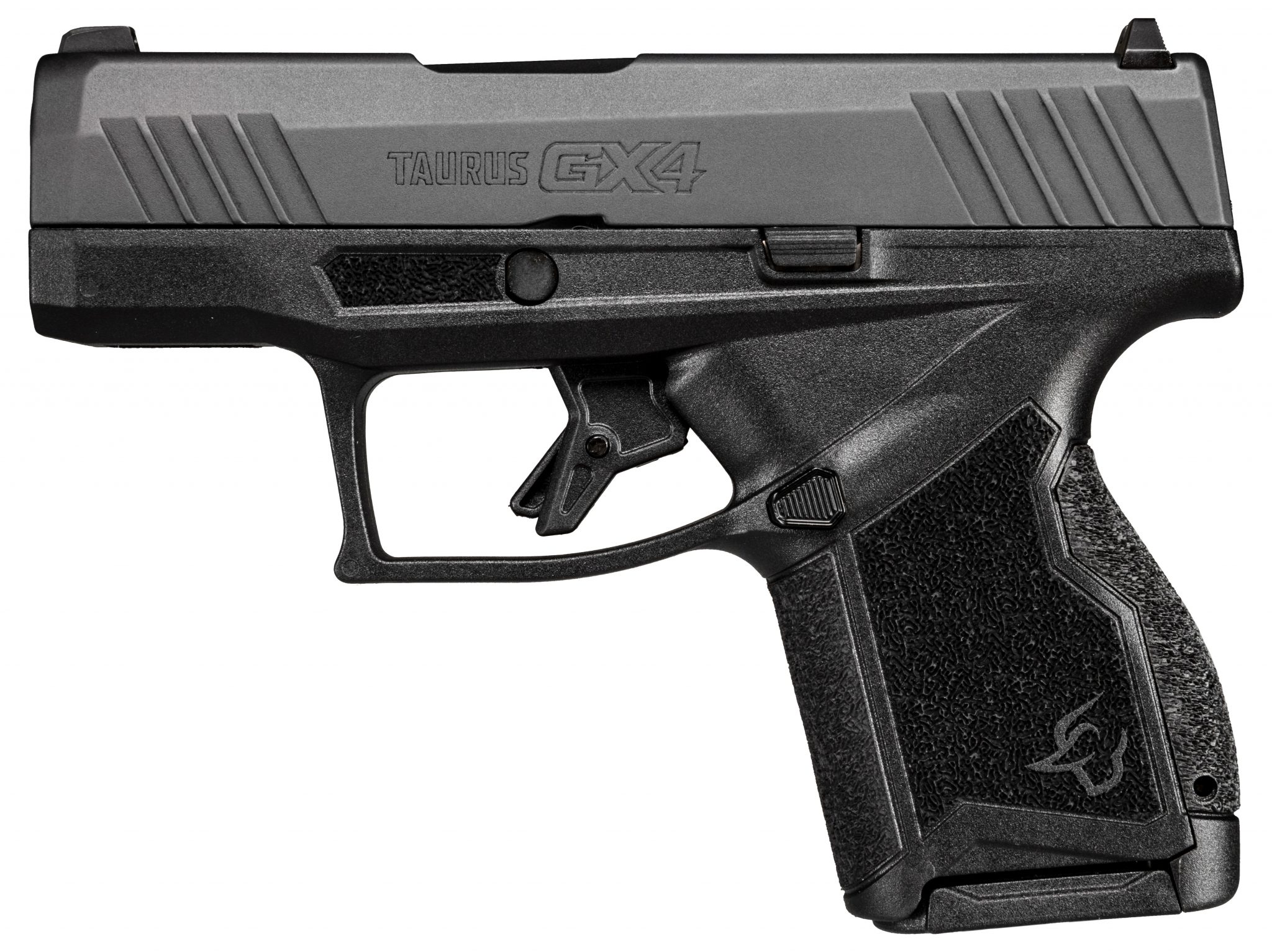 Intelligent channeling beneath the slide rail allows for recessed placement of the slide stop lever and takedown pin. This permits easy manipulation of these controls while maintaining a flush, no-snag profile for a smooth draw from deep concealment. Likewise, the magazine release button is flush to the grip to eliminate snag potential without hindering quick manipulation during mag changes.
The stippling pattern along the grip offers the perfect balance of aggressive texture across the front of the grip, the side panels, and the full length of the backstrap for a concealed carry application. Stippling is also found forward of the trigger at the indexing and recoil management pad locations. These pads, working in conjunction with the high-texture grip, help the shooter maintain proper hand positioning and assist in managing 9mm recoil while promoting fast target reacquisition in a small handgun platform.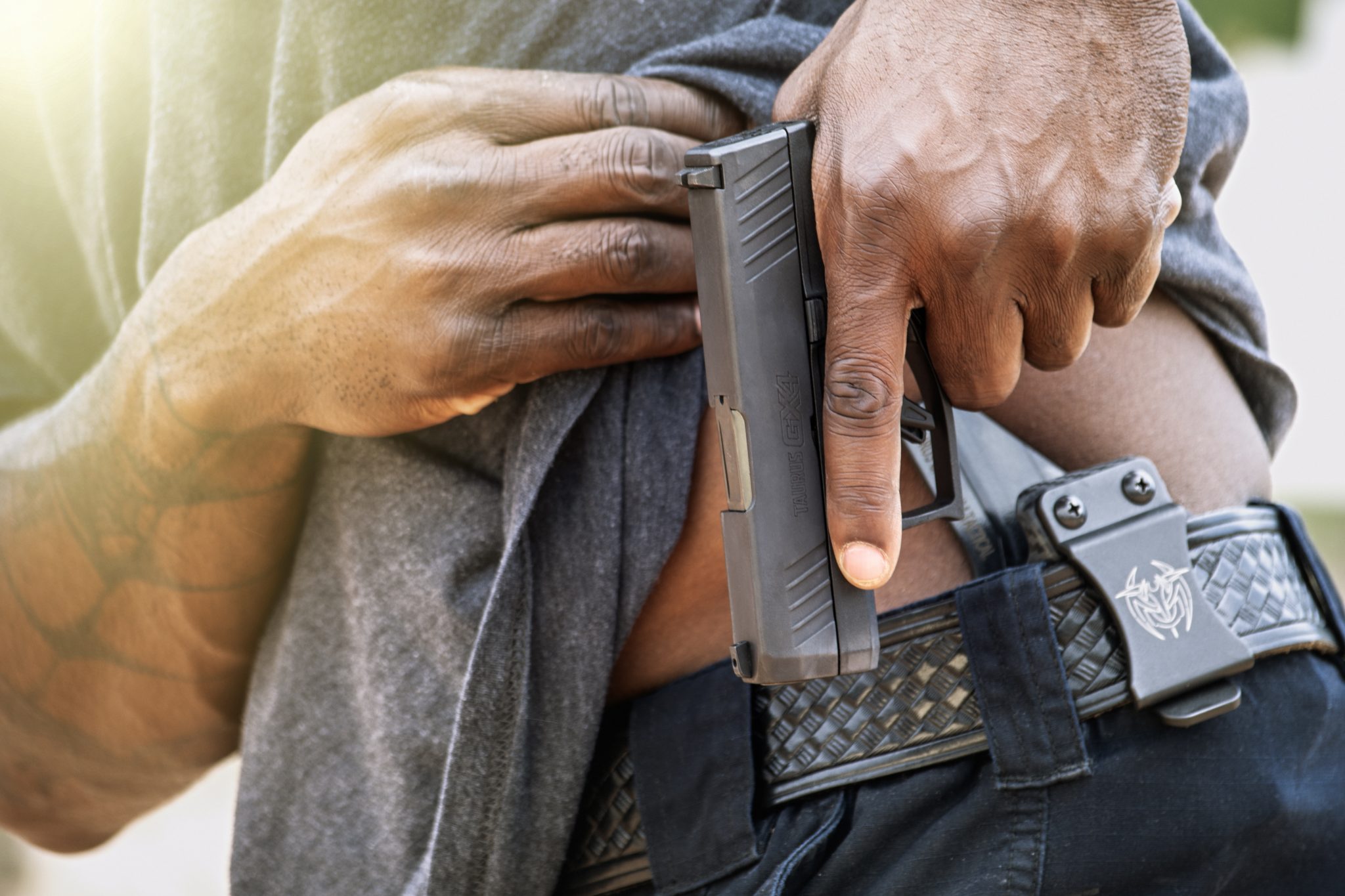 The Taurus GX4 comes with two backstrap options. Installed at the factory is the standard backstrap profile with its slight palm swell to accommodate the preferred grip for most shooters. Those who favor a higher wrist position for natural point-of-aim via a more pronounced palm swell can install the included high-swell backstrap.
Shooters will enjoy the accuracy and predictability of the Taurus GX4 trigger courtesy of its crisp, precise sear break and the pleasingly short and tactile reset that is fundamental to quick, on-target follow-up shots. Adding to the control quotient are serrations along the trigger safety blade. These serrations help prevent finger slip and promote a straighter, more consistent trigger pull.
Located at the front and back of the slide, the serrations not only provide a positive grip for charging and cartridge extraction, they also allow for push or pull manipulation from either end of the slide to accommodate the shooter's preferred operation style.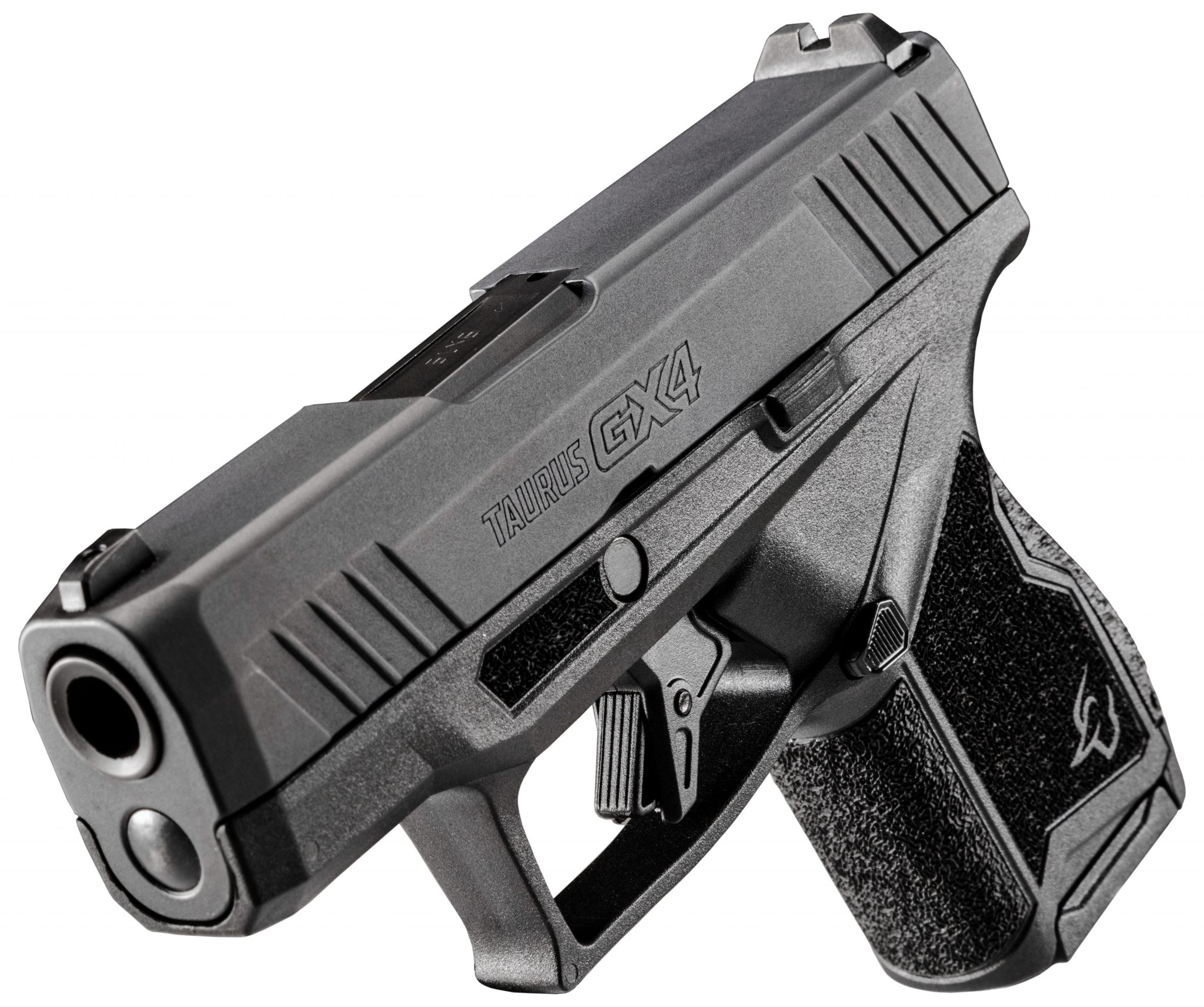 Topping the slide is a fixed-position steel front sight and square-notch steel rear sight. The rear sight features serrations across the back to minimize glare, and the cross-cut dovetail slot allows for drift-adjustment of the sight's windage. The front sight includes a white alignment dot for improved visibility in reduced light conditions. Understanding that many personal defense practitioners desire a tritium or fiber-optic sight system for extreme low-light performance, the Taurus GX4's dovetail slot is sized to be compatible with common aftermarket tritium and fiber-optic sights. The front sight also uses the conventional screw attachment system, so upgrading the Taurus GX4™ to aftermarket night sights is a simple matter for a gunsmith or anyone with a pistol sight installation tool.
As with all Taurus polymer frame pistols, the Taurus GX4 slide includes a visual loaded chamber indicator. This allows the shooter to quickly see if a cartridge is loaded in the chamber and eliminates the need for the traditional "press check." To separate the slide assembly from the frame for cleaning, the Taurus GX4 utilizes an easy take-down pin system.
The Taurus GX4's 3.06-inch stainless-steel barrel, for example, features a satin black DLC (Diamond-Like Carbon) treatment for reduced friction and greater wear and corrosion resistance. For the slide finish, Taurus engineers opted for a gas nitride coating to maximize slide surface hardness. This treatment is ideal for a gun intended for daily carry and for deep concealment due to its wear resistance properties.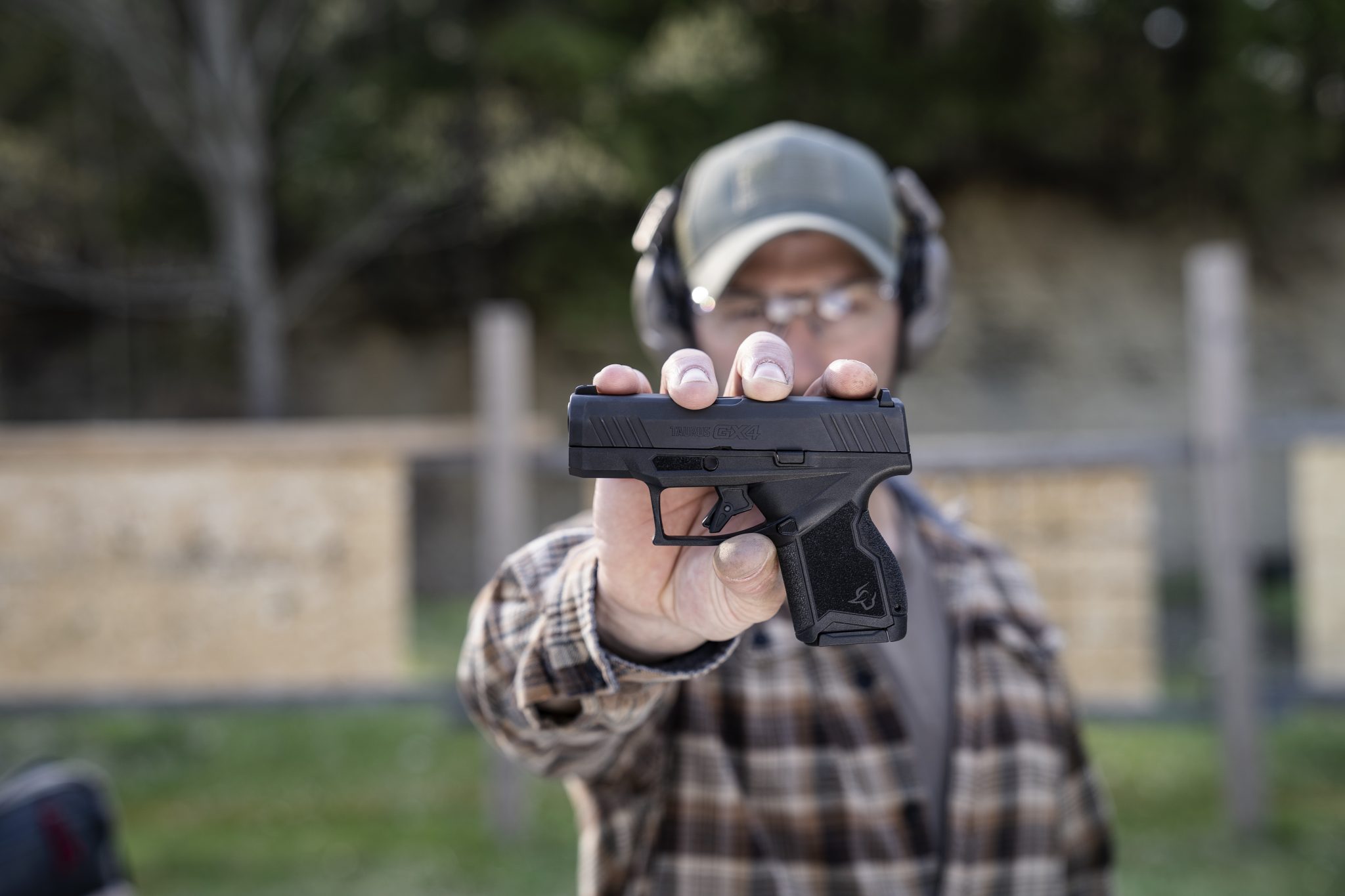 Elsewhere, operational control parts receive a Teflon™ coating. The inherent lubricity of Teflon allows components such as the reversible mag release to operate with maximum smoothness while also resisting wear and corrosion. The steel slide stop has polymer overmolding for maximum durability.  Inside the Taurus GX4, metal internal parts are nickel plated to further resist rust and corrosion.
While the Taurus GX4 proves that neither ergonomics nor reliable performance need be sacrificed to create a full-feature micro pistol, it also proves that firepower or cartridge capacity need not be compromised, either. Chambered for 9mm Luger, the Taurus GX4 delivers several double-stack magazine options.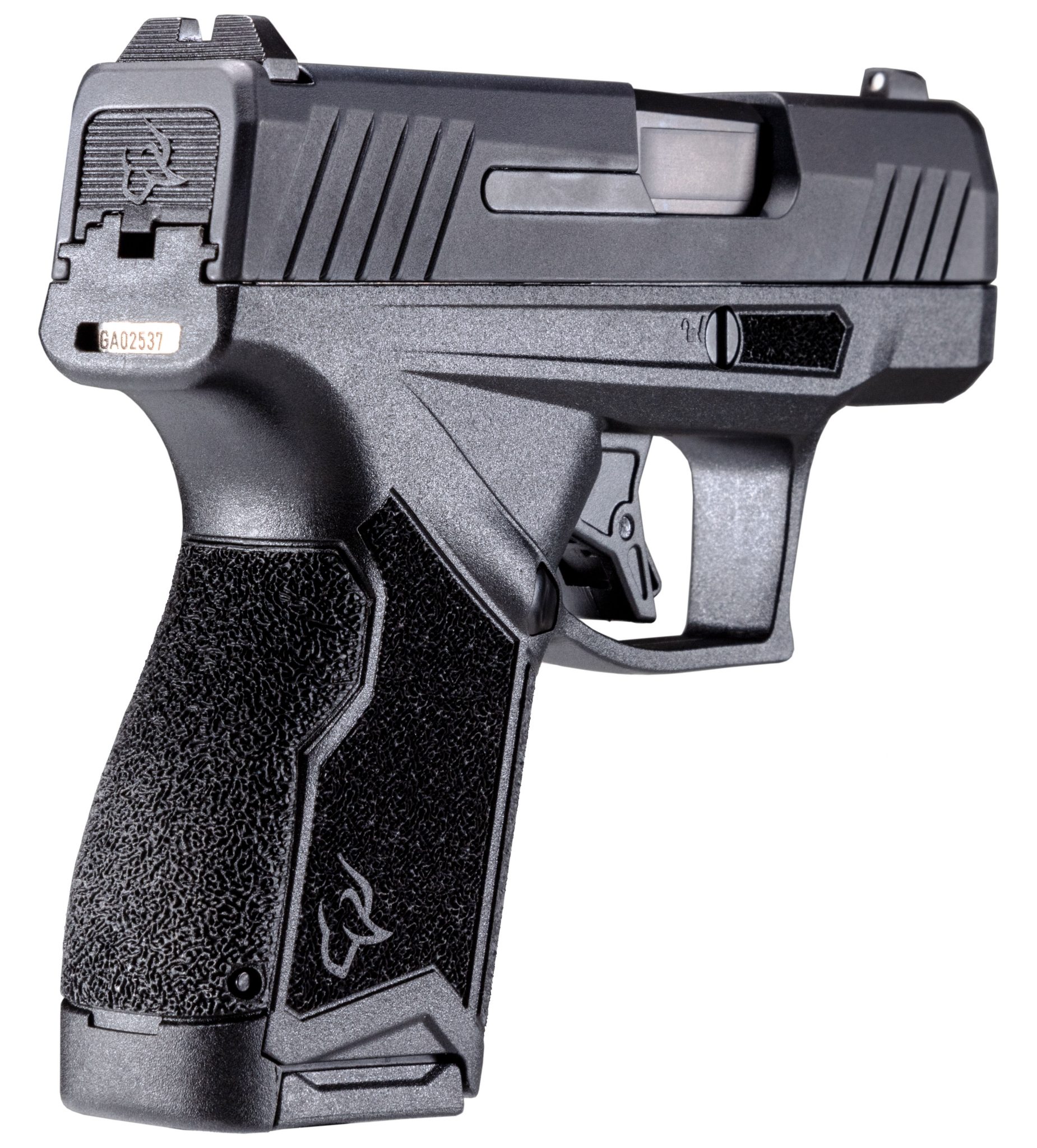 The Taurus GX4 comes from the factory with two flush 11-round magazines. There is the standard magazine with a floor plate that is flush with the bottom of the grip and an optional 11-round magazine with a finger extension for those who prefer a larger grip surface. If more capacity is desired, Taurus offers an optional 13-round extended magazine. The Taurus GX4 comes in a 10-round magazine version for those consumers in capacity restricted states.
In keeping with the Taurus philosophy of producing handguns with the industry's best performance-to-cost ratio, the new Taurus GX4 delivers. With an MSRP of $392.42, Taurus GX4 buyers can enjoy all the feature benefits and ergonomics typically associated with larger polymer frame striker-fired pistols at a price point that fits any budget.
Taurus GX4 Specifications (1-GX4M931)
Caliber: 9mm Luger
Capacity: 11 RDS
Magazines: 2×11
Firing System: Striker
Action Type: Single Action Only
Front Sights: Fixed White Dot Steel
Rear Sights: Serrated Drift Adjustable
Safety: Striker Block, Trigger Safety, Visual Loaded Chamber Indicator
Frame Size: Micro-Compact
Grip Material: Polymer
Slide Material: Alloy Steel
Barrel Finish: Satin Black DLC Coated
Slide Finish: Gas Nitride Treatment
Barrel Length:06 in.
Overall Length:05 in.
Overall Width:08 in.
Overall Height:4 in.
Weight:5 oz. (unloaded)
Packaging Weight:80 oz
Packaging Size: 8 in x 9.75 in x 3 in
MSRP: $392.42
For more information on the Taurus GX4, go to TaurusUSA.com.
About Taurus:
Taurus Holdings, Inc. ("Taurus") and its subsidiaries continues to evolve and produce revolutionary new products. In addition, new standards for quality and efficiency help deliver reliable and affordable guns to the market. Taurus is based in Bainbridge, Georgia. Taurus   is owned by Taurus Armas, S.A. which is a publicly traded company based in Brazil. Taurus Armas S.A. manufactures a wide variety of consumer and industrial products that are distributed worldwide.
For additional information, visit www.taurususa.com.