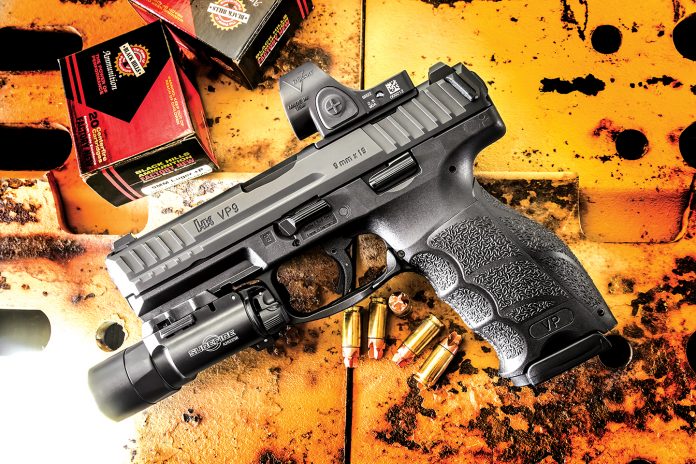 HK VP9 Optics Ready
by Dave Bahde
It took a while, but HK has finally added factory red-dot-sight capability to one of the finest striker-fired pistols in the world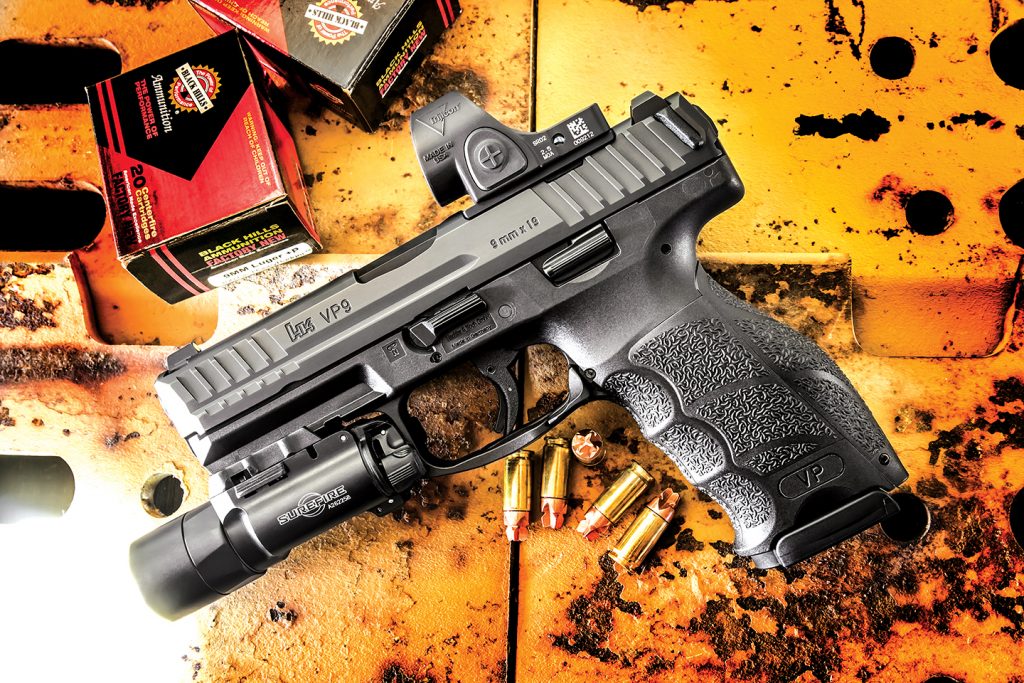 Heckler and Koch's VP9 has been one of my favorite polymer pistols for years. As a long time USP user and previous HK LE dealer, the HK pistols have always been top tier with this author. When the VP9 was introduced, it fit my larger hands well, was very accurate, reliable and soft shooting. Used as a pistol to qualify for my retired police ID for years, it later became a host for a Trijicon RMR and was used in numerous schools and events. It remains the only personally owned pistol I ever had machined to fit an RMR, a requirement at the time. It's a different story today, and in 2020 HK made it a whole lot easier to slap an optic on the VP9 with the optics-ready models, which come standard with an optics cut that works with several available plates to mount your preferred optic to the pistol's slide. HK fans had been asking for it for years, and it did take a while, but the final product is here and was worth the wait.
Optics Ready Pistols
As expected, optics ready pistols are fast becoming the norm. Once a custom touch, or what many considered a passing fad, they are in fact the future. With many sub-compacts now RDS (Red Dot Sight) capable from the factory, it's getting harder to find a new pistol without that capability. While the RDS is still not for everyone, offering the ability to add one if needed is a big selling point. Having a slide that's machined for an optic from the factory is huge for those using them for duty, since alterations from factory are often prohibited; being able to get one out of the box under factory warranty is a must.
HK VP9 Optics Ready
As of 2020, the VP9 is available with a custom machined slide to accept an RDS, as well as contour-matched cover plate for those who prefer iron sights. Standard sights are now a high visibility green dot front and blacked out rear, easily the most common and preferred sight arrangement these days. Everything else is pure VP9 with its ergonomic grip using interchangeable grip backstraps and side panels, ambidextrous slide stop and one of the best striker fired triggers produced today. The cold-hammer-forged polygonal barrel remains accurate over tens of thousands of rounds. Seventeen round magazines replace the 15 rounders as standard equipment and continue to use the P30 design. Sold separately, five different optics plates are available to accommodate most common RDS. The trigger guard is oversized for gloved hands and houses the trademark HK ambidextrous push-down magazine release.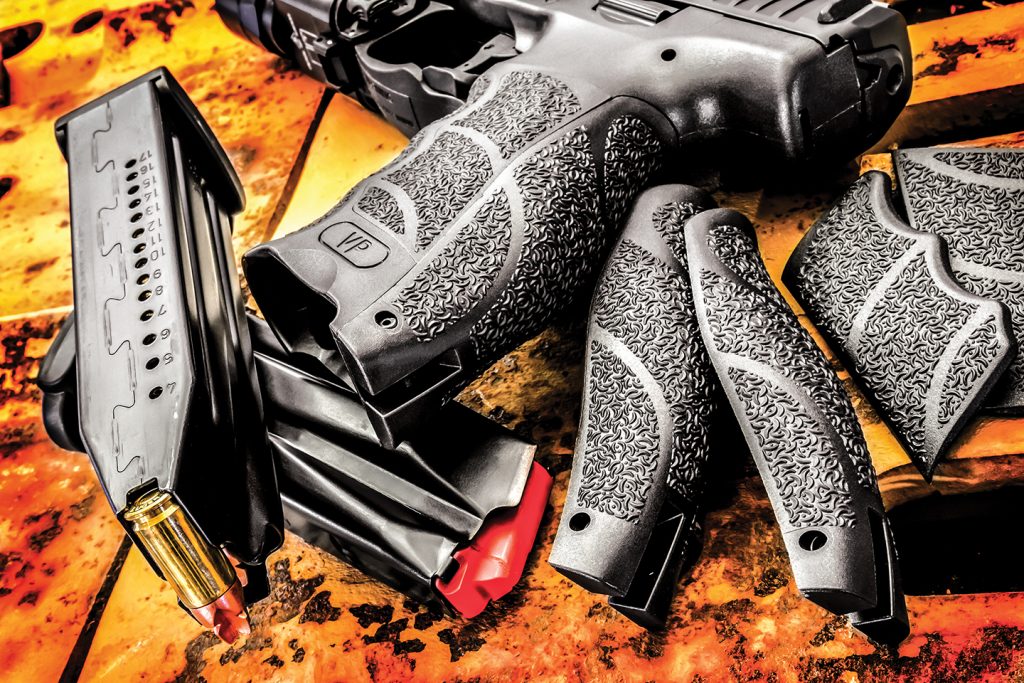 Range Time
Trijicon's SRO was mounted using an EGW mounting plate. Swapping them out was simple, mounting screws for the cover plate are used on the RMR/SRO plate, and it comes with screws for the sight. It mounted easily and never came loose during testing. Factory optic plates are $30 each and there are already a few aftermarket plates that mount the RDS even lower for around $100. The EGW plate used in this test is $50.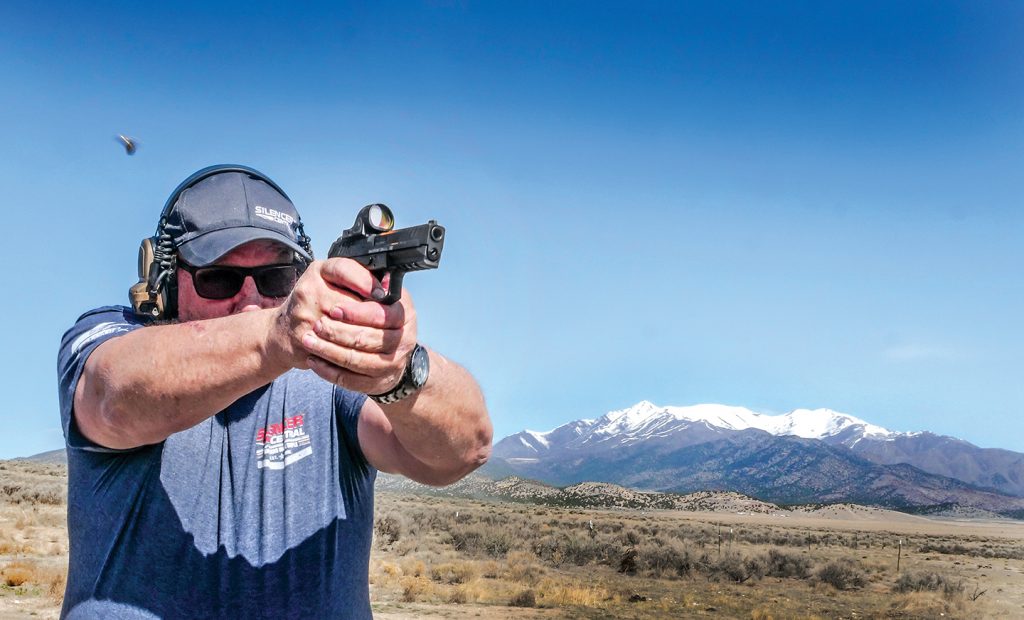 Perfectly capable as a carry RDS, or even duty, the SRO is one of the fastest dots to pick up and tends to be crisper than most, even with my astigmatism. Much like the RMR Type 2, it uses automatic brightness adjustment or manual if needed. The SRO sits a tad higher than the RMR. Standard sights would not co-witness but the front sight remained usable in a pinch. If the RDS is a permanent fixture, you can still get suppressor height sights if a co-witness sight picture is preferred. This test SRO has seen thousands of rounds on dozens of tests to include pistols, shotguns, rifles and subguns without failure.
With many hours of time behind the standard VP9, testing this new version was like a coming home party. Fit and feel are the same, just two more rounds on tap and a better sight picture. Smooth, reliable and soft shooting, the trigger remains one of the best striker fired triggers out there. Reliable as usual, our test gun and new 17-round magazines fed and spit out everything thrown at it. Given the times, high round count tests are really not possible, but the same platform in previous tests chewed up thousands of rounds of 9mm, from handloads to metal case. It remains as reliable as the striker-fired system gets.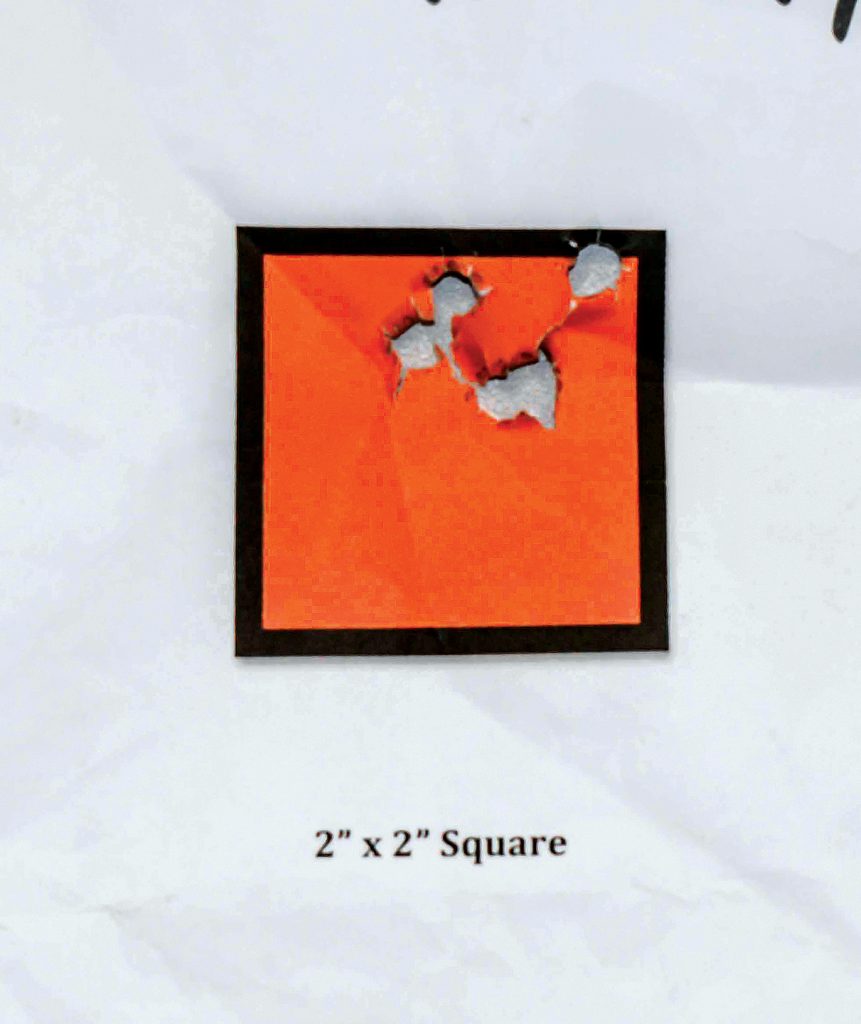 Accuracy was excellent with or without the SRO. On Target's test gun was capable of 2-inch or less groups at 25 yards, and 3-inches or so at 50 yards for five shots. Zeroed at 50 yards it consistently made fist size 10-shot groups shooting from the back of my truck bed. Best groups were accomplished using Wilson Combat 95-grain Barnes TAC-XP, which, coincidentally, is my newly preferred carry round. Designed for 4-inch barrels, this round is making 1,250 FPS and produces very little muzzle rise or recoil. It has proven to perform within FBI standards in gel testing with consistent expansion and 12 to 13 inches of penetration from a 4-inch barrel. A center hold from 5 to 50 yards gets you in the ball park making it perfect for defense. Groups with most ammunition were at or under the 2-inch mark at 25 yards and 4 inches at 50 yards.
Considerations
Trijicon's SRO shines for me when it comes to practical pistol shooting and is a nice match to the VP9. With its slightly larger and round lens, centering the dot on target is much easier. Room clearing and CQB work seem more intuitive, possibly due to the fact that I spent years running an HK MP5 with the "circle in a circle" diopter based sights.  Knocking down round steel is also faster since you line up the circle in the center and press the trigger. Not quite as "tank proof" as the RMR, it has proven plenty rugged for me. I would not hesitate a second to carry this on duty, and it gets carried for personal defense now.
With many hours on a USP, the HK-style magazine release does not take long to get used to. For those new to the system, it may take some practice. With practice, it is as fast or faster than pushing a button while also providing a true ambidextrous release.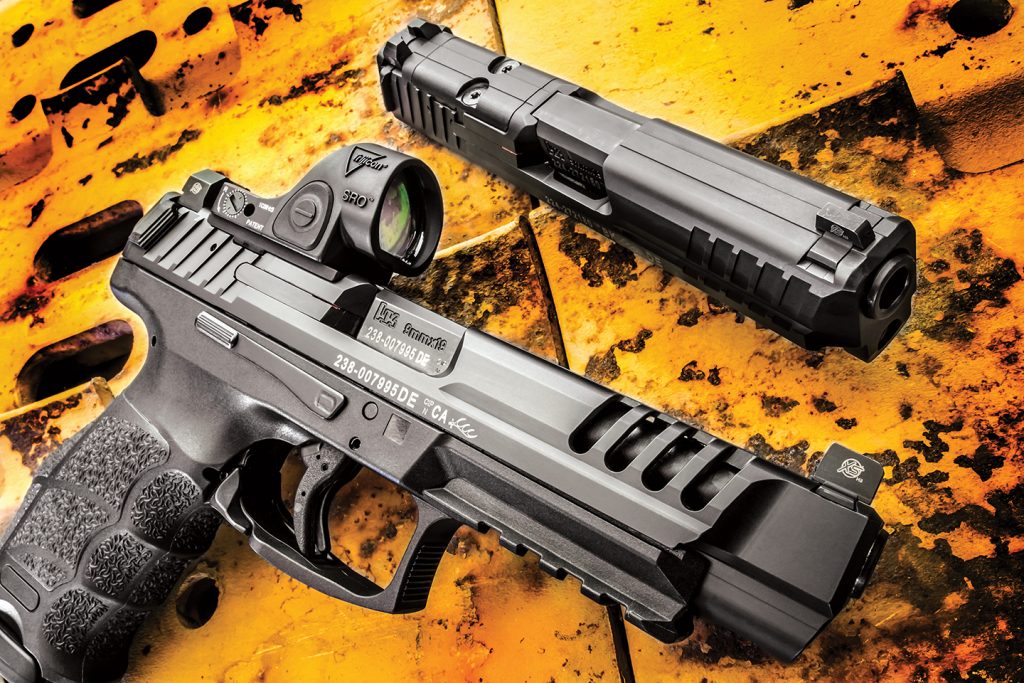 Bottom Line
The addition of the optics-ready cut does not add much to the price, and is far less than getting your existing slide machined, let alone the time it takes. The VP9 has always been around $700.00 and that appears to be holding true. Still, it's hard to tell these days since everything is difficult to acquire and "deals" appear to be non-existent. But, unlike some manufacturers bumping retail to near a grand or more for the ability to add an RDS, the HK VP9 is pretty reasonable.
Proven over years of use both in the U.S. and abroad, in the opinion of many, the VP9 platform is one of the best polymer pistols on the market today, and it now being optic-ready doesn't hurt things.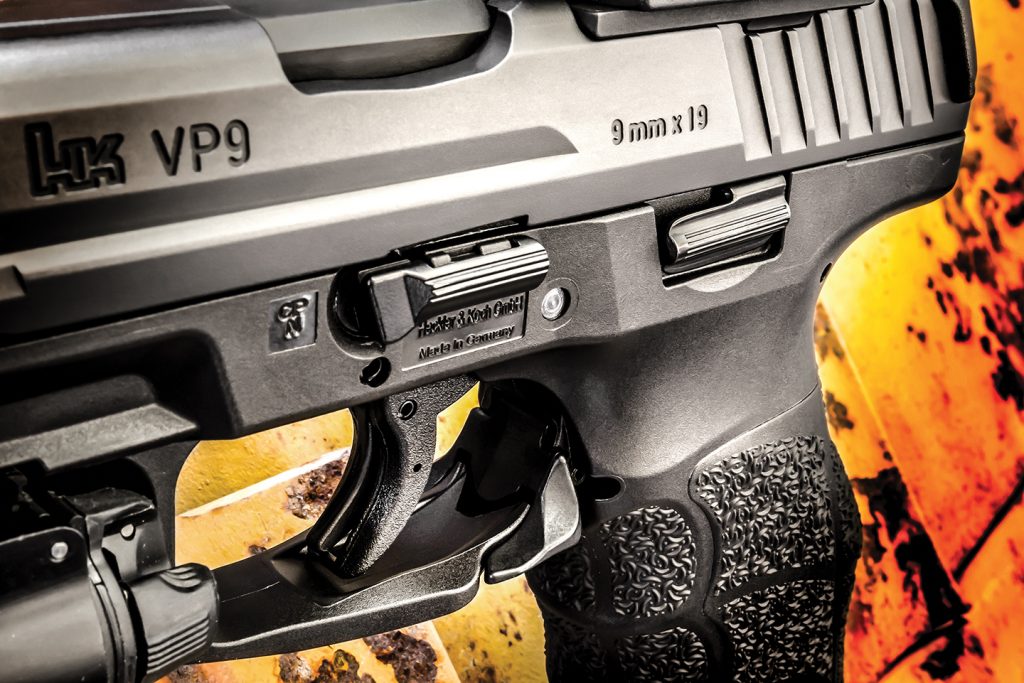 Dimensions:
Weight:                                  25.56-ounces
Overall Length:                       7.34-inches
Barrel Length:                        4.09-inches
Frame:                                  Polymer
Sights:                                  Green Dot Front, Fixed black rear
Magazine Capacity:                 17+1
Retail Price:                           $749.95
PERFORMANCE:
Load                                                   Velocity                      Accuracy
Wilson Combat 95 Grain Barnes             1,250                          1.50 inches
Sig Sauer 124 grain V Crown                 1,180                          1.65 inches
Black Hills 115 Grain +P                        1,340                          1.85 inches
Speer         124 Grain Gold Dot              1,150                          1.75 Inches
Doubletap 115 Grain TAC-XPD                1,300                          1.55 Inches
Bullet weight measured in grains, velocity in feet per second (fps) by Pro Chrony Digital chronograph. Accuracy in inches for 5-shot groups at 25 yards fired using a bag rest from the hood of a truck.