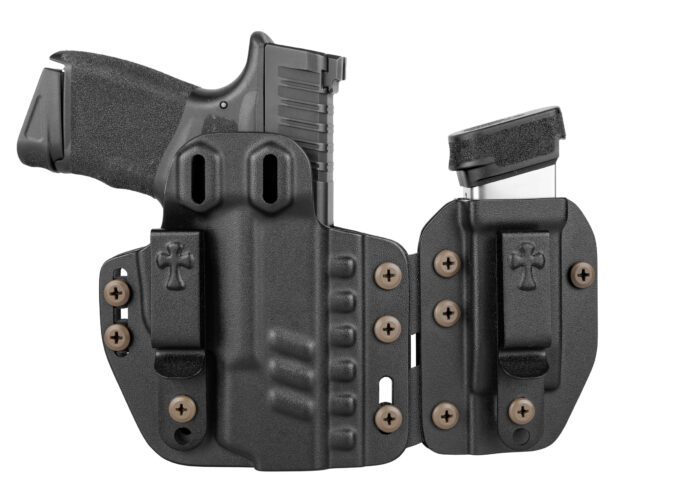 CrossBreed® Introduces the Rogue Holster System

SPRINGFIELD, MO – CrossBreed® Holsters, a leading manufacturer in the category of concealed carry, is excited to announce the new Rogue holster system. The Rogue embraces many CrossBreed advanced holster designs, characterizing the extent of the company's first all-Kydex holster system.

The mission of CrossBreed's engineers was to create an all-new platform distinguished from the Kydex pocket/leather backer holster designs that have made CrossBreed the leading manufacturer of ergonomic, performance-based holsters for discerning EDC and concealed carry practitioners. The Rogue holster system expands customizing options while adhering to the comfort and ergonomic benchmarks that set CrossBreed holsters apart in the industry.

At the heart of the Rogue system is an two piece all-Kydex gun pocket—the first in Crossbreed's 16-year history of manufacturing premium EDC holsters. Molded for precise fitment, the holster pocket features a smooth skin side for maximum comfort. Strategically positioned screw holes and slots allow for multiple positioning and retention adjustment so the Rogue can be oriented for custom carry locations—including strong side, appendix, and cross-draw. Additionally, the holster works with both stock and modified handguns thanks to its suppressor-height front sight channel and optic cut to accommodate red dot sights.

Included with the Rogue holster is an all-Kydex mag pouch. This is a modular pouch design that can be secured to the holster via a flexible plastic band to better fit the contours of the user's torso. The pouch can also be separated from the holster and worn independently at the desired body position. Two plastic bands are included so users can choose between a vertical or forward cant magazine orientation.

As with most CrossBreed holsters, the new Rogue holster works with multiple clips to further expand carry options. These include the supplied Reckoning-style metal clips, Ulticlip, Monoblock, IWB snap loops, and OWB loops. Between the available clip options and the integrated cant and height adjustments, the Rogue can be fine-tuned to meet most any carry style comfortably and with maximum draw/re-holstering efficiency.

The Rogue is also compatible with the CB Concealment Claw first introduced on the Reckoning holster. This device positions the gun's grip closer to the body during IWB carry to minimize printing and obstruction. Finally, Cerakoted hardware in Magpul FDE, NRA Blue, Sig Pink, or Blaze Orange adds flare and enhanced durability to the holster system.

In keeping with CrossBreed's commitment to customer satisfaction, the Rogue includes a limited lifetime warranty and a two-week trial period.

For more information on the new Rogue modular holster system or any of CrossBreed's holster and concealment solutions, visit

CrossBreedHolsters.com

.