Sightron SIII Precision Long Range Scope
By: Dave Bahde
In the optics world, it's all about getting more for your money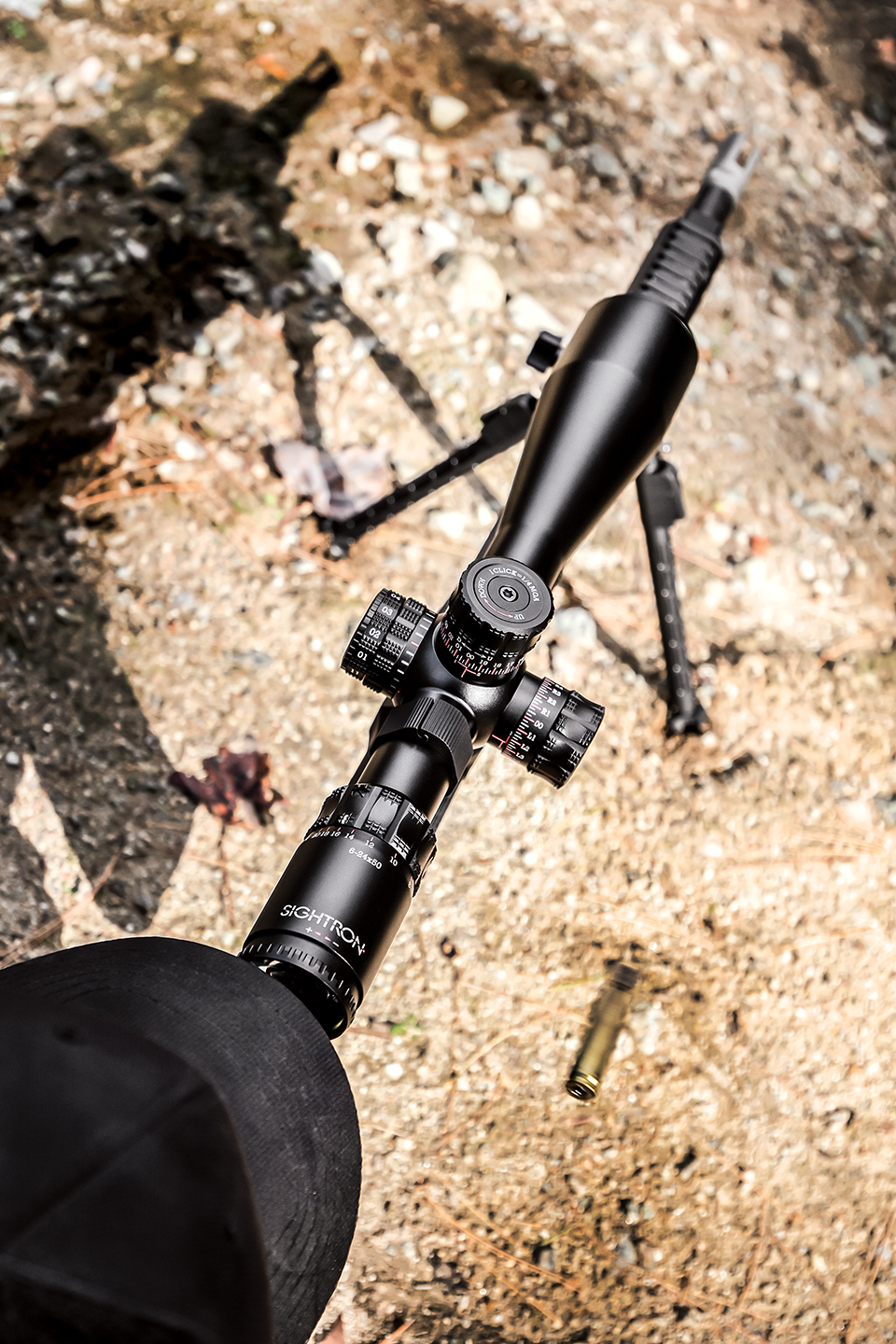 Sightron's newest scope line was designed for today's long-range precision shooter. The short story is that these SIII PLR (Precision Long Range) optics provide high quality and performance at a reasonable price. The 6-24x50mm version tested here uses a single piece 30mm aluminum tube and 50mm objective and has an overall length of 15.4 inches. There are three lighted reticles available to choose from in either MIL or MOA measurements. Markings on the tactical knobs are clear, easy to read, and bright. Tactical turrets utilize Sightron's ExacTrack windage and elevation adjustments for precise movement with 20-MOA per revolution. An internal zero stop that is tactile and audible ensures you never lose your starting point under pressure or stress. The 11-position side turret provides the proper brightness for any situation. Nitrogen charged, these are waterproof, fog-proof and Sightron's Zact-7 Revcoat Plus coating resists glare. Side focus goes down to 20 yards allowing for use on several calibers. Each scope ships with a 3-inch sunshade, lens covers, CR2032 battery, and tools for adjusting the turrets.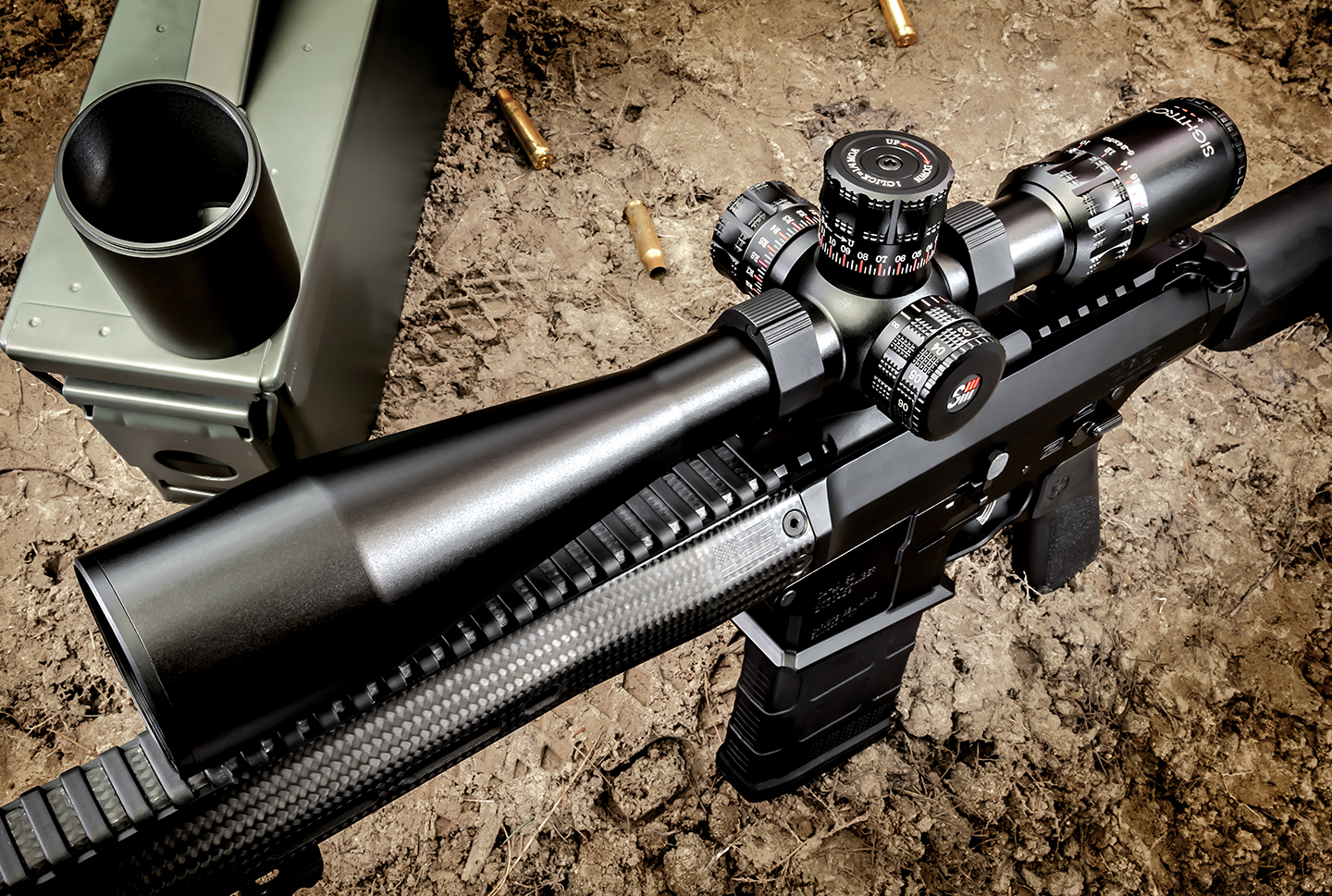 MOA-H IR Reticle
My test scope was equipped with the MOA-H IR reticle. Utilizing .25 MOA turret adjustments for elevation and windage, the MOA-H reticle provides ample measurements for elevation and windage, with 20 MOA total elevation and 10 MOA for wind.  Dots are at 2 MOA increments and extend below the horizontal centerline providing wind holds at extended range in a tree-like shape. Lines above the centerline allow for fast transitions at various distances, and the side markings provide holds for movement. Mounted in the second focal plane, the measurements are calibrated at 24-power.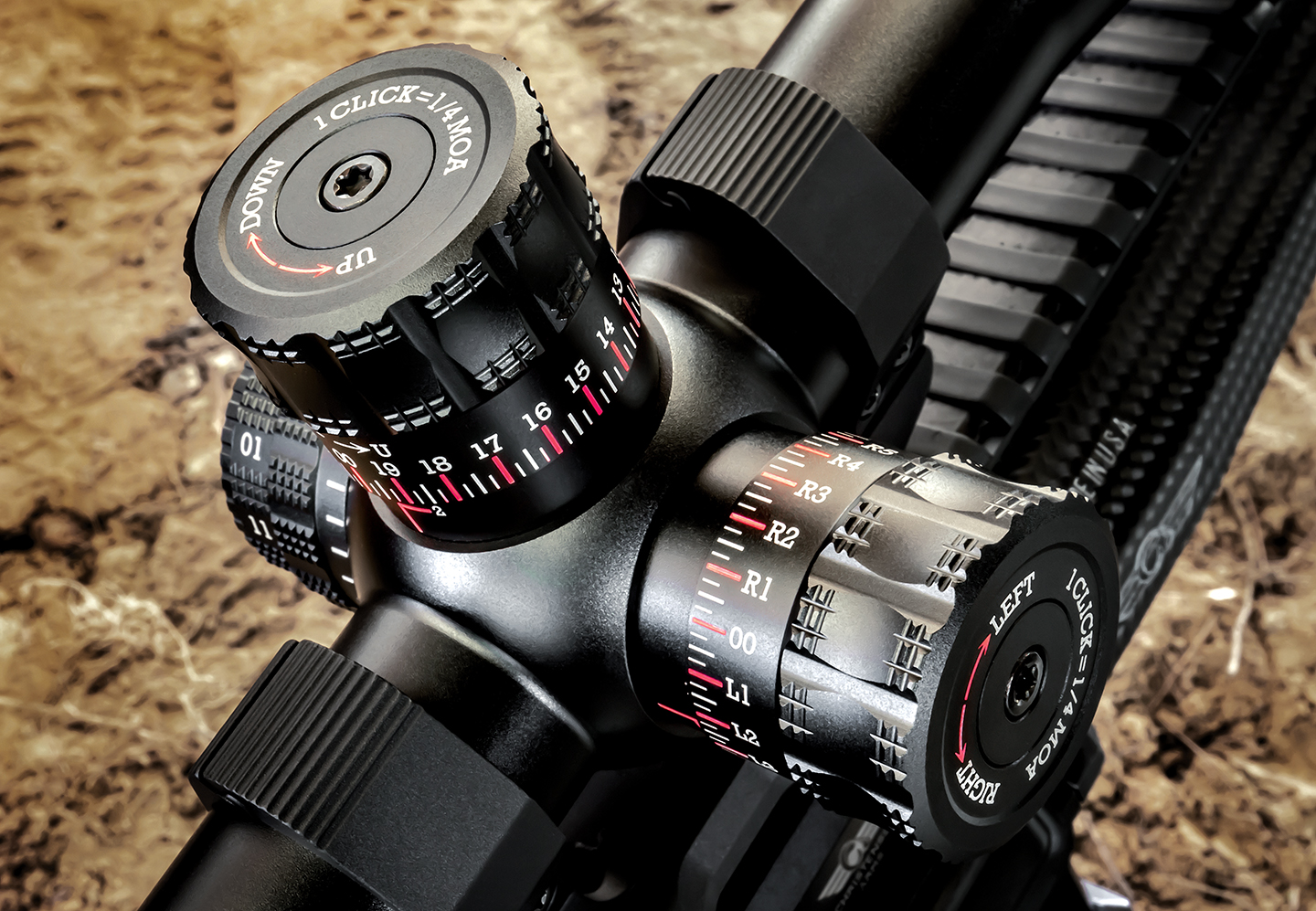 Test Rifle
The scope was tested on a Christensen Arms CA-10 G2 AR chambered in .308 WIN. Zeroed at 100 yards, it was tested on 12-inch round steel out to 600 yards. Conditions provided for a solid test for wind holds. Sightron's website offers a chart for the measurement changes on 6-power and proved dead on out to 300 yards and very close on 8-power out to 600 yards. Anything in between, and you need to shoot at various powers and determine the holds given the magnification change.
Large extended lines were excellent for bracketing at various ranges. It was very easy to center the round target in the "box," allowing for some surprising accuracy and pretty quick transitions. During testing, the farthest target was an IPSC silhouette at 1000 yards, and it held steady using the turrets. Out to 600 yards, it was possible to use the lines. If the plan is to reach out past 600 yards using the reticle, a 20 or 25 MOA rail would be a must with a longer zero range. The Mil version would probably be a better choice for longer distances. Out to 600 yards, the practical range of the test rifle's caliber in an 18-inch AR was just fine.
Glass remained clear and easy to see at dawn and dusk and was very bright during daylight hours. There was no fogging — even on crisp Utah mornings. Turrets are very tactile, easy to see, and I could read them without my glasses. Illumination runs from very bright to almost dim.
Bottom Line
Scopes these days are much better for the money than in years past. At $1,325.00, this series is about in the middle of the price spectrum — not high cost by any means, but not inexpensive either. It is more about getting more for your money in optics, and this is an excellent example of just that. If you need tons of elevation adjustment, something with a 34mm tube will probably be required, but the SIII provides 100 MOA at 100 yards for both wind and elevation, which will get the job done for most people. Add a 20 MOA rail, and you are good to 1000 yards with most ammunition. The glass is clear, the reticle is versatile, and if you are in the market for a quality scope at a reasonable price, you will need to add this new Sightron SIII PLR to the high-probability list. See Sightron's complete line of optics at your nearest dealer, or for more information, contact Sightron; Tel.: (919) 562-3000; E-mail: [email protected]; Web: www.sightron.com.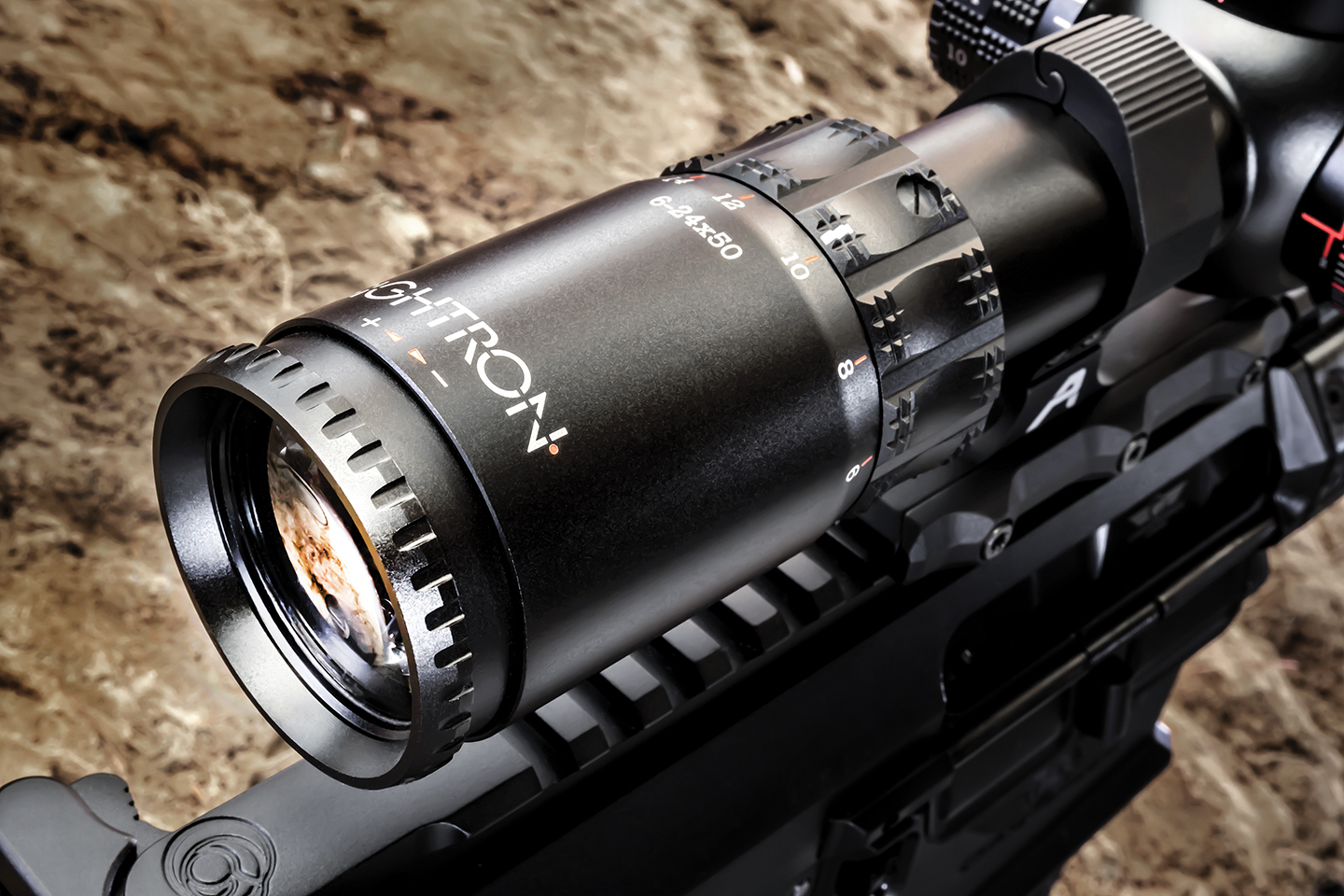 | | |
| --- | --- |
| Magnification | 6-24x |
| Objective Lens Diameter | 50mm |
| Eye Relief | 3.6 – 3.8 inches |
| Field of View | 16.1 – 3.9ft @ 100 yds |
| Tube Size | 30mm |
| Turret Style | Tactical (Resettable) |
| Zero Stop | Yes |
| Click Value | 1.4 MOA @ 100 yards |
| Minutes Per Revolution | 20 MOA |
| Max Elevation Adjustment | 100 MOA @ 100 yards |
| Max Windage Adjustment | 100 MOA @ 100 yards |
| Parallax Setting | 20 yards to Infinity |
| Focus Type | Side Focus |
| Reticle Type | MOA-H IR |
| Focal Plane | Second |
| Illumination | Yes |
| Finish | Satin Black |
| Waterproof | Yes – IPX 7 rated |
| Anti-Reflection Tech | Exclusive Zact-7 Revcoat Plus Multi-coating |
| Fog Proof | Yes |
| Length | 15.4 inches |
| Weight | 28.2 oz |