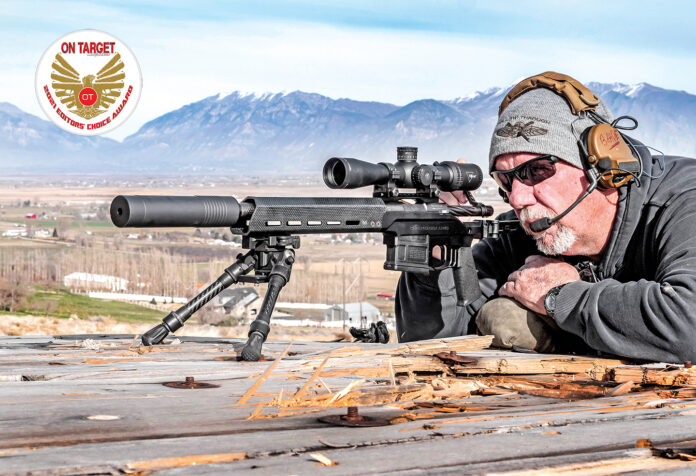 Christensen Arms
MPP 308
Pistol perfection in a bolt gun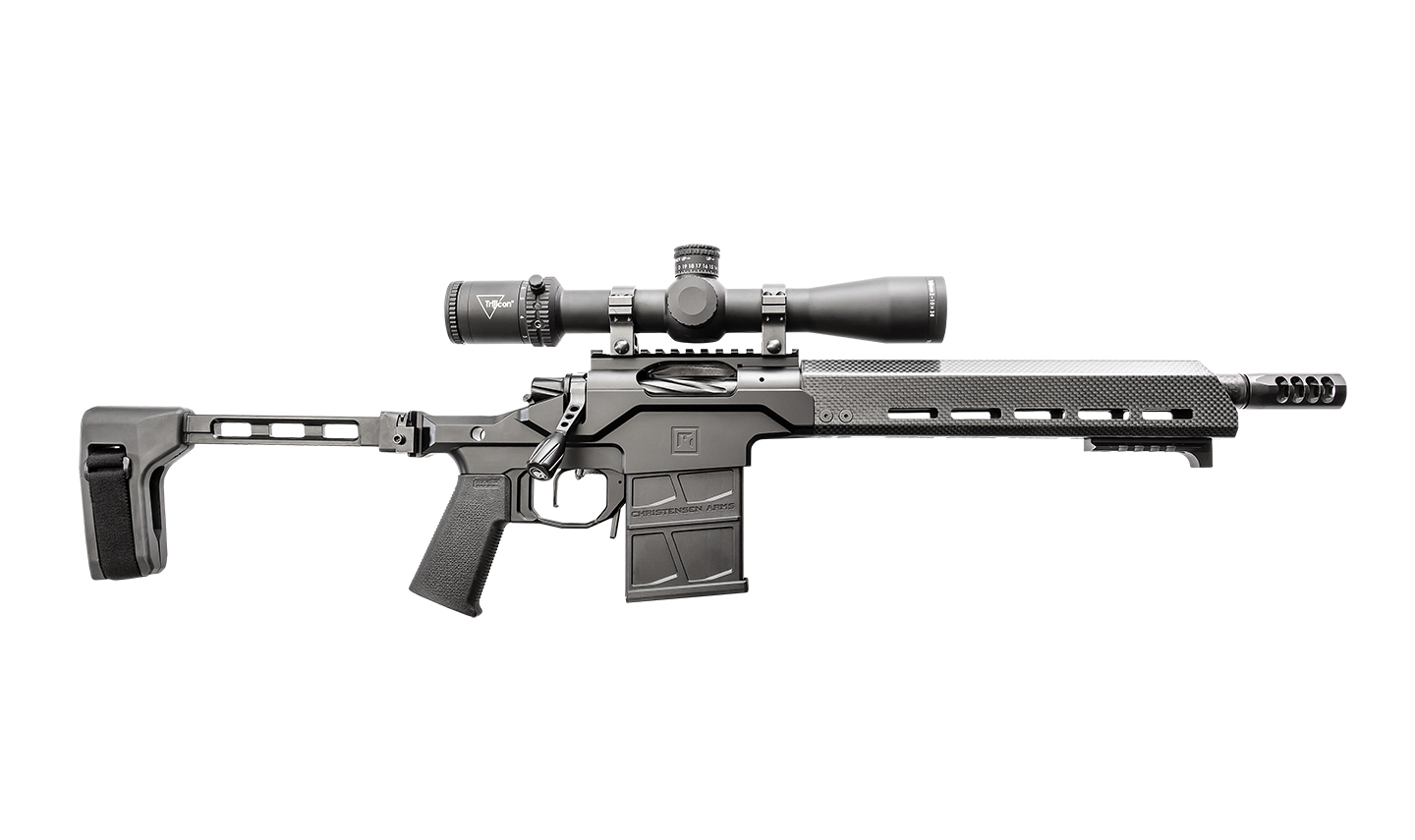 Pistols in rifle calibers have been around for years, but the advent of the pistol brace has started to increase their popularity, including bolt guns. The pistol brace allows the use of a shorter barrel and thus making it easier to load in a pack, bag, or truck. Perfect for hunting at closer ranges, they provide a more useful package for defense applications as well. Adding a lightweight chassis, barrel, and brace nets a powerful, accurate, and easy to carry system without the need for NFA paperwork, and Christensen Arms has brought an excellent example of just that to market.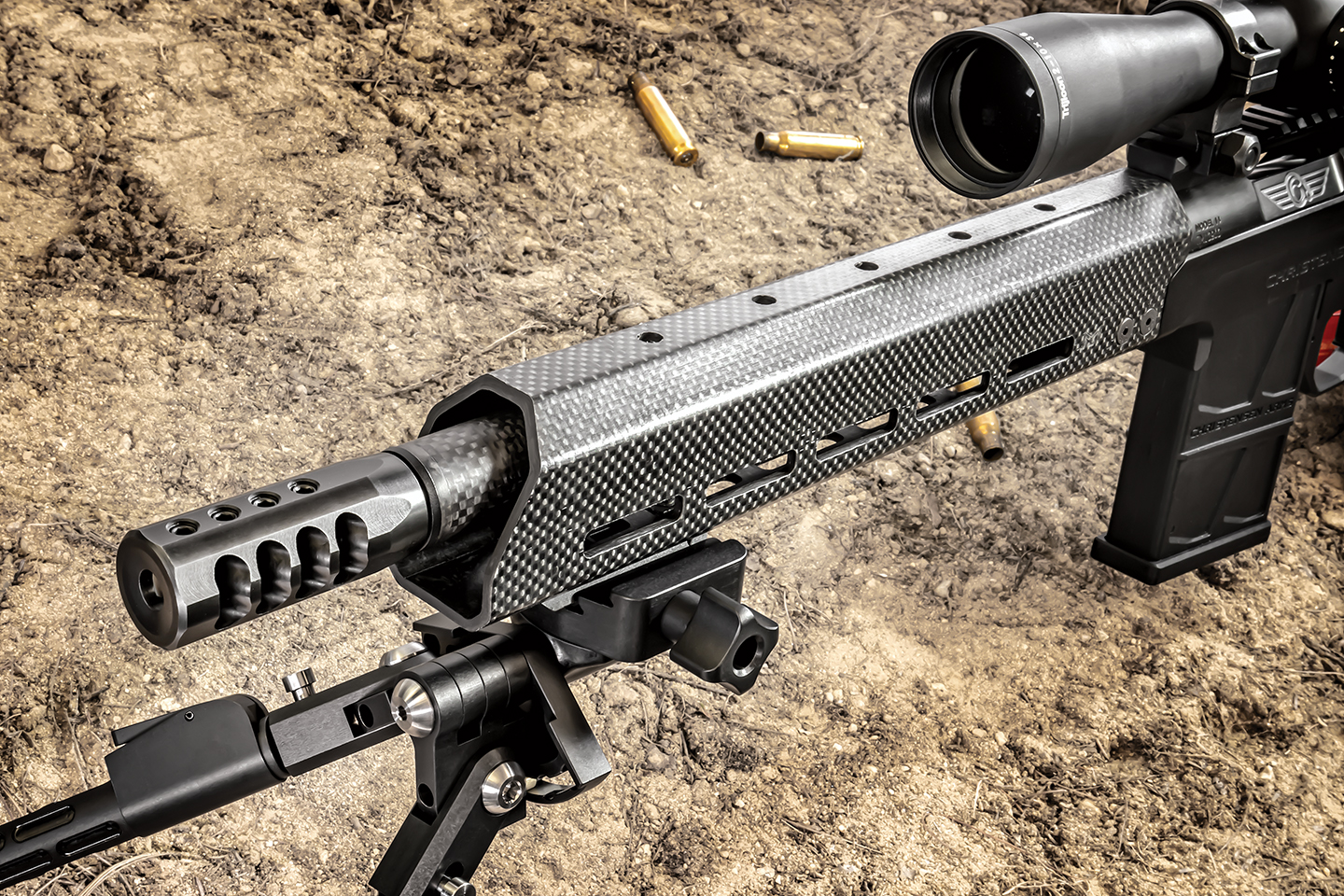 Christensen Arms MPP (Modern Precision Pistol) with SB Tactical brace
The MPP starts with a purpose-built pistol chassis system machined from 7075 Aluminum. Using V-Block bedding and an AR-style grip, it accepts AICS magazines and Remington 700 triggers. The factory-equipped Trigger Tech single-stage flat trigger is precise, crisp, and reliable. The bolt is fluted and equipped with an M16-style extractor. The scope mount is 0 degree, and the MPP is compatible with Remington 700 short-action mounts. It can be ordered with or without an SB Tactical FS1913 folding brace, and the rear Picatinny rail mount allows attachment of other braces or stocks (NFA Rules apply). The ejection port has been enlarged and uses a side-mounted bolt release. Chambered in .308 Win., the carbon-wrapped stainless-steel barrel measures 12.5-inches long, uses a 1:7 twist rate, is threaded to 5/8 x 24 at the muzzle for attachment of a suppressor, and is topped with a Christensen Arms adjustable brake. The barrel is button rifled, hand-lapped, and utilizes a match chamber. The ultra-light, M-Lok compatible carbon fiber handguard is equipped with a forward-mounted rail with an integral barricade stop. QD flush cups accommodate slings on either side of the rear of the chassis. It is also available in 223, 300 BLK, and 6.5 Creedmoor and ships with one compatible Magul AICS magazine.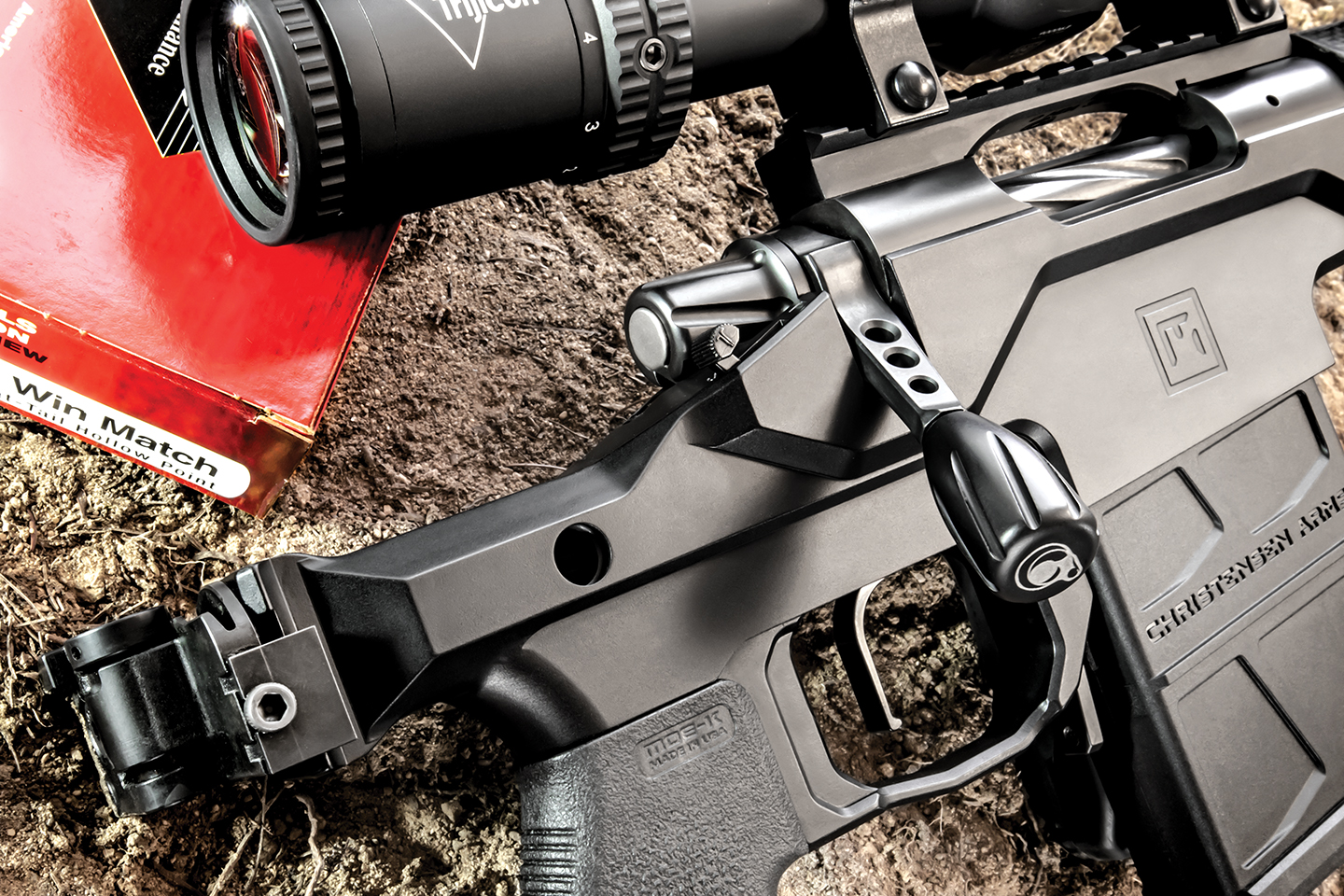 On The Range
Trijicon's Credo scopes are arguably some of the best glass for the money, and because of this, we chose the compact 2-10×36 model as an apt fit for testing the MPP. With a fast and illuminated (red) MOA precision tree reticle mounted in the first focal plane, at 13-inches long and weighing in at 23 ounces, it is perfect for a short and light platform. Testing was also completed using Liberty Suppressors' new Amendment 30 caliber suppressor. With a retail price of only under $483.00, it may be the best buy in a rifle suppressor on the market today, and rated for .308 Win. barrels as short as 12-inches, it's a perfect match for the MPP.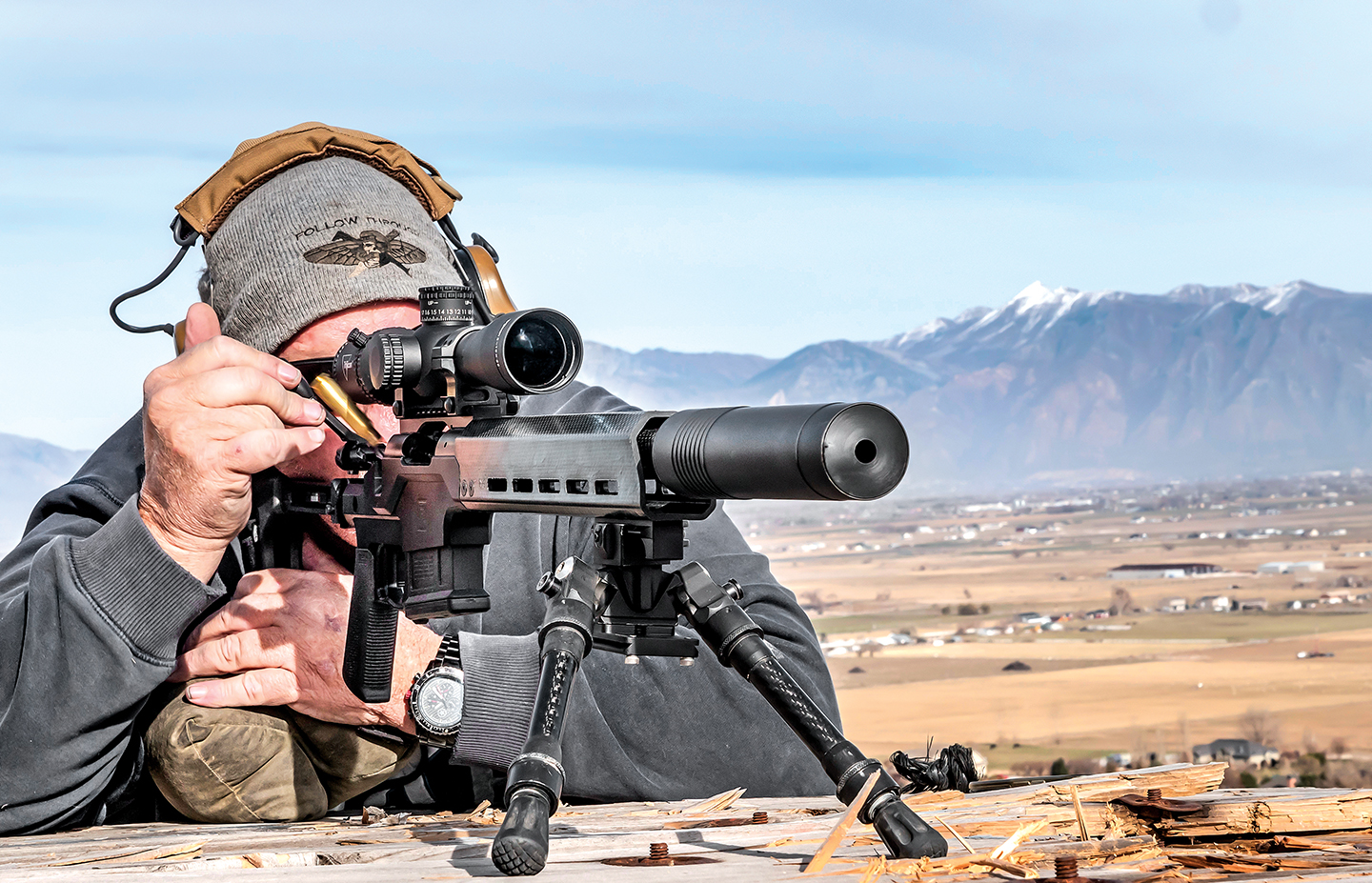 The listed weight of the MPP is 4.4-pounds without the brace. Tested-weight, with the optics, brace, and suppressor was 8.4 pounds. Recoil with the brake using 155 grain Hornady American Gunner was very light, but also very loud with lots of blast. The suppressor added recoil by comparison but eliminated the blast and noise. Surprisingly effective, it was easily "hunting" or "defense" quiet. Using Corbon 200 grain subsonic, it was scary-quiet with no recoil to speak of.
Accuracy was excellent, especially given there was no real cheek weld and a less-than-solid shoulder connection. Groups at 100 yards were well under an inch, with my best on the day measuring 0.70-inches using Federal's 175-gr. Gold Medal Match. With the 1:7  barrel twist, the 200 Grain Corbon was sub-inch at 50 yards.  Hornady's 155 grain was still steady at 300 yards with a tad less drop (and recoil) than the heavier bullets.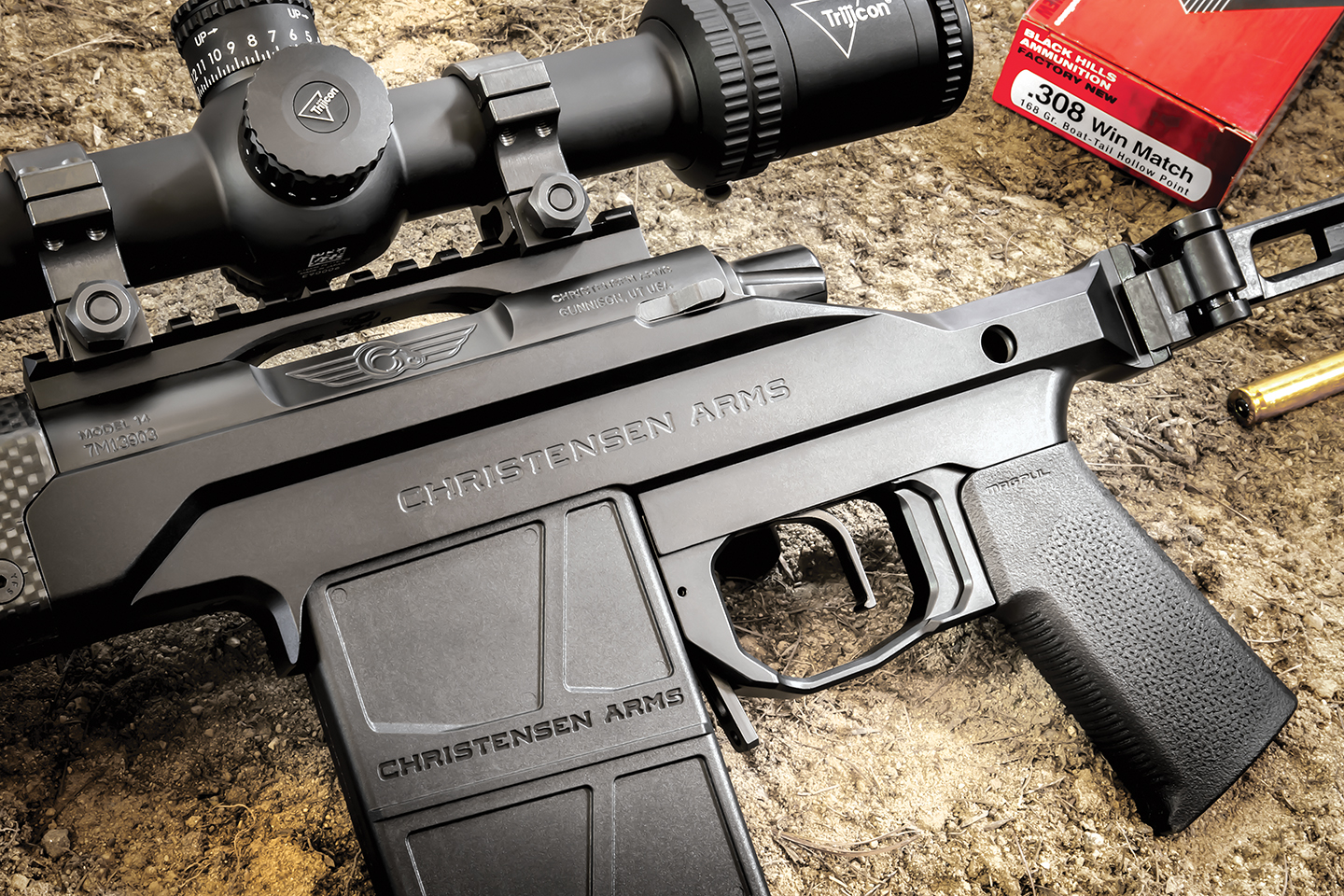 Bottom Line
The fit and finish are excellent, and the gun remained balanced and compact while suppressed.  Even suppressed, I could use the brace as designed without much issue, although you would need an extended eye relief scope or irons for it to be practical. Mounting the scope low made it very easy to use with the brace. The factory muzzle brake works excellent if you are willing to deal with the blast and noise; suppressed is the way to go if possible. Retail is on the pistol-brace equipped MPP is $2399.00 and $100.00 less without the brace — about half the price of other custom systems. All told, you get a ton of rifle (err, pistol) for the money, and if you are looking for a top-quality compact system, this needs to be at the top of your list. See it at your nearest dealer, or for more information, visit www.christensenarms.com. — Dave Bahde