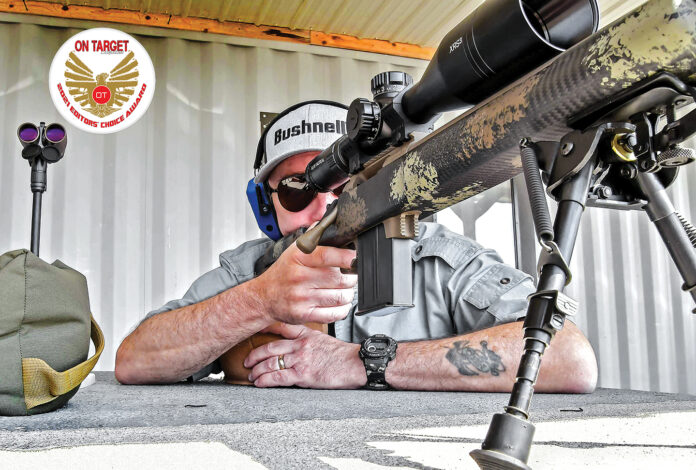 Bushnell Elite Tactical XRS3 6-36X56 Rifle Scope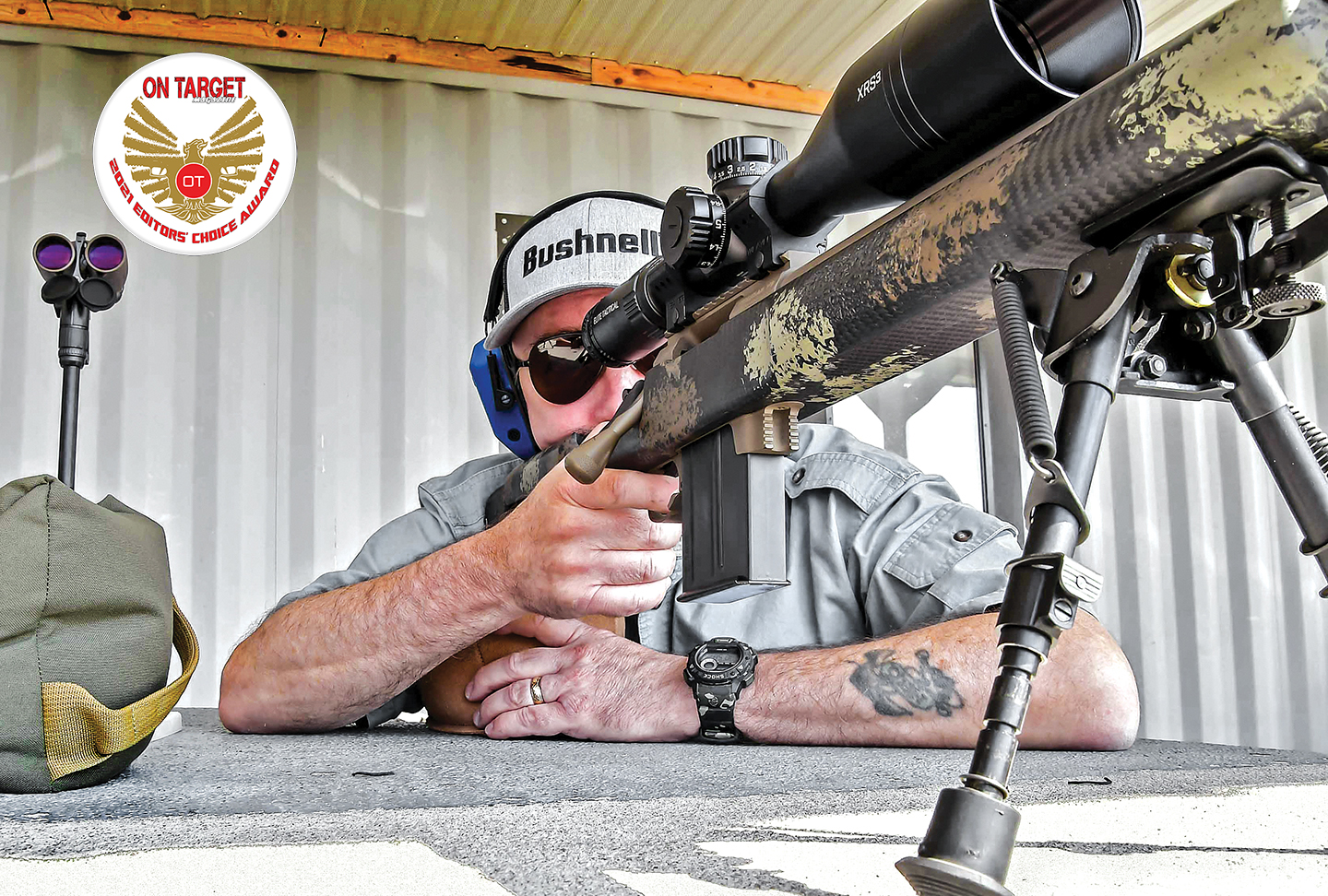 The Spur Ranch near Encampment, Wyoming is not only a great place to hunt but an excellent place to test rifles and optics at distance. That's where I first employed Bushnell's new Elite Tactical XRS3 rifle scope, mounted on a G.A. Precision Team GAP rifle in 6.5 Creedmoor, picking on steel targets out to 1,350 yards and then taking on targets at one mile. I managed to hit a 44-inch plate at that distance with my second shot and then rang the steel on an 18-inch target. A few weeks later, with the scope on a Mossberg Patriot Long Range Hunter rifle chambered in 6.5 Creedmoor, I ran the scope through a "box" tracking test, shooting at zero, then 10 clicks left, 10 clicks up, 10 clicks right, and 10 clicks down. Tracking was dead on, and my last shot landed precisely in the same hole as the first shot. To say I was impressed with this scope, which has a relatively modest price tag for scopes in this category, is an understatement.
A first-focal-plane model, the XRS3 is a completely new design and a significant upgrade from the XRS II. It has a 6-36 magnification range, a 34mm billet-machined, Argon-purged tube, and a large 56mm objective lens. It's about as rugged as a tank and is IP67 rated against water and dust. The scope employs Bushnell's most advanced optical design with extra-low dispersion glass that provides excellent edge-to-edge clarity. Multi-coated elements combine with EXO Barrier protection against the elements and a new reticle element coating to maximize light transmission.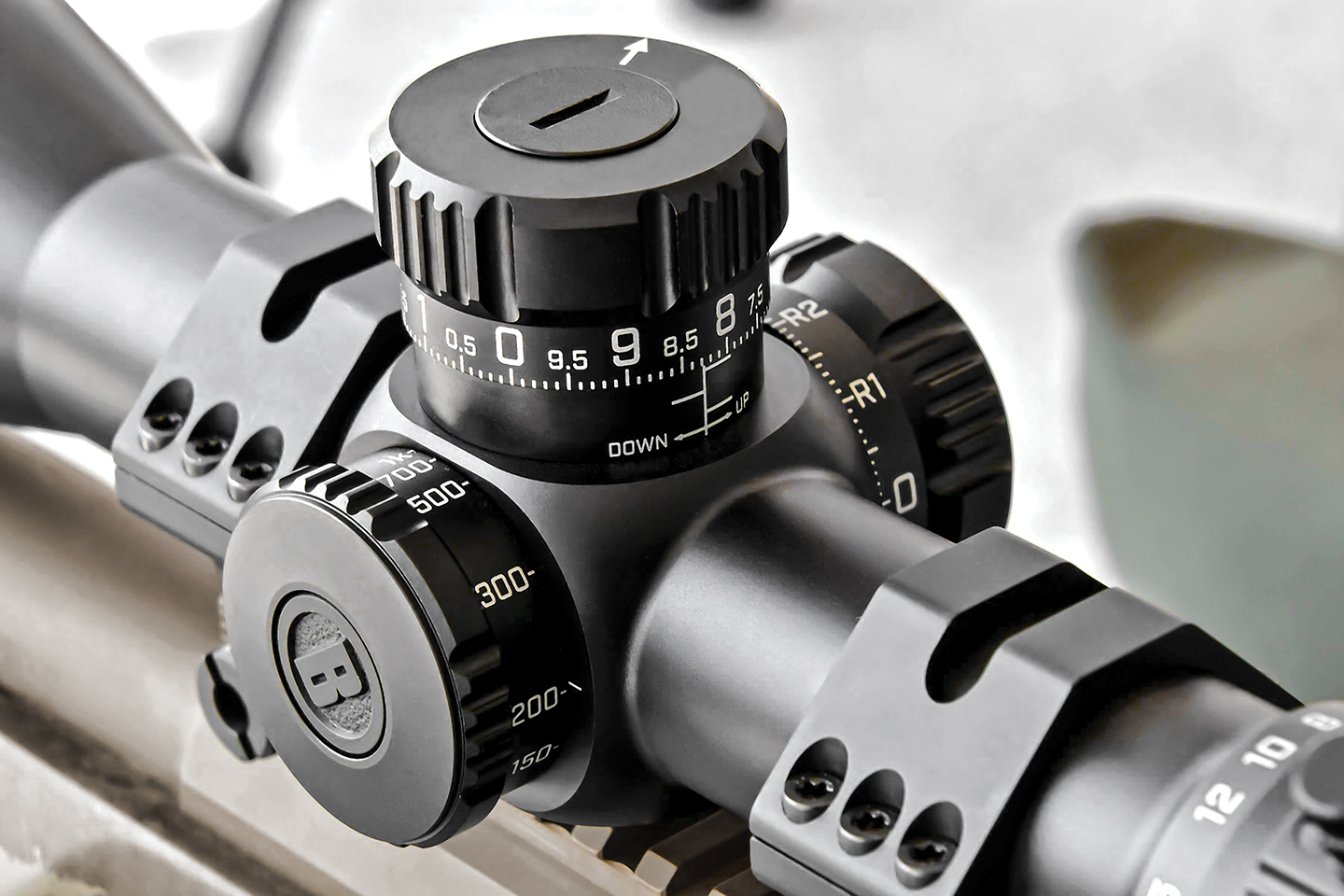 The scope has large, bold 0.1 MRAD turrets with large, bold markings. The non-locking elevation turret has 29 mils of adjustment (10 mils per revolution), and the locking windage turret has 15 mils of adjustment. Clicks are positive, crisp, and tactile. There's also a simple yet tough RevLimiter zero stop. A side-focus turret adjusts for parallax from 50 yards to infinity.
One of the best features of this scope is something it doesn't have – a reticle that's too busy. Rather, this scope is equipped with a new G4P reticle developed in cooperation with G. A. Precision. It has more open space above the horizontal stadia but provides everything you need, including floating point-of-aim and holdover dots, bold mover holds, and fast-acquisition bars for low magnification settings. Importantly, for me, it has nothing I don't need, so it isn't a distraction and doesn't obscure targets. Near the center of the reticle, the marks are in 1/4 mil increments, allowing you to really fine-tune your hold.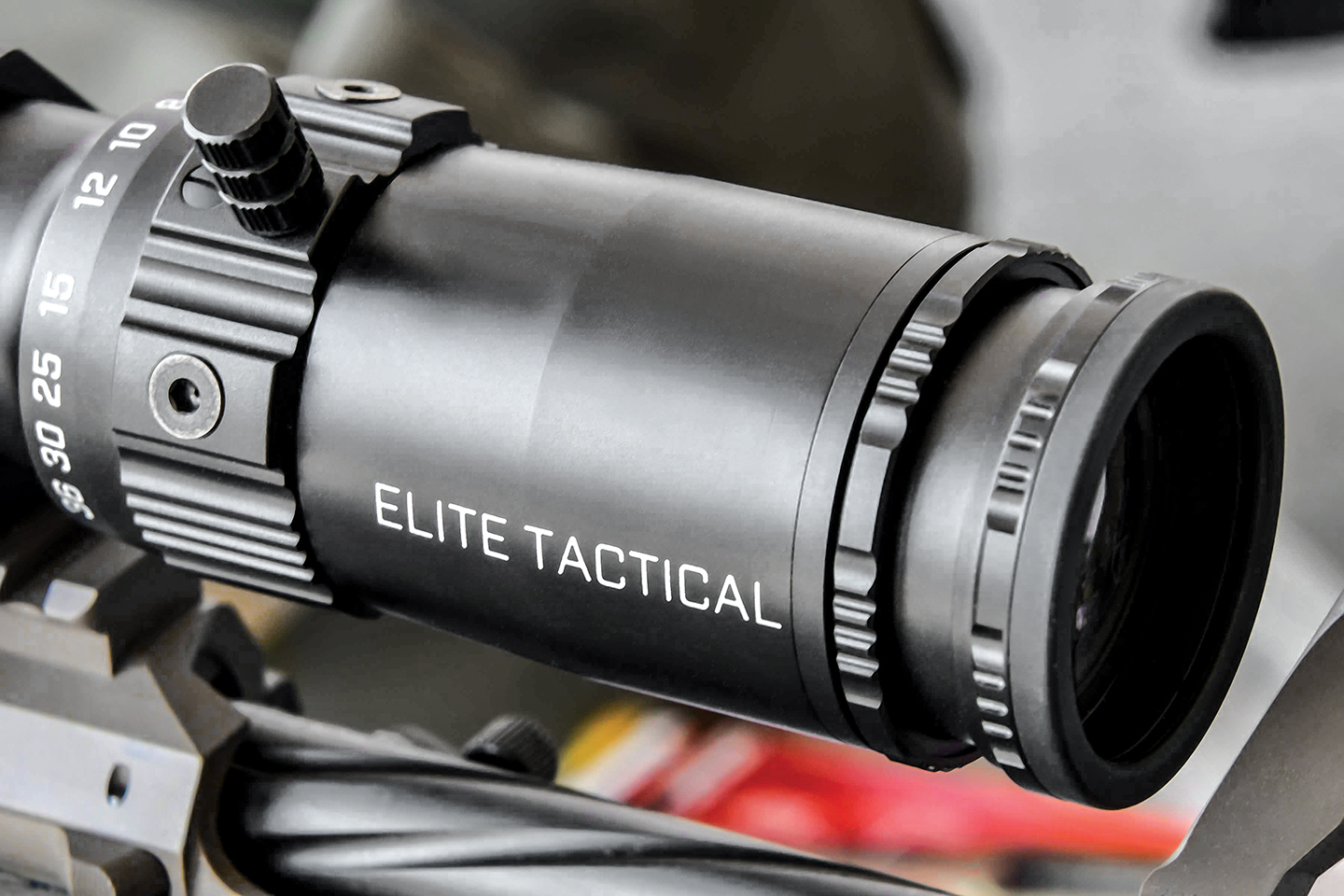 Other nice touches include a multi-position Throwhammer magnification lever which you can position to your liking or remove entirely, and a sunshade that's threaded, internally and externally, to accept anti-reflective devices, filter holders, and other accessories.
Built to meet the needs of law enforcement and military professionals as well as competitive long-distance shooters, the XRS3 delivers long-range precision in a rugged yet compact package. It is, happily, also relatively affordable for a scope in this class with an MSRP of $1,699.99. See the new XRS3 at your nearest dealer, or for more info., contact Bushnell; Tel.: (800) 423-3537; Web: www.bushnell.com — Mike Dickerson