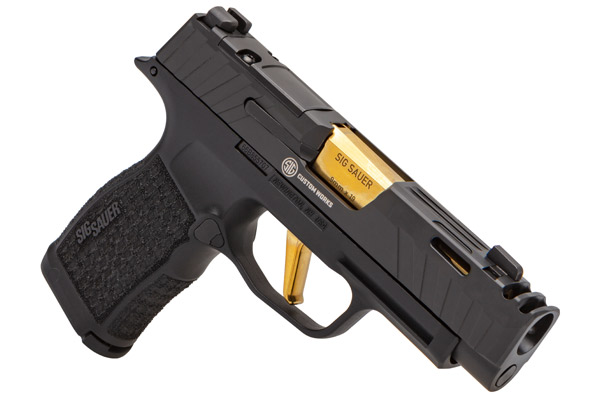 SIG SAUER Custom Works Expands SPECTRE Series with P365XL SPECTRE Comp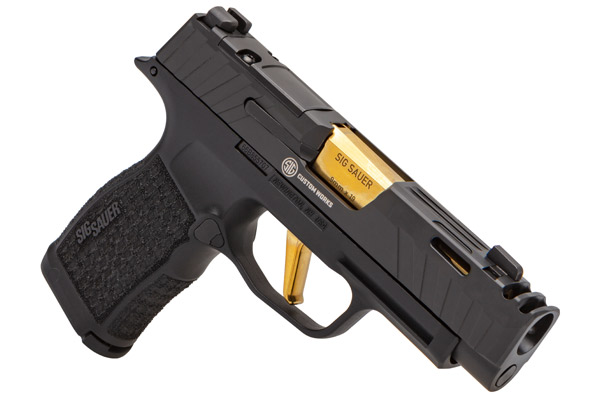 NEWINGTON, N.H., (February 1, 2022) – SIG SAUER is pleased to announce the expansion of the SIG Custom Works SPECTRE Series of pistols with the introduction of the P365XL SPECTRE Comp.  This latest release from SIG Custom Works combines superior craftsmanship and the rich SPECTRE feature-set with cutting edge technology, resulting in less recoil and an enhanced shooting experience to America's #1 selling micro-compact pistol
"The SPECTRE family of pistols is SIG Custom Works feature-rich polymer pistol line that is fine-tuned for performance.  The custom-designed slide and gold features of the P365XL SPECTRE Comp make this latest addition to the SPECTRE series noticeably distinct," said Tom Taylor, Chief Marketing Officer and Executive Vice President, Commercial Sales, SIG SAUER, Inc.  "However, the true standout feature of the P365XL SPECTRE Comp is the uniquely integrated compensator that reduces muzzle flip and felt recoil by up to 30%, and because of the design will never come loose or cause function issues.  The P365XL SPECTRE Comp offers all the benefits of a compensated pistol in a reliable, concealable, everyday carry package."
The SIG Custom Works P365XL SPECTRE Comp is a 9mm polymer frame pistol that features the laser stippled XSERIES (LXG) grip module, an optics-ready slide with custom serrations featuring an optic plate and rear dovetail sight, integrated compensator, a titanium nitride gold barrel and XSERIES gold flat trigger, and X-RAY 3 day/night sights.  The SIG Custom Works P365XL SPECTRE Comp ships with (3) three steel magazines and comes with a Limited-Edition SIG Custom Works case, coin, and certificate of authenticity.
Caliber: 9mm
Overall length: 6.6 inches
Overall height: 4.8 Inches
Overall width: 1.1 inches
Barrel length: 3.1 inches
Sight Radius: 5.1 inches
Weight (w/magazine): 20.7 oz.
The complete SIG Custom Works SPECTRE series of pistols includes the P320 XCARRY SPECTRE, P320 XCOMPACT SPECTRE, and the P365XL SPECTRE.
The SIG Custom Works P365XL SPECTRE Comp is now shipping and available at retailers.  To learn more about the P365XL SPECTRE or watch the product video with Phil Strader, Director, Product Management visit sigsauer.com