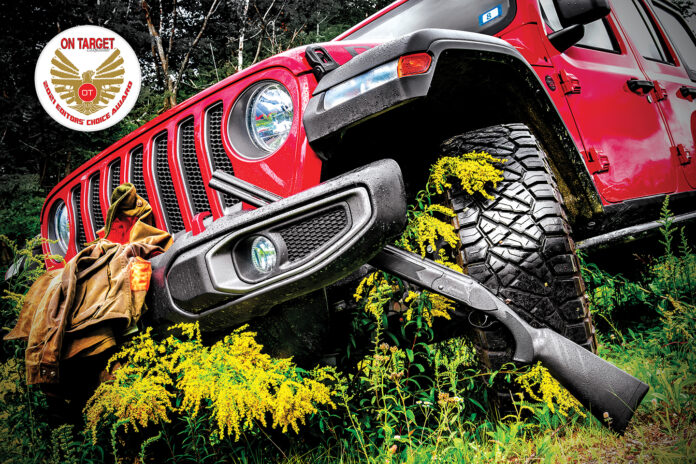 Mossberg Silver Reserve Eventide Over/Under Shotgun
The all-terrain over & under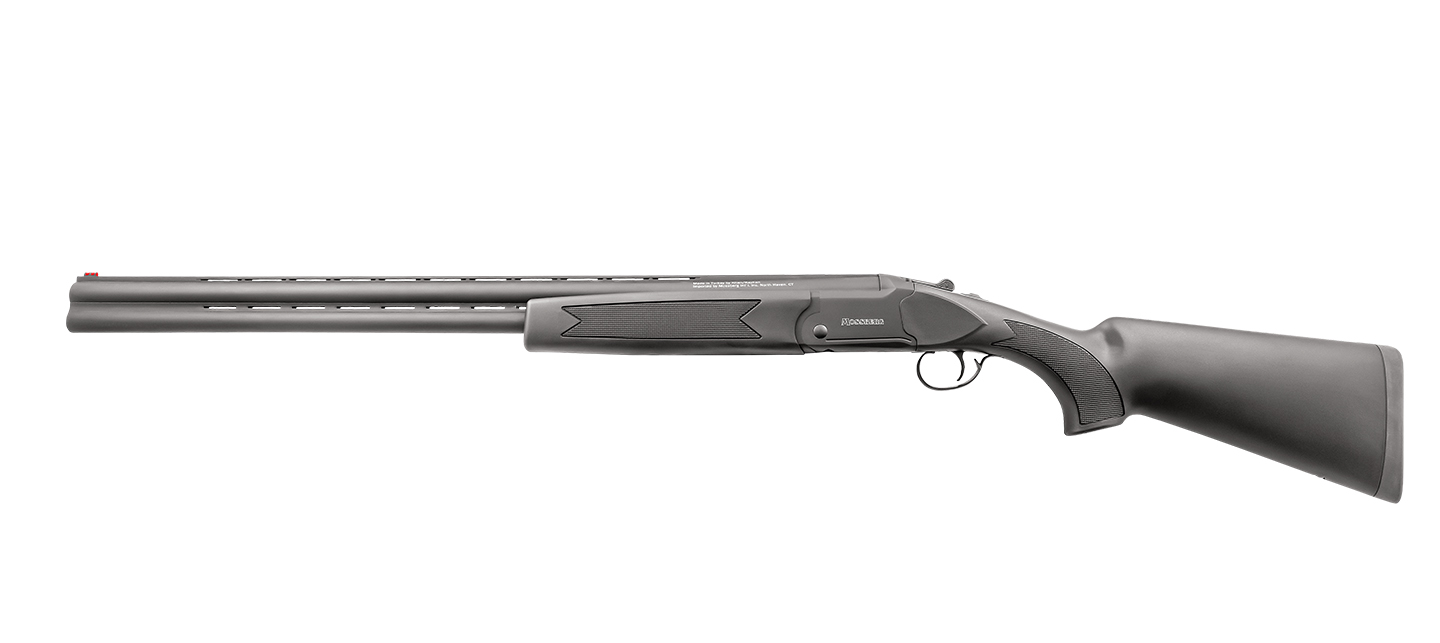 Mossberg has seriously upgraded its Silver Reserve and Gold Reserve shotgun lines for 2021. Eleven all-new models in all four gauges now comprise the two lines and are priced from $636 to $1,221. While still made in Turkey, these definitely are NOT the Mossberg Reserve O/U shotguns of yesteryear. That's not to say that the previous generation of shotguns were terrible, but these are certainly an upgrade. The first Silver Reserve guns to come out were a bit rough around the edges, and truth be told, we didn't feel compelled to give them the feature-article space in the pages of On Target like we did with the current crop. The Silver Reserve line has now grown into a well-respected, good quality, entry-level O/U shotgun.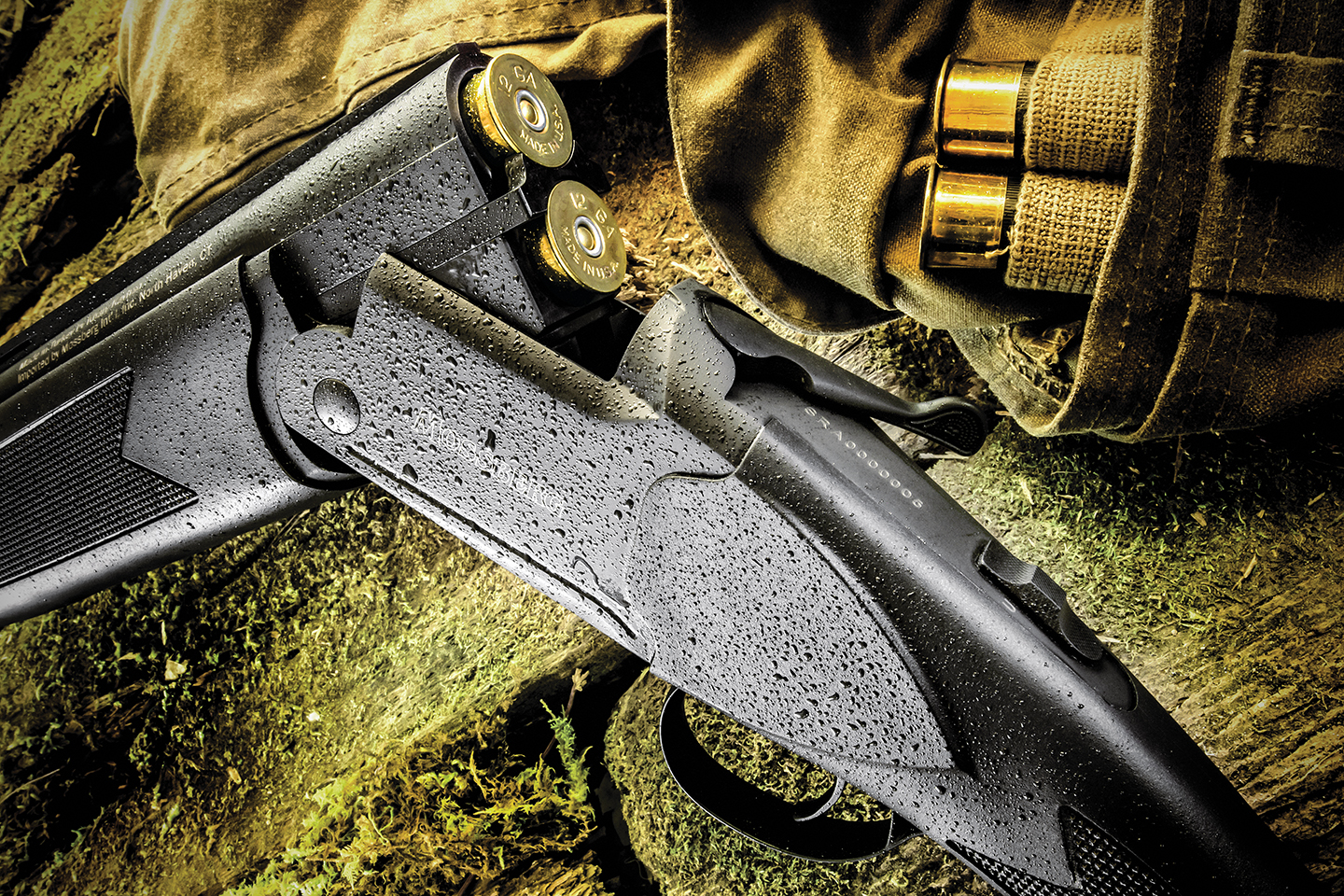 The subject of this review is the least expensive shotgun of the six Silver Reserve models—the Eventide ($636). Basically an all-black version of the standard Silver Reserve, with an all-weather synthetic buttstock and forearm, the Eventide is mechanically identical to all other Silver reserve models. Offered only in 12-gauge, it features 28-inch barrels and 3-inch chambers, making it of potentially the most interest to the greatest number of readers. That's because you can do everything a shotgun will do with this one. In addition to its attractive price, the combination of all-weather durability, shoot-anything 28-inch barrels, and 3-inch chambers for magnum loads let you hunt deer, waterfowl, turkeys, upland birds, varmints, and other small game; protect your family and your home; and shoot trap, skeet, 5-stand, and sporting clays. If I've left out anything a shotgun can do, be assured that the Mossberg Silver Reserve Eventide will get the job done.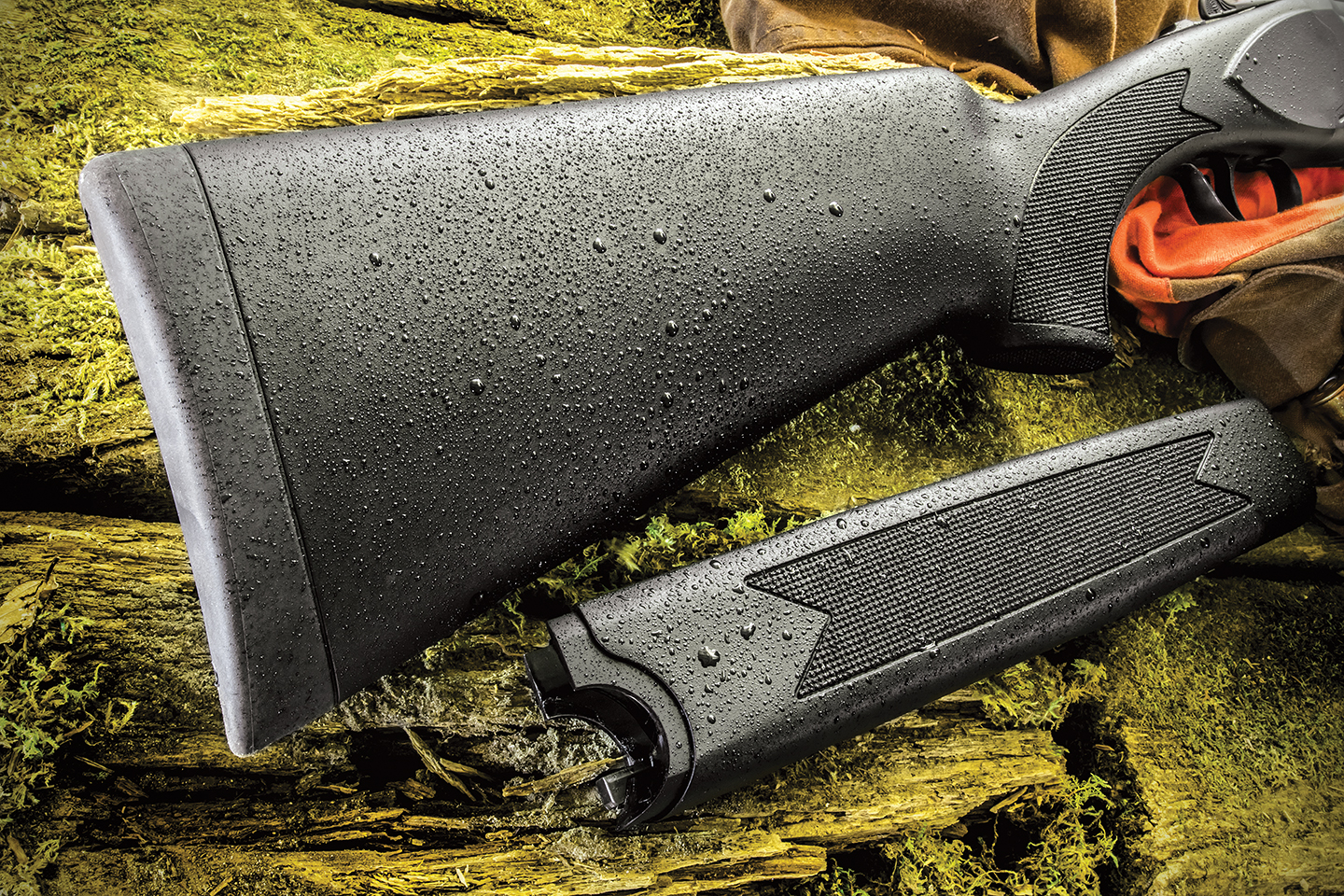 Not surprisingly, the Eventide is designed with a box-lock action—as opposed to a side-lock, which is becoming increasingly rare and ungodly expensive. Lock-up was rock solid, even with the forearm removed. It features a single selective trigger, with the barrel selector being internally integrated into the sliding safety selector mounted at the aft end of the abbreviated top tang, directly behind the locking lever. Our sample gun had never been fired except for proofing, so everything was quite tight. That was most obvious with the locking lever, which took a LOT of force to push to the right to open—and it was a long push before the muzzles finally dropped. The safety/barrel selector was better, but still was no piece of cake to operate. Mercifully, however, the safety does not automatically reset to on-safe every time the action is opened (the bane of clay target shooters). The trigger exhibited a long take-up, roughly 3/8ths of an inch, to a really hard wall, with just a hint of stacking before the break, which occurred at a consistently heavy 6.5 lbs. with either barrel. I'd call it an acceptable field trigger but an awkward trigger for clay target shooting. The pull will undoubtedly get better with use.
The barrels are fitted with flush choke tubes and accordingly flare out at the muzzles to provide space for the screw-in tubes. The gun comes with five choke tubes—in constrictions ranging from Full to Improved Cylinder—and includes a plastic case, choke tube wrench, and a couple of Allen wrenches. The barrels feature ventilated mid and top ribs, with a red fiber-optic front sight mounted up front. The 3-inch chambers are equipped with a single gang extractor—good news for clay target shooters, less so for hunters who prefer empties to be ejected.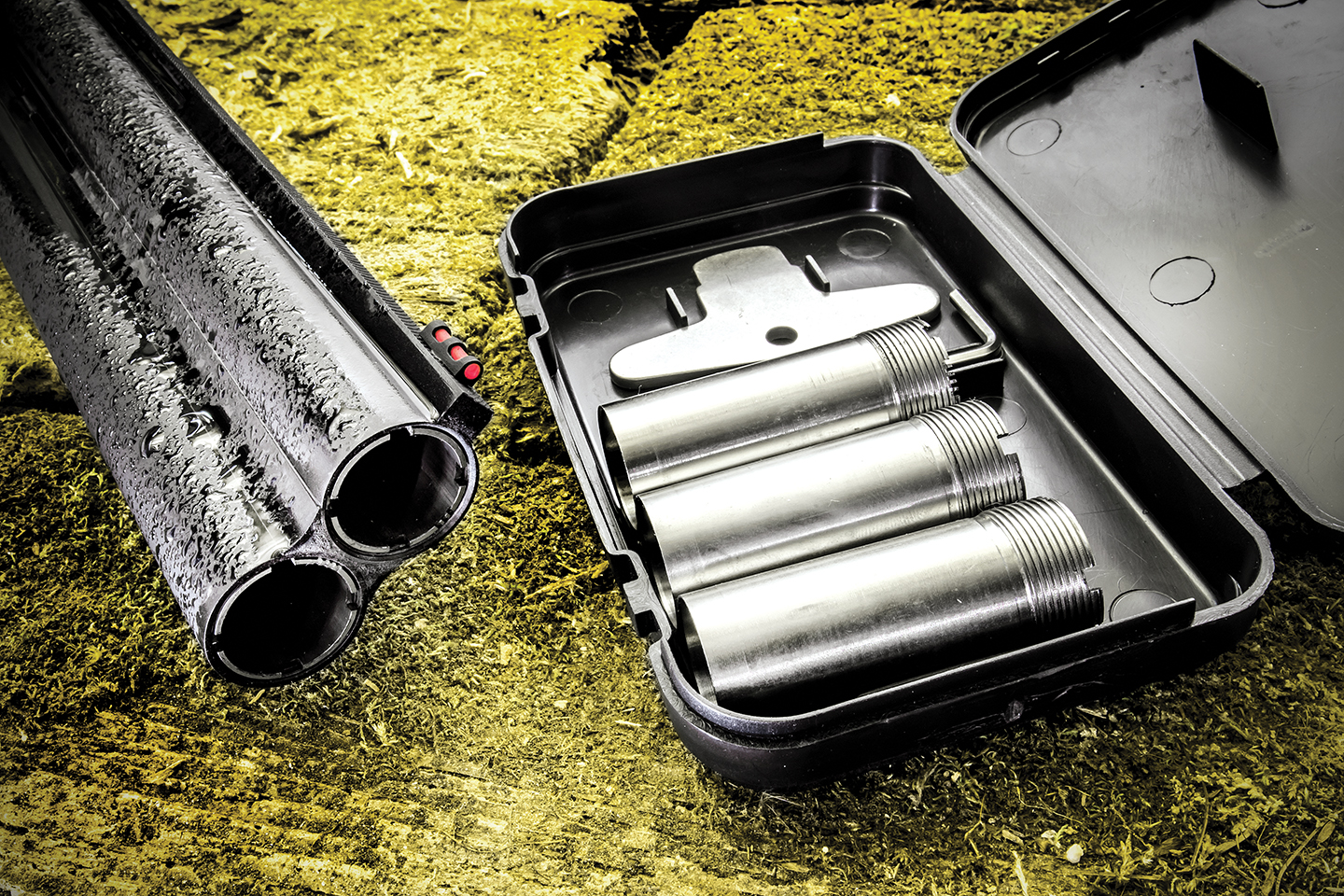 The buttstock and forearm are made from matte black polymer with sharp molded-in checkering that provides a good grip. The butt is fitted with a not too cushy rubber pad; this would probably be our one recommended upgrade for Eventide owners.
Shooting the Silver Reserve Eventide produced no unusual results. The gun balanced and swung well, and if we were doing our part, hit all of the clays that were launched downrange. With 175 rounds through the Mossberg as of writing this — both in good and bad weather — the gun has done everything we've asked of it without a hiccup, which is precisely what the end-user of a shotgun like the Eventide is going to expect.
Overall, for the money, you'd be hard-pressed to find a better quality, more versatile O/U shotgun for hunting or clay target shooting. See the Silver Reserve Eventide at your gun shop, or contact O. F. Mossberg & Sons, Inc.; Tel.: (203) 230-5300; Web: www.mossberg.com—Bill Battles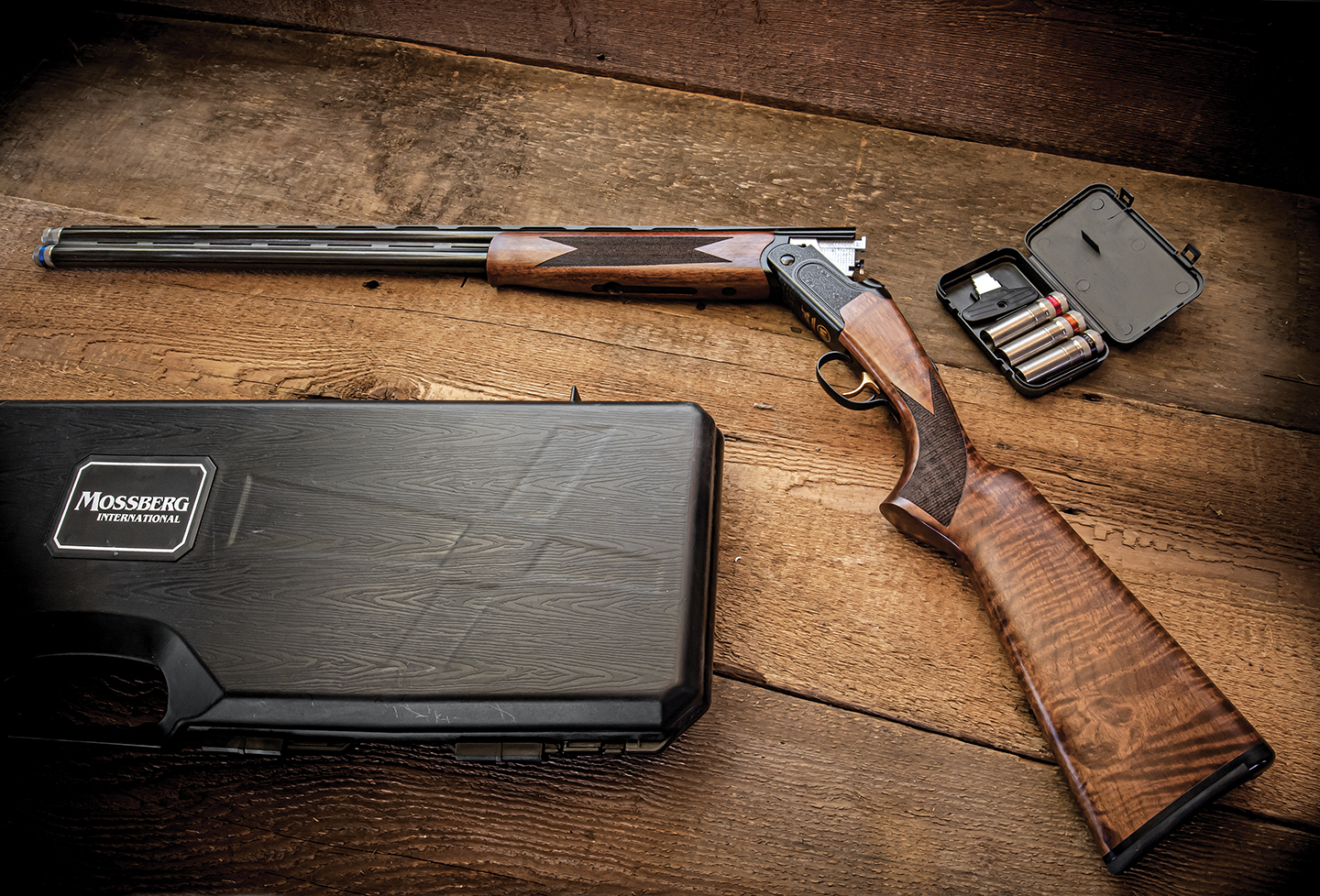 SPECIFICATIONS:
Mossberg Silver Reserve Eventide
MSRP:                       $636

Gauge:                       12

Barrel Length:             28-inches

Sight:                         Red Fiber-Optic

LOP:                          14-inches

Finish:                        Matte Blue

Stocks:                       Black Synthetic

Weight:                      7-pounds