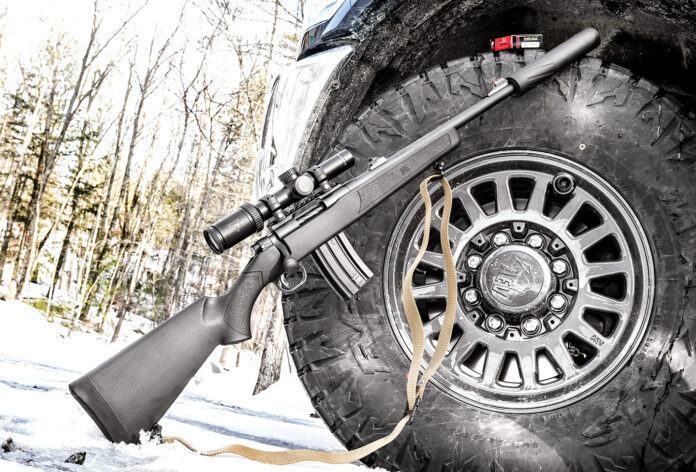 Mossberg MVP Patrol .300 BLK
By: Dave Bahde
Dressed to suppress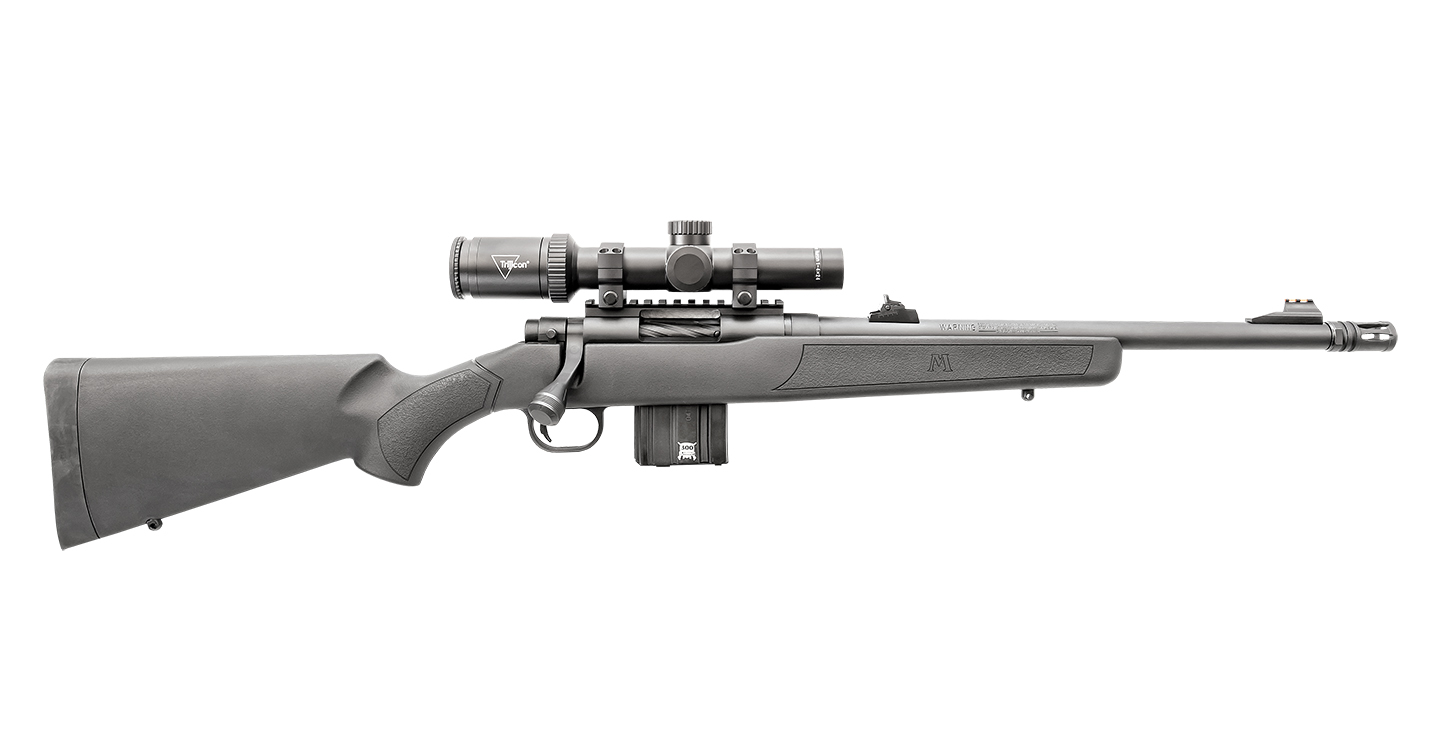 Bolt rifles remain incredibly popular, and for good reasons; they can be lightweight, simple, reliable, and suffer none of the function issues a semiautomatic rifle can. This is particularly true when comparing bolt-action and semiauto rifles chambered in calibers like the .300 Blackout, originally designed for subsonic loads in the 200-grain range. The use of both sub and supersonic ammunition required a range of operating parameters that the AR just did not like in this caliber. Generally, you can tune an AR to work well with either, but running both without some changes remains problematic. The solution? It's a bolt rifle. Though not quite as fast, they're easier to suppress, will run on pretty much any ammunition, and do so with accurate downrange results. Several companies are making compact .300 BLK bolt guns these days, many designed for use with iron sights, an optic, or both. Mossberg's new entry into this segment — the MVP Patrol — falls into the latter category.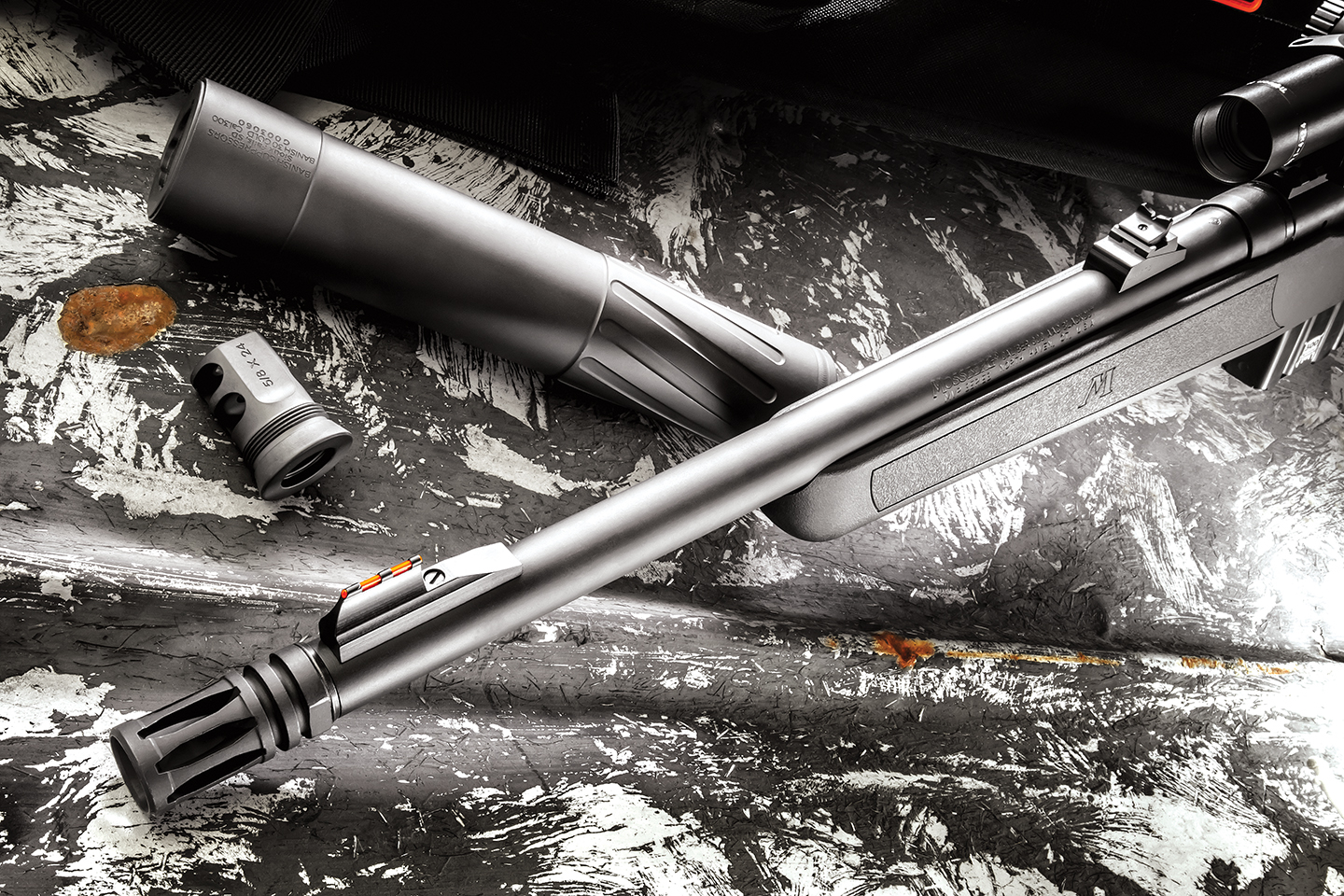 Mossberg MVP Patrol
From the moment it was introduced, Mossberg's MVP (Mossberg/Varmint/Predator) line became very popular among consumers. Available configured as a long-range precision rifle, compact patrol rifle, or a scout rifle, the MVP platform is a solid, high-quality bolt-action at a very reasonable price. Designed for use with AR-style magazines (and M1A in .308), the Patrol is available in .308 Win., .223 Rem., and .300 BLK, and all are fitted with a threaded 16.25-inch medium-bull barrel, composite stock, red fiber-optic front sight, and barrel mounted rear blade sight. The factory-installed Picatinny optic rail supports handily accept a red-dot sight or magnifying optic. An A2-type flash hider comes pre-installed, but barrels are ready to accept your muzzle device or sound suppressor of choice. They weigh in at or under 7-pounds, with the .300 BLK version being the lightest at 6.5-pounds. The MVP action uses a side-mounted safety similar to the most popular bolt rifles on the market. The radial-fluted bolt is designed for AR-style magazine use and provides positive and consistent extraction and ejection.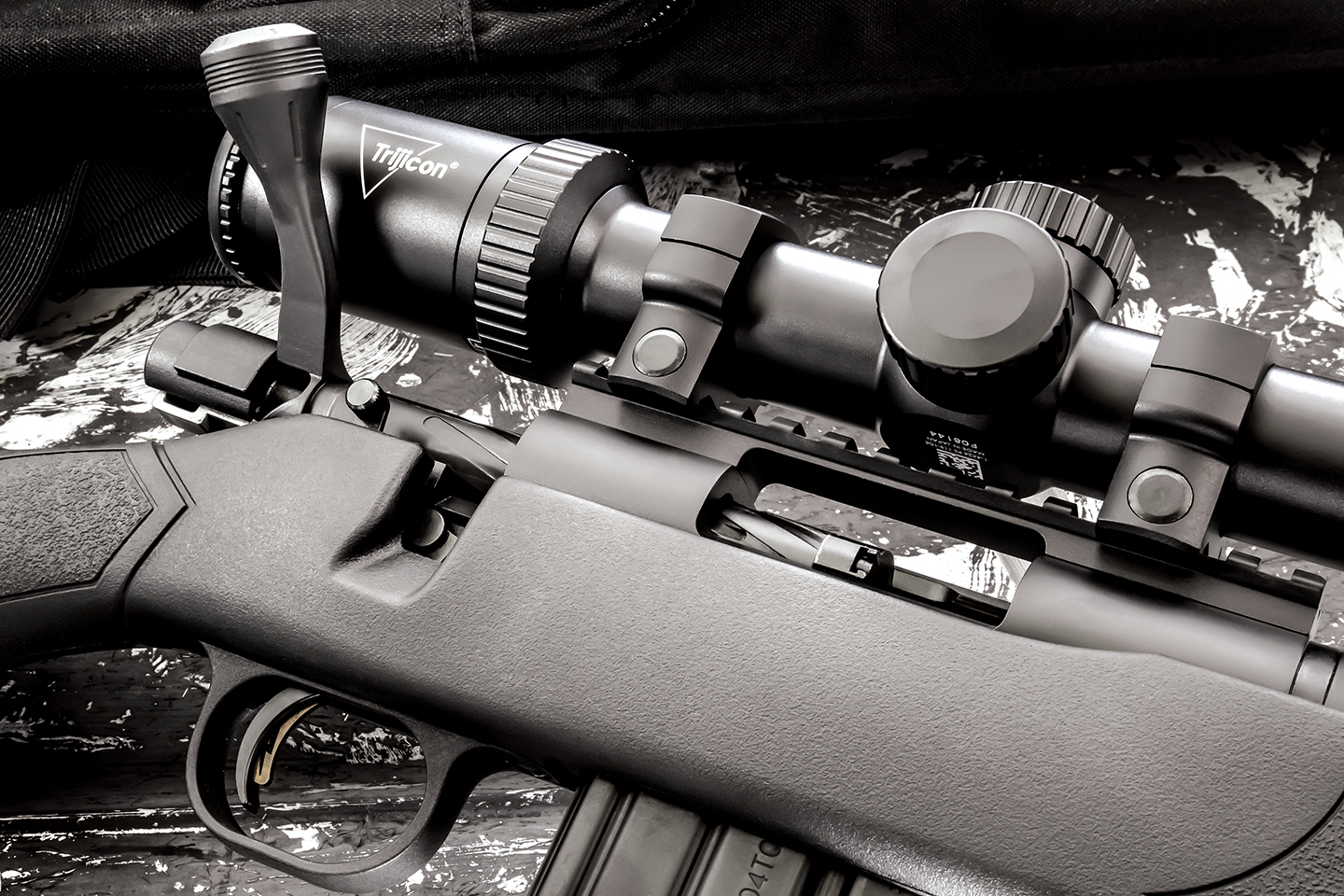 Testing
Our test scope was a Trijicon Huron 1-4x24mm using a BDC Hunter reticle mounted in the second focal plane. Lightweight, quick, and with clear glass, this optic was a perfect match for this handy carbine. Offering plenty of magnification for the .300 BLK, the simple holds get you on target fast and out to the limits of the Blackout's usable range. Silencer Central's Banish 30 Gold suppressor was attached for most of the testing. Constructed of a Titanium Alloy, the 8.2-inch long by 1.593-inches in diameter, the Banish Gold weighs in at a mere 13 ounces. User serviceable, it contains eleven STifle baffles and the necessary tools for disassembly. Two titanium muzzle brakes, including 5/8×24 and 1/2×28 thread patterns, keep things lightweight and cover most rifles. Along with the baffle tool and brakes, a nylon suppressor pouch and Silencer Central T-shirt are included.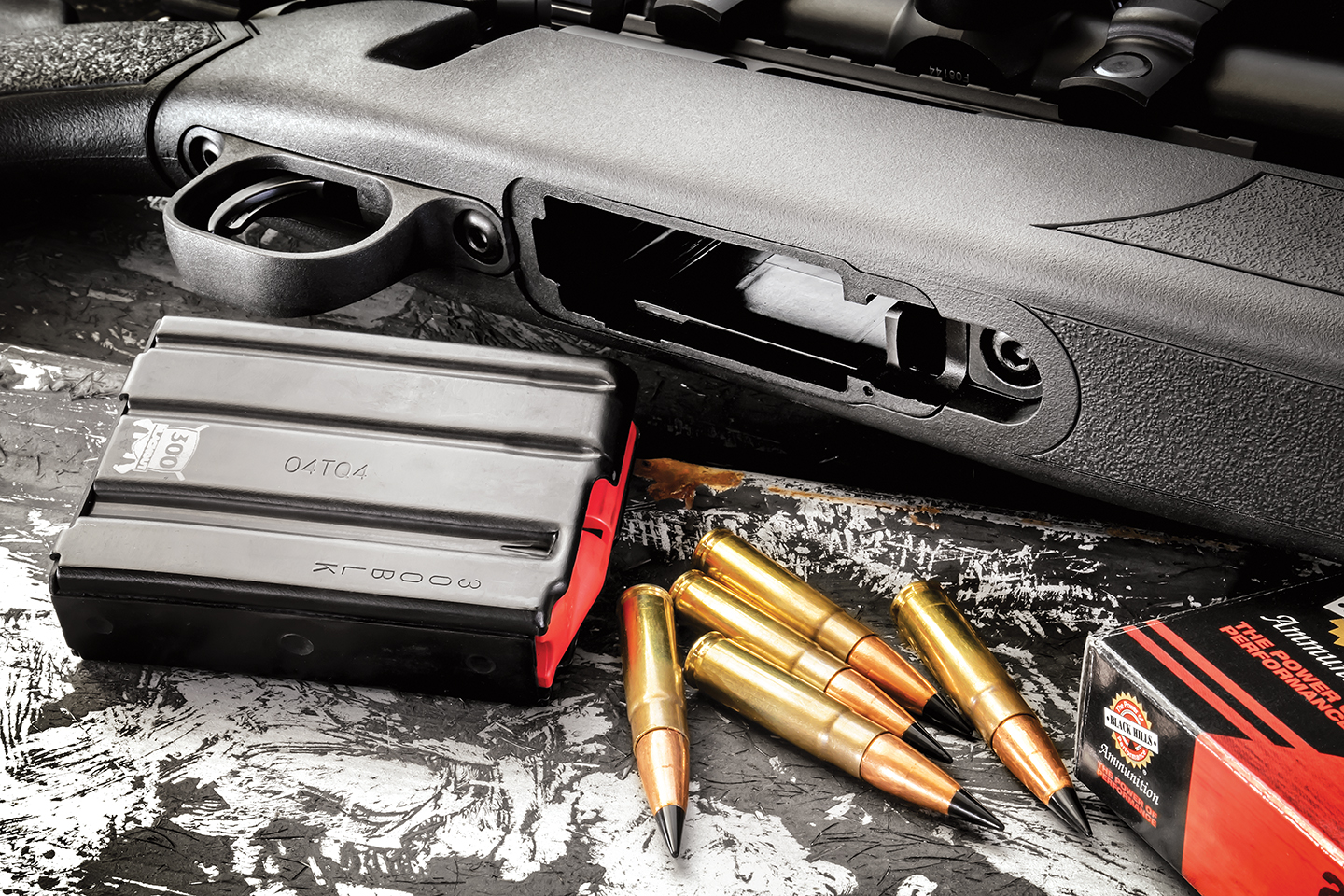 Range Testing
With most .300 BLK rifles, the subsonic ammunition tends to be the most accurate. Never designed to be a "match" caliber, the supersonic loads tend to be geared towards hunting and self-defense. With essentially no recoil and a (relatively speaking) flat trajectory, the subsonics are often scary accurate. The 16.25-inch barrel provides consistent expansion as well, which is not something you tend to see with the shorter barrels. The Mossberg was no exception to the subsonic rule, putting five shots of Sig Sauer's 205-grain Tipped Duty Subsonic into half an inch or less at 50 yards. Most groups with the supersonic ammunition at 50 yards were around an inch, with the Hornady 110 grain at just under an inch. Gemtech's 125-grain Nosler made it possible to get consistent hits on the 200-meter and even 300-meter steel. Test day was very windy, and it took a bit to get on, but once my hold was figured out, the rifle proved pretty capable. While I have certainly hit things at longer ranges, for the most part, 300 meters is the back of the curve for most .300 BLK rifles.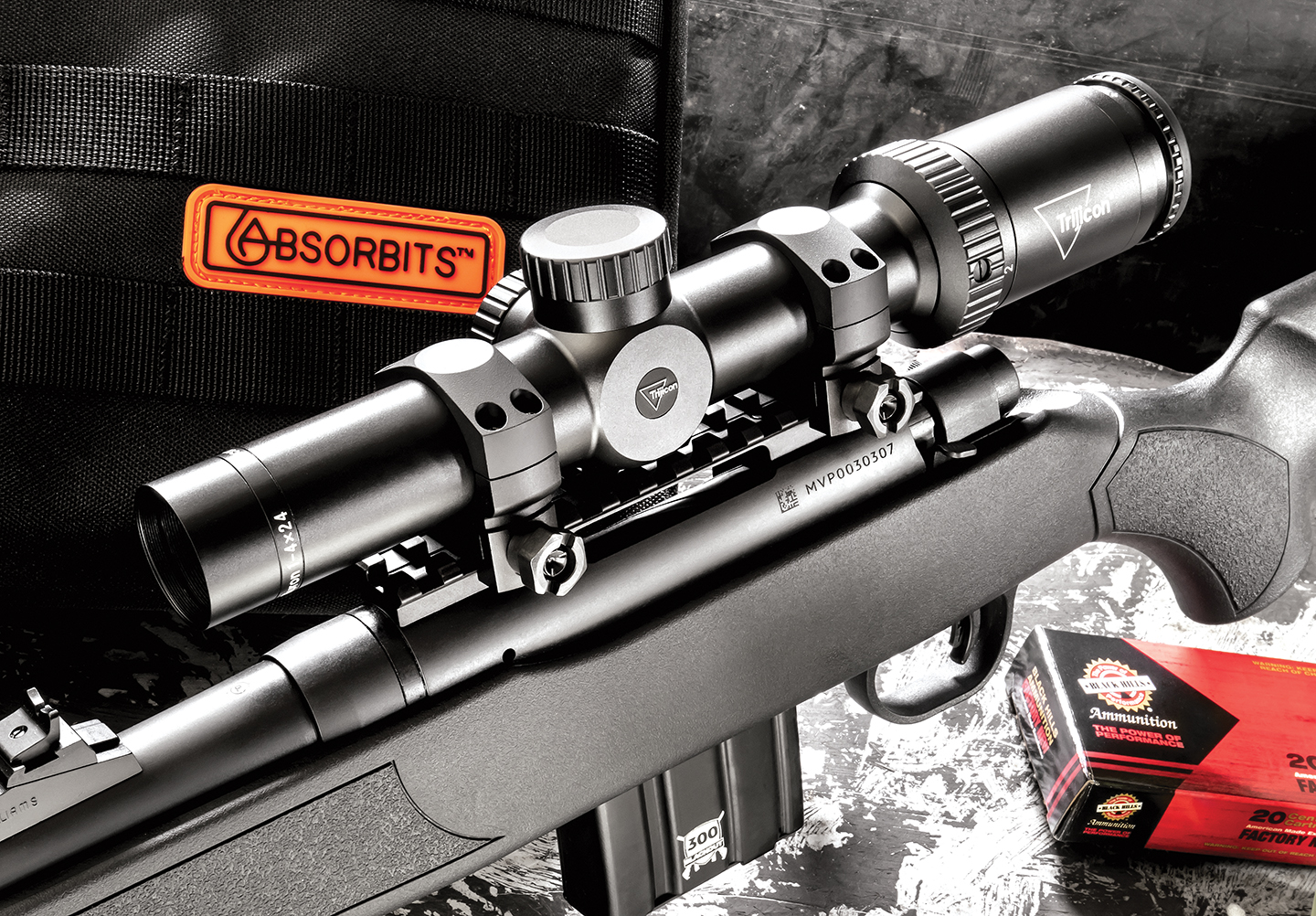 The Banish suppressor is very quiet, the backpressure was minimal, and it was easy to run rapid strings of subsonic without being plagued with bolt lift. Recoil is already minimal with this caliber, and wrapping the Banish Gold into the mix made it feel more like a rimfire. Using the supersonic loads, you will need to slow the bolt speed down a bit, which will be true with most longer suppressors mounted on 16-inch barrels; bolt lockup can be the issue, so you need to wait a second or two for the pressure to dissipate. Otherwise, it remained very quiet and made for some soft shooting, even with the hottest loads. Although it looks long, at only 13 ounces, you barely notice its presence, which keeps this carbine still handy.
Final Thoughts
Brass ejection was consistent and positive, and bolt operation was smooth and easy to manipulate. The rifle worked well with several ammunition types and three different magazines, including Magpul, Lancer, and Factory. The .300 BLK is a favorite amongst hog hunters, and it would be plenty suitable in the role matching its patrol namesake. It's not uncommon for some agencies these days to forgo the AR and instead choose a light and handy bolt rifle. Equipped with a Picatinny optic rail, iron sights, and a flash hider, it's pretty well ready to go from the factory. Retailing at $638 (at time of print), Mossberg's MVP Patrol is an overall great buy, and if you are looking for a lightweight and handy carbine in a very popular caliber, make certain you add this one to your list. Check out the MVP Patrol at your nearest dealer, or for more information, contact O.F. Mossberg & Sons; Tel.: (203) 230-5300; Web: www.mossberg.com.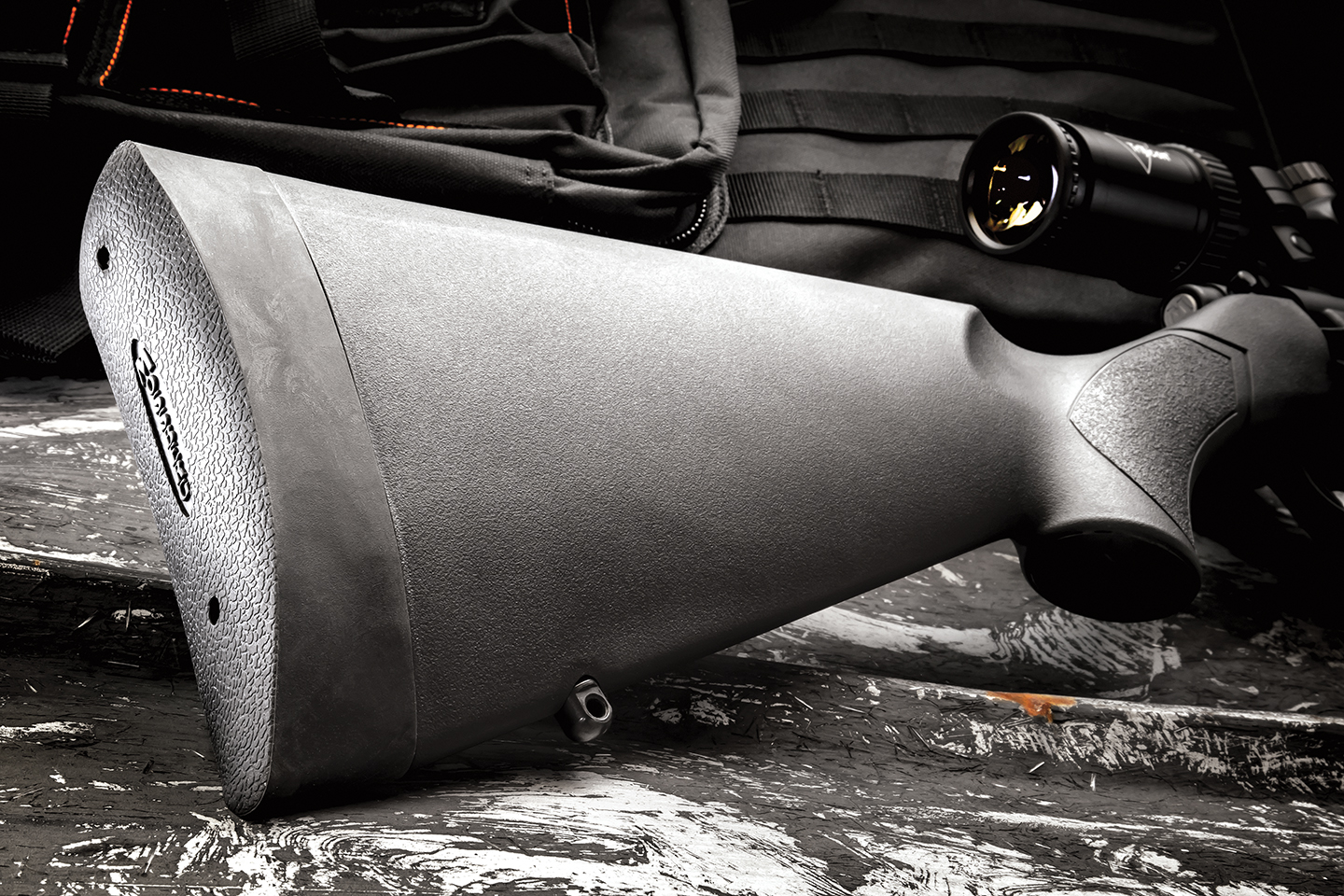 Specifications:
Caliber/Gauge:                     .300 Blackout
Barrel:                                     16.25-inch, medium contour, threaded
OA Length:                            36.5 inches
Weight:                                  6.5-pounds
Sights:                                    Picatinny rail/iron sights
Stocks/Grips:                         Composite
Action:                                    Bolt
Capacity:                               AR15 compatible
Price:                                       $638.00
---
Load                                                   Velocity                                  Accuracy
Sig Sauer TDC 205 Grain                        1000                                       0.5 Inches
Hornady 110 Grain Black                        2350                                       1.0 Inches
Gemtech 187 grain Predator                   1050                                       0.75 Inches
Gemtech 147 Grain FMJ                         2250                                       1.25 Inches
Bullet weight was measured in grains, velocity in feet per second (fps) measured using a Magneto Speed V3. Accuracy in inches for three five round groups fired from 50 yards using a bag as a rest from behind a bench.