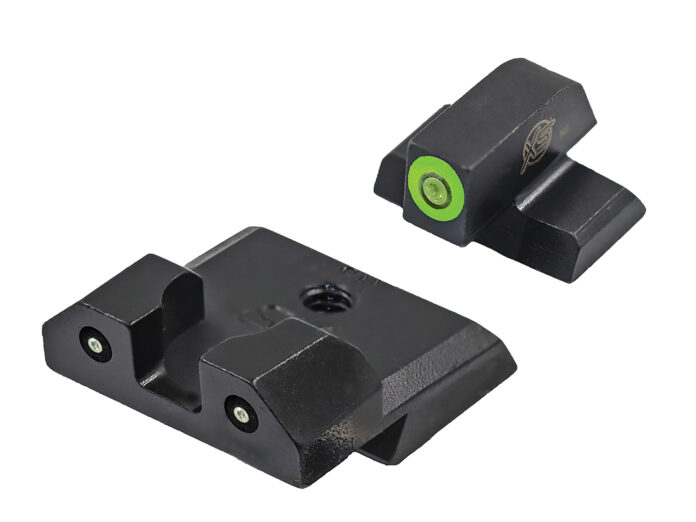 XS Sights R3D Night Sights for Springfield Armory SA-35 ($116)
Springfield Armory's modern take on the revered Hi-Power takes this wood & steel pistol to an all-new level. As we've stated elsewhere in this new products section, this particular manufacturer gets all the important details right, but the aftermarket tends to really fine-tune things.
In the case of sighting systems, Springfield certainly gave its SA-35 a set of sights that — when the Hi-Power was originally produced — was the solution the aftermarket provided. However, coming as no surprise to us, modern sight producers have again exceeded the performance of factory equipment. In this case, XS Sights has produced a set of eye-catching, high-visibility night sights called the R3D.
These sights offer a traditional 3-dot tritium, notch and post sight picture. The Tritium front sight comes equipped with their proprietary photoluminescent orange or green Glow Dot that absorbs ambient light and glows in low light. The 2-dot Tritium blacked-out rears illuminate, giving proper sight alignment while not outshining the front for accurate indexing. XS Sight's design increases focus on the front sight by using a brighter Tritium vial in the front and using the Tritium's light to charge the Glow Dot. This slight difference makes the front sight glow more brightly than the two Tritium vials in the rear, keeping your focus downrange. We love these sights, and they're not just an upgrade for the SA-35 but should be considered when equipping any of your iron-sighted pistols. For more information contact XS Sights; Tel.: (888) 744-4880; Web: xssights.com