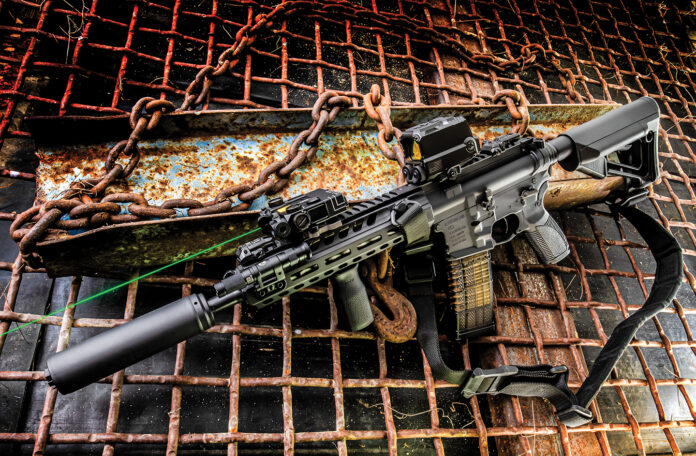 Caracal CAR816 A2 SBR
By: Dave Bahde
When it's time to get down 'n dirty, this is possibly the most durable and reliable AR on the market today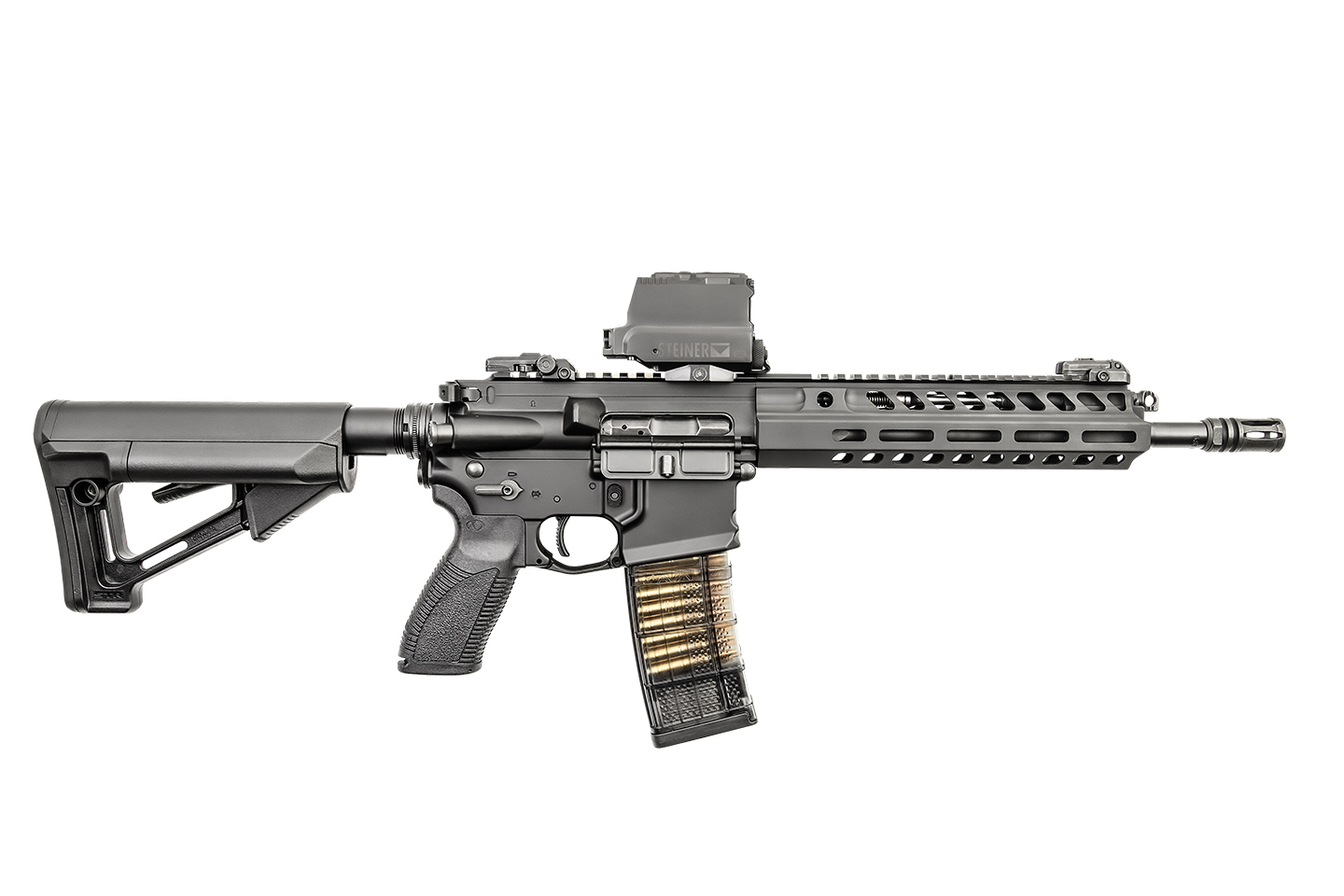 Firearms are different than your average widget. Not everyone buys a firearm for entertainment; some are purchasing a life-saving tool, adding a higher level of consequence to the decision-making process. With much of the firearm industry marketing through celebrity endorsement, hard facts can sometimes be veiled by shiny personalities. Buying a junk product based on some paid expert's opinion or — even worse — some social media expert may make you both defenseless and penniless. Police departments are common victims of such marketing. Many agencies have come to me after the fact, trying to figure out what to do with what they bought based on deceptive marketing. Stuck until the budget allows, they are often told to "deal with it ."Unsurprisingly, the expert who has already been paid is nowhere to be found or is strangely silent … just because it has brand recognition and celebrity endorsements do not mean it's the best or even a good product.
It took years for my department to replace our SWAT weapons, and when it came time, it was a piston rifle, much like the one in this article, that got the nod. Why? Because I knew they would outlive me and subsequent administrations that may have no money, no clue, or both.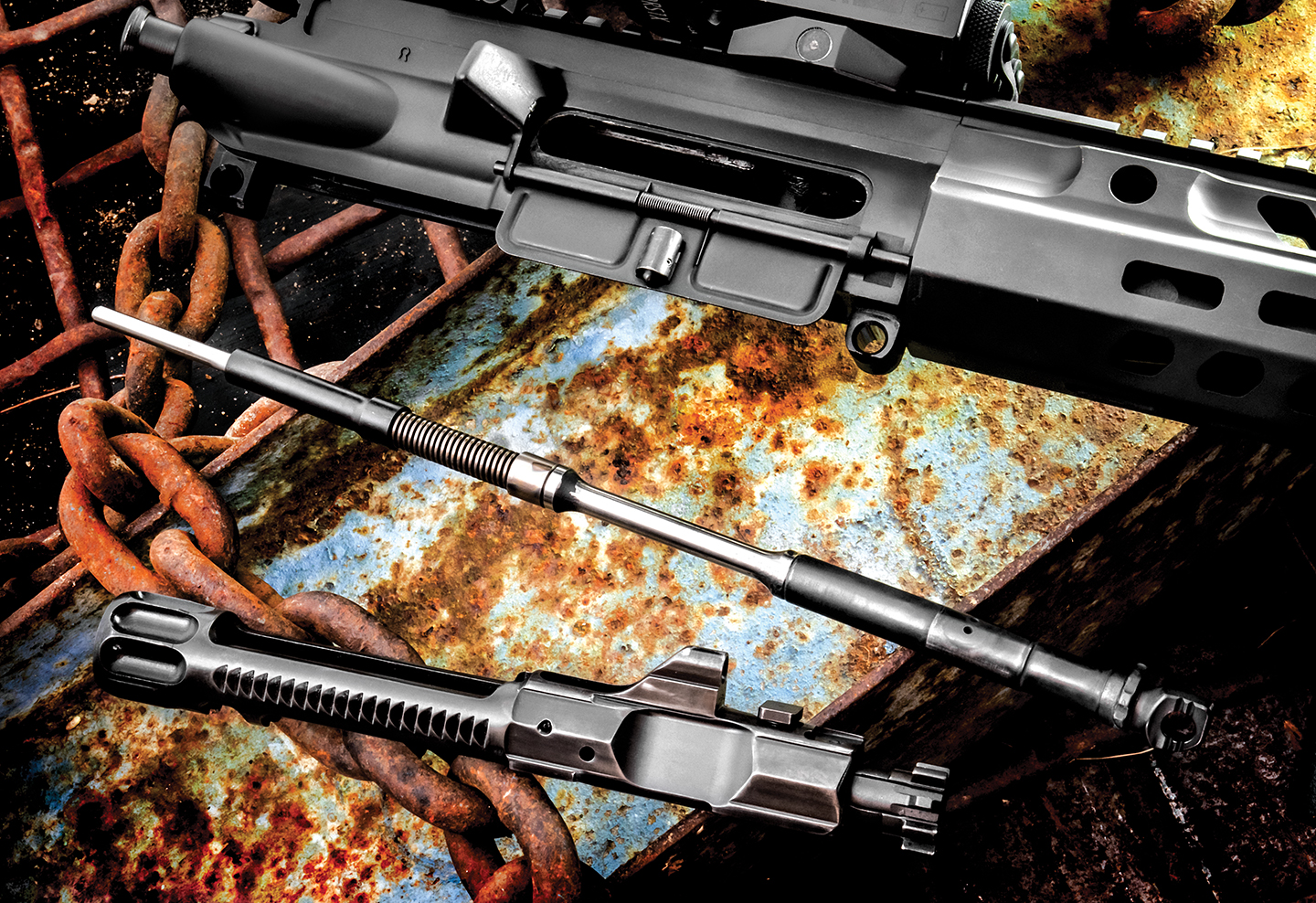 Piston vs. Direct Impingement
It's not that DI guns don't work; they do, and in most cases, they are excellent. But, given the harshest conditions (especially suppressed), a properly constructed piston AR has advantages. They are less finicky about ammunition, run better dirty, and require less maintenance. Less gas is directed into the action itself, making them run cleaner, cooler, and more-quiet when suppressed. Perfect, they are not, as they do have their drawbacks — mainly in the weight and cost departments.
When it comes to barrel length, the 11.50" remains the most efficient and effective for LE use or civilian self-defense for those willing to deal with the NFA. Given the recent rulings with the pistol brace, an SBR is your only for any barrel length under 16 inches. At the 11.50-inch barrel length, terminal ballistics are excellent and proven at any reasonable defensive range. They are easier to store, maneuver, and carry for hours — all with proven reliability. And, importantly, adding a suppressor does not make it unwieldy nor adversely affect operation. Choices are fewer, for sure, but thanks to Caracal USA, a new kid is on the block, and it's a REALLY good option.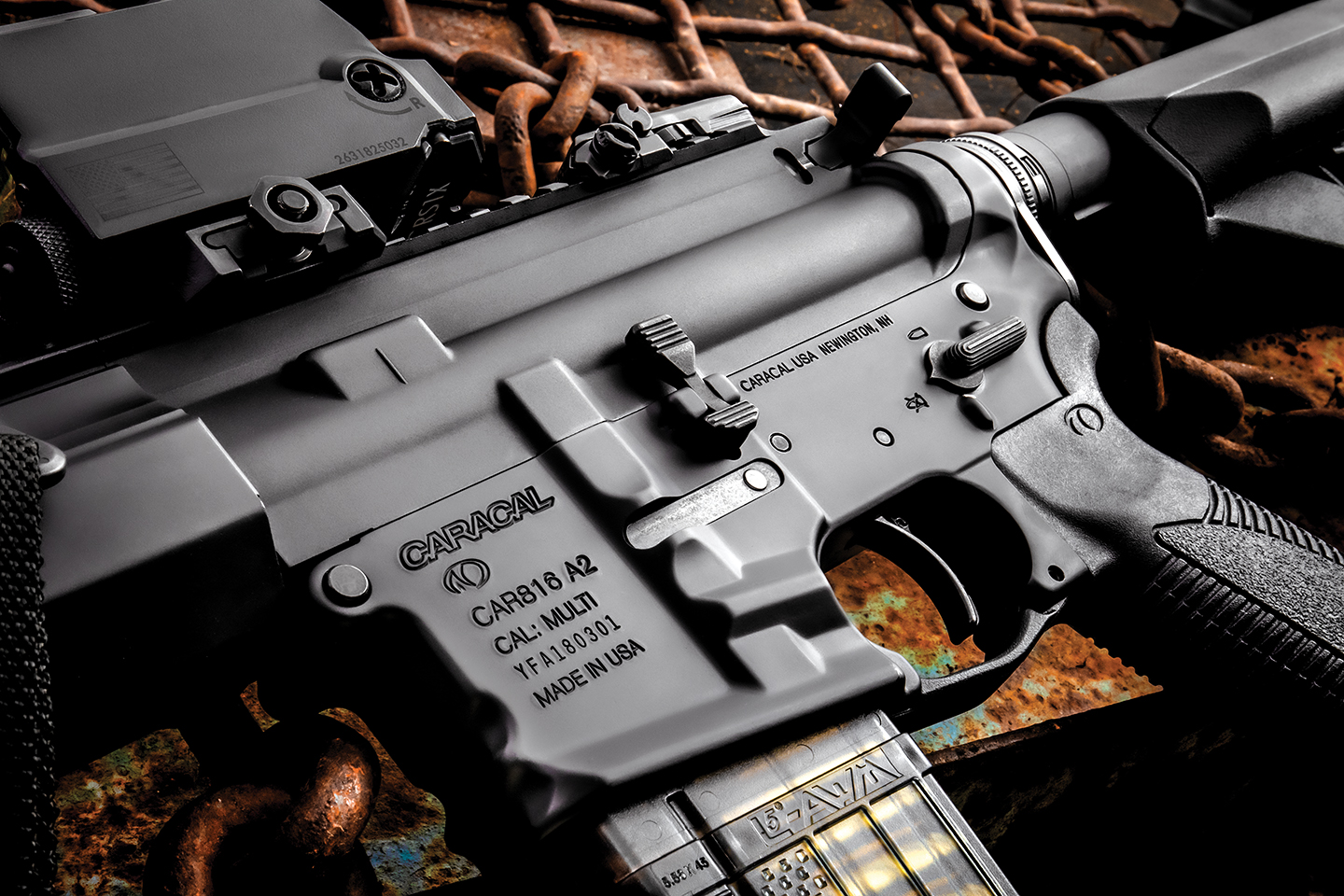 Not just another AR
In 2013, Jeff Spalding of Caracal invited me to the UAE (United Arab Emirates), mainly to see and shoot the latest pistols and precision rifles. But we also played with an early prototype of a select-fire M4 using an outsourced short-stroke piston upper. In 2014, Chris Sirois — previously in charge of Special Weapons and Development for Sig Sauer USA — was placed in charge of product R&D and development of their new AR. While working for Sig, he spearheaded the development of the M400, 516, 716, MCX, and MPX, along with a number of other direct military requests. Before working for Sig, he was instrumental in developing the first HK416, giving him an unmatched pedigree. Being hired as the Operations Manager for Caracal USA resulted in the USA-made direct-impingement CAR814 A2 and piston-driven CAR816 A2 rifles. Quite successful, many in law enforcement clamored for the SBR versions of both, and now they are available.
These rifles were tested to exceed NATO standards, to include a 20,000-round torture test, drop tests, and component durability and function. Destruction testing included bore obstructions in the form of dirt, grease, water, and solid projectiles. Caracal's extractor support pin, which is machined and pressed into the barrel, along with proprietary chamber specifications, allows it to meet or exceed these bore obstruction tests — not something everyone can do. It supports the weakest part of the process by allowing the chamber to withstand excessive pressures, preventing catastrophic receiver failures and severe injury. These may be the strongest ARs on the market today, and in some cases, at nearly half the price of the competition.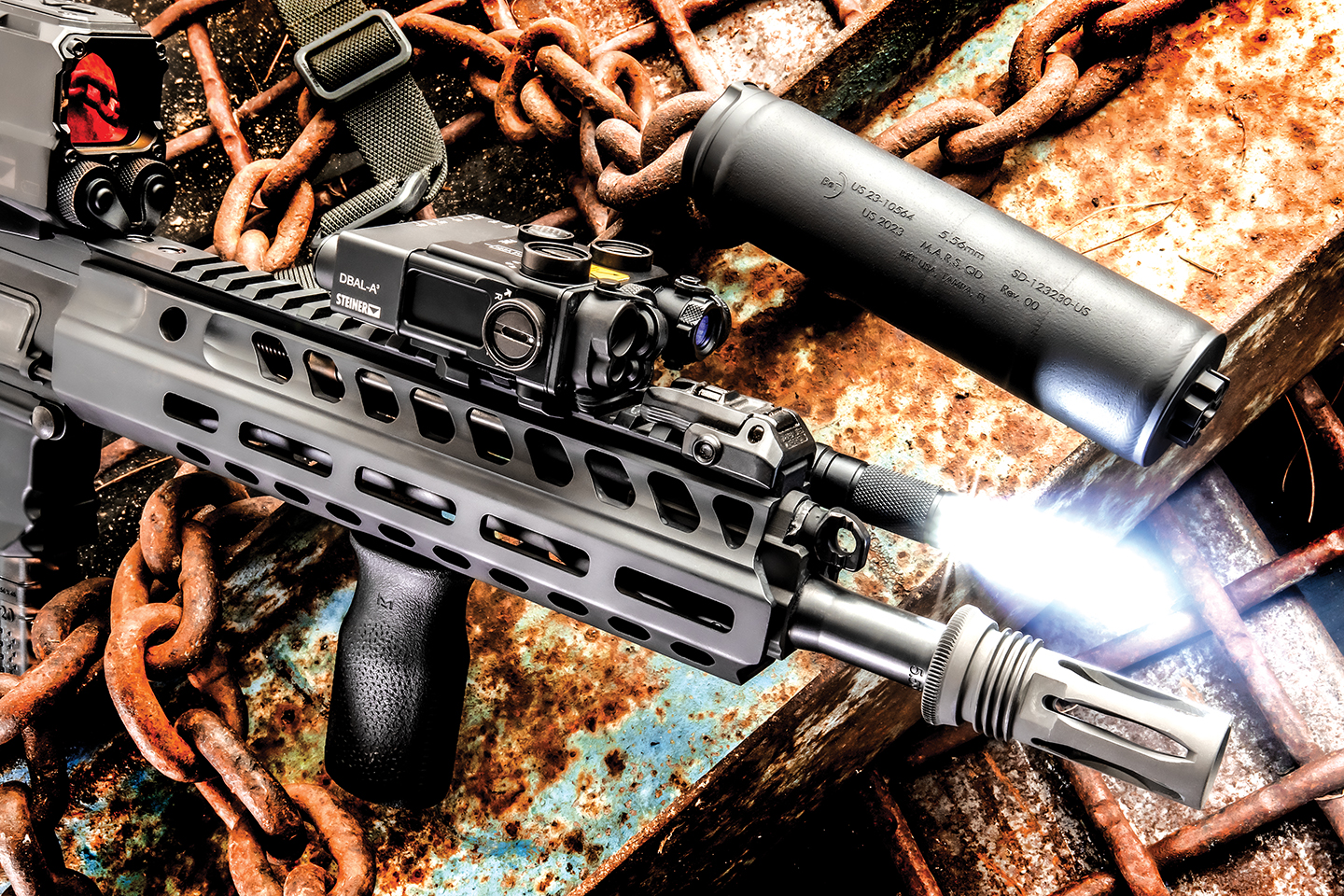 CAR816 A2 11.5" SBR
Receiver sets are forged from 7075 aluminum and receive a black hard-coat anodized finish. The lower receiver has a subtle flared magwell and is fitted with a single-stage 5.50-pound Hiperfire Enhanced Duty Trigger, dip-down trigger guard, an ambidextrous safety selector, and a custom Caracal pistol grip. You'll find a stakeless end plate with a QD sling attachment and Magpul STR buttstock on the buffer tube. The 11.50-inch barrel is made from 4150 CMV, coated in QPQ, has a modified M4 contour, and is given a 1:7 twist. Threaded to 1/2 x 28 TPI at the muzzle, the barrel is capped with an A2 birdcage flash hider. The rifle's short-stroke piston system incorporates a three-position adjustable gas block. The bolt carrier group is QPQ coated and features an anti-tilt carrier and Carpenter 158 bolt. The nine-inch handguard uses a key lock for anti-tilt, with integrated QD sling-attachment points, M-LOK accessory slots at 3, 6, and 9 o'clock, and a full-length Picatinny top strip. The rifle ships with one 30-round translucent Lancer magazine.
For testing, I mounted Steiner's non-magnified, multi-reticle, and rugged DRS1X red-dot battle sight, Magpul MBUS Pro backup iron sights, and a Blue Force Gear Vickers Combat sling. The A2 flash hider was swapped out for a B&T ratchet QD mount to utilize a B&T M.A.R.S. (Miniature Assault Rifle Suppressor) suppressor, which you can read more about in the New-for-2023 AR Gear & Accessories section of this issue.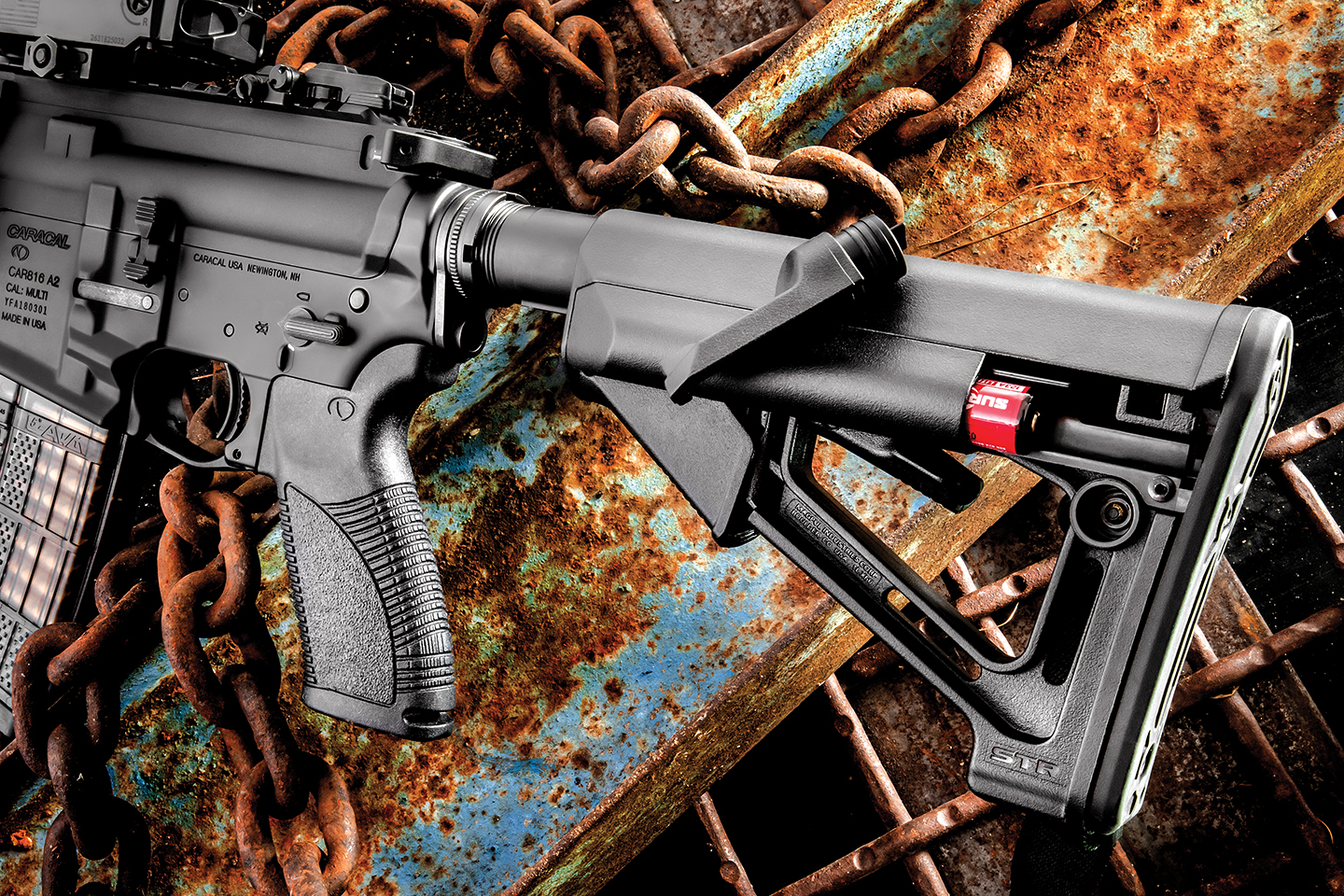 On the Range
The first thing I noticed was how well-built this rifle feels. It's a rugged, precision machine and feels like it in your hands. Recoil was noticeably absent — especially with the 55-grain ammunition. Heavier than most DI rifles, piston systems tend to make for a soft shooting experience. The shorter length made it easier to carry, and the weight distribution was about perfect. Buildings, obstacles, and barricades were easy to work on, through, and around.
Downrange precision was very solid. Black Hills' 77-grain TMK load yielded my best group at 100 yards, measuring around 1.5 inches with the non-magnifying Steiner. Black Hills 55-grain Barnes TSX was not much bigger, and the Speer 55-grain Gold Dot was around 1.75 inches or so. All were produced using a bag as a rest standing behind a bench — not perfect, just real-world stuff. That said, a magnified optic and an actual shooting bench would have undoubtedly yielded even better results.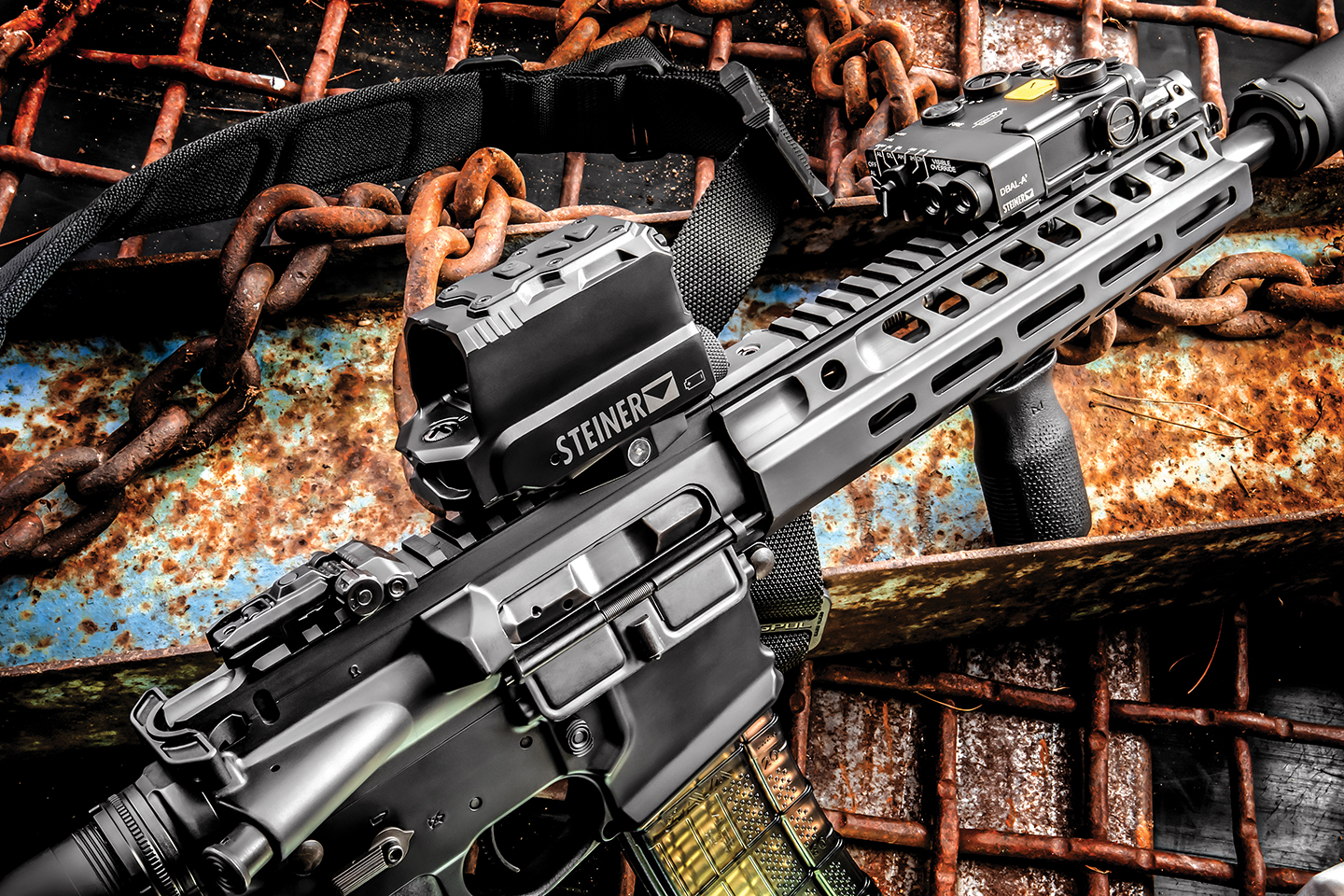 Other Considerations
Reliability was excellent, with positive and consistent ejection. Looking at the bolt, it is lighter than most piston versions, providing some bolt-carrier speed and leading to a really well-tuned rifle. A ton of work went into making this rifle run like a watch, and all efforts paid dividends.
Caracal calls the trigger an Enhanced Duty Trigger, and specifications list it as an EDT Sharp Shooter. As a duty-capable trigger, it is excellent, and after a few rounds, I never saw a need to swap it out. At around 5.50 pounds, it meets most agency policies. After about 500 rounds, it is amongst the smoothest of these types of triggers I've ever tested and provided excellent control throughout testing.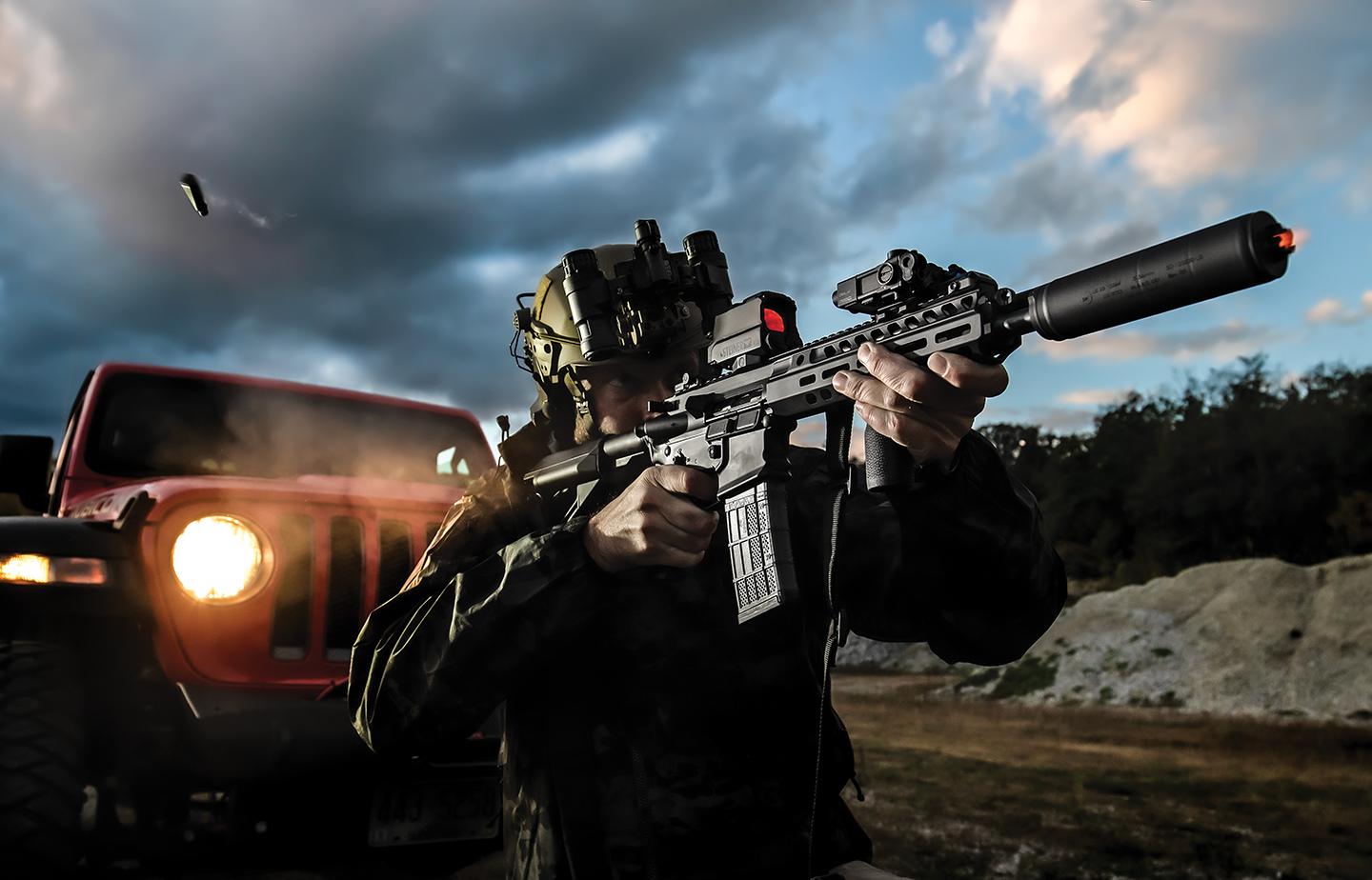 Final Thoughts
My very small stable of SBR ARs that would go back to some sort of LE work has expanded by one. Accurate, reliable, smooth, and overall, a very well-thought-out design; it just does not get much better in an 11.50-inch SBR. If you need a piston rifle, particularly a short one, you really need to take a very close look at the CAR816 A2. Check one out in person at your nearest dealer, or for more information, contact Caracal; Tel.: (208) 323-8727; E-mail: [email protected]; Web: www.caracalusa.com
---
Specifications:
Caliber:                      5.56mm NATO
Barrel:                       11.50 inches/1:7 twist
OA Length:                31.50 inches
Weight:                     7 pounds
Sights:                      Top Rail
Stock / Grip:              Magpul STR Stock/Caracal Grip
Action:                       Semi-Automatic/Short-Stroke Piston
Finish:                       Black Hard Coat Anodized
Capacity:                   30; Accepts AR15 magazines
Price:                         $1849.00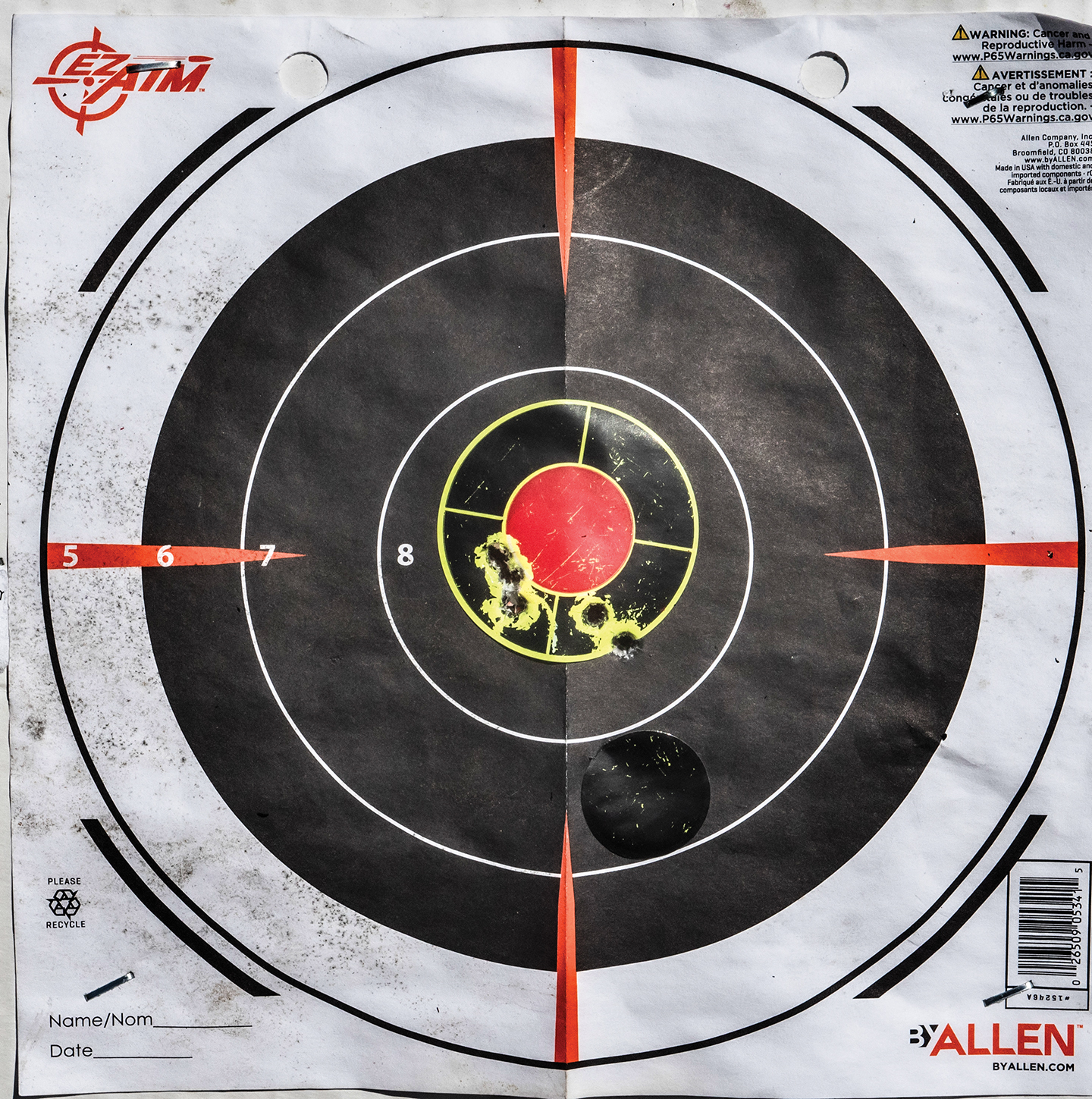 ---
Ammunition Tested                     Velocity                             Group Size
Black Hills 55 grain TSX                             3000                                       1.75 Inches
Barnes VOR-TX 55 grain TSX                      2950                                       1.60 Inches
Black Hills 77 grain TMK                            2540                                       1.50 Inches
Black Hills 50 Grain TSX                            3200                                       1.80 Inches
Speer Golf Dot 55 Grain                             3100                                       1.75 Inches
Groups tested using a bag for a rest while standing behind a bench. The best group is shown over five five-shot groups from 100 yards. Velocity was measured using a Magneto Speed V3.
---