Federal's Classic line "45C," a conventional cup-and-core 185-grain jacketed hollow point, has mild recoil and is famous for accuracy. In this case, the group measured 2.30", but factoring out unnoticed human error with the "best three," we had a much more impressive 0.45" group. That is, a single .45 bullet would have touched all three of those bullet holes if it had hit their group dead center.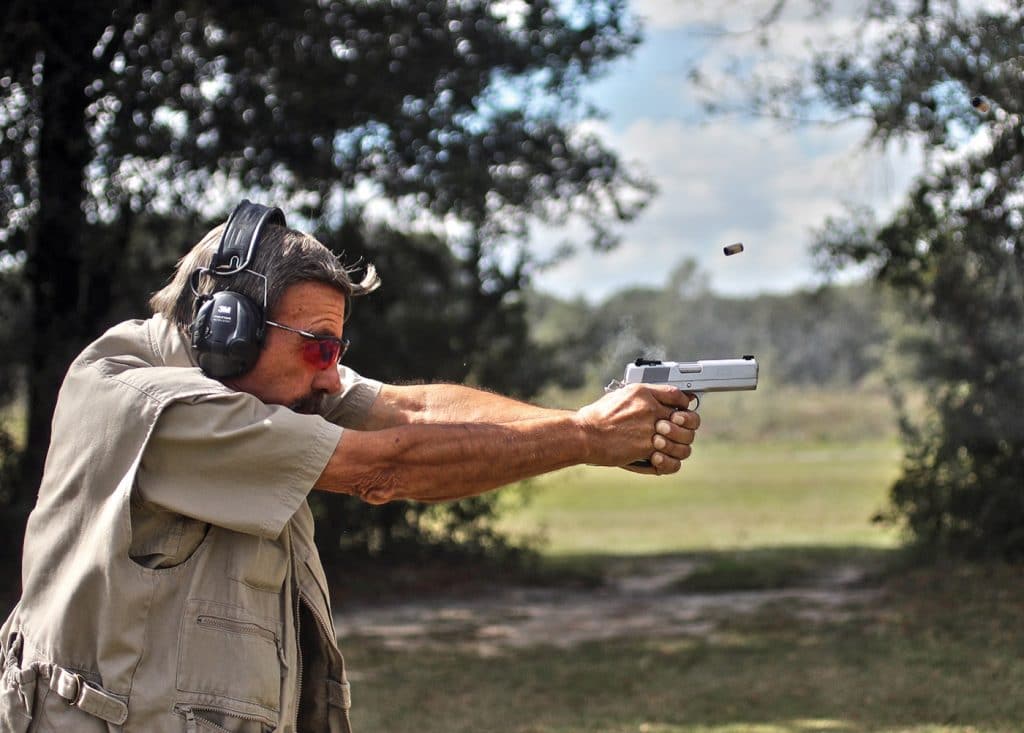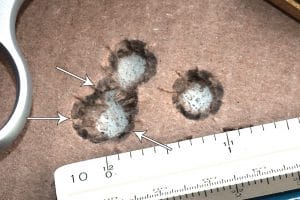 Remington's standard "Express" line 185-grain jacketed hollow point has been dropping bad guys for 40 years, and was the first .45 JHP to pass the rigid FBI Protocols and be issued to Bureau agents authorized to carry .45s in the late 1980s. When I had launched five of them out of the Stinger and lifted my head to look, my rheumy old eyes saw a black blob above and to the left of point of aim. Walking down to the target, I felt those eyes widen.
The five shots had gone into 0.85 of one inch. Four of them were in a half inch, and the best three measured a quarter of an inch, center to center. Look at the pictures and see for yourself.
Yes, I was impressed by the Les Baer Stinger Monolith!
Perks n' Quirks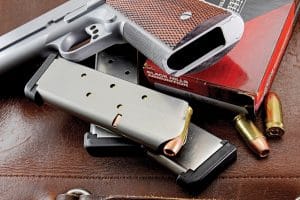 Bad news: the gun shot high left out of the box. Good news: the adjustable sights made an easy fix out of that. Sharply checkered walnut stocks mated with a checkered front-strap (30 lines per inch) to give a very solid grip, even when shooting with the non-dominant hand.
My one real beef with this gun's layout was that when I was firing right-handed, the knuckle of my index finger kept bumping the right-side ambi safety lever up just enough to lock the gun. This ceased when I used the popular "thumb holding the safety down" grasp. It may just be that I'm an old guy whose knuckles and fingers are a bit twisted and enlarged by arthritis. Dry fire the pistol in the gun shop; if this is going to be a problem for you, it will become evident before you lay your money down to buy it.
The couple of ounces of extra weight up front are well applied. Recoil was very controllable in the test pistol, with the sights coming quickly back on target. The Stinger Monolith was, quite simply, comfortable and efficient to shoot. If you're going to holster-carry an all-steel Commander-size gun, a couple more ounces aren't going to create discomfort.
What does prove to be a challenge is finding suitable holsters: the Monolith configuration won't fit most 1911 scabbards. "Rusty Sherrick is making holsters for the Monolith, and so are three or four other holster makers," Les advises. This is a negative if you are a 1911 person hoping to use this pistol in the holsters you already have; if you're new to the 1911 platform, you'll have to acquire leather (or Kydex) for it anyway, so no biggie there.
My training schedule and On Target's deadline did not mesh well enough for me to shoot a match or teach a class with the test Stinger Monolith. For a quick "shootability test," I set up a Colt Police Silhouette target and ran the first half of the old PPC course, using a less-than-optimal generic belt slide holster. At seven yards, the "six, reload, six" in 20 seconds stage resulted in a dozen Atlanta Arms ball rounds grouping tightly in the center of the roughly heart-size "5X center ring." From the 25 yard line, six shots each from the barricade fired kneeling, left hand controlling the gun while standing, and right hand standing all went swiftly and comfortably into the K5 zone. Twenty-two of the 30 total shots had hit the tie-breaking X-ring, for a 100% score of 150 out of 150 possible qualification points.
Page 3