Reliability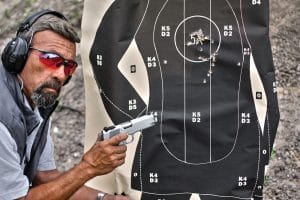 I noticed that unlike most Les Baer pistols, this one didn't need two men and a boy to pull the slide back when it came out of the box. Turns out that Les and his team had already put some four hundred rounds through it before they sent it to On Target. "We hard-fit the barrels," Les explained to me. "They're all tight at first, and it takes up to 500 rounds to loosen them up." That's the price you pay for Les Baer's famous accuracy . . . and, of course, a good excuse to shoot more.
By the time the test was done, we were sneaking up on a thousand rounds through this pistol, counting the 400 trouble-free shots it had fired before it was sent to us. It came with three magazines, and we also ran it with Wilson-Rogers mags. We noted two malfunctions, both steep 12 o'clock misfeeds with the same provided mag and none with the Wilsons. That one mag was taken out of the rotation, and no further malfunctions occurred.

Bottom Line
At a suggested retail price of $2915, the Les Baer Stinger Monolith sits solidly among the other top-ranked "boutique" 1911 brands in terms of workmanship, accuracy and value delivered. Our test pistol came with three 7-round magazines. Add $295 if you want the hard chrome finish seen on ours.
The tightly managed, expertly run production line at Les Baer Custom can produce only 275 to 300 guns a month. The demand for them is such that waiting time is currently ten to fourteen months. This speaks well of the value, quality, and desirability of pistols like the Les Baer Custom Stinger Monolith .45 ACP. To order yours, contact Les Baer Custom, Dept. OT; Tel.: (563) 289-2126; Web: www.lesbaer.com