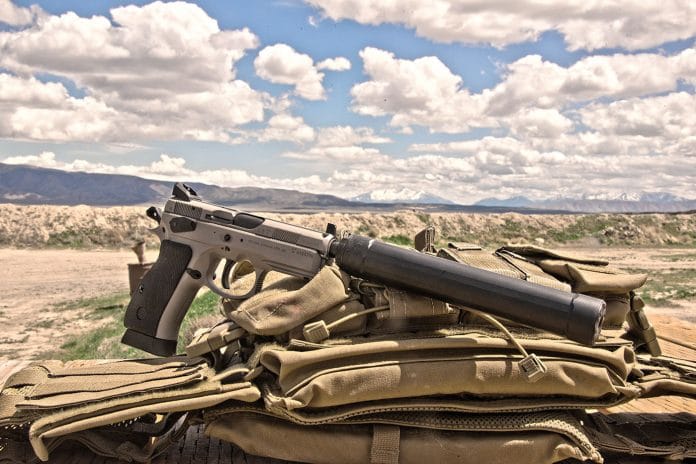 By Dave Bahde
---
CZ USA puts a strong focus on suppressor-ready pistols for 2016, and they don't dissapoint!
Demand for suppressor-capable pistols continues to rise. Once a novelty limited to rimfire pistols, they are becoming almost prolific. Threaded barrels have always been available for some centerfire pistols, but factory options were rare. Along with several aftermarket barrel options, several companies now offer suppressor capable versions of their most popular models. As suppressors in general gain overall popularity, the pistol versions are gaining some serious steam. Coupled with many new ARs or similar MSRs chambered in pistol calibers, it is a cost effective way to learn just how much fun they can be. New multi-caliber suppressor designs allow use on numerous weapons of various calibers. Made from light weight materials built to last a lifetime, they are simple to use, easy to clean, and reduce recoil, flash and muzzle blast. One of the newest pistols introduced for suppressor use is the CZ P-01 Omega in Urban Grey.
CZ 75 P-01 (Omega)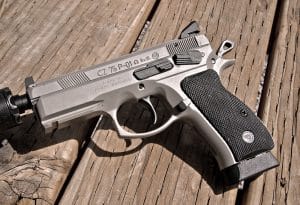 One of the most popular pistols world wide, the CZ P-01 has a strong following. Many foreign police agencies issue them as duty sidearms. Following extensive testing it has been chosen to replace the CZ 7s in use by the Czech National Police. The P-01 is a compact aluminum–framed, 9mm pistol capable of excellent accuracy, high capacity and extreme reliability. Equipped with the new Omega trigger system, it can be switched from de-cocker to safety operation like the P-07 and P-09 pistols. The Omega system allows for easy assembly without tools, while new materials enhance durability and operational life. The result is a very capable pistol that is easy to maintain in the field and configure as needed.
New to the line is the Urban Grey Suppressor ready model with a threaded barrel, high suppressor sights and a color that is a mixture of gray and Flat Dark Earth. Taller sights allow you to aim properly over an attached suppressor. Tritium dots facilitate use in low and failing light. The aluminum frame includes a light rail, ergonomic rubber grips and grooves on the front and back straps. An extended beavertail provides recoil control and a comfortable grip. Magazines are double-stack holding 16 rounds, and include an oversized plastic pad.
The safety lever is ambidextrous and easy to access. An extended slide stop sits on the left side. Magazines are released with an oversized, mildly checkered and reversible thumb release. An oversized trigger guard facilitates gloved hands and includes checkering on the front. This pistol was shipped in DA/SA decocker mode, but can be quickly reconfigured to a single-action-only pistol with manual safety.
A cold-hammer-forged, 4.50-inch barrel is threaded 1/2" x 28 TPI and the muzzle is protected with a metal cap. It sits in a steel slide that has cocking serrations at the front and back. Groves are cut into the flat-top slide to deal with glare. Suppressor sights are tall and include tritium dots and a no snag rear design. The entire pistol is coated in Urban Grey that looks more brown than grey. It is shipped in a hard case with two magazines.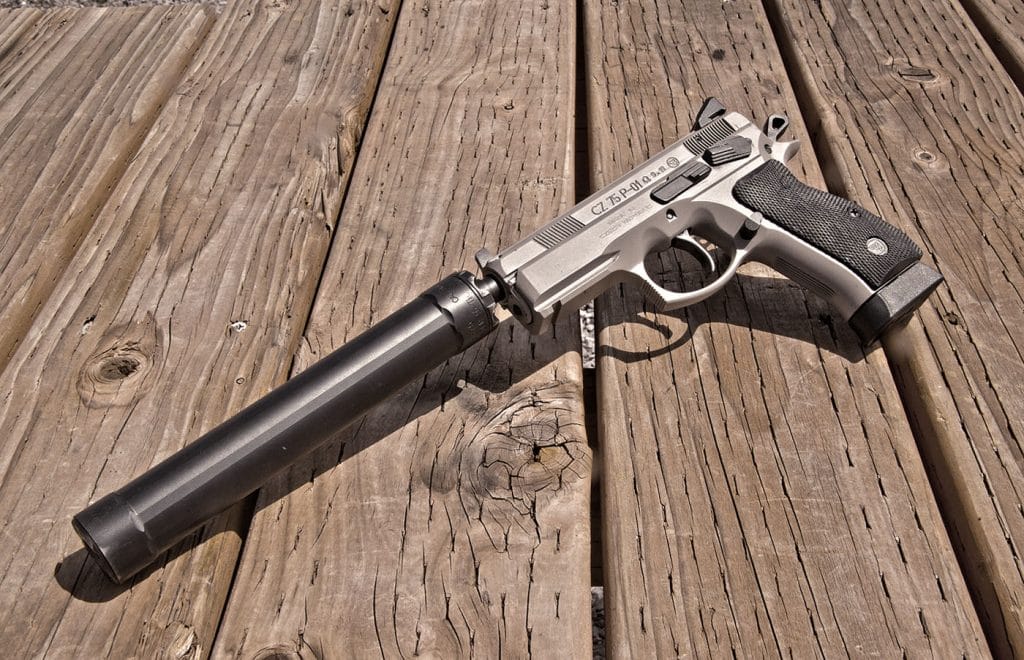 Suppressors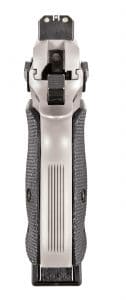 Two different suppressors were used for testing. SureFire's latest SF-Ryder Ti9 is compact and light weight (www.surefire.com). Designed for use on 9mm pistols it does not use a recoil booster. Most pistol suppressors reduce recoil to the point they will not cycle. SureFire uses a modified baffle design that creates enough back pressure for proper operation. This suppressor has been tested on several models and has cycled them all. Baffles are stainless steel, while the tube is titanium. Since it is designed for use with rimfire pistols as well it can be disassembled for cleaning.
Liberty Suppressor's Cosmic (www.libertycans.com) is a modular design using a monolithic core and titanium cover. Designed for use on everything from 9mm to 458 Socom, it is very strong yet very light. Liberty uses different end attachment pieces for use on any number of firearms. For pistols they have recoil boosters available for various calibers and threads. Testing was all completed using their 9mm recoil booster with the 1/2" x 28 TPI threads. It can also be disassembled for easy cleaning.