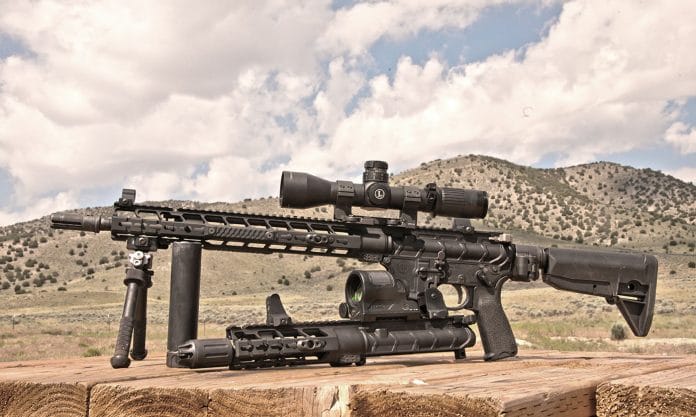 By Dave Bahde
---
PWS steps up their game with substanial improvements
Over the years Primary Weapons Systems (PWS) rifles have seen use at my home range, in police training and in SWAT training. All have been accurate, reliable, soft shooting, and well built. Each generation of PWS rifles has seen useful improvements, and handling their new Mod 2 rifles at the 2016 SHOT Show, their latest efforts looked impressive. Changes are substantial, with additions keeping them at the top of the production rifle world. Primary Weapons provided two of the first available Mod 2 uppers in two barrel lengths and a single lower. The uppers were the MK116 (16") and MK107 (7.75"), respectively, for testing and evaluation.
Primary Weapons Mod 2 Rifles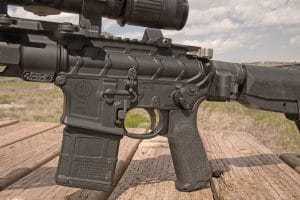 The Primary Weapons MK107 is one of the most reliable SBRs ever tested. It runs a larger variety of ammunition in general and functions reliably suppressed. Mod 2 offers the same form and function with some improvements to the hand guard with the CQB muzzle attachment standard. The barrel is 7.75 inches long with a 3-position adjustable gas system. The Picmod railed handguard allows the direct mounting of accessories to the rail while still accepting KeyMod devices.
No more rails coming loose for critical items. The custom barrel has been tapered for weight reduction, yet maintains strength. QPQ coated PWS chromoly barrels are always accurate, consistent, and rugged no matter the length. Hardened, custom-designed bolt carrier groups machined from tool steel are coated for reliability and strength.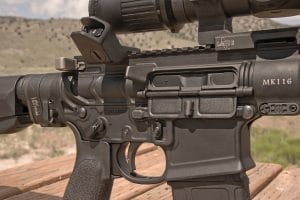 PWS MOD 2 upper receivers are forged, providing the greatest strength while keeping them light and stiff. Handguards include a trunnion machined into the upper receiver insuring a precise fit and contributing to strength and accuracy. The MOD 2 lower is forged and includes ambidextrous controls including the safety, magazine and bolt release. Recessed, they are easy to access yet stay out of the way. An enhanced trigger with a 5.5-pound pull weight is provided. A BCM GUNFIGHTER stock goes over the PWS Gen 2 Enhanced Buffer Tube. It retains the plunger/spring retainer notch and adds a Ratchet-Lock nut securing the tube in place. Control is maintained using the BCM pistol grip.
The MK116 MOD 2 upper uses a 16-inch barrel taking the 5.56mm/.223 to the limits of its range. Picmod sits at the front of the hand guard allowing for a solid attachment of my Atlas bi-pod. Rail Scale sections are attached using KeyMod and can be placed along the rail to ensure a solid grip.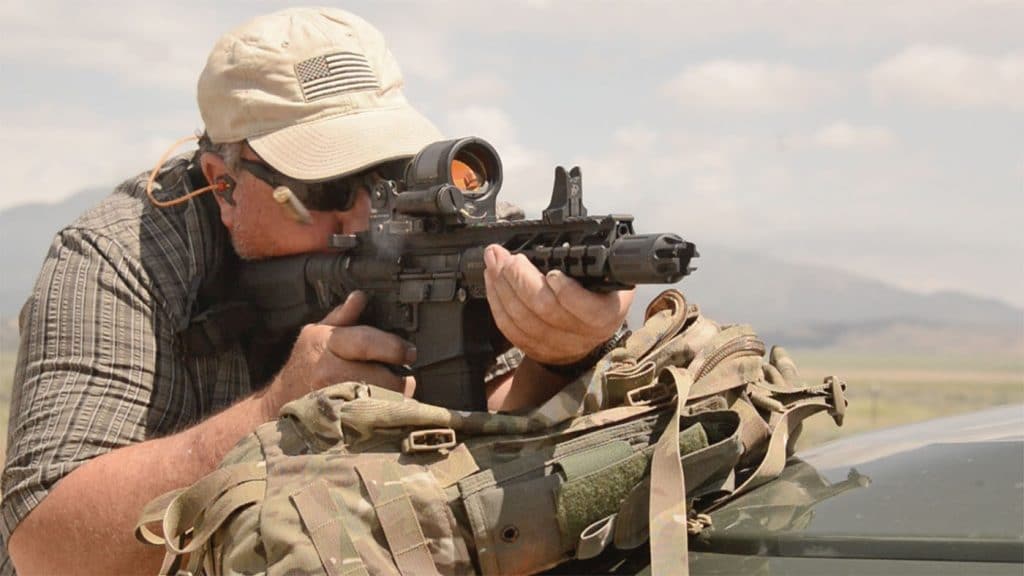 Accessories
Much of my training over the last couple of years has been with Follow Through Consulting at their range in Teasdale, Utah. It has allowed me to test numerous rifles in various calibers out to 1000+ yards under field conditions. Leopold's 3-18 power Mark 6 scope has become one of my favorites. Leopold was kind enough to install one of David Tubb's Dynamic Targeting Reticles in my Mark 6 3-18 for testing. It was mounted in a Larue Tactical mount and equipped with a Tubb scope level. Since this reticle takes spin drift into account it is imperative you keep the scope level at extended range. Optimized for the 77-grain OTM, it provides fast ranging as well as an incredibly precise ballistic reticle.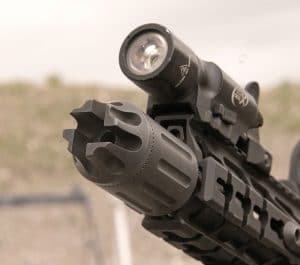 Griffin Armament Fail Safe Angle Sights were installed for close work if needed. They line up at roughly one o'clock on the rail. Machined from a single billet, they are very strong and always there.
SureFire's WarComp flash hider was added so their SOCOM 5.56 RC2 suppressor could be used. The new factory trigger is nice and a great improvement, but my preference remains a two-stage, so a Larue MBT-2S was installed.
The Trijicon SRS remains one of my favorite red-dot sights. It provides a wide field of view with no tunneling effect. Daniel Defense fixed sights mount directly to the rail. Just sight through them if needed, they sit in the lower third of the sight. My trusted SureFire X200 sits in front of the front sight at 12:00 o'clock. Law Tactical's Gen3 folder works great with the EBT and keeps things compact.