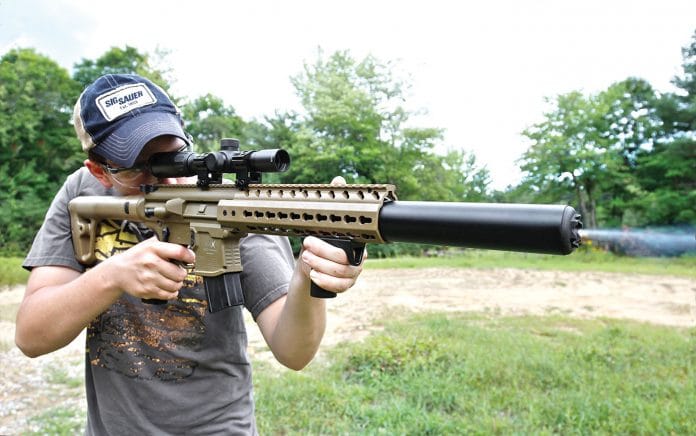 A realistic training tool that doubles as a backyard fun-machine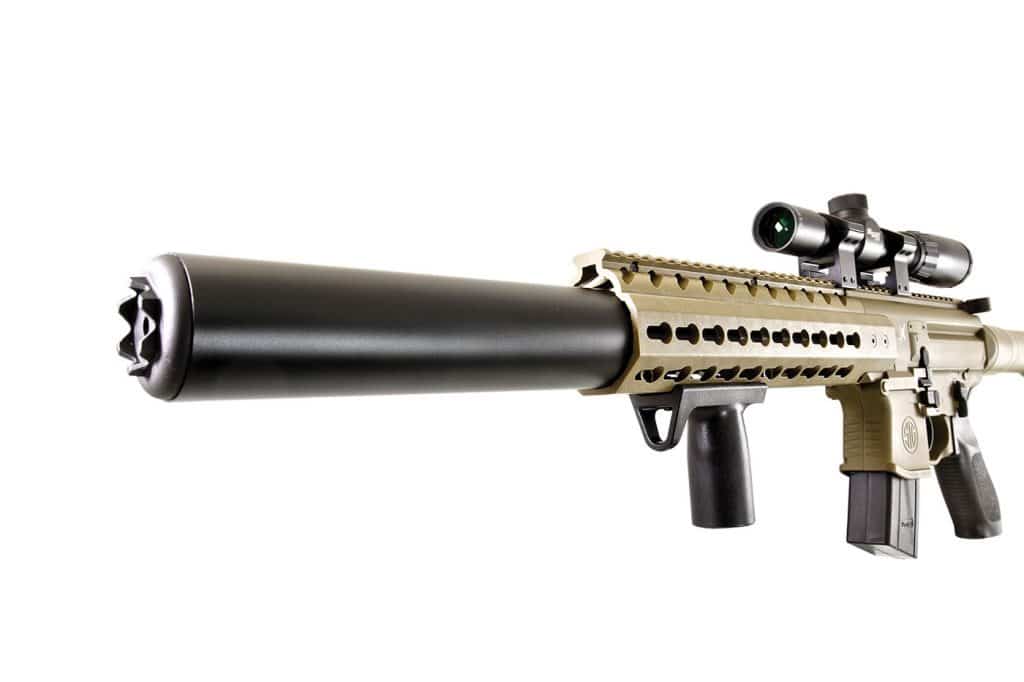 SIG's CO2 powered MCX ASP air rifle ($221.99; $299.99 with your choice of a red-dot optic or 1-4X variable power rifle scope) is as close to the look and feel of a real AR-15 as any air gun you'll find out there. Weighing 6.95 pounds and measuring 34.75 inches in overall length, its made from high-strength polymer with an 18-inch rifled steel barrel and steel controls.
Available in either .177 or .22 caliber at the same price, it features a 17-slot Picatinny top rail above the "upper receiver" and a 23-slot Picatinny top rail over the handguard. The handguard also includes five KeyMod flats with a total of 50 KeyMod slots for attaching accessories. A 1.75-inch diameter faux suppressor surrounds the front 8.25 inches of the barrel.
Made to duplicate the specifications of the original center-fire model, the "for real" look, weight and balance of the MCX ASP lends itself well to realistic training and shooting drills without the expense of blowing off cases of expensive center-fire ammo, or the need to travel to a rifle range to do it. Powered by a 90-gram CO2 cartridge, the MCX ASP comes with a patented 30-round magazine, flip-up front and rear sights and polymer pistol grip and vertical fore-grip.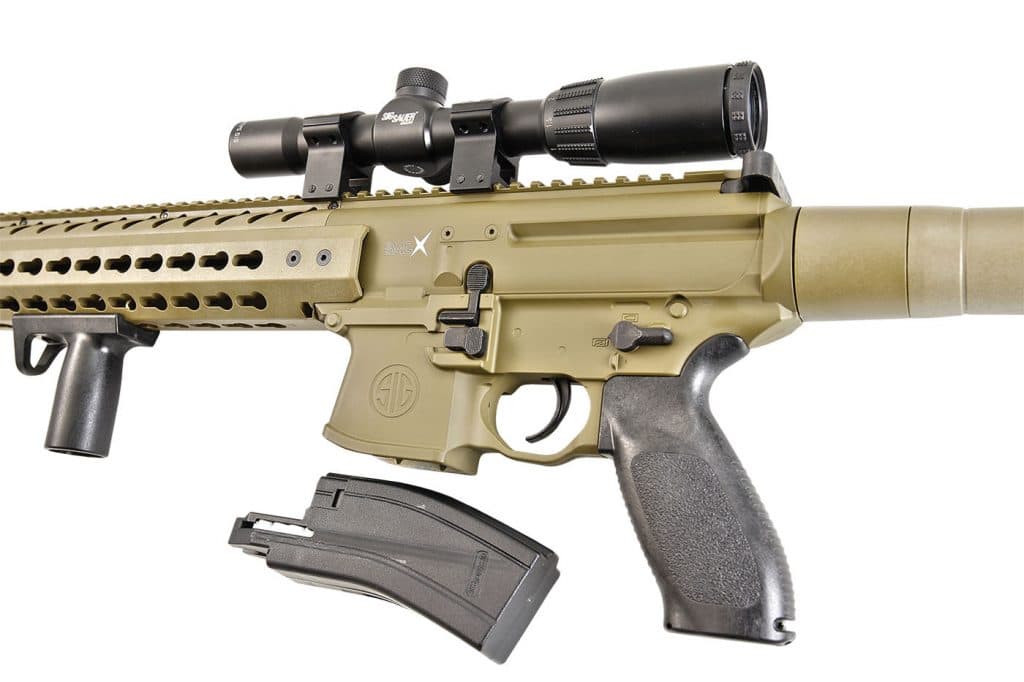 Controls consist of a decent trigger with an average pull weight of 5 lbs. 12. oz. (but with a considerable amount of consistent and predictable take-up), ambidextrous safety levers, and right-side mounted magazine release. A bolt release and ambi mag release mounted on the left side are inoperable, as is the forward assist plunger found in its usual location. The CO2 cartridge is housed within the tubular, fixed buttstock, which is readily removed for changing cartridges with the push of a button. The buttstock is fitted with a 1/4-inch thick textured black rubber butt pad, and the MCX ASP is available in black or FDE at the same price.
Our sample rifle was the .177 caliber MCX ASP in FDE with the optional 1-4x24mm Sig scope. The scope comes with mounting rings and features 1/2-MOA click adjustments for windage and elevation, a knurled rubber variable power ring, a rubber covered focus ring on the ocular lens and a very nice Mil-Dot reticle. It provided a bright, clear image with no edge distortion, and permitted us to hit the drop-down targets in the shoot-to-reset Sig Quad Shooting Gallery at 25 yards every time. The MCX ASP generates 750 f.p.s. of muzzle velocity with .177 caliber pellets.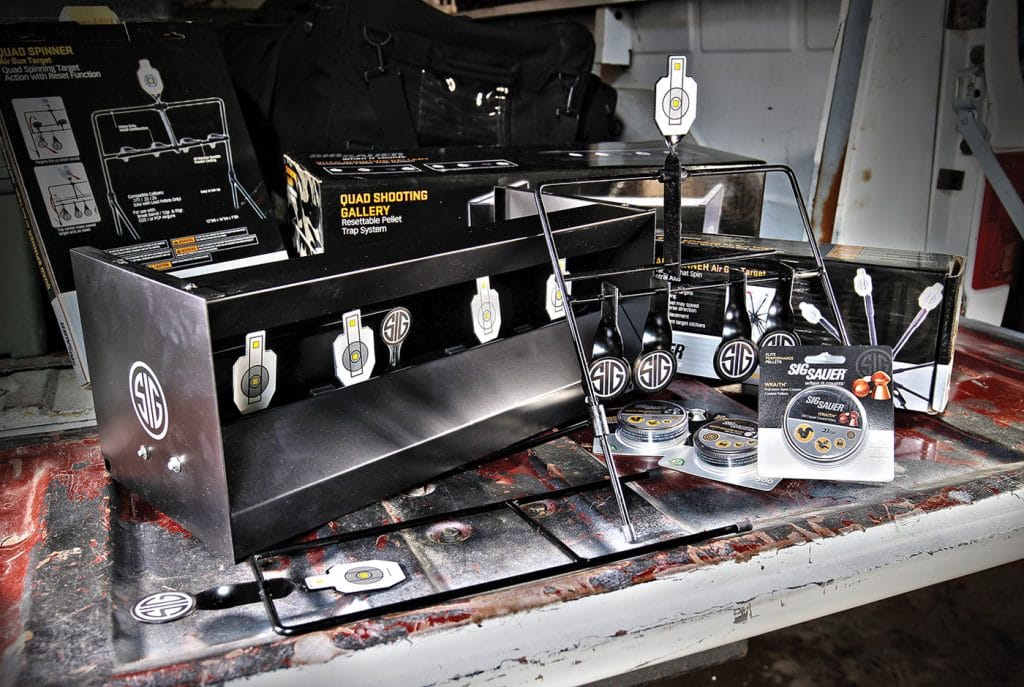 Sig also sells an MPX model with 8-inch barrel and no fake "can" ($199; $277.99 with red-dot optic), plus P250 and P226 pistols. Available accessories include nine different types of action targets, a pellet trap with paper targets, eight types of pellets in both calibers, extra CO2 cartridges and spare magazines.
We had a lot of fun with the MCX ASP. It's a realistic, accurate and reliable pellet rifle that will bring you years of shooting enjoyment. See it at your firearms retailer (or wherever pellet guns are sold), or for more information contact SIG SAUER, Dept. OT; Tel.: (603) 610-3000; Web: www.sigsauer.com