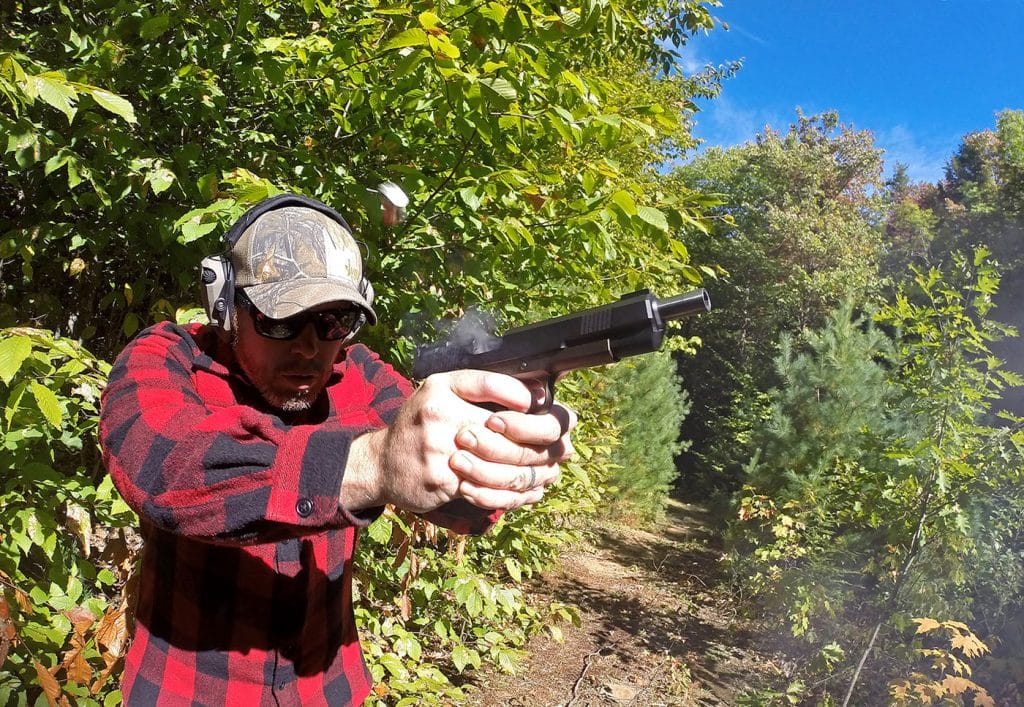 Controls consist of a slide release, magazine release and extended safety lever all found in their usual locations on the left side of the frame. An extended beavertail grip safety with raised palm pad and a skeletonized hammer round out the controls. All are finished in the same matte-black as the slide, except for the solid trigger which is silver. After about 1/32" of engineered take-up to "get on the sear", the trigger breaks crisply at an average pull weight 4 lbs. 8 oz. with no stacking or over travel (which is adjustable). We would expect that trigger to lighten up a bit after the recommended 300- to 500-round break-in period.
Fit and finish were as good as any premium 1911 we've ever tested, and better than most. There was absolutely zero movement between the frame/slide and barrel/bushing. This pistol was so tight that we were unable to get the pointed corner of a piece of copy paper into any gap between the slide and frame or barrel and bushing. Overall length is 9.75 inches, overall height is 5.75 inches and empty weight with magazine is 44.2 oz.
The 6.3-inch, stainless steel, match-grade barrel employs a standard, single-piece guide rod. Dan Wesson must have talked with Les Baer about guide rods, as he almost fanatically opposed to the use of anything else in Les Baer Custom 1911s. The rounded mainspring housing is finely checkered—as is the front strap—and rounded at the base to prevent recoil from biting your palm. The grip panels—attached via twin round-headed Allen screws—are deeply textured and afford excellent grip traction.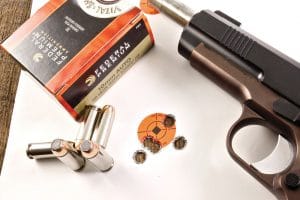 We tested the Bruin Bronze from the bench at 25 yards using the following ammunition: SIG Sauer 180-gr. FMJ Elite Performance (sigammo.com; 1,250 ft/second muzzle velocity, 624 ft-lbs energy), Federal Premium 180-gr. Trophy Bonded JSP (federalpremium.com; 1,275 ft/second muzzle velocity, 650 ft-lbs energy) and Double Tap's 200-gr. WFNGC Hardcast DT Hunter load (doubletapammo.com; 1,300 ft/second muzzle velocity, 750 ft-lbs energy). All loads produced admirable, sub-two-inch five shot groups, but the star of the day was Federal's outstanding Trophy Bonded load, printing a 1.18" centered cluster. The SIG load was close on its heels with a 1.40-inch group, and not too far off that was the Double Tap's best group size, measuring 1.74-inches. We did have one failure of the slide to go fully into battery, but outside of that, the Bruin's reliability rate was 100-percent perfect.
The Bruin Bronze comes with two 8-round stainless steel magazines with rubber drop pads, bushing wrench, Allen wrench, owner's manual, cable-type gun lock, lockable plastic hard case and a 5-year warranty. See it at your gun shop ($2,194 M.S.R.P.), or for more information contact CZ-USA, Dept. OT; Tel.: (800) 955-4486; Web: www.cz-usa.com