Range Time
For group testing at 50 and 25 yards we used the used the Trijicon MRO. The U. S. Optics was used at 100 yards. Neither Tavor was designed for shooting itty bitty groups. This is a combat rifle. That being said I was still able to get on 12" steel at will at 200, 300 and 400 yards. Shooting at 650 yards took some effort on the same target, but was possible with solid wind calls.
My best group came using Black Hills' 60-grain V-Max, measuring 1.30 inches. Nosler Defense 64-grain soft point was also very accurate. Black Hills' 69-grain TMK grouped at 1.60 inches and the 77-grain 1.75 inches. The best in the heavies was the Hornady 75-grain Superformance 5.56mm NATO. Moving to the Geissele trigger tightened everything up by about 1/4 inch, a bit more in one case. I was able to produce a couple 1-inch groups with the 60-grain V-Max load and the 69-grain TMK tightened up to 1.30 inches. Not sure the Geissele makes as big a difference locked in prone, but it proved valuable during more rigorous training.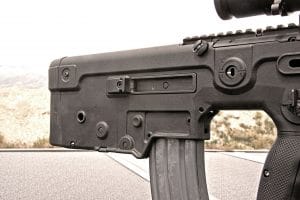 Department firearms training was around the corner and was completed with the red dot sight. The first thing you notice is how easy the X95 is to maneuver and work from the ready position. It may be heavier than some ARs, but you would not think so using it. With less weight forward of the grip it comes up quickly and swings between targets sharply. Recoil is minimal and the Geissele makes for fast split times and excellent control. My long held preference for a two stage meant the factory trigger bow was fine. It never seemed to slow me down and provided some added take-up for use with gloves. Brownell's Aluminum 30-round GI magazines were used with zero issues, including repeated drops on asphalt.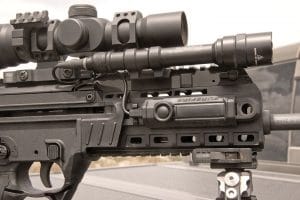 Over insertion never occurred, and all mags dropped free and never malfunctioned. Barnes Range AR 52-grain OTFB was used and performed flawlessly. During the entirety of testing the only issue that arose was shooting left handed with right ejection. There were no malfunctions, but the red hot brass bouncing off my chin was annoying. Galloway Precision's angled shell deflector ($20) took care of that. It takes less than a minute to install and it made a huge difference. Short of putting your cheek over the port it no longer hit me in the face. (Editor's Note: We've suggested to Dave that next time he order the dedicated left-hand model, available at the same price!)
Other Considerations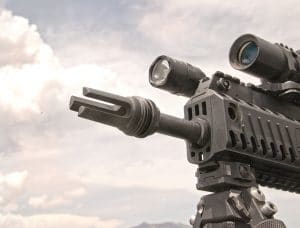 Silencerco's Omega suppressor worked well, with little back pressure and no change in operation with any of the ammunition. Recoil is increased like most piston guns and it ran dirty, but that's the joy of running suppressed. Testing with a Surefire RC2 and Gemtech ONE, they worked well with all ammunition. It still remains handy, but you suck up more gas during training.
Adding the standard-style pistol grip proved advantageous, especially for the range officers. Its nice to see that trigger finger above the guard. Admittedly skeptical at first it grew on me quickly and will stay. Running a range its nice to see it covered and it was just as solid on barricades, working in obstacles. My guess is most agencies and the U. S. market will prefer it. You just need to be careful running up against walls not to whack your knuckles.
Final Thoughts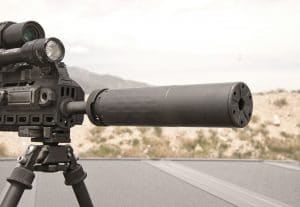 I started this as a Tavor fan, and the X95 only increased my affinity for it. Never an AR fanboy, I've deployed many different weapons over the years. This X95 is the most useful to date. Add a sling and RDS and go to work. It's also easier to use. Transitioning from an AR is easy, and it is perfectly suited to urban work. It fits in more bags, trunks and cabs. Using a lock takes some work but it can be done. If you're already a Tavor fan, then you will really like the X95. IWI USA has done a great job with this rifle, good enough that they will not get it back anytime soon. See it at your gun shop ($1,999), or contact IWI USA, Inc., Dept. OT; Tel.: (717) 695-2081: Web: www.iwi.us