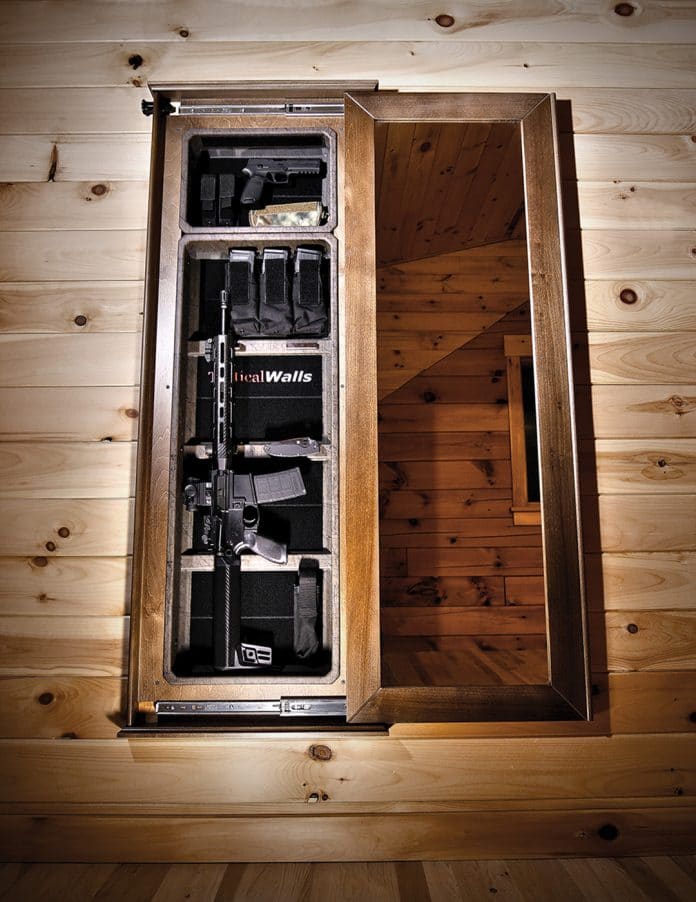 The new 1450M Bundle from Tactical Walls is a recessed, in-wall, home gun storage solution designed to look like a classic, full-length wall mirror. Measuring 60" H x 22.5" W x 3.5" D, it is priced from $490 to $760 depending upon the locking system and finish you choose.
Upon unlocking, the mirror slides to the side to reveal a hidden cavity with two compartments. The smaller compartment is 10" H x  14" W x 3.5", while the larger compartments measures 40" H x 14" W x 3.5" D. It will hold multiple handguns, long guns, ammunition, magazines and other go-to defensive gear.
The 1450M Bundle is handmade in the U.S.A. from Baltic birch and poplar, and the inserts are made from U.S.-sourced ABS plastic. The mirror has a shatter-resistant coating and is backed with plywood, giving you two layers of security. The mirror is also encased in a full hardwood frame for added rigidity and security.
The two available locking systems include magnetic and RFID. The less expensive magnetic lock package Includes one magnetic locking concealment cover, one magnetic key, both inserts, one accessory shelf, two large retention magnets and one small retention magnet. The RFID lock package includes one RFID locking concealment cover, one CR123 battery, one programming card, two key cards, both inserts, one accessory shelf, two large retention magnets and one small retention magnet. For more information, contact Tactical Walls, Dept. OT; Tel.: (540) 298-8906; Web: www.tacticalwalls.com